Refsnyder exits after taking grounder off face
Trying to earn spot on Yankees' roster, infielder has tough day at third base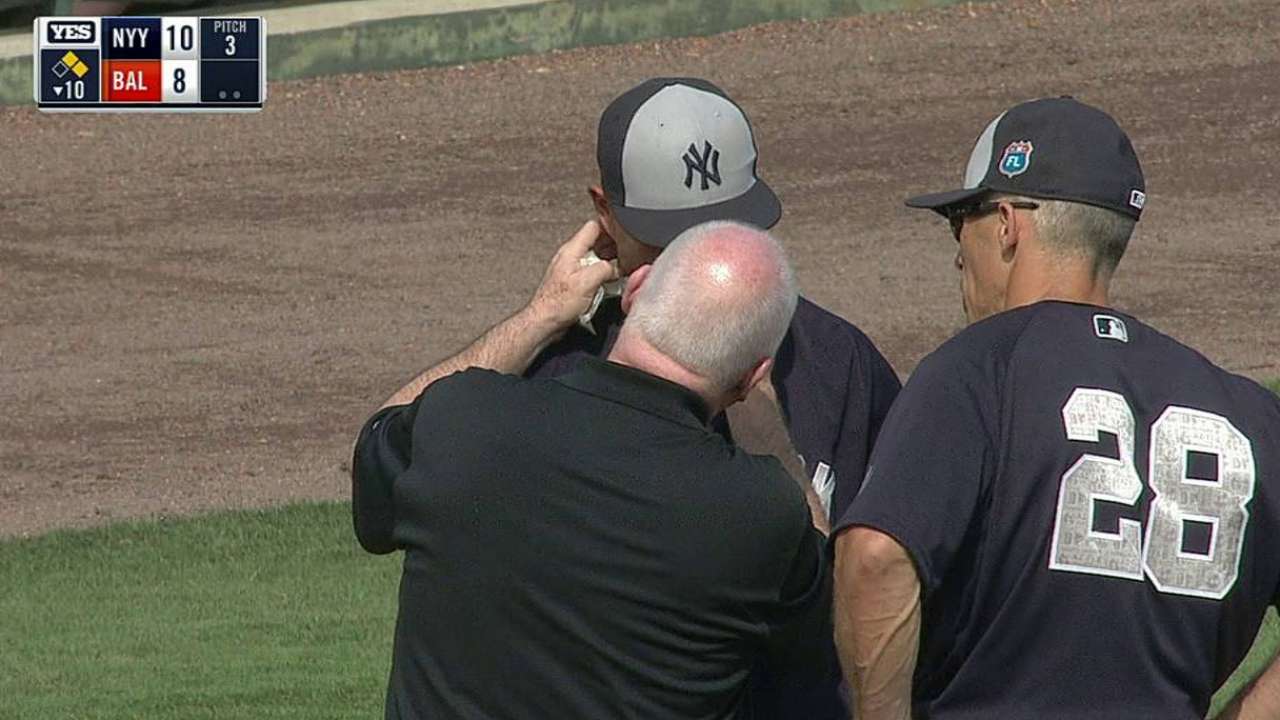 SARASOTA, Fla. -- Rob Refsnyder's crash course at the hot corner has come with a few bumps and bruises. The novice third baseman had to exit Friday's 11-10 loss to the Orioles after being struck in the face by a bad-hop grounder in the 10th inning.
Refsnyder was charged with two errors in the deciding final frame, the second of which came after he had a small cut opened above his lip by a ball off Dariel Alvarez's bat. Refsnyder walked off the field with trainer Steve Donohue, pressing a towel to his face.
"You can get that hop at second [base] too," Yankees manager Joe Girardi said. "It does happen quicker, yeah, but we're trying to do it to give him an opportunity here. We'll continue to try."
• Spring Training: Schedule | Tickets | Gear
Refsnyder, who also committed a throwing error to open the 10th inning, has been competing with Pete Kozma and Ronald Torreyes to serve as the 25th man on the roster. The Yankees have said that whoever wins that job will have to be able to play third base.
Essentially, the competition has pitted the promise of Refsnyder's bat against the more polished glove work of Kozma and Torreyes. Girardi said before Friday's game that Kozma and Torreyes are both realistic options to go north with the club.
"These are guys that can really defend," Girardi said. "You watch Torreyes, he finds a way to get the barrel of the bat to the ball all the time. He's not a guy that's going to hit you 10 home runs, but he's going to put the ball in play. You look at Kozma, he's going to battle through his at-bats. He's swung the bat better lately."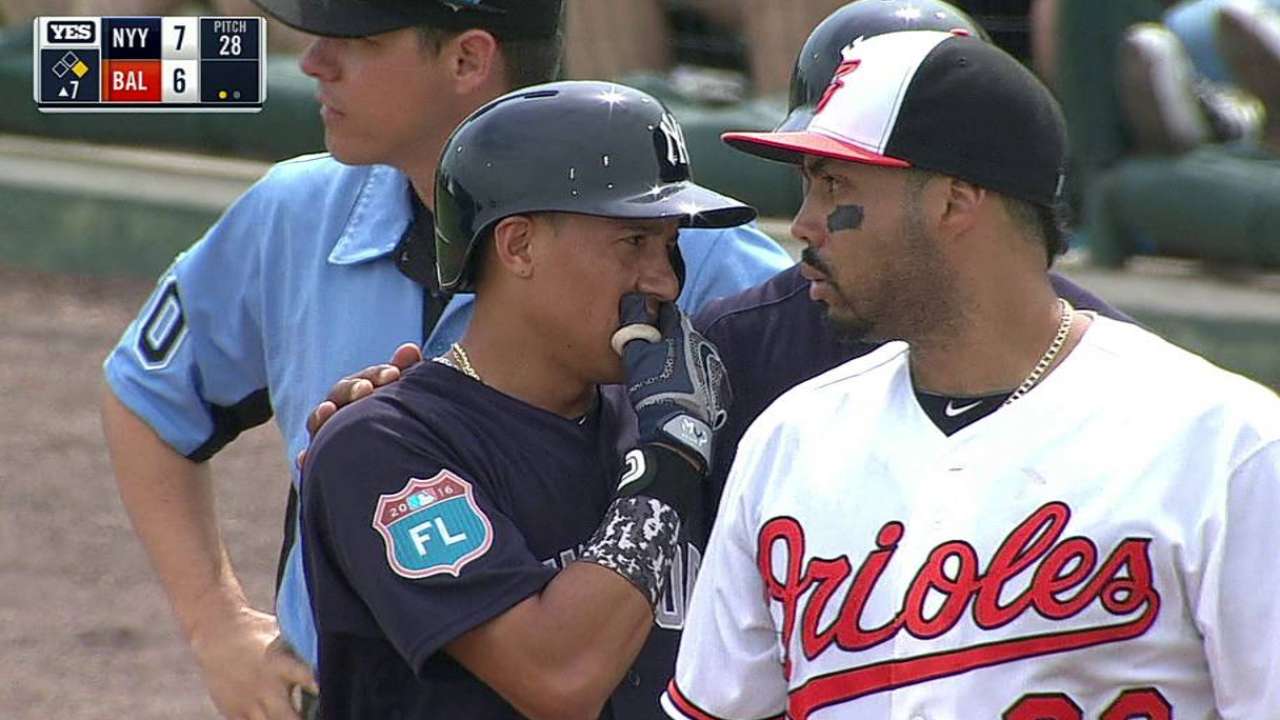 A converted outfielder, Refsnyder said he had not played third base since his freshman year at the University of Arizona, but that he would be in "whatever it takes" mode to score a spot on the Opening Day roster.
"He's done OK. He has not had easy plays, that's for sure," Girardi said. "We're asking him to do a lot in a short period of time, but he's done OK."
Easter Ellsbury
Jacoby Ellsbury is expected to return to the Yankees' lineup on Sunday, Girardi said. Ellsbury has not played since being hit by a pitch last Saturday against the Braves, and he will track pitches on Saturday before playing against the Twins on Sunday.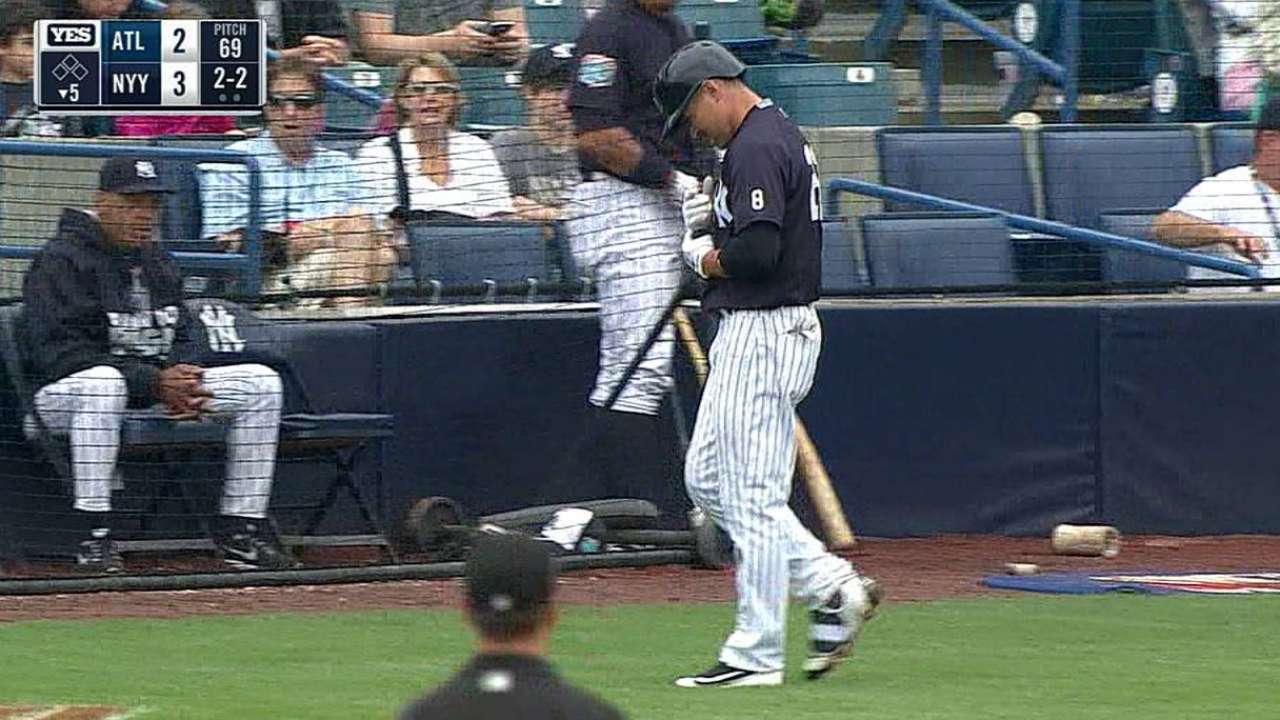 Worth noting
• Brian McCann will head over to the Minor League complex on Saturday, catching Dellin Betances as he works in a game there. The Yankees will use the big league Spring Training game to continue evaluating Carlos Corporan and Austin Romine.
• Michael Pineda pitched five scoreless innings in an intrasquad game on Friday at the Yankees' Minor League complex. Pineda permitted two hits and struck out four with a walk, throwing 37 of 55 pitches for strikes.
Bryan Hoch is a reporter for MLB.com. Follow him on Twitter @bryanhoch, on Facebook and read his MLBlog, Bombers Beat. This story was not subject to the approval of Major League Baseball or its clubs.