MLB.com Columnist
Mike Bauman
Are A's rotation struggles just desert mirage?
Oakland needs strong staff behind Gray to rebound in '16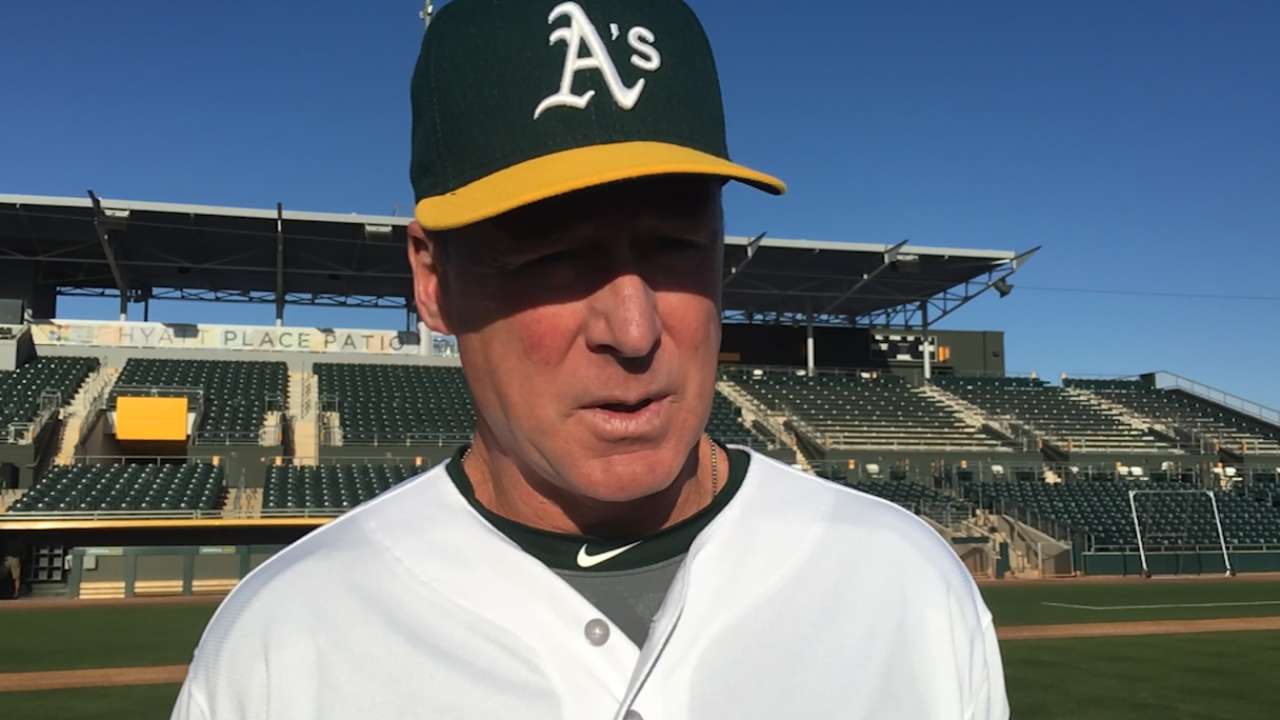 MESA, Ariz. -- Arizona is even hotter and drier than usual this March. That sort of combination is generally bad news for pitchers.
The climate has a bearing on the outlook for the Oakland Athletics. Is their rotation just going through a rough patch induced by arid conditions? Or are there serious shortcomings in this group?
The backdrop is this: After three straight years qualifying for the postseason, the A's tumbled to fifth place in the AL West last season. Uncharacteristically, they went 19-35 in one-run games, setting Oakland records for lowest winning percentage in one-run games and most one-run losses.
But the Oakland organization took substantive steps to recover. Admirable veterans such as Ryan Madson, John Axford and Liam Hendriks were added to the A's bullpen. The lineup received a power boost with the addition of Khris Davis in left. The Oakland lineup should provide enough offense, particularly since the A's mix and match as well as anybody in the game.
But the key component is, as usual, the starting pitching. The Oakland starters have not, as a group, had a very impressive spring. They're covered at the top of the rotation with Sonny Gray, who was third in the AL Cy Young voting last season. He worked 6 2/3 innings in a 'B' game Thursday, throwing 93 pitches and saying that he was precisely where he needed to be with one Cactus League start left.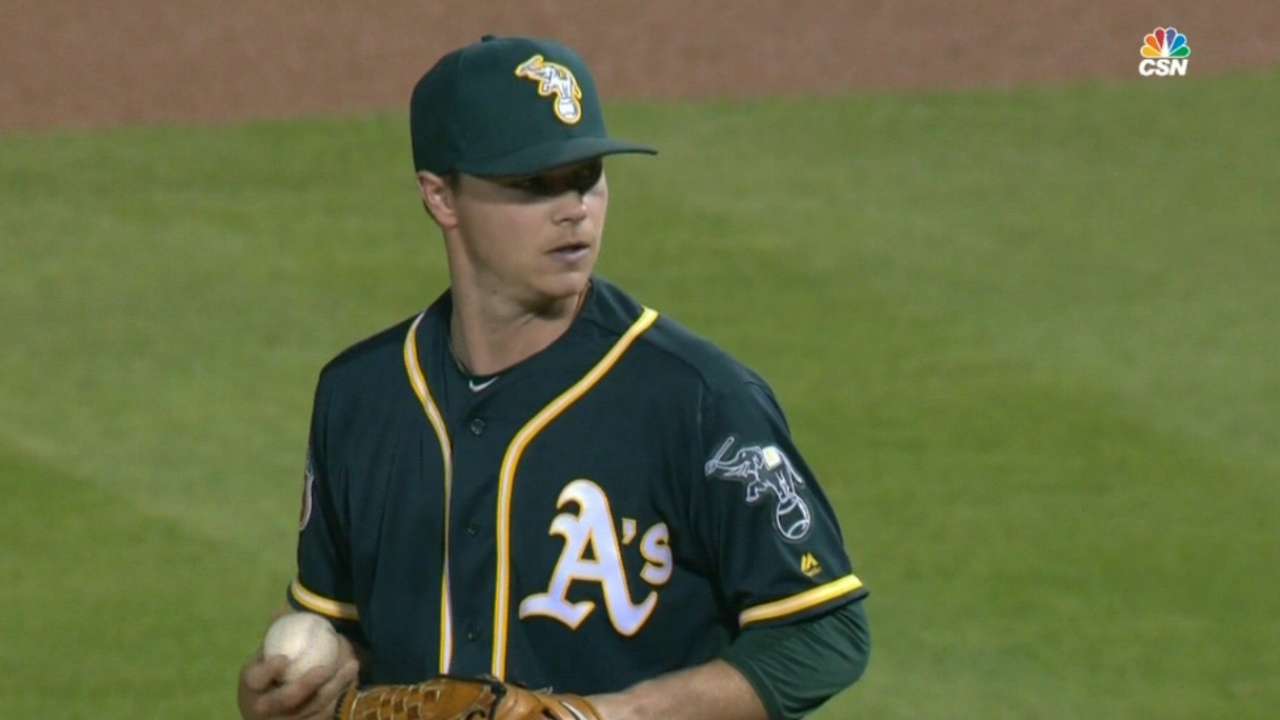 But beyond that, there have been some Oakland ERAs that have soared. The sample sizes are small, though, and the A's are not the only club that is in this situation. Through 19 Cactus League games, the A's had an unsightly team ERA of 6.03. But their opponents were barely better at 5.87.
So, which is it -- a meteorological fluke or a sign of difficulties to come? Bob Melvin, who has been voted manager of the year in both leagues, is on the side of his rotation's competence.
"We're really comfortable with the guys we have," the A's manager said Thursday at Hohokam Stadium. "And we have some depth there, too. At times last year, Kendall Graveman pitched great, Jesse Hahn pitched great, Chris Bassitt has really come a long way; we have a lot of confidence in him. We've got Sonny Gray at the top of the rotation. Rich Hill, last year, based on what he did in the last month of the season, and Felix Doubront. The numbers haven't been great here this spring, but I like our starters."
Beyond this group is Oakland's leading pitching prospect, Sean Manaea, a lefty with serious stuff who has struck out 15 in 10 1/3 innings this spring.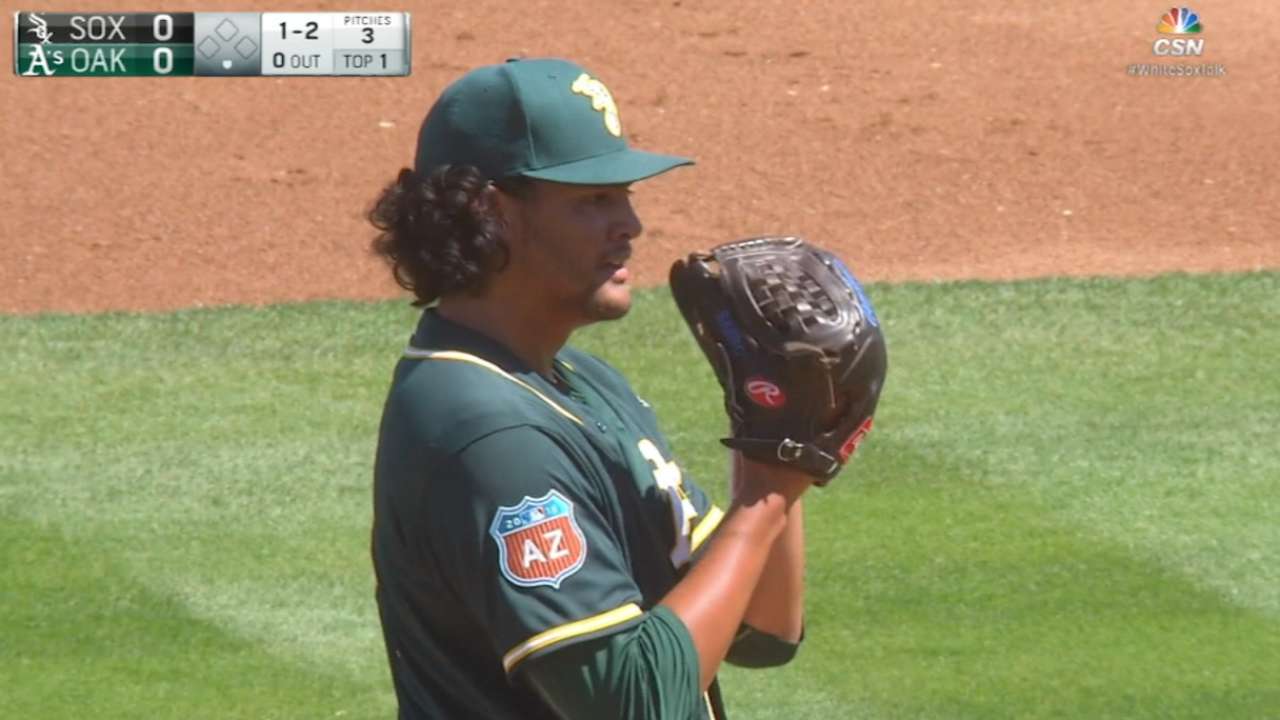 On paper and potential, this group looks all right, maybe better than that. But the Cactus League results this March have not necessarily supported that notion.
"This spring, it is tough to evaluate starting pitching," Melvin said. "It just seems like there are a lot of runs given up. Guys are having trouble whether it's a breaking ball or getting sinkers to sink. Guys seem like they're throwing pretty hard but not getting a lot of results. Just seems like the way it is in the spring. It's an offensive game for the most part.
"Usually, once we get back home in our air and our ballpark, it shifts pretty significantly. You have to evaluate things a little bit differently here, at least as far as the pitching goes."
The manager was asked how to do that. "Pray," he said with a brief chuckle and then added:
"No, you look for stuff. You know that maybe the breaking balls aren't going to spin as much; maybe the sinkers aren't going to sink as much. At least it looks that way now. I mean, you look at past springs and guys have had better results."
With little more than a week remaining in Spring Training, better results are needed soon. "You want to see some confidence heading into the season," Melvin said. "It's not that easy to just say: 'All right, the results are going to come when I get back home and flip that switch.' You have to fight through it and expect to get better results."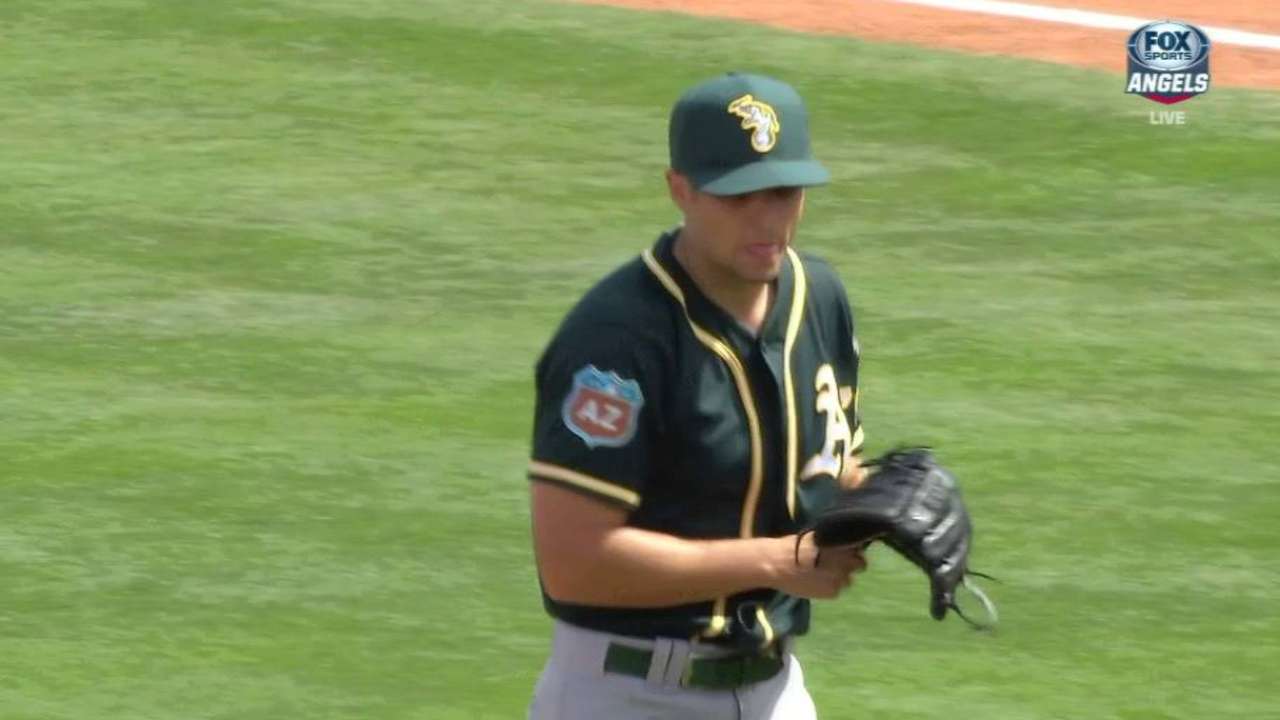 There is a sense around this Oakland team that they feel widely underrated. The same thing happened in 2012 when the A's were written off in preseason predictions and subsequently won the AL West.
The A's are Axford's sixth Major league team. He has seen enough positive aspects this spring to look favorably at this club's chances.
"Last year, they lost an incredible amount of one-run games," Axford said. "They tried to correct that by pulling in guys for the bullpen. Those one run games can really change a season.
"This is a really good ball club. I personally think it's an overlooked ball club right now. People aren't really mentioning the Athletics in the same breath with the other teams that are in this division with us. But you look around and see the pieces that are here and see what happened three of the last four years."
In those three years, doubting the A's was a serious mistake. If the starters' struggles are just Arizona aberrations, this Oakland club could be back in business in October.
Mike Bauman is a national columnist for MLB.com. This story was not subject to the approval of Major League Baseball or its clubs.