Kershaw battles before Ellis squeezes to tie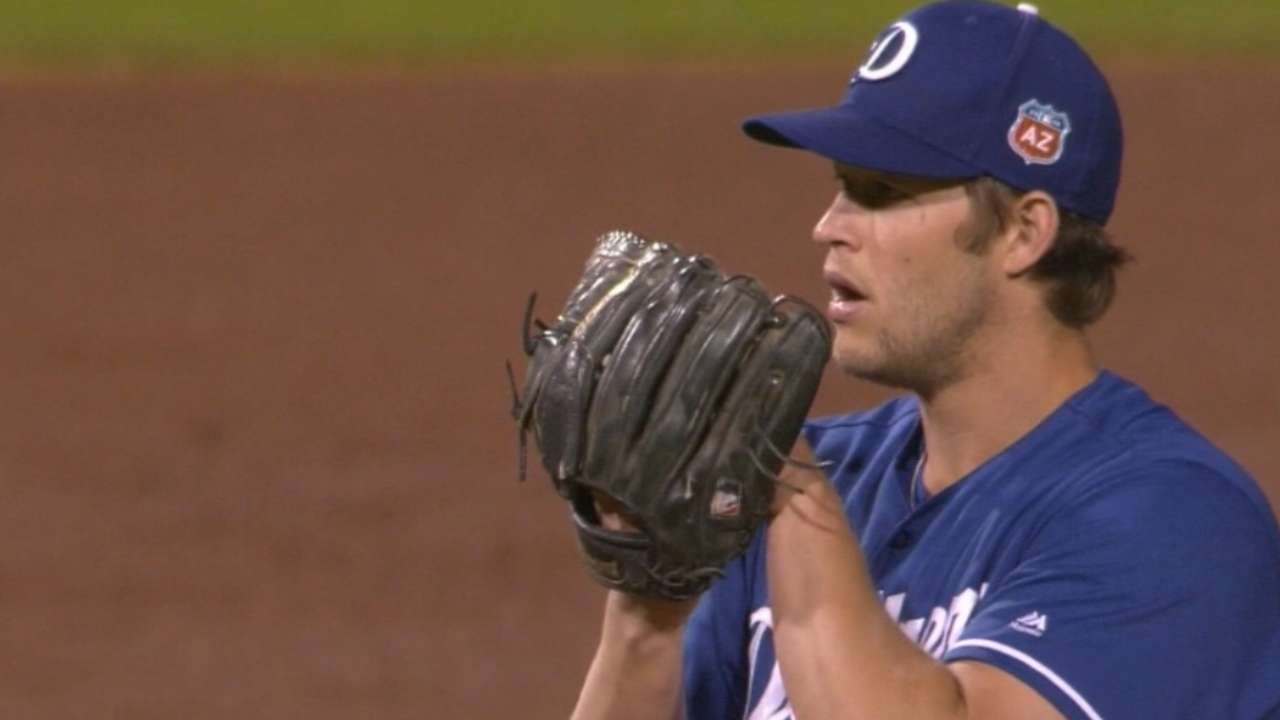 GOODYEAR, Ariz. -- Given the wave of health woes that have impacted the Dodgers' rotation, the fact that ace Clayton Kershaw continued to build toward Opening Day is all that mattered on Thursday night. The lefty allowed five extra-base hits, but exercised solid damage control in a 5-5 tie vs. the Indians at Goodyear Ballpark.
Cleveland churned out four doubles and one triple in Kershaw's five innings for Los Angeles, but the three-time National League Cy Young Award-winner limited the Tribe to two runs. Kershaw surrendered seven hits and issued three free passes -- doubling his Cactus League walk total -- but he struck out seven in his fifth start of the spring.
"Even when he's not at his best, he still limits damage," Dodgers manager Dave Roberts said. "They ambushed him early in counts. But we got his pitch count up. Clayton obviously is going to be fine."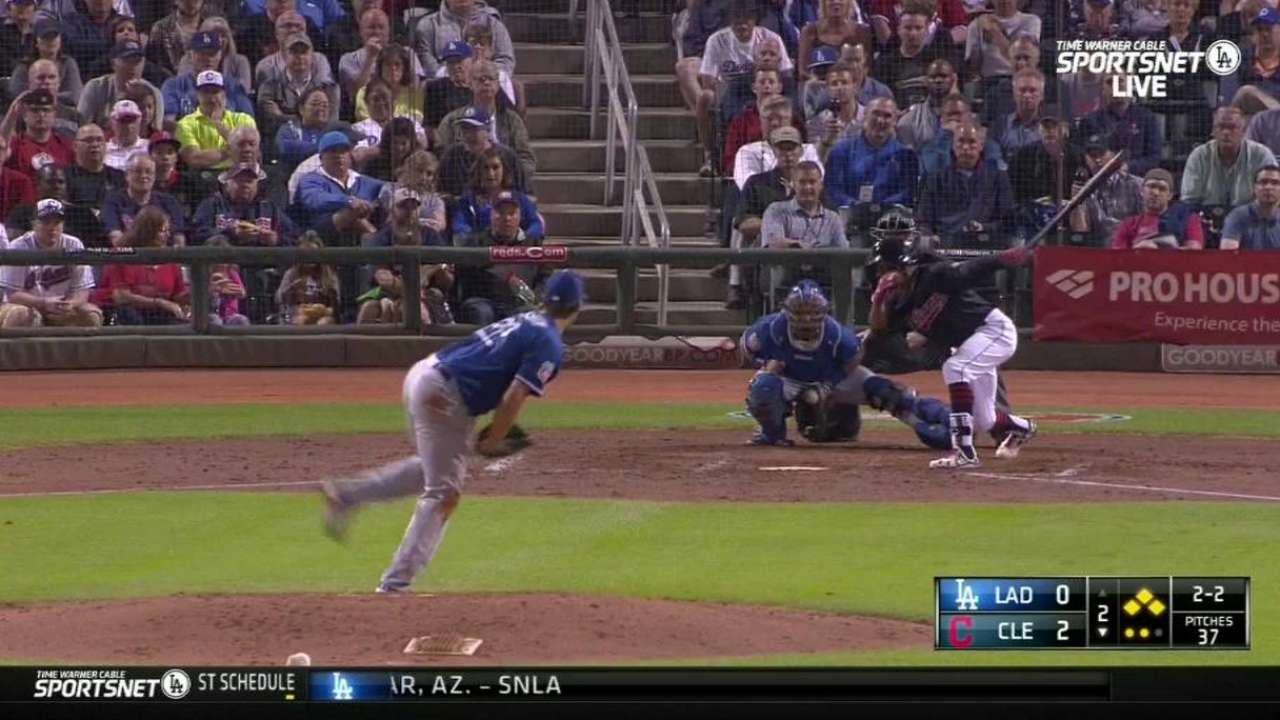 For the Indians, right-hander Trevor Bauer logged five strong innings. Bauer scattered four hits and walked a pair of Dodgers, but he struck out five and allowed only one run. That lone blemish off Bauer came in the fifth inning, when Kiké Hernandez walked and scored on a double by Trayce Thompson. Yasiel Puig later chipped an RBI double off Indians reliever Bryan Shaw.
"I thought he was very aggressive and I also thought we played one of our better defensive games," Indians manager Terry Francona said. "Every time they hit a ball, we made some really good plays. Rajai [Davis] in center. [Juan] Uribe at third. But, again, when you're getting it and throwing it and not working slow, i think those things happen. I thought he held his velocity really good."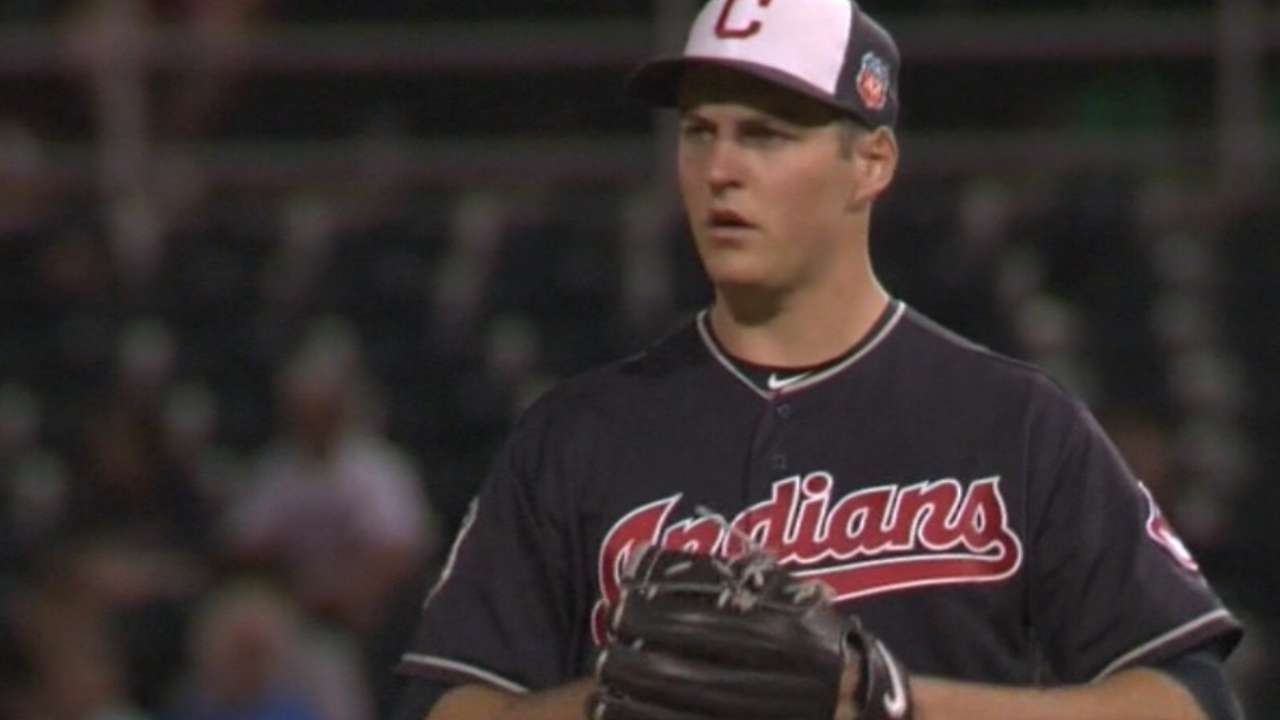 Facing Kershaw, Indians All-Star second baseman Jason Kipnis doubled and scored in the first inning on a single by Francisco Lindor. In the second, veteran Uribe doubled and crossed home plate on a triple by Collin Cowgill, but Kershaw escaped further harm, striking out Lindor with the bases loaded with his signature curveball.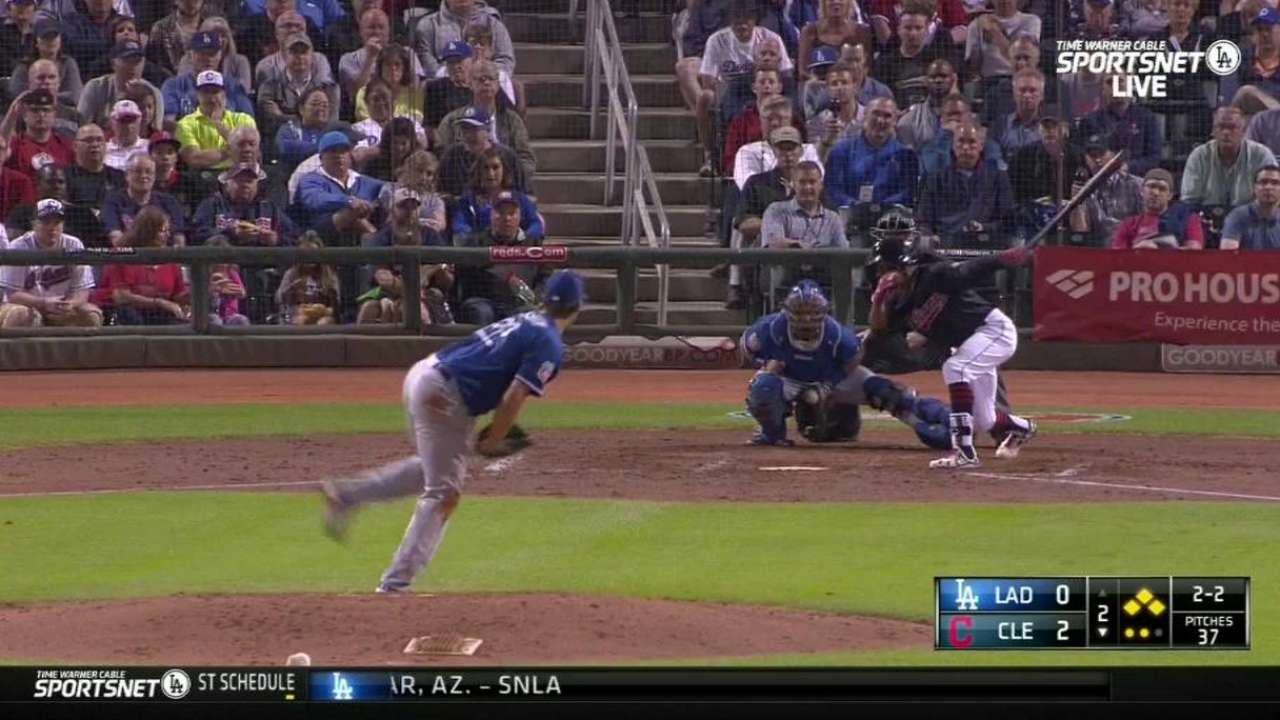 "I know he was battling his command tonight. He's still a handful," Francona said of Kershaw. "I thought our guys had some pretty good at-bats. Cowgill swung the bat, which was great to see. I thought up and down we did some good things."
That was the extent of the scoring against Kershaw, who has a 2.25 ERA with 21 strikeouts in 19 Cactus League innings overall this spring.
Following the ace's exit, the Indians broke through for three runs in the sixth inning against Dodgers relievers Joe Blanton and J.P. Howell. In the outburst, Cowgill (double, triple, walk and a stolen base on the night) scored from third on a wild pitch, while Lindor and Mike Napoli came through with an RBI double and RBI single, respectively.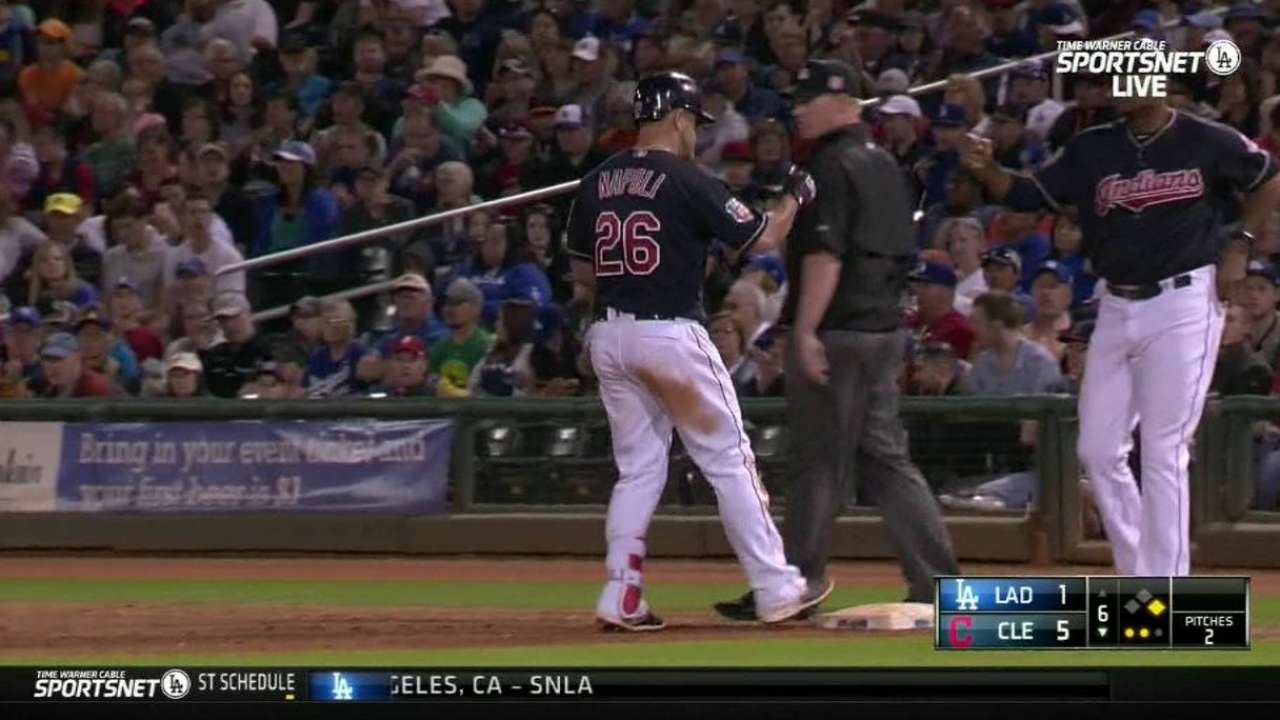 Defensively, Indians center fielder Davis provided a pair of highlights.
In the first inning, Dodgers first baseman Adrian Gonzalez drilled a pitch from Bauer to deep center, where Davis tracked the ball down on a dead sprint with a stellar, over-the-shoulder catch at the wall. In the third, Puig launched a line drive off the center-field wall and tried to stretch a sure single into a double. Davis quickly grabbed the ball and fired it to second, where shortstop Lindor applied a swift tag on Puig for the out.
"That was a really good play," Francona said. "The kid hit the ball so hard, and he was running out of the box. Rajai got it and that was probably one of the better throws he's made. That was a fun play to watch all the way around."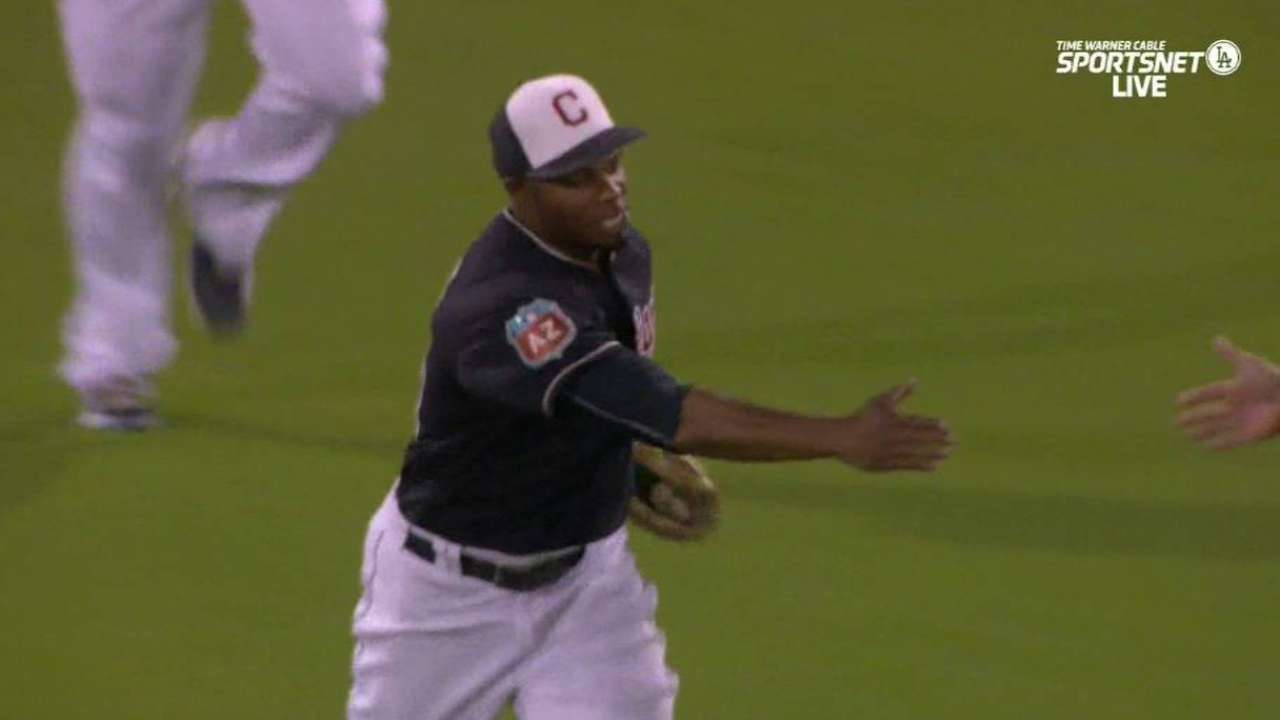 The Dodgers struck for three runs in the ninth against reliever Dan Otero, who was in his second inning. The rally culminated in a bunt single by A.J. Ellis, who chopped the pitch in front of the plate, where Otero charged and bobbled the ball, allowing Rob Segedin to score to tie the game. Otero stayed in for one more batter before being replaced by Jarrett Grube.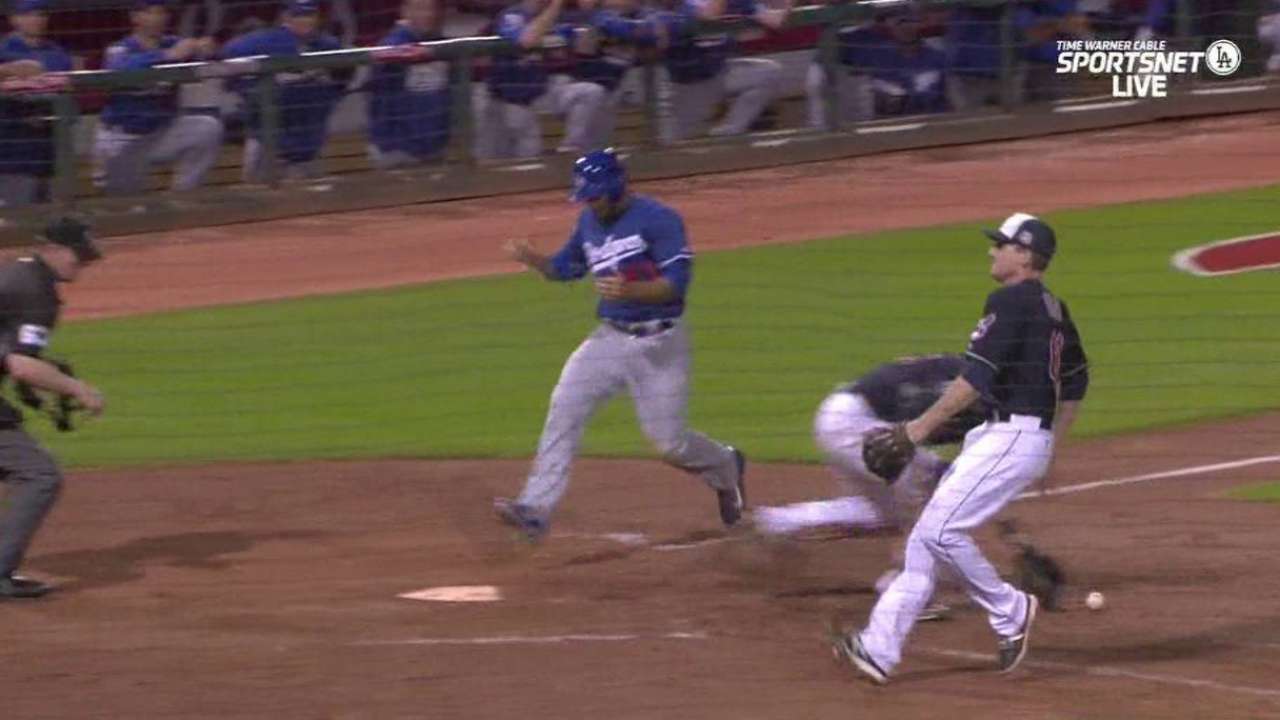 "We just thought that was enough," Francona said. "You get to a point where you want to stretch somebody out, but not do anybody harm."
Up next for Indians: Right-hander Corey Kluber, who is 3-0 with a 0.64 ERA this spring, is scheduled to take the ball on Friday, when the Indians head to Salt River Fields for a 4:10 p.m. ET Cactus League contest with the D-backs. Kluber -- Cleveland's planned Opening Day starter -- has 16 strikeouts and only one run allowed in 14 innings this spring. Yan Gomes, Lonnie Chisenhall and Carlos Santana are among the Tribe regulars expected to be in the lineup.
Up next for Dodgers: Fifth-starter candidate Carlos Frias will make his second start of the Spring in a 7:05 p.m. PT home game against the Giants, which is already sold out. Because of injuries, Yasmani Grandal and Howie Kendrick are not expected to start. Frias appears to be competing with Zach Lee for the fifth starter spot after injuries to Mike Bolsinger and Brandon Beachy.
Jordan Bastian is a reporter for MLB.com. Read his blog, Major League Bastian, follow him on Twitter @MLBastian and listen to his podcast. This story was not subject to the approval of Major League Baseball or its clubs.