Solis' walk-off blast lifts Chaminade to semifinals
No. 7 Draft prospect Rutherford goes 4-for-4 on Day 2 of NHSI event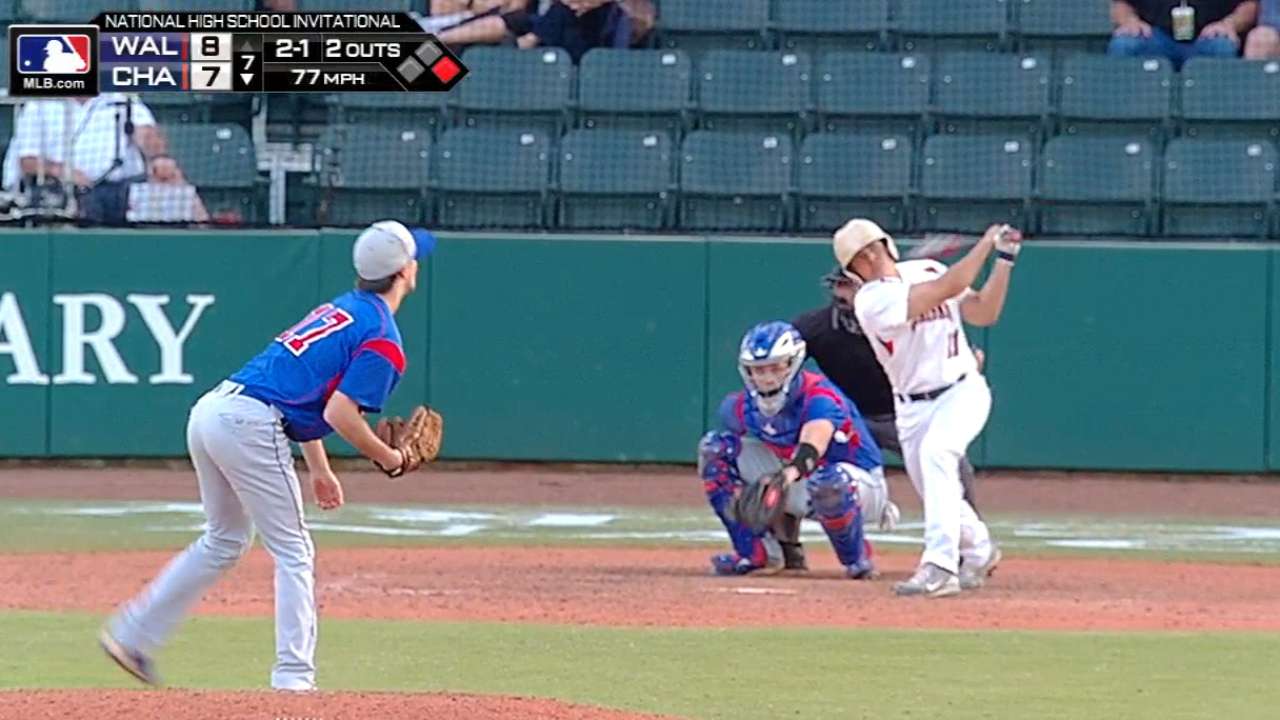 CARY, N.C. -- Blake Solis, Chaminade Prep's No. 9 hitter, stepped to the plate with two outs in the bottom of the seventh inning with Blake Rutherford, the No. 7 Draft prospect, on deck.
Rutherford was enjoying a 4-of-4 day for Chaminade Prep, but his Eagles trailed Walton (Ga.) High by one run with a runner on first base in the quarterfinals of the National High School Invitational.
Many in attendance at the USA Baseball National Training Center's Coleman Field were wondering if Solis could get on base to give Rutherford another at-bat.
However, Rutherford and his teammates were well aware that Solis is normally the Eagles' No. 3 hitter.
The 5-foot-9, 185-pound senior outfielder turned on an inside fastball for a walk-off home run that lifted Chaminade Prep to a 9-8 win over Walton on Thursday.
He was mobbed by teammates at home plate.
"I've never hit a walk-off," Solis said. "This was by far the craziest home run I've ever hit. I've never been involved in anything like this. This was special."
With the victory, Chaminade Prep advances to Friday's semifinals against Florence High of Alabama. The other semifinal matches Huntington Beach High (Calif.) and Allatoona High (Ga.).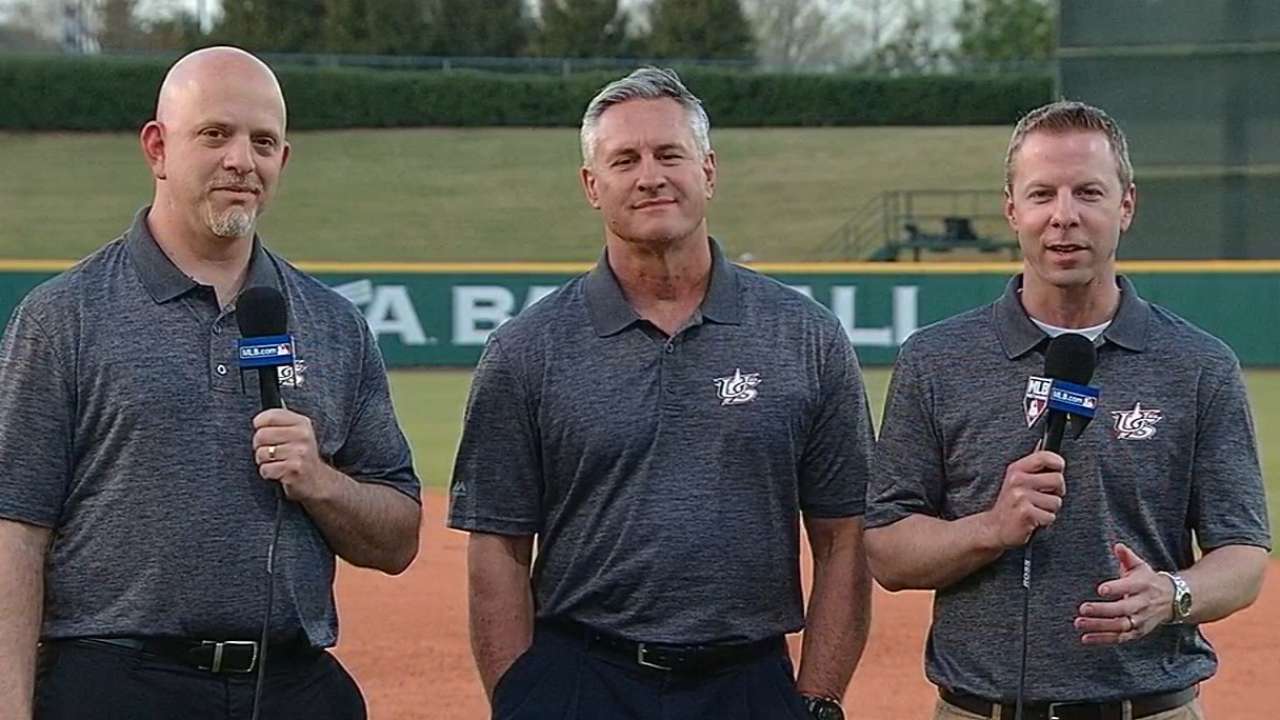 Chaminade Coach Frank Mutz explained he dropped Solis to No. 9 to give him a mental break from a slump. But normally Solis sees good pitches if opponents refuse to pitch to Rutherford, who bats leadoff, and another heavy-hitter, Nick Kahle, who hits second.
"This is a young man with incredible power and a good contact hitter," Mutz said. "I think our club is going where he goes. He protects those two big bats in front of him. If they're not going to throw to them, they have to throw to him."
Solis isn't committed to a college, and Mutz said he hoped he opened some scouts' eyes.
"This is the place where kids get discovered," he said.
Solis punctuated a game that featured a matchup with two big hitters, Rutherford and Walton shortstop Carter Kieboom, MLBPipeline.com's No. 50 Draft prospect.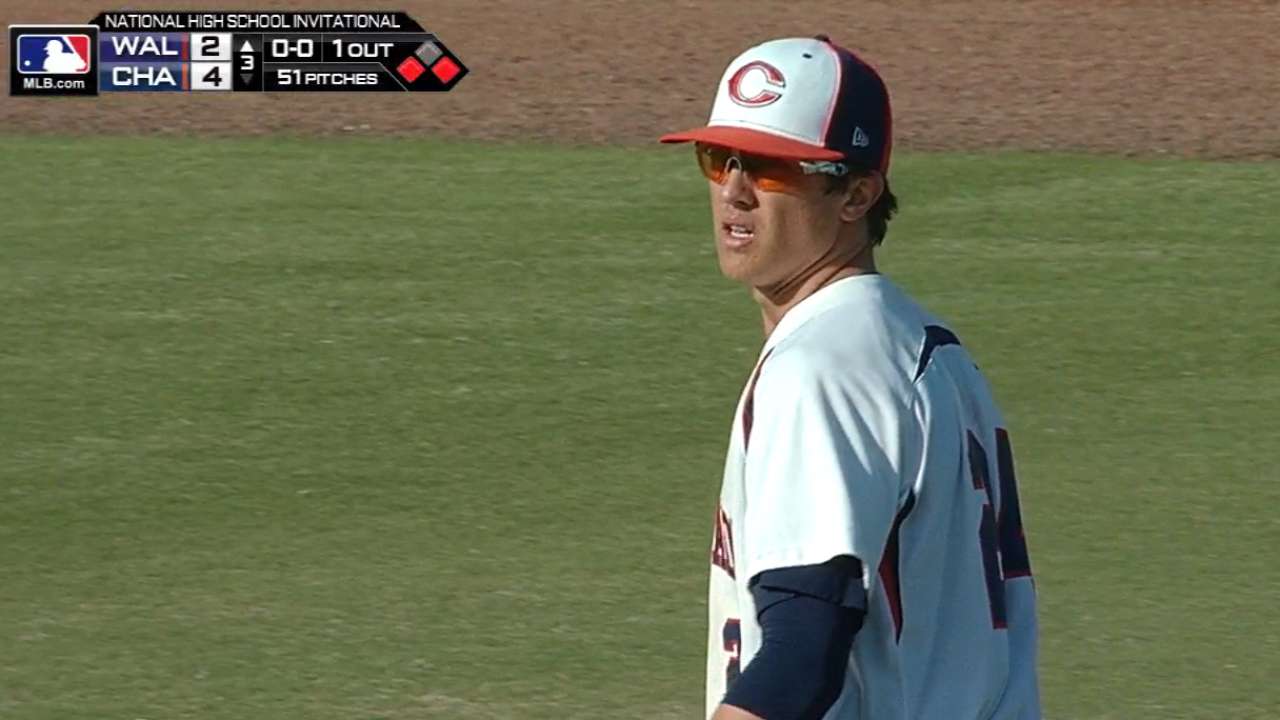 "(Solis) has been one of our best hitters," Rutherford said. "I knew if he got a pitch to drive he could do it. That ball was crushed. That was unbelievable."
Rutherford had three singles and a double in his 4-for-4 day and scored two runs. He was 2-of-3 in Wednesday's opening round win.
Kieboom, who is committed to Clemson, reached base in all four of his plate appearances. He walked twice, singled and reached first on an error. He finished 1-of-2 with three runs scored and an RBI.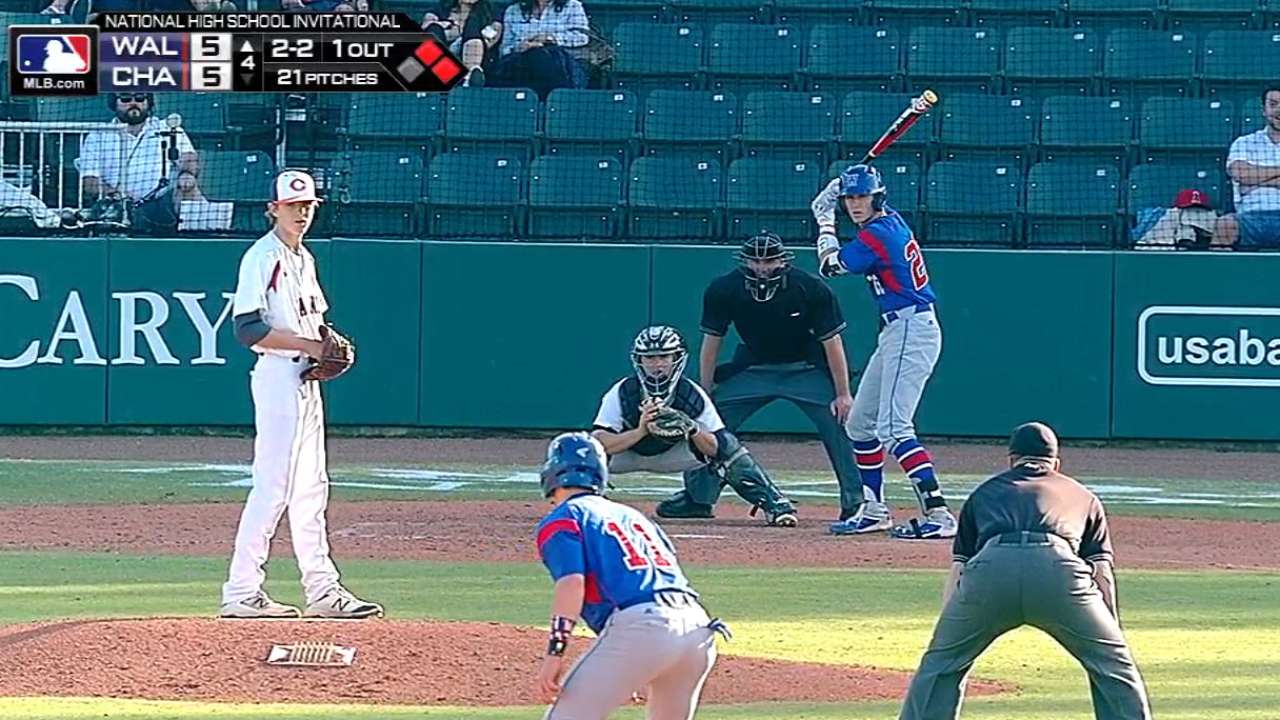 Kahle and Walton's Jason Rooks also showed off their big bats in the game.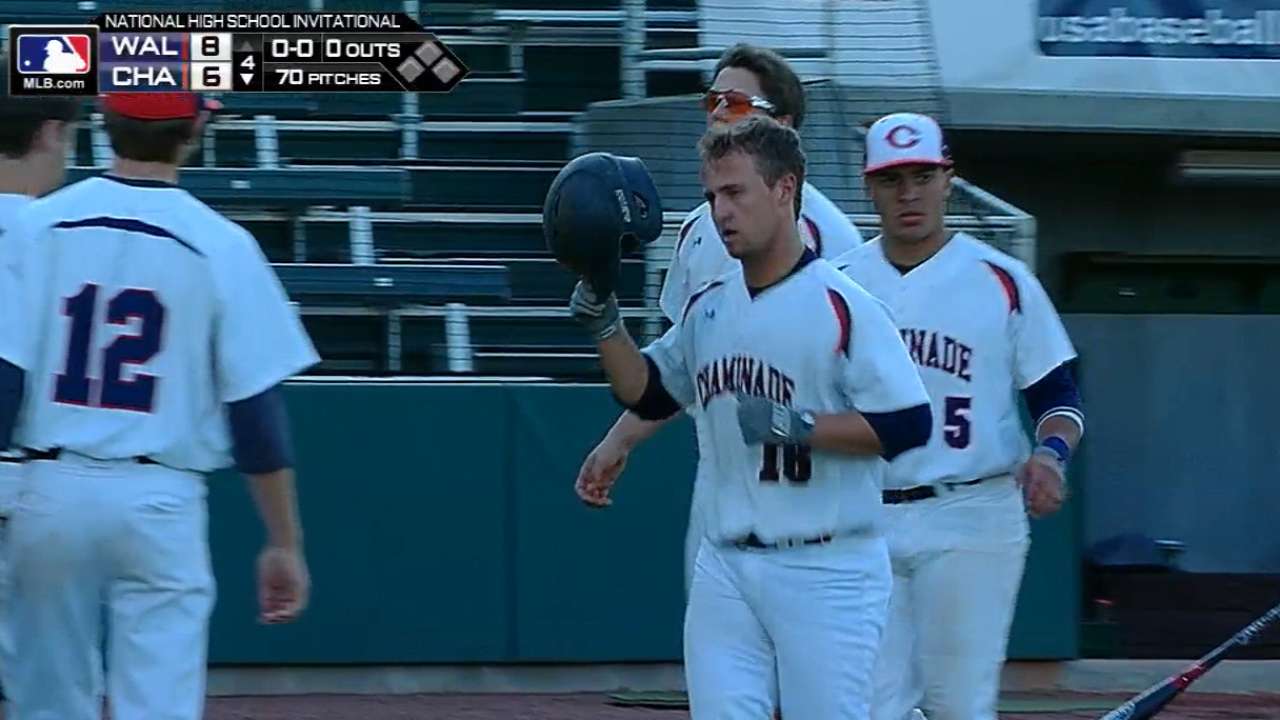 Kahle, a senior catcher committed to Washington, hit his second home run of the tournament. He was 2-of-4 with two runs scored and an RBI.
Rooks, a junior pitcher/outfielder who is committed to Georgia Tech, connected for a two-run homer in the first inning. He was 2-of-4 with a run scored and three RBIs.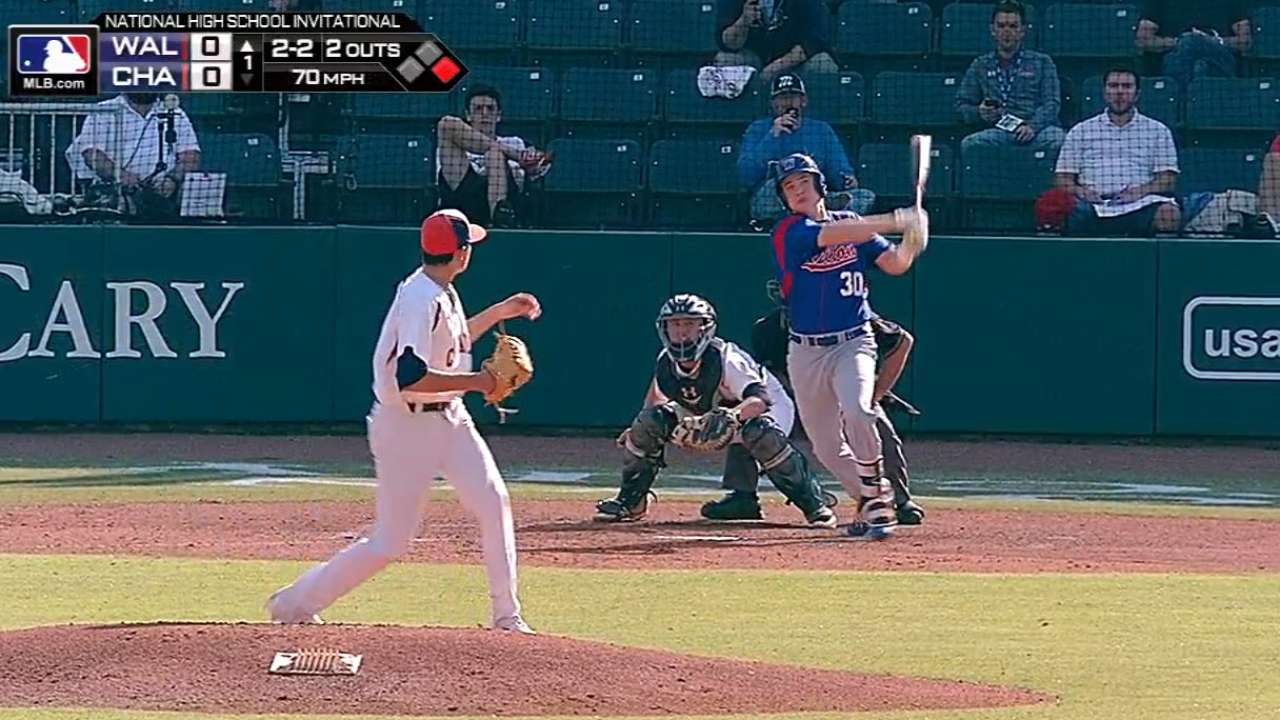 Quartefinals
• Florence 5, The First Academy 4
Florence High advanced to the semifinals with a second straight eighth-inning victory. Zac Perkins laid down a walk-off suicide squeeze bunt in the bottom half of the eighth. The Falcons' Landon Langston was 1-for-3 with a double and an RBI.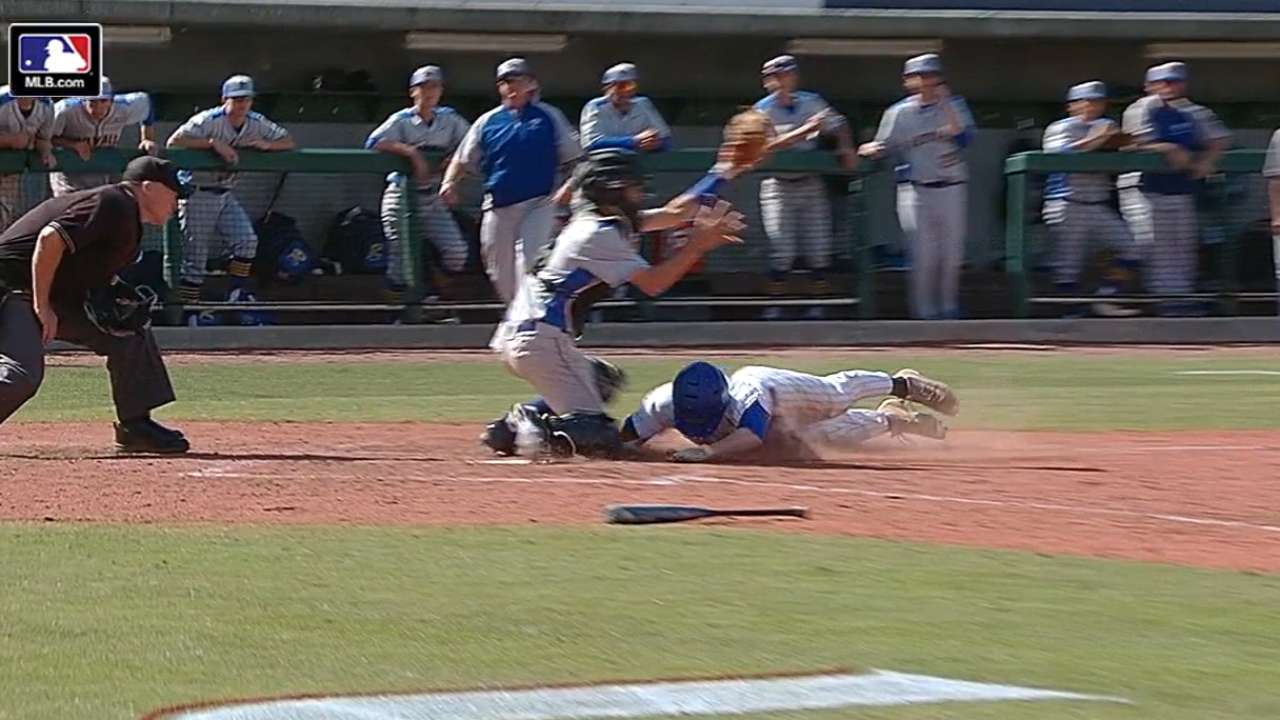 Florence pitcher Garrett Braxton, the Draft's No. 41 prospect, played center field and was 1-of-3 with an RBI single. The First Academy won the 2014 NHSI title.
• Garrett thrives on the mound in NHSI
For The First Academy, Case Cash was 3-for-4 with two runs scored and an RBI.
• Huntington Beach 12, Trinity Christian 7
Landon Silver hit a grand slam in a seven-run second-inning to lift the Oilers from Southern California. For Trinity Christian, J.C. Flowers was 2-for-2 with a double, a run scored and an RBI.
•Allatoona 5, North Broward 1
Juanyea Turner was 1-of-3 with a two RBIs to lead Allatoona High to the win. Five Buccaneers pitchers combined to limit North Broward Prep (Fla.) to six hits and one run, which Andres Siera knocked in on a single.
Other games
• Flanagan 9, Poly Prep 3
Flanagan's Tyler Evans was 1-for-4 with a two-run double to lead the Falcons. Poly Prep Country Day's shortstop/third baseman Daniel Bakst, who is committed to Stanford, was 1-for-4.
• Mater Dei 3, Liberty Christian 2
Liberty Christian Academy tied the game 2-2 in the top of the fourth, but Mater Dei answered with the go-ahead run in the bottom half of the frame. Mater Dei's Josh Stephen was 3-for-4 with an RBI. Mater Dei pitcher Luke Williams tossed a three-hit complete game for the win. Liberty sophomore catcher Wesley Clarke was 1-for-3 with a double and a run scored. Zack Hess, who flirted with a no-hitter for Liberty on Wednesday before losing 2-0 to Florence, was 0-for-2 as the designated-hitter. Hess won't pitch again in the tournament. Mater Dei won the 2012 and 2013 NHSI titles.
• Houston 6, Bingham 3
Houston's Jack Kenly was 1-for-4 with two RBIs and Ayrton Schafer was 3-for-4 with a run scored and an RBI for the Mustangs. Bingham's Sean Keating was 2-for-2 with a run scored and an RBI for the Miners.
• Topsail 5, Rocky Mountain 2
Topsail, North Carolina's tournament representative, bounced back from a first-round loss to beat Rocky Mountain of Fort Collins, Colo. Topsail's Aaron Beach was 2-for-3 with an RBI double and a run scored. Rocky Mountain's Casey Kostrzewa was 1-for-2 with an RBI single.
Schedule
Friday (semifinals)
12 p.m. ET -- Chaminade (Calif.) vs. Florence (Ala.)
3:30 p.m. ET -- Huntington Beach (Calif.) vs. Allatoona (Ga.)
Saturday
Championship game (Teams TBD), 12:15 p.m. ET
Tom Shanahan is a contributor to MLB.com This story was not subject to the approval of Major League Baseball or its clubs.