Danks lowering spring ERA without checking mph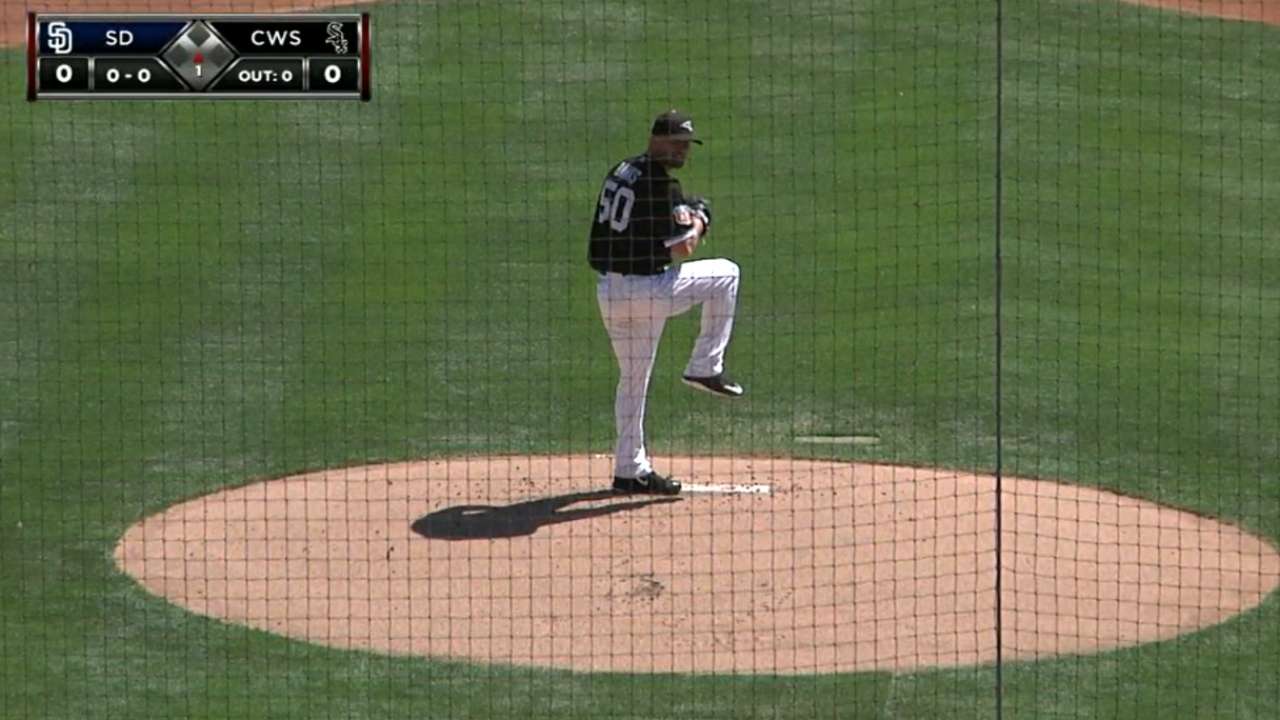 GLENDALE, Ariz. -- John Danks doesn't believe he's throwing with any extra velocity during this Spring Training.
To be honest, the veteran left-hander is at a point where he doesn't care.
"This is the first spring I can remember where I haven't even asked or cared what [the radar gun] is," Danks said. "That might be part of the process, just getting beyond the radar gun and worrying more about throwing it where I want."
Danks has expertly hit that mark over the past two Cactus League outings, hurling 11 scoreless innings combined for the White Sox against the Cubs and Padres. Catcher Dioner Navarro helped Danks with advice on glove placement on certain pitches leading to pitch tipping, but Danks also has been working with cleaner mechanics and locating pitches for the most part.
Without benefit of a 95-plus-mph fastball, Danks doesn't concern himself with picking up an extra mile or two.
"I've done the try to throw it harder routine, and that just doesn't work," said a smiling Danks. "Getting the swings and the contact I want, I feel like my speed differential is still plenty good with my changeup.
"Really, it's just I don't care what the radar says. It can be 85 for all I care, as long as it's down in the zone. I like my chances a lot better than 90 up in the zone."
The power of power
Jimmy Rollins' home run in the first inning and Brett Lawrie's long drive in the sixth of Thursday's 6-5 loss to the Angels gave the White Sox a robust 36 home runs in 22 Cactus League contests. They have 19 players who have gone deep since Spring Training games began.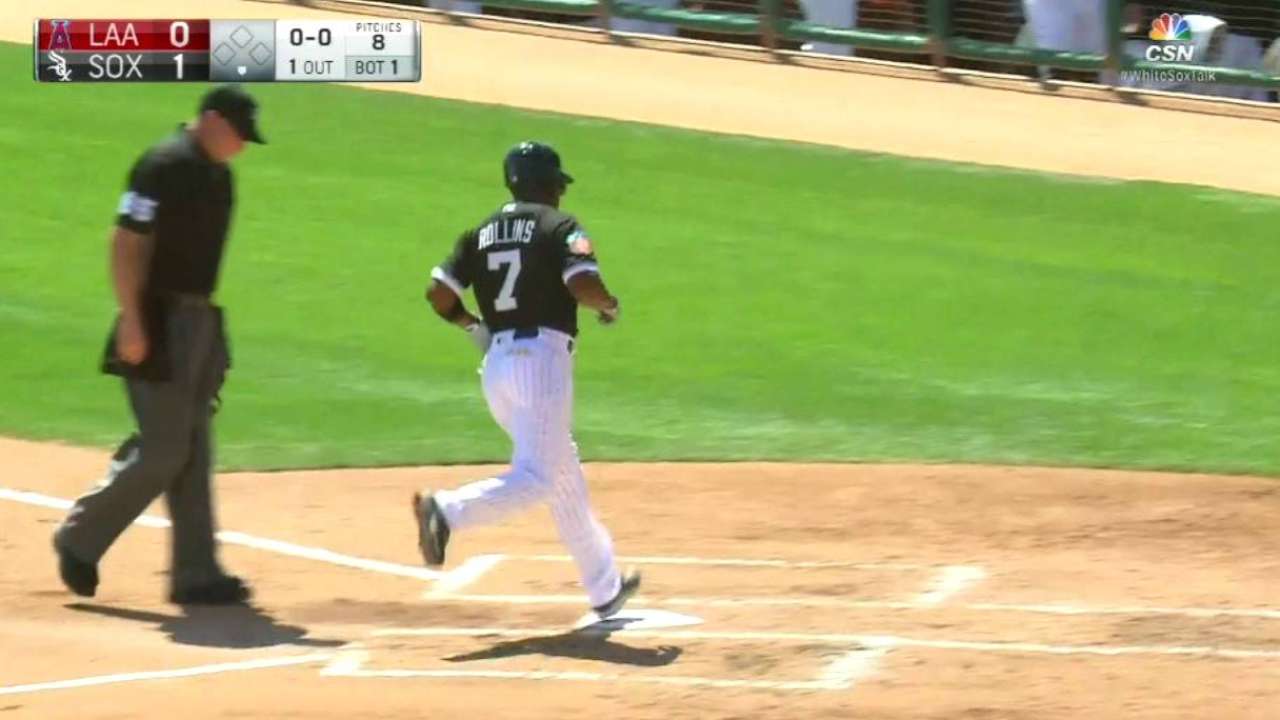 The team is on pace to hit 50 home runs, and its .494 slugging percentage ranks second in baseball behind the D-backs. All offensive numbers have to be slightly adjusted for the Arizona climate, but White Sox manager Robin Ventura certainly hopes this wall-clearing trend continues.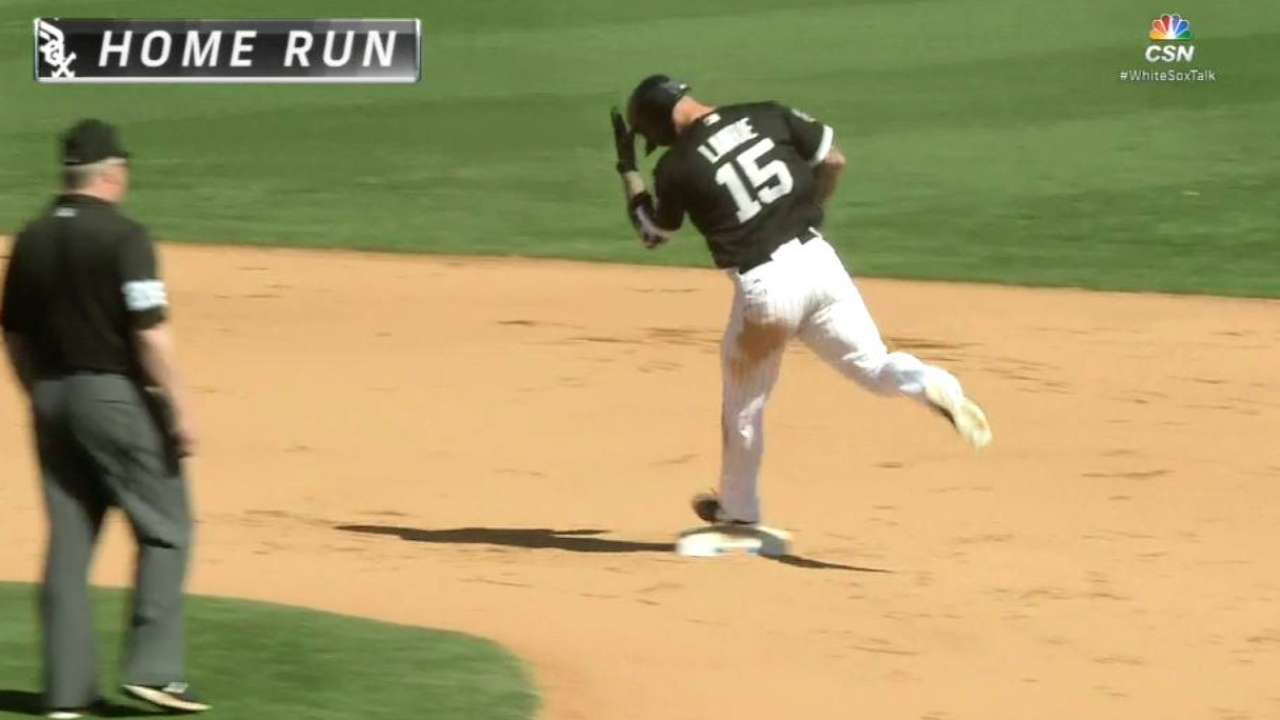 "You always need them. If we can't hit homers in our ballpark, we're in trouble anyways," Ventura said. "It's nice to see guys getting it in the air and hitting it a long way. We'll never not want to do that."
By comparison, the White Sox hit 22 homers last spring and finished the season with 136. They hit 27 in Arizona in 2012 but went on to hit 211 during the season. So Spring Training doesn't always serve as a perfect indicator.
"I think the type of home runs they're hitting, and who's hitting them, you expect those guys to hit them," Ventura said. "It's been a good sign.
"You're hopeful guys hit homers, because you need to hit them to be able to compete in our division. I like the way it's gone so far. But you never can tell."
They said it
"I don't know if it's swagger, but it's great if he has it." -- Ventura, on Avisail Garcia showing more confidence to go with his improved performance at the plate this spring
"Sometimes you can get in the dugout and it's quiet and kind of stagnant. I haven't really felt that. Especially in Spring Training, this can get kind of tough on guys and mentally draining. To be able to carry that energy in spring, it's nice and it shows, definitely." --Chris Sale, on the team's Arizona vibe
Scott Merkin is a reporter for MLB.com. Read his blog, Merk's Works, follow him on Twitter @scottmerkin, on Facebook and listen to his podcast. This story was not subject to the approval of Major League Baseball or its clubs.