MLB.com Columnist
Mike Petriello
Giancarlo Stanton is baseball's answer to Steph Curry
In half a season, Miami slugger hit more balls at 110 mph than 17 other teams did all year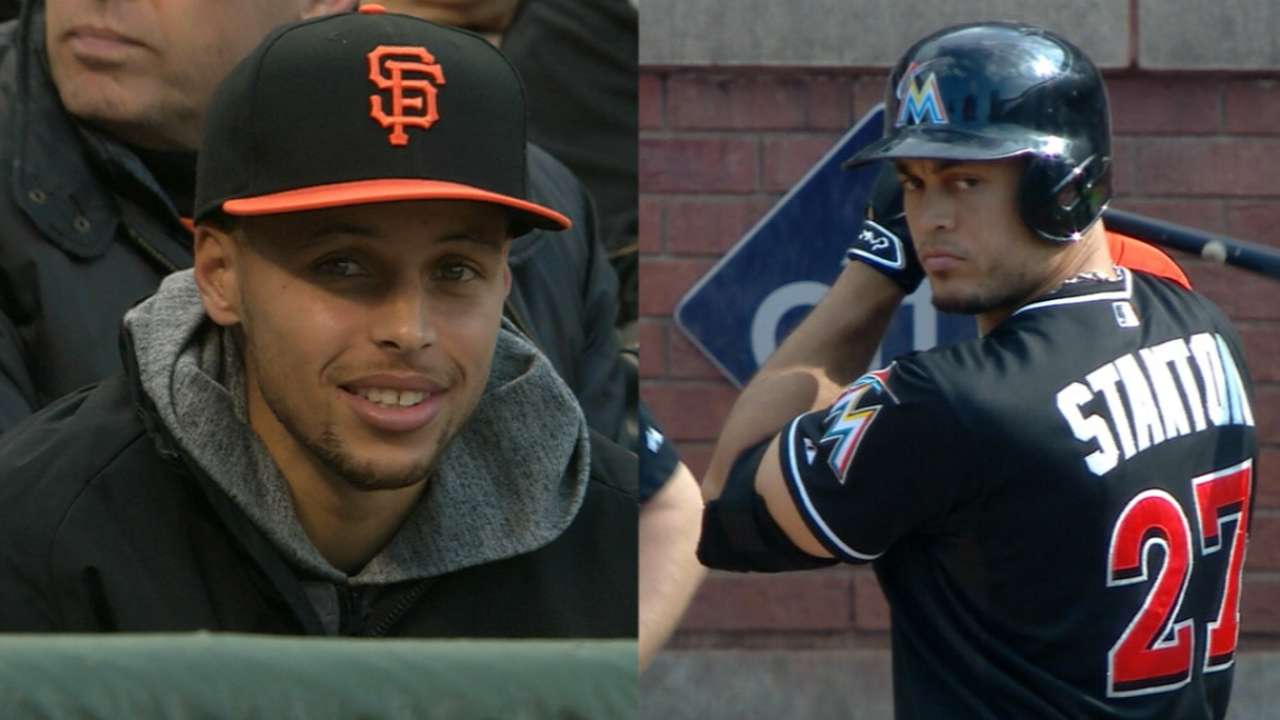 Over in the NBA, our friends on the hardwood have been marveling at the exploits of Golden State's Steph Curry, who is putting up a season like no one has ever seen. This year, Curry didn't just break the three-point record he'd originally set in 2012-13 and topped in 2014-15, he shattered it with 24 games left to go -- or with nearly 30 percent of the season remaining.
It's something like the difference between Roger Maris topping Babe Ruth's single-season home run record by one, 37 years after Ruth put up 60 in 1927 -- and Ruth crushing his own original record by 25 in 1920, when he hit 54 and outhomered 14 of baseball's other 15 teams. It's one thing to barely get your name atop the list, and another thing to destroy the list entirely.
So as we watch Curry light up the league, we got to thinking about what such a player would look like in baseball, and we realized that the first season of Statcast™ showed us that we may very well already have one: Giancarlo Stanton, who crushes baseballs in a way that arguably no one ever has.
Now, we use the qualifier "arguably" because with just one season of Statcast™ data, we can't completely compare Stanton to a legend like Ruth or Ted Williams, though we know neither one had to deal with flame-throwing one-inning relievers, coast-to-coast travel, or a globally-integrated talent base like Stanton does. But as we've often said, while it may not seem like we needed fancy technology to show that Stanton hits the ball really hard, what we saw from him before his hand injury last year was so stunning that it seems like we may have lucked into something historic in year one.
Stanton had the three hardest tracked batted balls in baseball last year, and eight of the top 10. He had the highest average exit velocity, with his 99.1 mph leading second-place Miguel Cabrera by four mph. Looking at the percentage of Stanton's balls in play that were hit at 100 mph or more, his 43.8 mark easily outranked Nelson Cruz's 38.8. In the same way that Curry has gone beyond just "leading the league" and moved onto another plane of existence entirely, that's what we saw from Stanton.
Since Curry's best-known skill is his deadly accuracy from long range, and Stanton is baseball's foremost power source, we thought we'd find the point where their slices of their respective sport's pies diverged -- that is, where we could set thresholds for long-range shooting and batted ball exit velocity to see where they each could claim a similar share of production for their sports.
That point turned out to be "from 25 feet or more" for Curry and "over 110 mph" for Stanton, at which point Major League hitters had a scorching average of .730.
Curry, successful shots from 25-plus feet: 3.1 percent of NBA total (104 of 3302)
Stanton, batted balls hit 110-plus mph: 3.5 percent of MLB total (45 of 1271)
At around three percent of all such events across the sport, Curry's distance and Stanton's velocity stand out in a way no other player can claim.
You can make a similar comparison when realizing that Curry and Stanton aren't just topping other individual players, but entire teams:
Curry, successful shots from 25-plus feet: 104, more than 12 other NBA teams (41.3 percent)
Stanton, batted balls hit 110-plus mph: 45, more than 17 other MLB teams (58.6 percent)
Put another way, Stanton topped 110 mph 45 times -- and the Phillies, Braves, Reds and Giants combined did so only 44 times.
But there's an important caveat to remember here: Stanton's hand injury ended his year on June 26, in the Marlins' 75th game of the season. Stanton stopped putting up numbers weeks before the season's midpoint, and he still ended up crushing more balls over 110 mph than entire other rosters did in a full season. (The Braves had 6,034 plate appearances, nearly 20 times as many as Stanton did.)
With that in mind, we're left to wonder what Stanton might be able to accomplish if he were able to stay healthy for a full season. (With back-to-back blasts this week, the hand certainly seems healed.) An entire year of data might back up the sneaking suspicion that Stanton wasn't just the hitting star of Statcast™'s first year, but might actually be putting up numbers that will stand for years to come.
That's what people are saying about Curry's feats on the court, anyway. What he's doing might be unprecedented in the NBA, but he's not alone in major team sports. Baseball has Stanton. There's never been anyone quite like him.
Mike Petriello is an analyst for MLB.com and host of the Statcast podcast. He has previously written for ESPN Insider and FanGraphs. This story was not subject to the approval of Major League Baseball or its clubs.