MLB.com Columnist
Fred Zinkie
12 players to reassess before your big draft
Influenced by many factors, fantasy ranks change drastically in March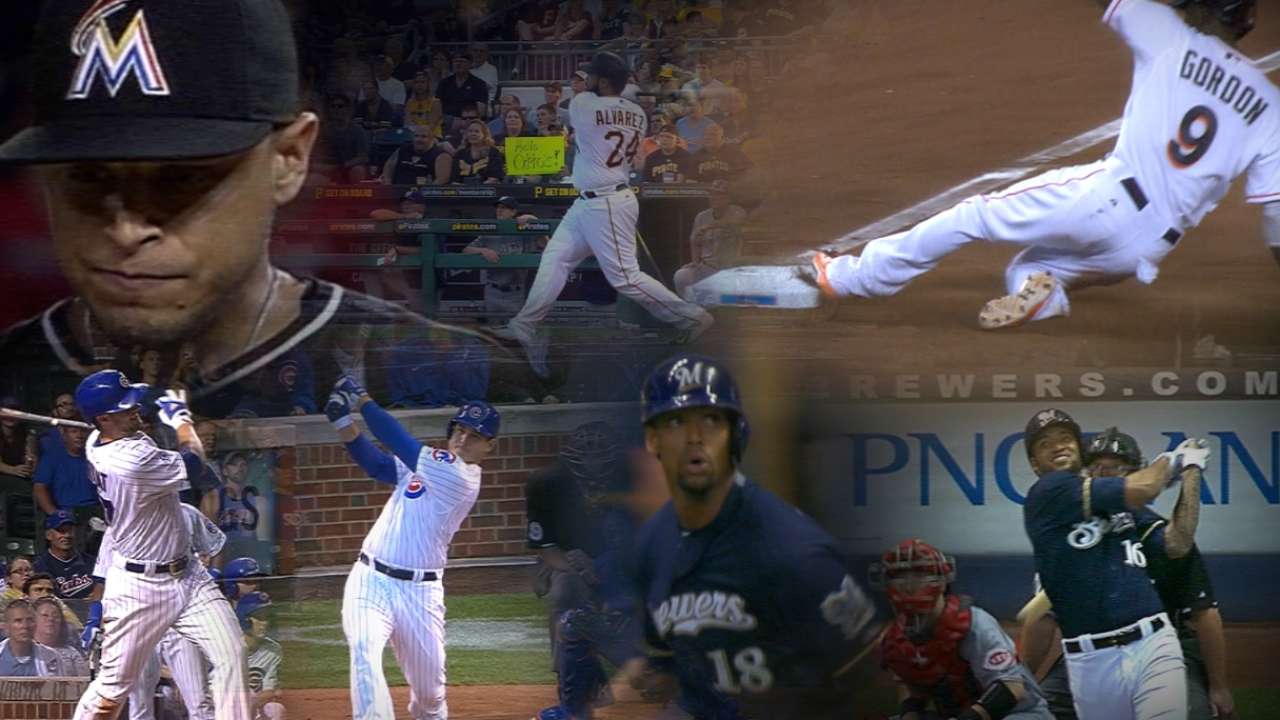 Since its release on Feb. 8, the MLB.com Fantasy Player Preview has undergone more than 200 tweaks based on Hot Stove transactions and Spring Training news. But among the multitude of adjustments made across more than six weeks, a few changes stand out as especially significant.
Dee Gordon: Ranking on Feb. 8: 31st | Today: 22nd
Those who have drafted this spring have realized one thing: Elite stolen-base options are few and far between. Owners seeking to secure a 50-steal threat have two options: Gordon and Billy Hamilton. But since Hamilton has an impact in only one category, Gordon represents the far better option. Moreover, the Miami speedster has a spot atop a Marlins lineup that could produce more runs this year if Marcell Ozuna, Christian Yelich and Giancarlo Stanton can stay off the disabled list.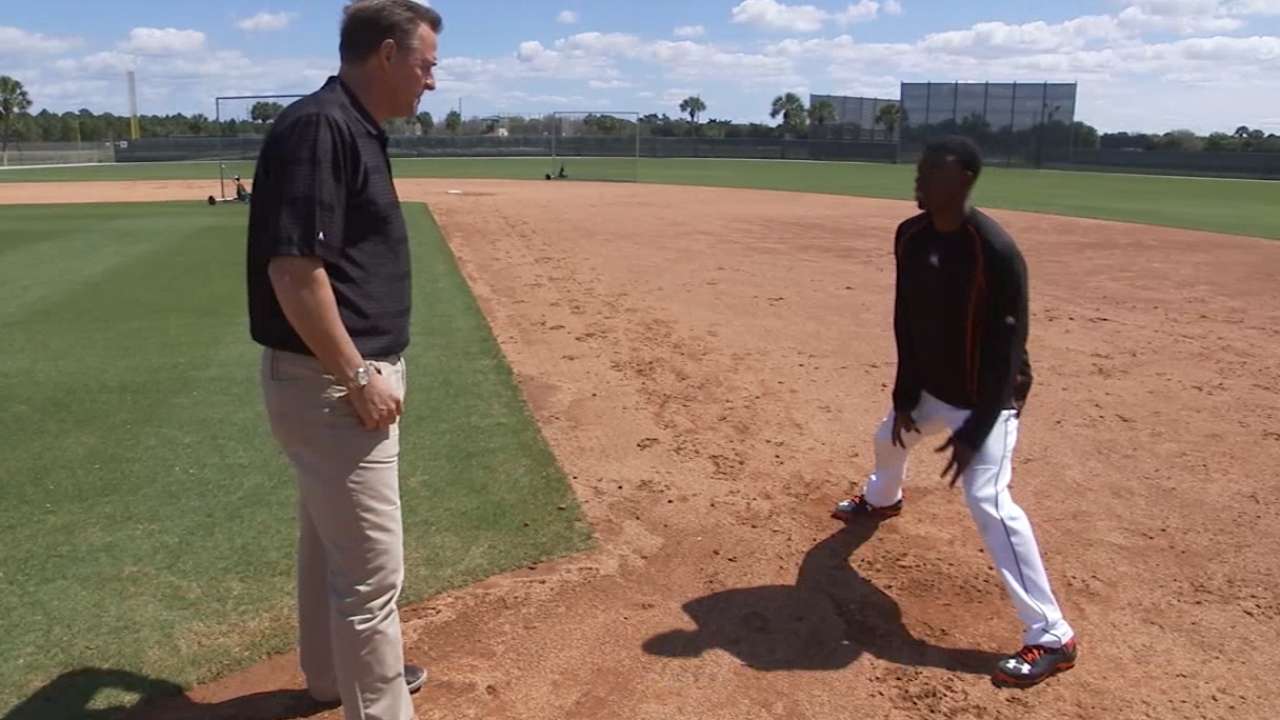 Anthony Rizzo: Ranking on Feb. 8: 9th | Today: 8th
Kris Bryant: Ranking on Feb. 8: 18th | Today: 15th
Given their acquisitions of Jason Heyward, Ben Zobrist and Dexter Fowler, the Cubs will march into the season with arguably the deepest lineup in the National League. Given their stellar supporting cast, Rizzo and Bryant could be set to post massive counting-stat totals.
Aroldis Chapman: Ranking on Feb. 8: 71st | Today: 156th
Andrew Miller: Ranking on Feb. 8: 254th | Today: 187th
Across a full season with the Yankees, Chapman could have exceeded the 40-save and 100-strikeout marks. But given his 30-game suspension, the left-hander dropped to second-tier status at the fantasy closer position. The Yanks' top saves option in Chapman's stead, Miller will be an elite option out of the gate. As a result, Miller owners should expect roughly 10 saves to go along with elite ratios and approximately 100 whiffs.
• Don't start your draft without MLB.com's fantasy cheat sheet
Michael Brantley: Ranking on Feb. 8: 302nd | Today: 119th
On the road to recovery from offseason shoulder surgery, Brantley was previously expected to miss a significant portion of 2016. But the outfielder has progressed at a rapid rate, making his inclusion in Cleveland's Opening Day lineup a realistic possibility. Brantley comes with too much risk to pick in the first six rounds of 12-team mixed-league drafts, but he is a viable option after that phase.
Yelich: Ranking on Feb. 8: 90th | Today: 73rd
A lifetime .290 hitter with plus speed, Yelich needs to add a power element to his game in order to take the next step as a fantasy piece. The 24-year-old could do just that in 2016, after the Marlins' decision to move in the outfield walls during the offseason. Set to move to the No. 3 spot in Miami's lineup -- in front of Stanton -- the 24-year-old might also see a boost in his counting-stat totals.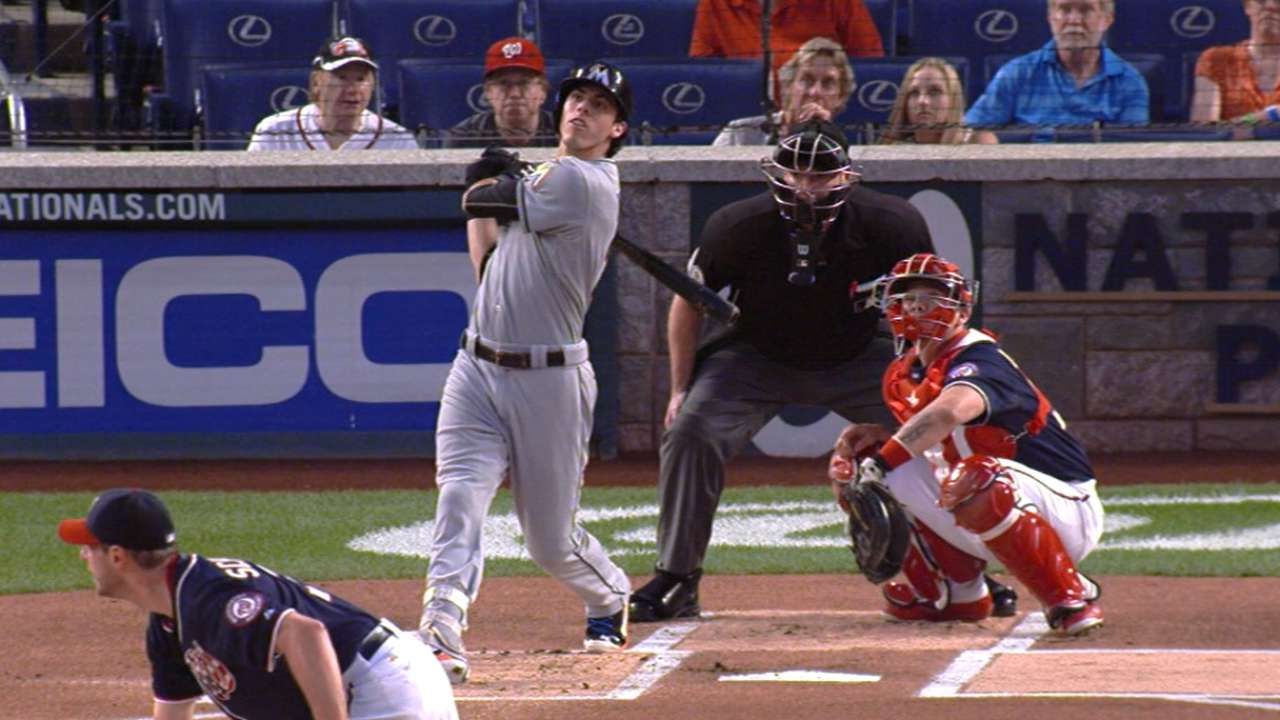 A.J. Ramos: Ranking on Feb. 8: 181st | Today: 111th
Ramos opened Spring Training in a battle for his ninth-inning job, vying against the flame-throwing Carter Capps. But with Capps now shut down for the season due to Tommy John surgery, Ramos will be free to use his swing-and-miss stuff to tally 35 saves in addition to his 75 whiffs.
Khris Davis: Ranking on Feb. 8: 141st | Today: 205th
Domingo Santana: Ranking on Feb. 8: 409th | Today: 230th
Traded from Milwaukee to Oakland this offseason, Davis will enter the upcoming campaign with dampened expectations in the power department. The slugger is now less likely to belt 30 long balls given his move from hitter-friendly Miller Mark to offense-suppressing O.co Coliseum. Plus, A's manager Bob Melvin has a deep group of outfield options at his disposal that could limit Davis' playing time. This swap opened up a starting spot for the young Santana, now an attractive sleeper in mixed leagues given his potential to belt 25 long balls and chip in a few stolen bases.
Jorge Soler: Ranking on Feb. 8: 190th | Today: 416th
Soler entered the offseason on a short list of the top breakout possibilities, but the Cubs' decision to re-sign Fowler pushed the young Cuban into a reserve role. At best, Soler will open the season on the short side of a left-field platoon.
Pedro Alvarez: Ranking on Feb. 8: 356th | Today: 216th
The defensively limited Alvarez had few free-agent suitors for much of the offseason, but he managed to land on his feet -- and at hitter-friendly Camden Yards to boot. With a spot in the heart of the Orioles' powerful lineup, the left-handed slugger could record 30 home runs.
Trevor Story: Ranking on Feb. 8: 607th | Today: 381st
Wielding a red-hot bat in Spring Training, Story is on the verge of earning the Rockies' starting shortstop job. Having compiled 20 homers and 20 steals in the Minors last year and ready to call Coors Field home, the native Texan could be a five-category asset at the outset. Mixed-leagues owners would be wise to add Story with a late-round pick and worry about his long-term role at a later date.
Fred Zinkie is the lead fantasy baseball writer for MLB.com. Follow him on Twitter at @FredZinkieMLB This story was not subject to the approval of Major League Baseball or its clubs.