Inbox: What's a fair expectation for Pujols?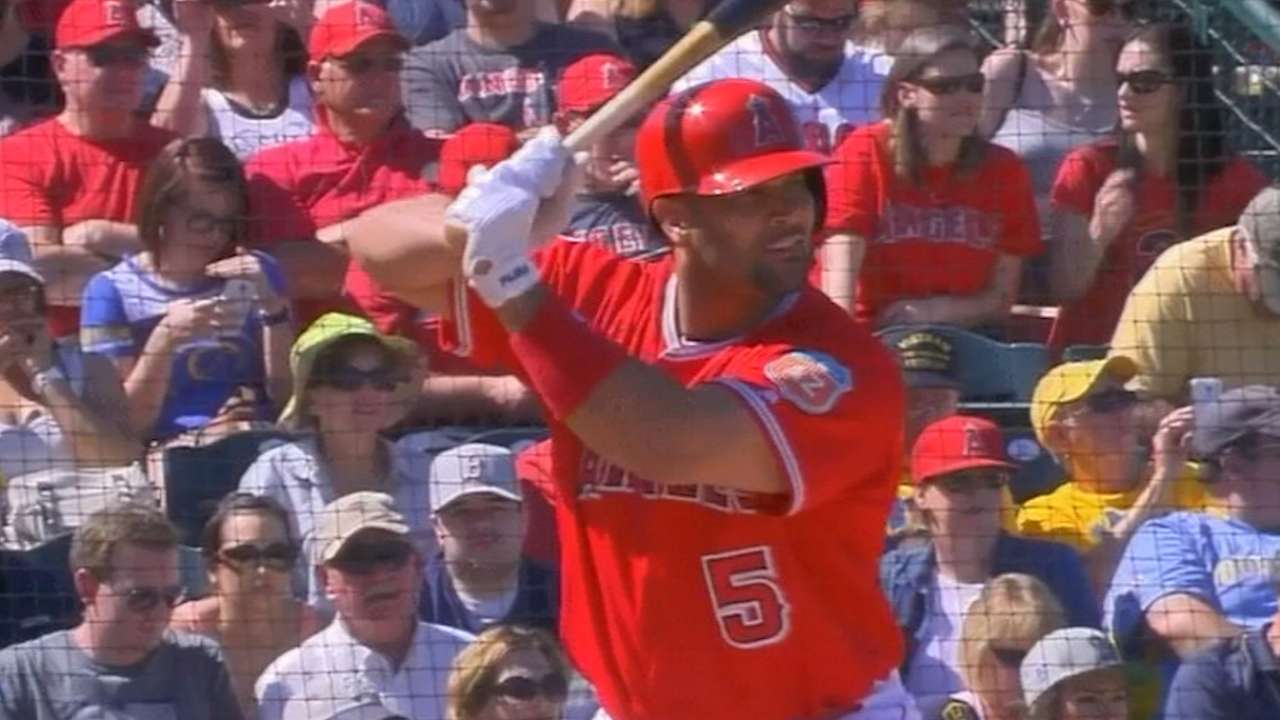 The Angels were off on Wednesday. And for the first time in a long time, they were truly off. New pitching coach Charles Nagy believes in that, regardless of the fact starting pitchers are ideally kept on five-day schedules. Garrett Richards is certainly a fan. Richards' turn coincided with the Angels' first off day of the spring, as it seemingly has basically every year he has been in Major League camp. Instead, though, Richards will skip a day and pitch in a Minor League game on Thursday, 11 days before he'll presumably get the start on Opening Day. I answered some of your lingering questions below.
What are reasonable expectations for Albert Pujols this season? -- Andrew S., Anaheim
I know hitters don't normally improve at 36, but I have a hard time seeing Pujols' 2015 batting average (.244) and on-base percentage (.307) as indicators of who he is at this stage in his career. He's too good a hitter, and those numbers were largely a product of the pain he nursed on his right foot throughout the month of September.
I think being more accepting of taking starts as the designated hitter will help keep Pujols' legs fresh. And I think with that being the case, he can still be about a .270 hitter with roughly a .320 on-base percentage and 30 or so home runs, numbers similar to those of 2014. The Angels would be very happy with that.
How worried should we be about the rotation? -- @hallofan
I actually wouldn't be too concerned here, even though Spring Training hasn't provided much encouragement. There's still no telling when C.J. Wilson's shoulder will heal enough to let him throw off a mound, or what kind of pitcher Jered Weaver can be if his fastball doesn't exceed 81 mph. And Matt Shoemaker's Cactus League numbers are a bit alarming when coupled with his home run troubles from 2015.
But aside from all that, the Angels still have five young starting pitchers to build around in Richards, Andrew Heaney, Hector Santiago, Tyler Skaggs and Nick Tropeano. They're all younger than 29 and controllable for at least two more years, and they all seem poised to take that next developmental step. Skaggs will start the season on the disabled list, but should be ready before the end of April.
The Angels are counting on Weaver and Wilson, two pitchers who will make a combined $40 million this season. And they view Shoemaker as part of that aforementioned group of controllable starters. But if there's one department where this team can stomach setbacks, it's in the starting rotation. The Angels have real depth there.
Will the Angels make any more moves? -- @PRIMEasRIB
I'd be surprised if they made any moves to directly impact the Major League roster before Opening Day, for two main reasons …
1. The biggest concerns entering camp, in left field and at second base, have been bright spots so far. Daniel Nava, expected to get the most playing time in left field, has gone 16-for-32 with eight walks and two strikeouts. Johnny Giavotella, the starting second baseman, has looked good defensively.
2. Their best avenue from which to trade -- the rotation -- has suffered some setbacks. Wilson was shopped throughout the winter, but he holds no trade value until he actually starts pitching in games. The other starter who was dangled, Santiago, is now crucial to the makeup of the Angels' rotation.
Could you see Weaver being moved to the bullpen? -- @_chrisprince_
Weaver could be really tough to hit out of the bullpen, a scenario in which he'd only face hitters once and would follow a starting pitcher who throws harder. That across-the-body delivery, from a 6-foot-7 frame, producing 80-mph fastballs and 65-mph curveballs requires a huge adjustment. It's why Weaver held opposing hitters to a .663 OPS -- 58 points below the Major League average -- the first time through the order last year.
But then there are the realities: It would be very difficult for a 10-year veteran who has been starting his entire life to all of a sudden train his body for the erratic schedule of pitching in relief. And I think Weaver has too much pride to go out like that. The Angels will give him every opportunity to prove he can continue to be an effective starting pitcher. His last two or three spring starts will tell us a lot more about where he's at.
Who has been the most pleasant surprise in camp? -- Jacob F., Tempe, Ariz.
Aside from Nava, I'd go with Mike Morin. He's had seven scoreless appearances thus far, striking out seven batters, walking just one and giving up only two hits. The 24-year-old right-hander is a popular bounce-back candidate, because he has that killer changeup and the right makeup. If he can get back to being the standout rookie from 2014, Morin can lock down the seventh inning and solidify the Angels' bullpen.
Alden Gonzalez is a reporter for MLB.com. Follow him on Twitter @Alden_Gonzalez and Facebook , and listen to his podcast. This story was not subject to the approval of Major League Baseball or its clubs.