Navarro's input helps Danks halt pitch-tipping
Eaton's outfield spot to be determined; Abreu given breather Wednesday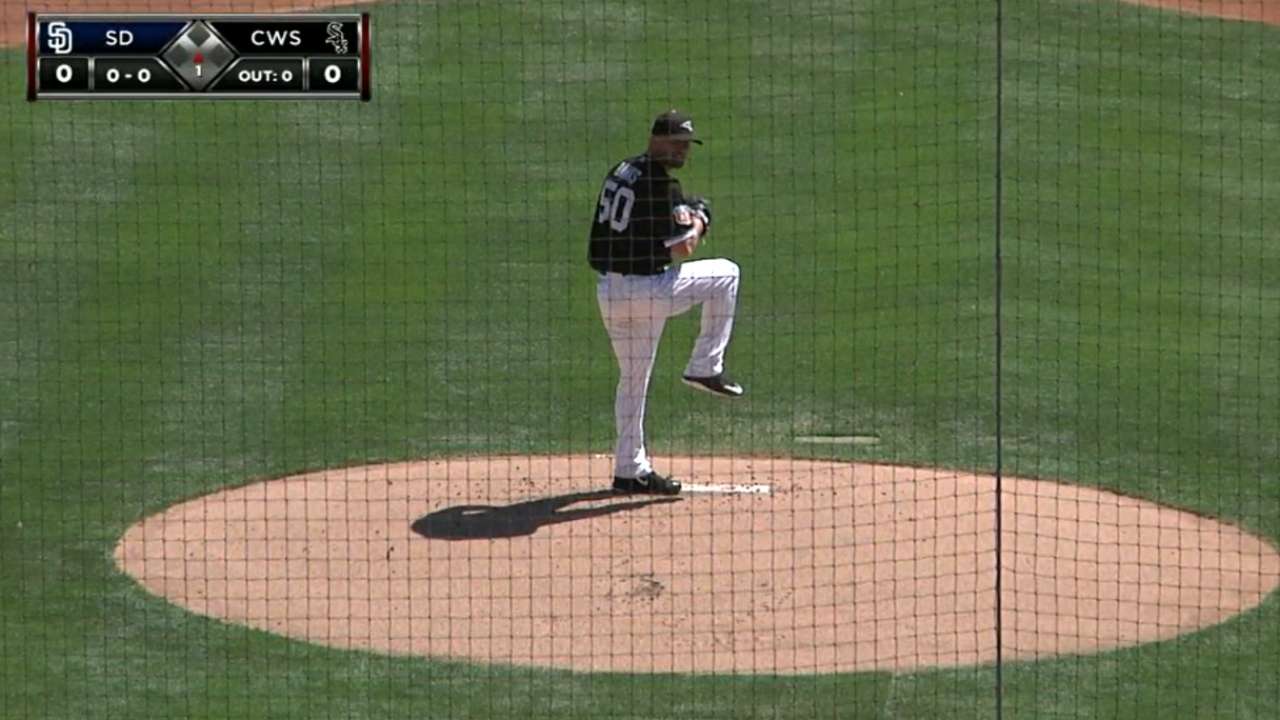 GLENDALE, Ariz. -- John Danks was tipping his pitches during a start against the D-backs on March 13, a fact pointed out by catcher Dioner Navarro.
Danks allowed eight runs on six hits over 4 1/3 innings in that contest. The veteran southpaw has thrown 11 scoreless innings since that Navarro tip -- including six during a 6-1 victory over the Padres Wednesday -- while striking out 13 and walking three.
• Spring Training: Tickets | Schedule | More
Navarro wouldn't reveal exactly what he saw, but added it was fairly obvious.
"I'm 9-for-18 in my career off him," said Navarro, who is actually 11-for-26 with three homers and three doubles.
"That's been part of my adjustment in our mechanics," Danks said, "positioning my glove in the same spot no matter the situation or the pitch I'm getting ready to throw. Literally I just plant my glove on my stomach and don't move it. Kind of hard to tip when you're not moving anything. I hope."
More pitchers tip pitches during camp than one would think, Navarro says, but there's no better time than Spring Training to clean it up. Danks certainly seems grateful for the information.
"Well, I might still be pitching against Arizona if he didn't tell me that. I was getting ready to roll an L screen out there," Danks said. "Dioner has been around. He's seen me. He's faced me.
"If he identifies something, I don't need to go look at it. I trust him. He told me exactly what I was doing. We fixed it and it hasn't been an issue since. Certainly, there's times you go and look at things, but I didn't in this instance."
Eaton throwing around the outfield
Adam Eaton has played across the outfield during Cactus League action, getting a start back in center field on Wednesday. But with Austin Jackson figuring to primarily play center field, it has not yet been decided whether Eaton will be a regular in left or right.
"It can be more of what he's comfortable with, too," said White Sox manager Robin Ventura. "We are trying to get him moved around so he can play all three, and then we'll see what fits the best, how he feels when he's in each position. It's not a definite he's going to play one or the other.
"He looks good out there. It's better than him DHing. He wouldn't be out there unless he was cleared to go. He'll get some time in left and center and just make sure that everything is a go."
Eaton started Cactus League play as the team's designated hitter, staying out of the outfield until his throwing program from offseason nerve decompression surgery had him ready to throw in a game on Saturday. Eaton let loose with a throw from right field in Tuesday's game against the Giants and reported no ill-effects after the latest test.
"Everything is pretty normal," Eaton said. "We've been very cautious, and there's no reason to push it. The hard part is past us with our strength and the conditioning of the arm.
"It's just one of those things where you go out there and you compete. Even when I didn't have an arm problem, I still think about it, 'Here we go. Get behind it, let's throw it and hopefully it's still attached after I throw it.' My arm is stronger than it's ever been. I have a lot of confidence in it."
Abreu feeling no pain
Despite fouling pitches off his left foot in consecutive games, Jose Abreu's day off Wednesday had nothing to do with painful repercussions.
"I'm good, I'm good. I don't feel anything," said Abreu through interpreter Billy Russo. "It's just baseball -- two fouls in two days."
Abreu didn't wear a protective leg brace during his first two at-bats Tuesday but told Melky Cabrera he was going to wear it in his third at-bat. That at-bat was when he fouled the ball off his foot.
They said it
"I don't teach them to make errors, believe me."
-- Ventura, on this spring's improved defense and the frustration of last season's poor defense
"Once the season starts and I start putting up numbers, then I ask for more."
-- Navarro, on whether he asked for more money after figuring out Danks was tipping
Scott Merkin is a reporter for MLB.com. Read his blog, Merk's Works, follow him on Twitter @scottmerkin, on Facebook and listen to his podcast. This story was not subject to the approval of Major League Baseball or its clubs.