Pirates outfielders go yard in win over Orioles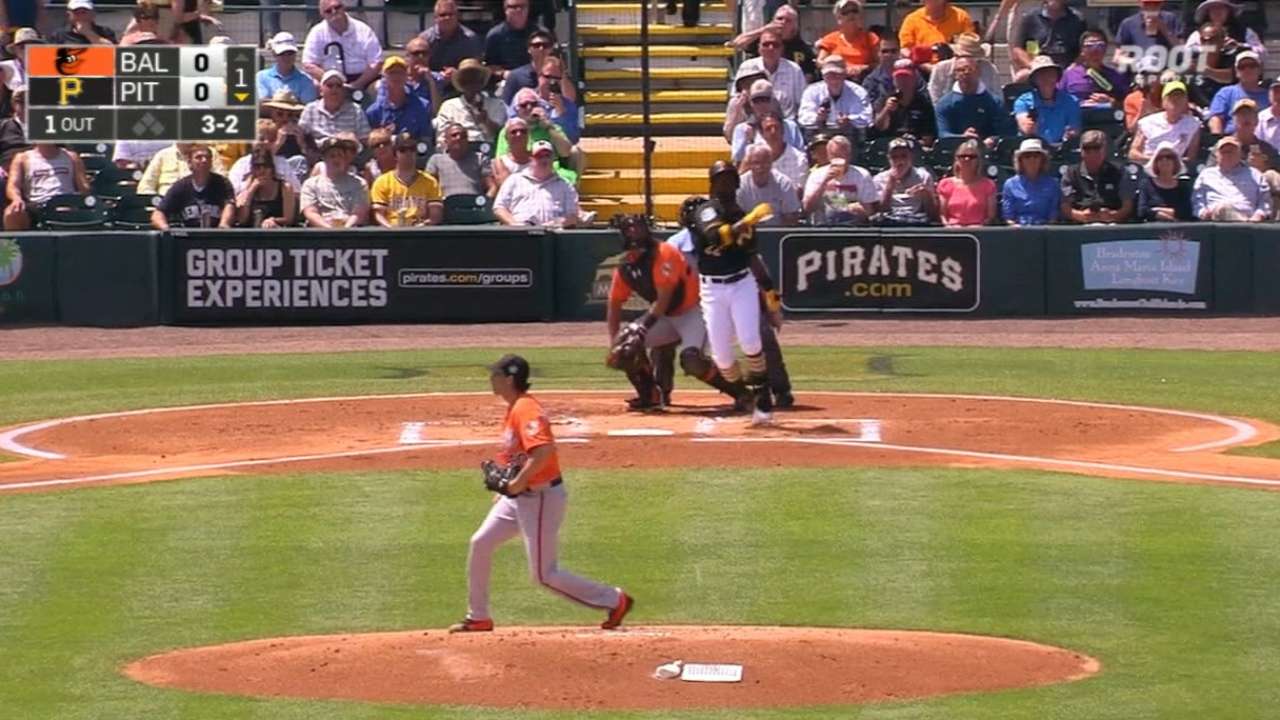 BRADENTON, Fla. -- Outfielders Andrew McCutchen, Starling Marte and Gregory Polanco each went deep to back up Jeff Locke's five-inning start as the Pirates beat the Orioles, 6-5, on Wednesday at McKechnie Field.
Pittsburgh sent out what could be its Opening Day lineup April 3 against the Cardinals, with McCutchen batting second, Marte fourth and Polanco sixth. McCutchen crushed his fifth Grapefruit League home run over the boardwalk beyond the left-center-field fence in the first inning, and Francisco Cervelli tacked on another run by doubling to left field off Orioles starter Miguel Gonzalez to score David Freese.
• Showalter won't rule out Bundy starting games in '16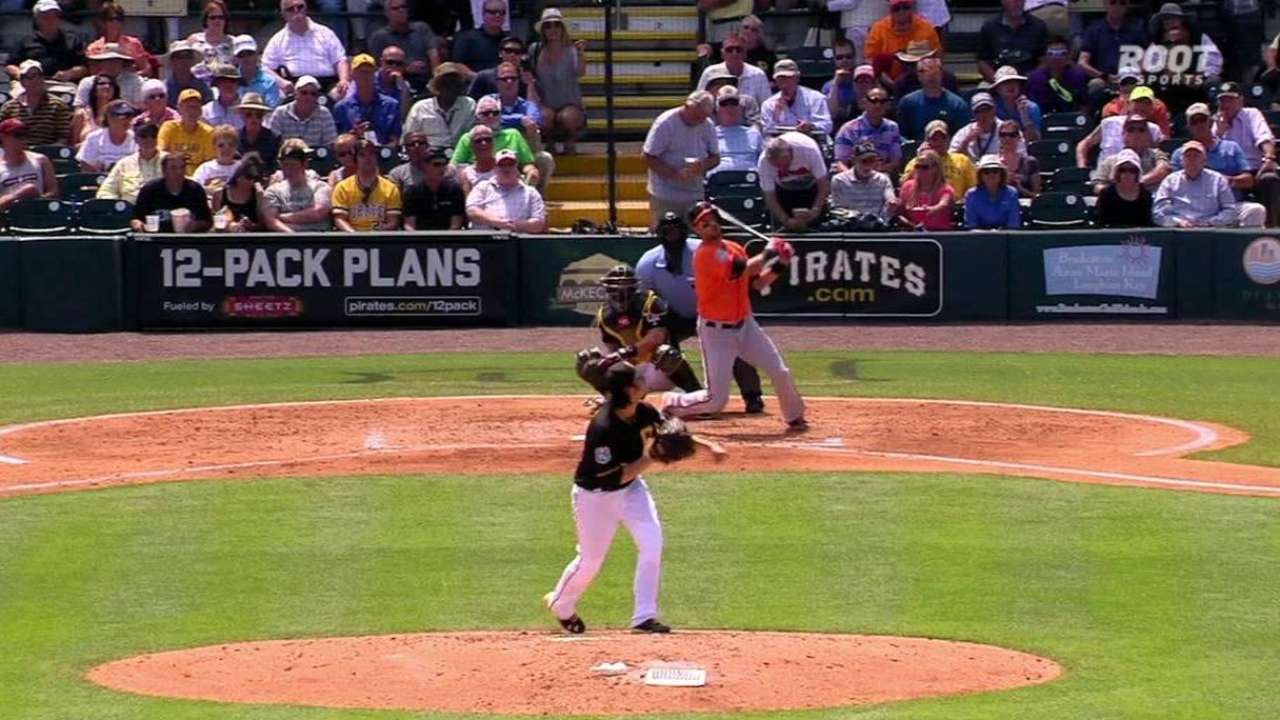 "There's only two pitches I'd like to have back, the two homers," Gonzalez said. "Everything else was good. Couple hits that I felt good with my pitches."
Pirates shortstop Jordy Mercer knocked an RBI single to center in the third inning, increasing the Bucs' lead to 3-0. The O's chipped away in the third inning, pulling within one run on a Joey Rickard RBI double and a run-scoring groundout by Dariel Alvarez.
• Cole throws four innings in back-field game
Polanco extended the Pirates' lead in the fourth inning, swatting his first Spring Training homer to right-center field off Gonzalez. It was Polanco's second extra-base hit of the spring, and he made it three with a sixth-inning triple off Vance Worley.
Orioles shortstop Paul Janish homered off Locke in the fifth, making it a one-run game. Janish hasn't hit a homer in a Major League game since 2010.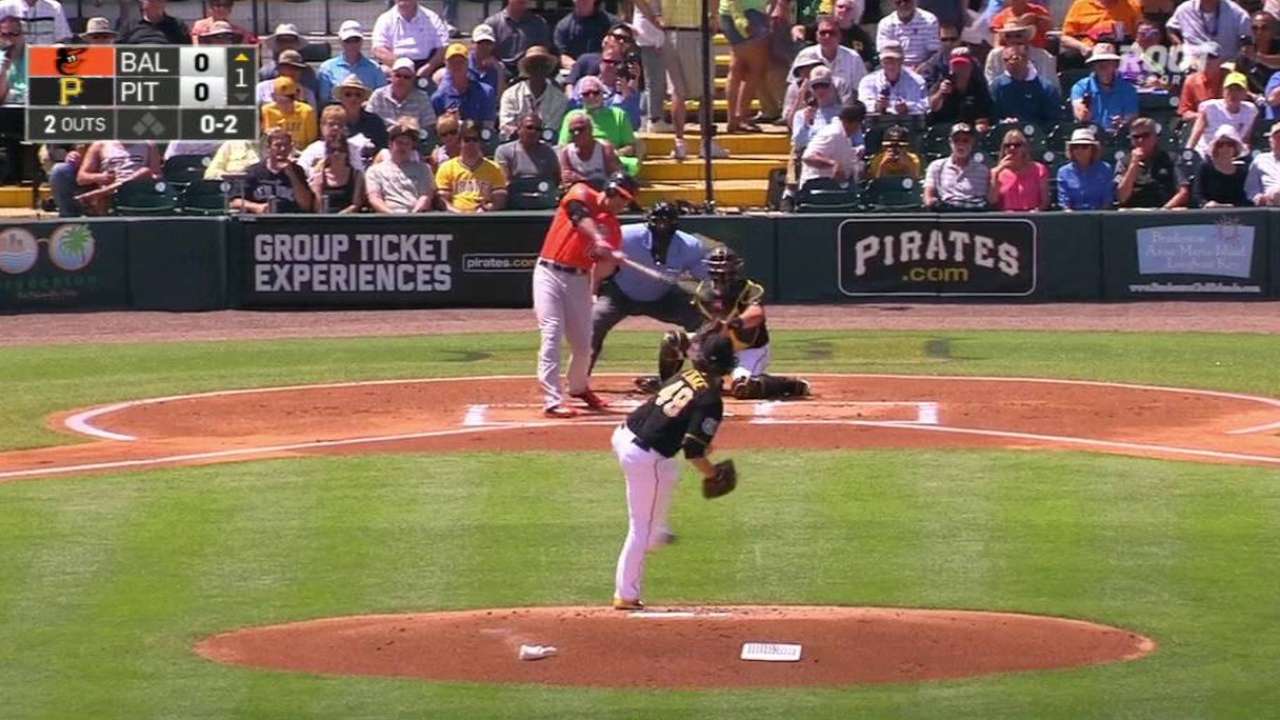 "We got through it. There's still some things that need to get fine-tuned a little bit, but if everything got fine-tuned, we'd all be perfect," Locke said. "I felt good. I had a good mix of pitches."
• Hughes day to day with left lat strain
Locke also had plenty of run support, due in large part to the outfielders behind him. Marte lofted a towering shot just over the left-center-field fence in the fifth inning off Orioles right-hander Darren O'Day.
The O's scored twice in the top of the ninth through an RBI groundout by L.J. Hoes and a double by Cedric Mullins.
Up next for the Orioles: Tyler Wilson will take the mound on Thursday afternoon as the Orioles and Pirates square off for the second straight day. Wilson will face Pirates lefty Jonathon Niese in the 1:05 p.m. ET game at Ed Smith Stadium. You can follow the game live with MLB Gameday. Matt Wieters is expected to serve as the team's designated hitter.
Up next for the Pirates: Niese will take the mound for the Pirates against the Orioles at Ed Smith Stadium at 1:05 p.m. on Thursday. The game can be heard with a free, live exclusive webcast on MLB.com. Relievers Jorge Rondon and Eric O'Flaherty are also scheduled to pitch. This will be Niese's first Grapefruit League start since March 8. Since then, he's pitched in a Minor League game and he threw a simulated game following Saturday's rainout at McKechnie Field.
Adam Berry is a reporter for MLB.com. Follow him on Twitter at @adamdberry. This story was not subject to the approval of Major League Baseball or its clubs.