Rivera forcing Brewers' hand with hot bat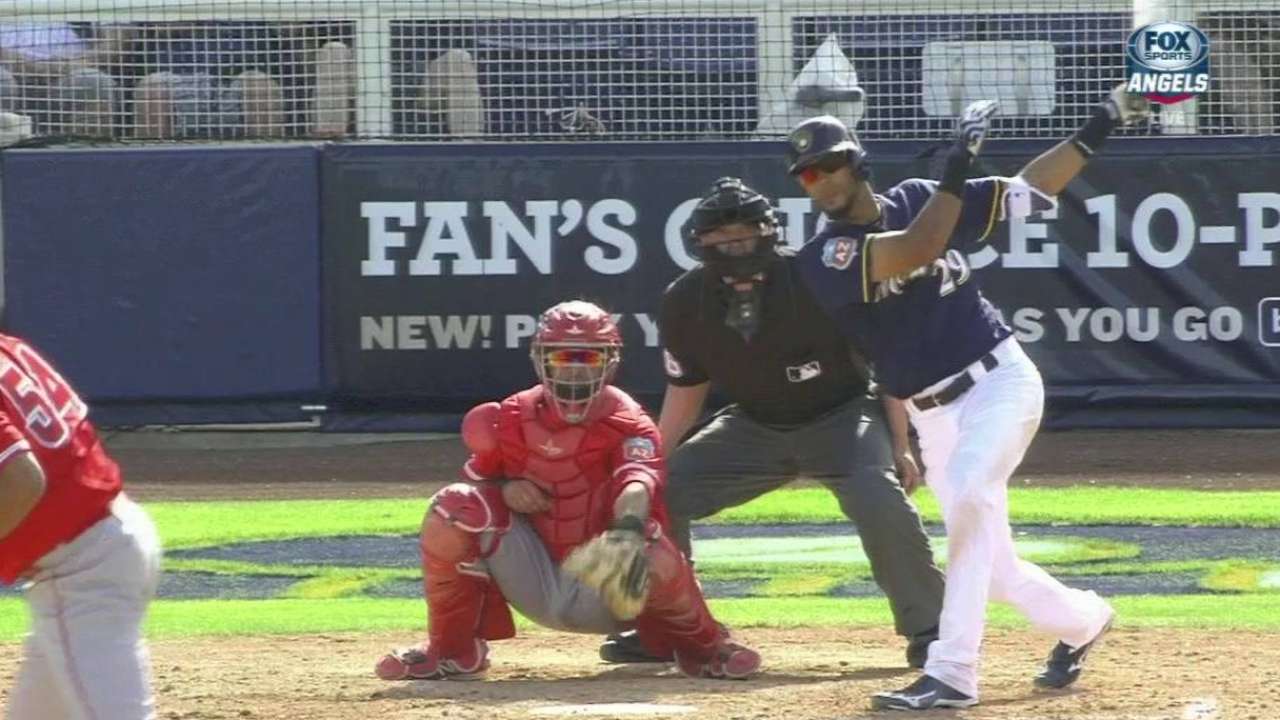 PHOENIX -- The Brewers' most pleasant spring surprise ponders for a moment when asked whether he's had a run like this. In three weeks of Cactus League games, Yadiel Rivera, a shortstop who is vying for a bench job on the strength of his slick glove, has hit three ninth-inning, lead-changing home runs, and he's tied for the team lead in RBIs (nine).
Rivera recalled a two-day span in June 2012 when he delivered consecutive walk-off hits for the Class A Wisconsin Timber Rattlers. He hit a three-run home run one day and an RBI single the next. Doing it in a Brewers uniform, however, feels slightly sweeter.
"I know it's Spring Training," Rivera said, "but it's still like going to the World Series for me."
Spring Training: Tickets | Schedule | More
Spring Training stats matter as much as a hill of bratwurst, but Rivera is nonetheless opening eyes in a Brewers camp where manager Craig Counsell has said from the start that he will not "put limits" on any player.
Counsell also has said Jonathan Villar will be Milwaukee's Opening Day shortstop and that will not change, the manager reiterated Tuesday, no matter how many ninth-inning home runs Rivera hits in the Cactus League.
But Counsell said he was open to player performance forcing changes later, not just at shortstop but all over the diamond.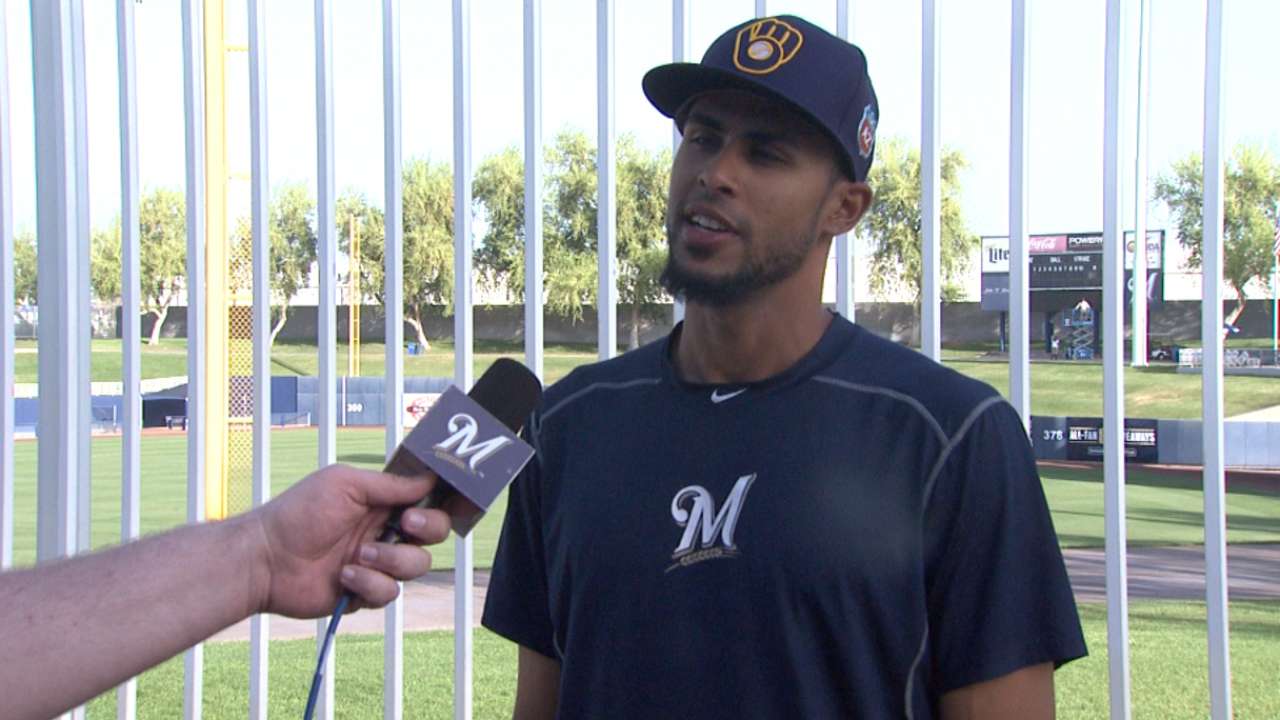 "Casey McGehee made the team as a backup and became an everyday player," Counsell said, referring to the former Brewers waiver claim who garnered National League Rookie of the Year votes in 2009 and topped 100 RBIs in '10. "Players fully dictate that. Performance dictates that."
If he makes the team, Rivera, who is ranked No. 23 on MLBPipeline.com's list of Milwaukee's Top 30 Prospects, would be Villar's primary backup at shortstop, plus a right-handed-hitting platoon partner at second base with lefty Scooter Gennett and a potential fill-in for Aaron Hill at third base. It would represent a window of opportunity for a player who has spent at least the past two seasons and maybe more in the shadow of top prospect Orlando Arcia, a flashy shortstop ticketed for Triple-A Nashville.
Arcia is the Ozzie Smith to Rivera's … pick your steady, sure-handed shortstop. Early-2000s Counsell?
"I like being the quiet guy," Rivera said. "I like just playing baseball. Have fun and show people I can play at this level, no matter who is next to me."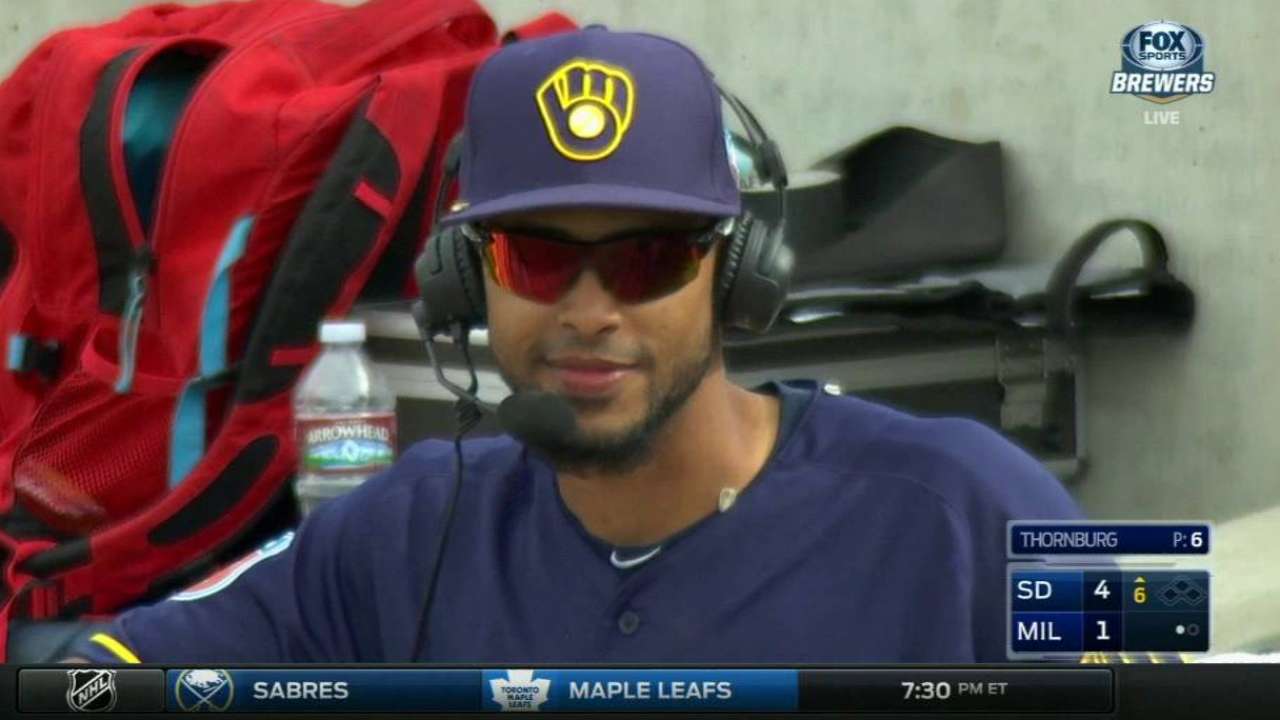 He and Arcia are friends, Rivera said. He realizes that many clubs tout their top prospects, and he does not begrudge Arcia's positive attention.
"I don't think too much about that, because I think this is marketing, you know?" Rivera said. "He's their No. 1 prospect. I just come here, play baseball, have fun out there. If I show the people what I can do, they're going to talk.
"Like what's happening right now."
Rivera learned the game from his father, Jorge, while growing up in Caguas, Puerto Rico, a baseball-rich city where the local team has won three Caribbean Series crowns. He went to the same high school as Blue Jays slugger Edwin Encarnacion before the Brewers made Rivera their ninth-round Draft pick in 2010, seven slots after the Mets picked Jacob deGrom.
Defense was Rivera's strength from the start. He hit 12 home runs in 127 games in the Class A Midwest League in 2012, but Rivera did not bat better than .250 for any Brewers affiliate until 2014, when he hit .258 with a .683 OPS between advanced Class A Brevard County and Double-A Huntsville.
Last season, Rivera hit .253/.298/.331 for the Brewers' new Double-A Biloxi and Triple-A Colorado Springs affiliates. But his defense earned him a September callup to Milwaukee for seven games, in which Rivera was 1-for-14. His dad was in the stands in St. Louis the night Rivera logged his first Major League hit.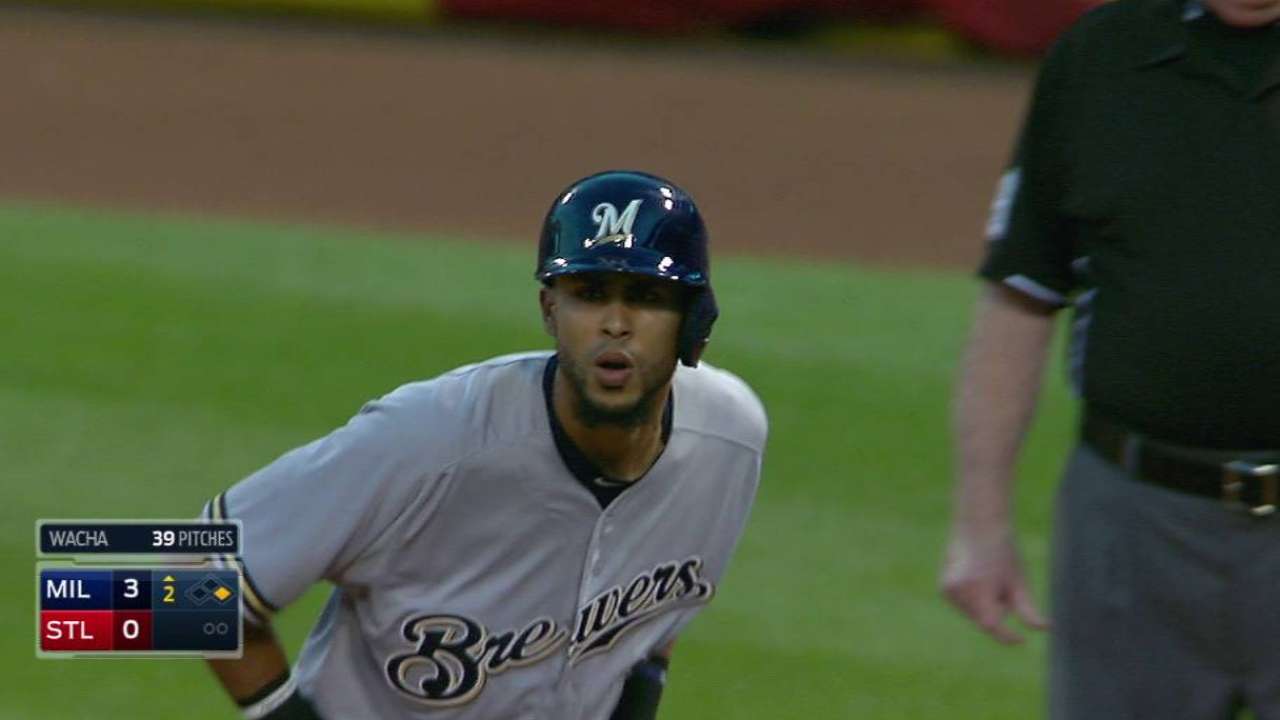 All of which makes his Spring Training power show stand out. Rivera hit go-ahead home runs in the ninth inning on March 5 against the A's and March 6 against the Indians, then connected again on Monday for a game-tying two-run home run in the ninth against the Angels. The Brewers won when the next batter, catching prospect Jacob Nottingham, added a solo shot.
Where is Rivera's power coming from?
"I don't know," he said. "I'm working in the cage on better mechanics, and it's showing up now. I've got some pop in the bat. I'm the same guy, I'm seeing the ball the same.
"In batting practice, 'Maldy' [catcher Martin Maldonado] was talking to me. He said, 'Hey, you look like you got much stronger. You're hitting the ball much harder.' I was like, 'I'm the same guy. I don't know.' Better swings? I don't know where the power is coming from."
But he's enjoying it.
"I'm ready to play in the big leagues," he said. "I felt that way last year. I'm just going to keep coming here and enjoying the game, and don't think about [the Brewers' roster decision]. I don't want to put that in my mind."
Adam McCalvy is a reporter for MLB.com. Follow him on Twitter @AdamMcCalvy, like him on Facebook and listen to his podcast. This story was not subject to the approval of Major League Baseball or its clubs.