Will Cain carry power surge into 2016?
Royals CF set career highs in doubles, triples, HRs in '15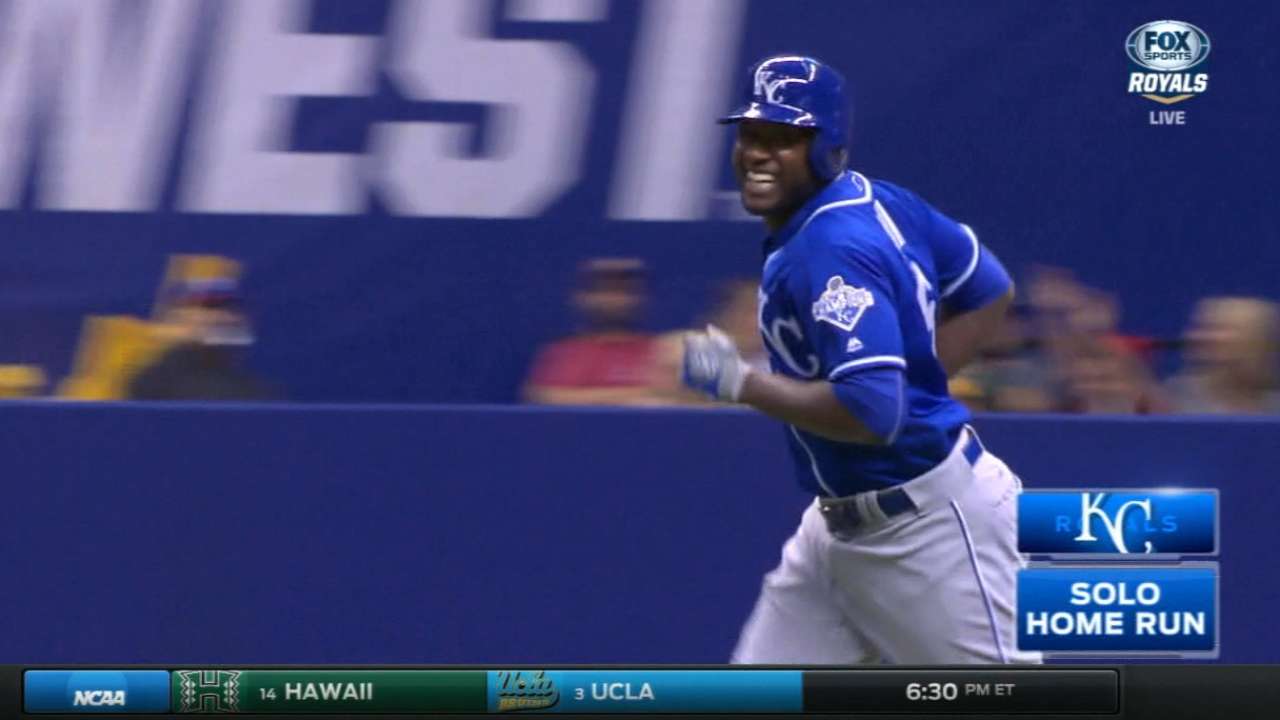 SURPRISE, Ariz. -- At some point, someone is going to break the Royals' all-time home run record for a season of 36, held by Steve Balboni.
Could that someone be Lorenzo Cain?
"You never know, man," Cain said, laughing and smiling. "I don't know what full potential is in me yet. But 36, whew, that's a lot of homers."
The notion of Cain, 29, breaking that record might have been unthinkable even a year ago at this time.
But Cain had a breakthrough power season in 2015, setting career highs in doubles (34), triples (six) and homers (16).
"We really don't know what his ceiling is," Royals manager Ned Yost said.
Cain hit 16 home runs once in the Minors, for Triple-A Omaha in 2011. But even Cain admitted that didn't really count because of the short dimensions in that park.
"That was just Omaha," Cain said, smiling again.
At some point last season, Cain realized he was transforming into a new type of hitter. It didn't happen immediately -- he had just three homers through the first two months. But then his power stroke came on.
"It was a mixture of everything," Cain said. "I have gotten stronger as I got older. But I feel like I got more consistent about driving the ball last year. That was probably the biggest difference with my swing.
"In years past it was kind of just put it in play and use my legs to get on base. I used to get hits with my legs instead of using my swing to try and do damage in each and every at bat."
Was there one particular moment when Cain felt the light went on?
"It wasn't in Spring Training," Cain said. "But it was something [hitting coach] Dale [Sveum] would talk to me about, that I've got more in the tank and I'm stronger than I think I am. He'd say, 'Go up and look to drive the ball.'
"I started trying to consistently hit line drives and find the gaps. I think the home runs just came with having that approach. And, of course, laying off bad pitches helped. I had a tendency to swing at sliders away."
Yost wouldn't be shocked to see Cain pour on the homers again this season.
"Power always seems to come a little later in careers," Yost said. "Guys get a little wiser about what pitchers are trying to do to them. They seem to find ways against pitchers to be more potent."
Whether or not another power surge gets Cain closer to the club record remains to be seen.
"It'd be nice," Cain said.
Jeffrey Flanagan is a reporter for MLB.com. Follow him on Twitter at @FlannyMLB. This story was not subject to the approval of Major League Baseball or its clubs.