Quintana happy for Colombia's WBC berth
Latos loses focus in fifth inning of spring debut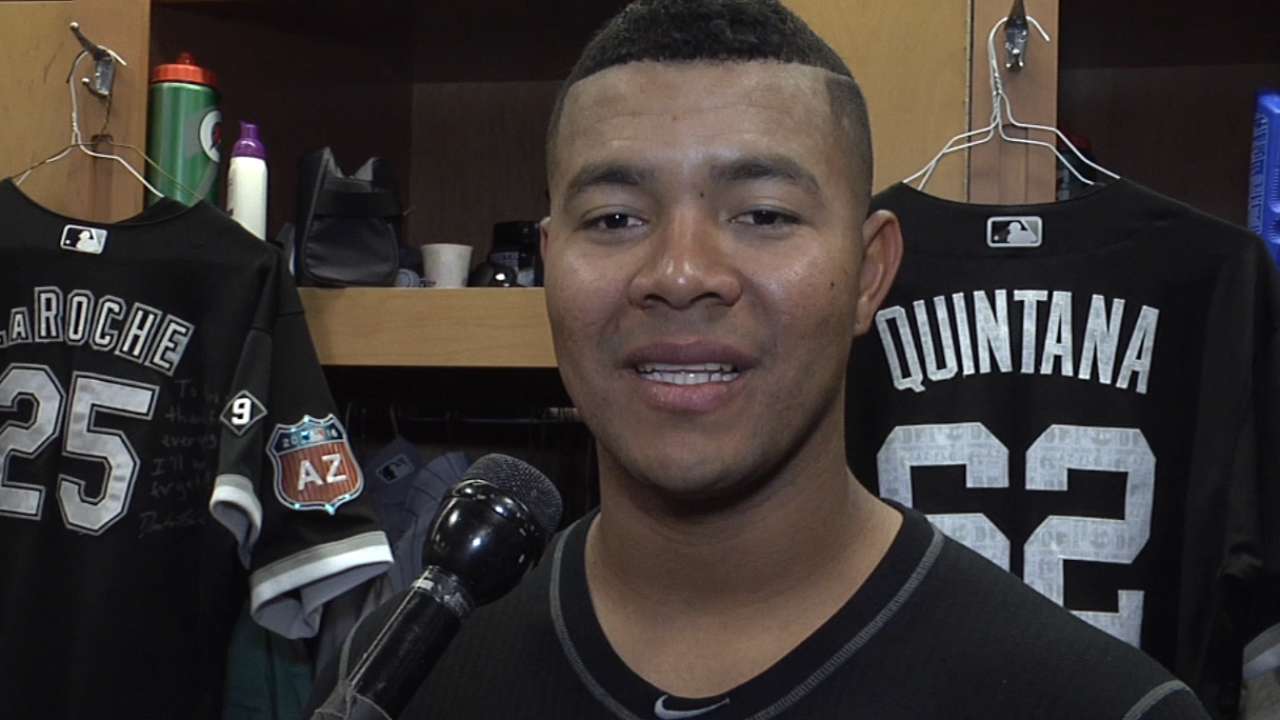 GLENDALE, Ariz. -- Jose Quintana wants to play for Colombia now that his country has advanced from the Panama City qualifier to the 2017 World Baseball Classic. Colombia will make its first appearance in the Classic.
"I'm ready for them if they need me," said the White Sox hurler with a broad smile.
It's a pretty safe bet Colombia will need one of the most underrated starters in all of Major League Baseball. Quintana celebrated via text with fellow native players, such as Julio Teheran, when Colombia finished off Panama.
'Hawk' wants players to show emotions
"I was watching the game a little bit nervous," Quintana said. "They play hard, and that's good for my country, first time going to the WBC.
"Everybody wants to go to the World Baseball Classic. It's exciting, a good moment."
Latos good through four
Mat Latos stood against the clubhouse wall with a smile on his face, waiting for one of the reporters to ask him about a five-run fifth that ended his 4 2/3 innings in the White Sox 8-7 victory over the Giants. Latos didn't get that particular question, but he admitted that he expected a hiccup in his first Cactus League start.
"I didn't expect it to be a complete explosion. That was embarrassing," said Latos, who allowed seven runs on 11 hits over 4 2/3 innings, while striking out four. "But I'm healthy, the knee feels good."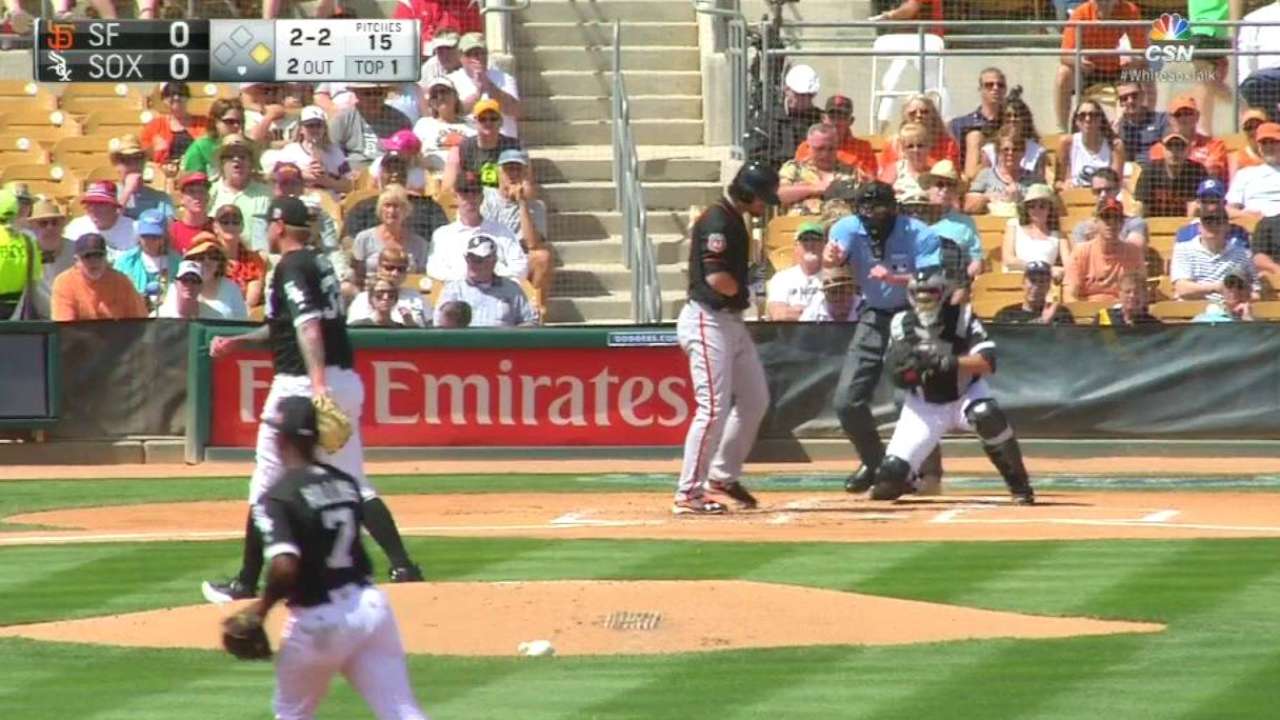 Latos pointed to the first four innings as an example of what he was trying to do with catcher Alex Avila. He threw the first nine pitches for strikes, hit within the zone on 32 of his 38 through three innings and did a good job of keeping the fastball out of the middle of the plate.
But he admitted to losing focus in the fifth.
"We just need to stay focused for all five, six, seven innings, however long I need to go," Latos said. "Stay focused and just make my pitches.
"That was a selfish error on my part, and the fifth inning was really getting away from the game plan. I've got to wear that and I gotta get back out here and make sure I don't do that again."
Latos is scheduled to start Sunday in Scottsdale against the Giants again and then in San Diego next Friday. He continues building for his regular-season debut on April 7 in Oakland.
Ventura has lineup versatility
White Sox manager Robin Ventura doesn't believe he will have a set designated hitter at the outset of the season, with that spot rotating between outfielders Melky Cabrera, Adam Eaton, Avisail Garcia and possibly even center fielder Austin Jackson.
"You do have some flexibility," Ventura said. "If you need to give a guy a breather for one reason or another, you can use the DH spot to be able to do that. Most of the outfield guys will be using that. I don't see the infield guys using that too much."
Ventura won't hesitate to use catchers Dioner Navarro or Alex Avila at designated hitter, even mentioning that Brett Lawrie and/or Tyler Saladino can catch in an emergency.
"And that's why I don't think it's just going to be a set guy doing the DH-ing," Ventura said. "You'd like to see those guys get as many regular at-bats as they can get."
Garcia returns to action
Garcia returned to the White Sox lineup Tuesday as the designated hitter, finishing 0-for-4, despite battling the effects of dental work done Monday and a sore right wrist sustained in Saturday's game against the Dodgers.
"I tried to catch the ball. I just stepped on it and fell down and put a little bit of weight on my wrist," said Garcia of the injury. "I took an MRI and nothing is bad.
"Just a little bruise and sore. I don't want to get hurt before the season starts. I'm just getting better every day. Just have to keep playing and see what happens."
Abreu's bad aim
Jose Abreu fouled a pitch off his left foot for the second straight game. He had a brace on, but Tuesday's shot still managed to hit between the protective part on his leg. Ventura said Abreu walked away with a bruise.
They said it
"They are huge baseball fans. They love baseball." -- Abreu, on the people of Cuba
Scott Merkin is a reporter for MLB.com. Read his blog, Merk's Works, follow him on Twitter @scottmerkin, on Facebook and listen to his podcast. This story was not subject to the approval of Major League Baseball or its clubs.