Send in the mimes: Cubs do light stretching
Maddon continuing to come up with ideas to keep players loose, entertained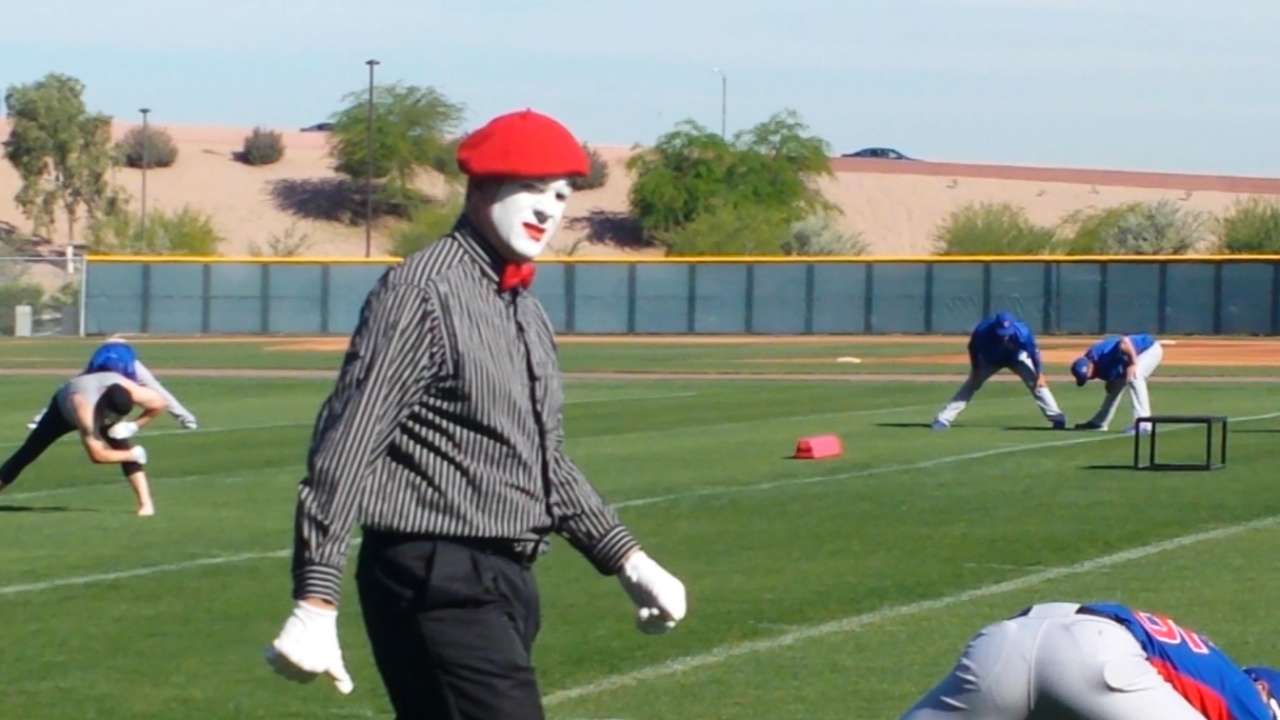 MESA, Ariz. -- Cubs players never know what to expect at morning stretch, and on Tuesday, strength coach Tim Buss appeared wearing a gray T-shirt and black leggings with his face painted white similar to a mime. Then Buss was joined by another full-fledged mime, complete with a red beret, white gloves and bow tie.
The official mime -- who asked to be called "Kirby the Mime" -- helped lead the workout with some exaggerated moves. He stood on a stool in front of the players and encouraged them with gestures.
"It's a way to shake up the day, keep 'em loose," Kirby said later, when his mime duties were done.
It's just another day in Cubs camp. This spring, manager Joe Maddon drove up in his souped-up van and his staff appeared dressed in outfits from the '70s with Earth, Wind and Fire's "Shining Star" playing, they've had a D.J. and a guitarist perform, and veteran David Ross has made guys laugh by riding his motorized cart on the grass.
"It's difficult to keep coming up with new ideas on a daily basis, so we went with the mime today," Maddon said.
Maddon isn't worried about what others think about what they're doing.
"If everybody's entertained, so be it," Maddon said. "That's our way to start the day. We did it last year without nearly as much attention.
"I would never want to not do those things. I'm an advocate of the morning joke. If people misinterpret it, honestly, that's their fault. It's really about the esprit de corps of the day, it has nothing to do with your work except that I think your work can be better because you get off to a good start."
Pitcher Jason Hammel, who tossed a strong five innings in Tuesday's 9-6 win over the Reds, has watched Maddon's wild ways since their days together with the Rays.
"Kudos to Joe for mixing it up, keeping guys light on their feet," Hammel said. "Who knows what's going on in that mindstorm, that tornado in his head -- who knows what's going on? I'm sure he'll come up with something else that will blow the mime away."
Carrie Muskat is a reporter for MLB.com. She writes a blog, Muskat Ramblings. You can follow her on Twitter @CarrieMuskat and listen to her podcast. This story was not subject to the approval of Major League Baseball or its clubs.