Bucs prospect Diaz out with elbow discomfort
Catcher will rest at least a week, receive treatment; Bard endures rough outing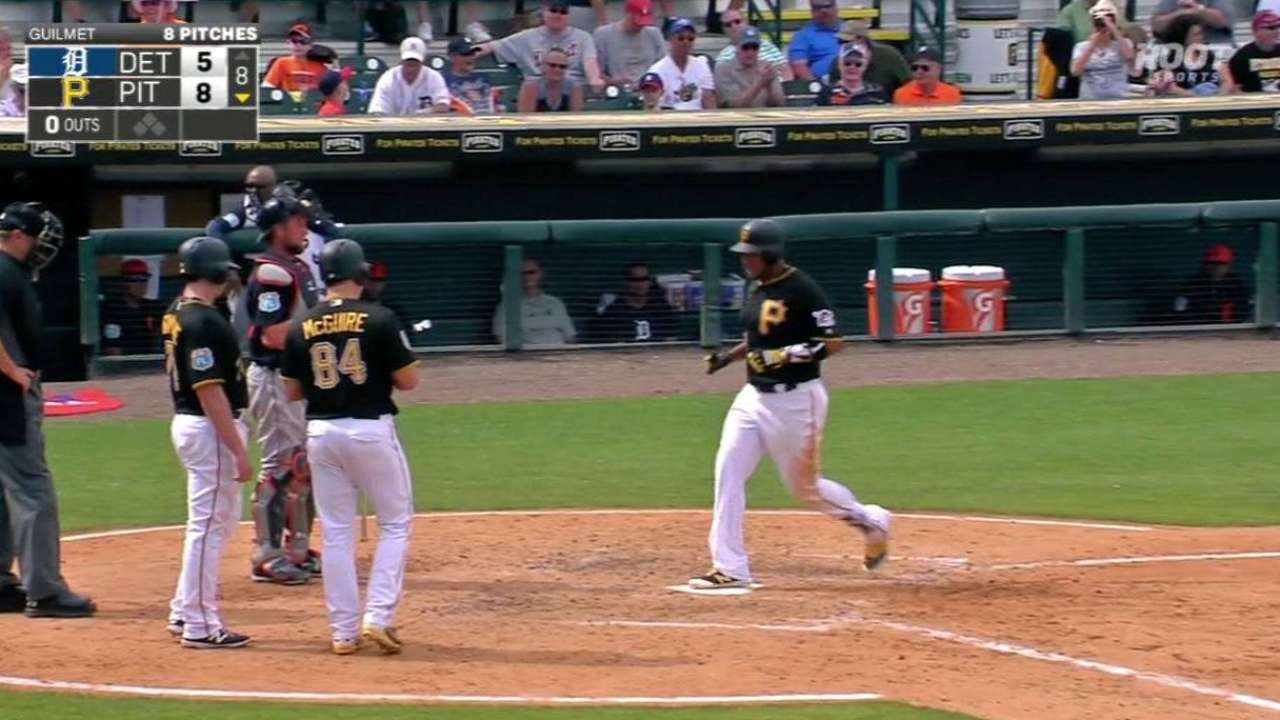 BRADENTON, Fla. -- Pirates catching prospect Elias Diaz will sit out at least a week with lateral right elbow discomfort, the club announced Monday.
Diaz, Pittsburgh's No. 8 prospect according to MLBPipeline.com, will rest and receive treatment for the time being. The Pirates will determine how long he will be out after he is reevaluated in about a week.
• Spring: Tickets | Ballpark | 40-man roster | NRIs
Diaz provided the Pirates with perhaps their most Major League-ready backup plan at any position heading into Spring Training. After spending last year in a Triple-A time share with Tony Sanchez, Diaz finished the season in Pittsburgh, working with the Major League pitching staff while learning from Francisco Cervelli and Chris Stewart.
The clear No. 3 catcher on the Pirates' depth chart, Diaz hit .271/.330/.382 with four home runs and 47 RBIs for Triple-A Indianapolis last season, and he received the 2015 Captain's Award from Baseball America as Minor League Baseball's top defensive catcher.
Diaz last played in a Grapefruit League game Wednesday. He is 8-for-19 with a home run and five RBIs.
Turning two
Every Pirates reliever will make a two-inning appearance as Spring Training winds down. In Monday's 7-3 loss to the Braves, left-hander Eric O'Flaherty struck out four and allowed two hits over two scoreless innings at McKechnie Field, and right-hander Neftali Feliz picked up a strikeout in two shutout frames in the Pirates' 2-0 win over the Twins at Hammond Stadium in Fort Myers, Fla.
"We give them all the looks that we're going to ask them to do during the season," manager Clint Hurdle said.
Also in Fort Myers, non-roster lefty Jim Fuller threw two perfect innings. Non-roster right-hander Jorge Rondon was stretched out even further in Bradenton, allowing one hit and two walks but no runs in 2 1/3 innings.
"We want to try to get that guy in a position where he's repeating his delivery," Hurdle said of Rondon. "We're seeing some good things from him."
Bard struggles
Called over from Minor League camp to pitch in the loss to the Braves, right-hander Daniel Bard served up three runs on three hits, two walks and a balk without recording an out.
The former Red Sox setup man, looking to revive his career after years plagued by control problems and injuries, had made three scoreless appearances in the Grapefruit League before Monday's rough outing.
"This was the first time we've seen some inconsistency from him. It's like anyone else in Spring Training," Hurdle said. "This guy's taken major steps forward, so today's one of those days I don't think you overcook it for him. You just reassure him and tell him to keep pitching, because he's made some nice adjustments and nice improvements to this point in time."
Quote of the day
"Frankie's not a guy you're going to lose any sleep over." -- Hurdle, on Opening Day starter Francisco Liriano's inconsistent outing
Adam Berry is a reporter for MLB.com. Follow him on Twitter at @adamdberry. This story was not subject to the approval of Major League Baseball or its clubs.