Hunter hoping for elusive second shot at bigs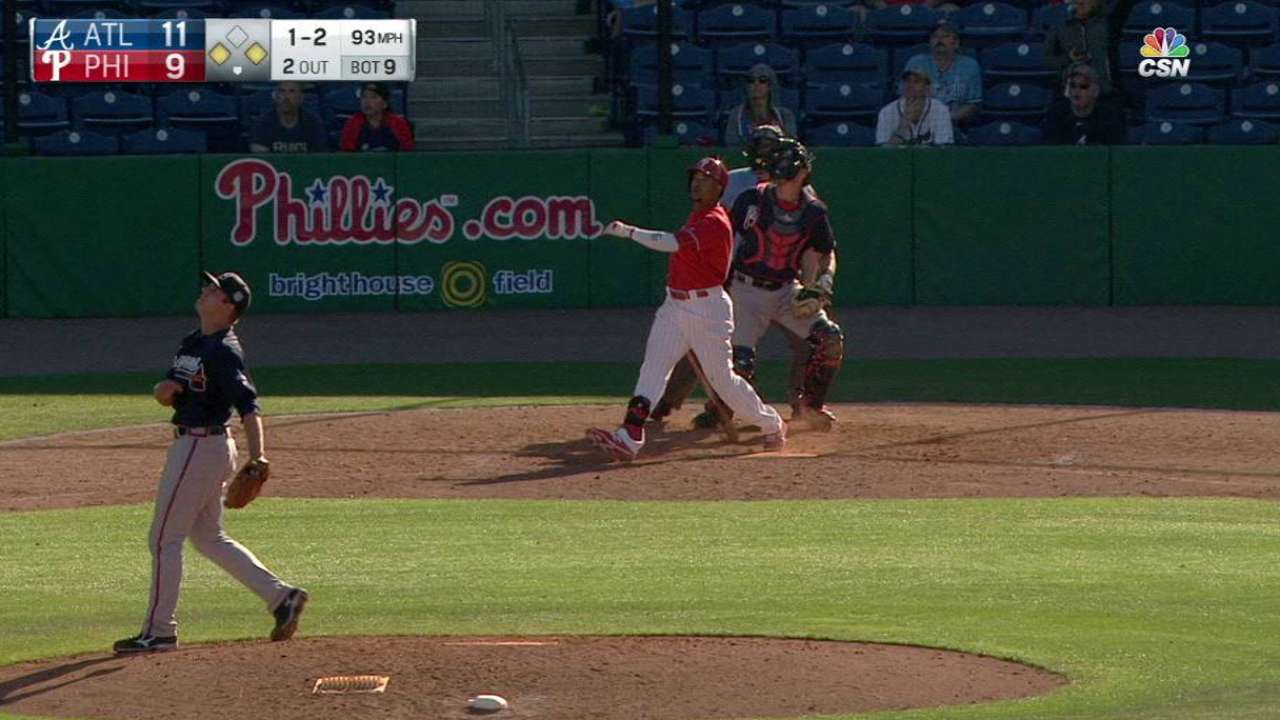 LAKELAND, Fla. -- Cedric Hunter very much remembers his first and only big league moment.
It happened in the bottom of the sixth inning on April 5, 2011, at Petco Park. Hunter stepped into the batter's box as a pinch-hitter against Giants right-hander Guillermo Mota, who threw him a first-pitch sinker. Hunter laced the 92-mph pitch into center field for his first Major League hit in his third Major League game. Hunter's Padres teammates got the ball back. It was supposed to be a priceless memento from a once-in-a-lifetime moment.
Spring Training: Schedule | Tickets | More info
"I never got the ball," Hunter said after Monday's 4-3 victory over the Tigers in a Grapefruit League game at Joker Marchant Stadium. "They threw it in the dugout, told me they were going to do the print on it and everything, and I never got it."
But the missing ball from Hunter's first and only stint in the big leagues five years ago has not become his Rosebud.
"I think it's the way it should be," Hunter said. "If I get back up there again, I want it to be with a team that will be my home team. I feel like the Phillies really treat me well and I feel really comfortable in this organization with the coaches and the staff. I'm just excited for this."
Because of injuries to Aaron Altherr and Cody Asche, Hunter, who signed a Minor League contract with the Phillies in January, has a chance to make the Phillies' Opening Day roster. At the moment, the Opening Day outfield could be Odubel Herrera, Peter Bourjos and Rule 5 Draft pick Tyler Goeddel, with non-roster invitees David Lough and Hunter as the extra outfielders. Herrera has not played since March 12 because of a bruised left middle finger. He will be reexamined Tuesday, which is concerning.
"It's every kid's dream," Hunter said about a spot on the roster. "I feel like this round would be a lot better than the last."
The Padres selected Hunter in the third round of the 2006 Draft and his star quickly rose from there. The 28-year-old earned MVP honors in the Rookie-level Arizona League that same summer, and Baseball America named him San Diego's top prospect in 2007.
But Hunter struggled in 2009 in Double-A San Antonio, and he dropped to No. 23 in the organizational rankings. He never reappeared, although he made the Padres' Opening Day roster in 2011 because of a great spring and a late injury to Eric Patterson. Hunter went 1-for-4 with one walk in six games before the Padres optioned him to Triple-A on April 9 to make room for a healthy Patterson.
Hunter injured his left groin in July and missed the remainder of the season.
He has jumped around since, opening Spring Training 2012 with Oakland before the A's traded him to St. Louis for cash that April. He signed Minor League contracts with the Indians, Braves and Phillies.
"It's definitely something I didn't assume would happen in my life," Hunter said. "I think God just puts certain things in your life so you can grow from it. I was [23] when I got up there and I definitely shouldn't have been up there at that time. It just kind of worked out that way. I feel like now I'm a lot more mature. I've learned from a lot of veterans that I've been around in Major League camp, and I feel like it's a different feeling."
But he also knows not to get wrapped up in being so close to the big leagues. The Phillies are talking to teams about acquiring another outfielder before Opening Day. If they acquire somebody, Hunter could open in Triple-A.
"Obviously, we're thinking about it," Phillies manager Pete Mackanin said. "That remains to be seen. But I like both of the guys I got there [Lough and Hunter]. They've both been really good. Both of them fit right in. It's going to be a tough decision, whether we can keep one or two or whatever."
Hunter went 1-for-4 with a home run and two RBIs against the Tigers. He is hitting .302 (13-for-43) with four doubles, one triple, three home runs, 10 RBIs, three walks, seven strikeouts and a .991 OPS. Lough is hitting .310 (9-for-29) with two doubles, one home run, four RBIs, eight walks, five strikeouts and a .942 OPS.
"I feel great, but in my mind I'm trying to stay content and just hear the words first than just assume," Hunter said. "We've got a week left. There's no telling what can happen in a week."
Hunter knows better than anybody. He spent a week in the big leagues in 2011. He has been trying to get back ever since.
"The big leagues are a big step, man," Hunter said. "I'm just glad to get a taste, but it's a little different this time."
Todd Zolecki is a reporter for MLB.com. Read his Phillies blog The Zo Zone, follow him on Twitter and listen to his podcast. This story was not subject to the approval of Major League Baseball or its clubs.