MLB.com Columnist
Lyle Spencer
Ranking the Majors' top 10 outfields
Pirates, Angels, Royals headline best trios in Major Leagues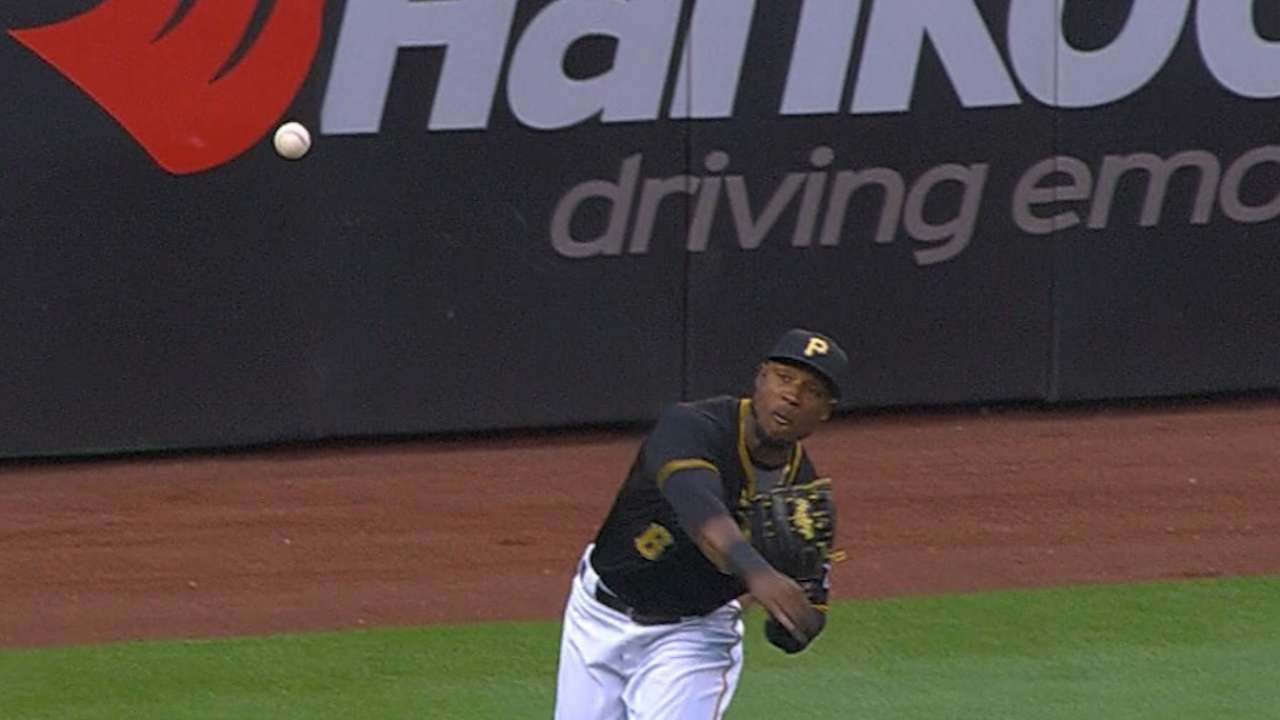 Thanks to the ever-expanding highlight shows and ever-evolving analytics movement, outfield play is finding new levels of appreciation beyond the adulation accorded greats such as Willie Mays, Roberto Clemente and Carl Yastrzemski in eras past.
Fantastic center fielders abound: Kevin Kiermaier, Kevin Pillar, Lorenzo Cain, A.J. Pollock, Mike Trout, Adam Jones, Billy Hamilton, Andrew McCutchen. Blanketing the corners, Alex Gordon, Jason Heyward and Starling Marte are calling to mind the legends. Even the remarkable Ichiro Suzuki is still dazzling us at age 42.
Players who once might have been dismissed as marginal big leaguers are household names drawing megadeals, primarily for their leather work. Far ahead of their time were Paul Blair, Curt Flood, Jim Landis and Willie Davis, whose greatness defensively wasn't as valued as it would be today.
The best outfields normally are anchored by a swift, athletic center fielder, but corner artists can be transforming as well. Here are one observer's elite Major League units:
1. Pirates
Flanked by Marte (24 runs saved) and Gregory Polanco, McCutchen is the star of a wondrous trio that shrinks large yards. Natural center fielders, they've learned to respect each other's turf and blend seamlessly.
Their combined baseball-reference.com WAR last year was 12.9, best in the Majors. FanGraphs.com projects it at 12.1 in 2016, second in the game. Their consistent all-around excellence lands the Bucs at the top of this chart.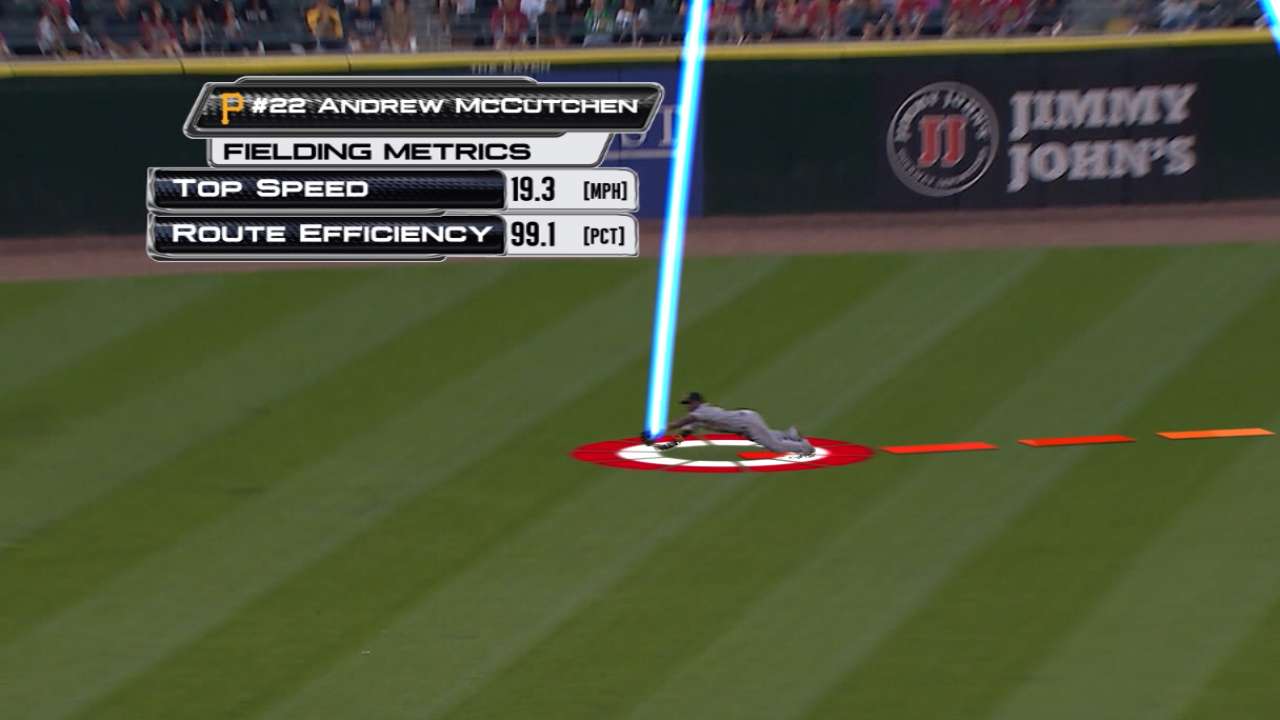 2. Angels
The best all-around player in the sport, Trout is the difference-maker with his 9.4 WAR in 2015. It projects, oddly, at 8.7 this season. American League Gold Glove Award winner Kole Calhoun is an exciting, durable partner in right. Even with a revolving door in left field, the Angels' outfield saved 18 runs last season, fifth in the Majors, and projects to have the highest WAR in the game this year at 12.3.
If Daniel Nava's hot spring is a preview of things to come in left, the Angels can jump ahead of the Pirates. Nava and fellow import Craig Gentry had washout seasons in 2015, but Nava had a 3.4 WAR in '14 with Boston and Gentry 3.6 for Texas in '13. Both are elite defenders.
3. Royals
Kansas City's phenomenal outfield play was the difference in the 2014 AL Division Series sweep of the 98-win Angels. Norichika Aoki is gone, but the core remains: Gordon, Cain and Jarrod Dyson. Expected to assume departed Alex Rios' playing time, Dyson is great enough to double the outfield's 22 runs saved. Another burner, Paulo Orlando, is in the mix.
Gordon is the gold standard in left field. Cain and Dyson rank among the game's five or six best center fielders, and they are equally productive in right field. The trio's 12.2 WAR benefited from Cain's 7.2 mark.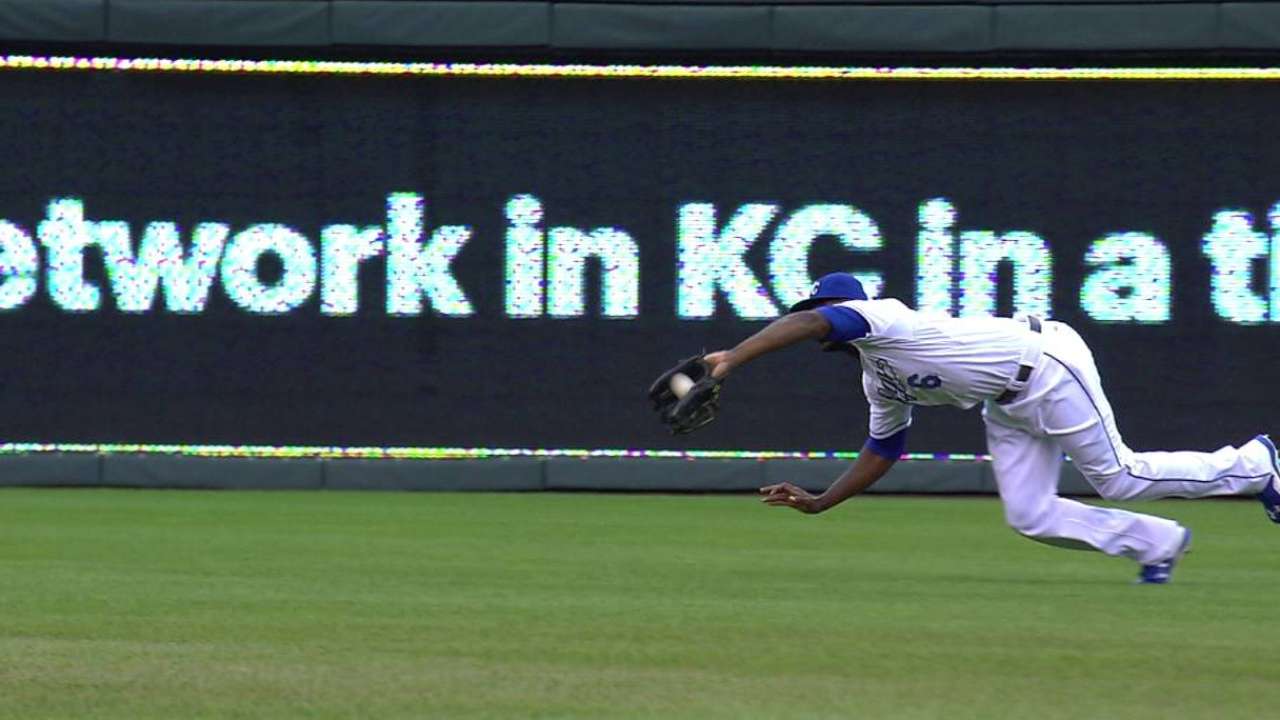 4. Marlins
If Giancarlo Stanton plays a full season and center fielder Marcell Ozuna progresses to norm, Miami's threesome is rock solid. Christian Yelich has no weakness in left, and Stanton dominates on the Trout/Bryce Harper level. Ready to jump in, Ichiro still is about as good as anyone with the glove. The group's projected WAR of 11.5 is third in the Majors.
5. Mets
Yoenis Cespedes' return is enormous on so many levels. Curtis Granderson in right is coming off a 5.1 WAR season, his best since 2011. Young Michael Conforto excelled in left, with Cespedes (6.3 WAR) in center, even though he's more comfortable in left. If Juan Lagares returns to Gold Glove form in center, manager Terry Collins has enviable options. The Mets' projected outfield WAR is 9.4.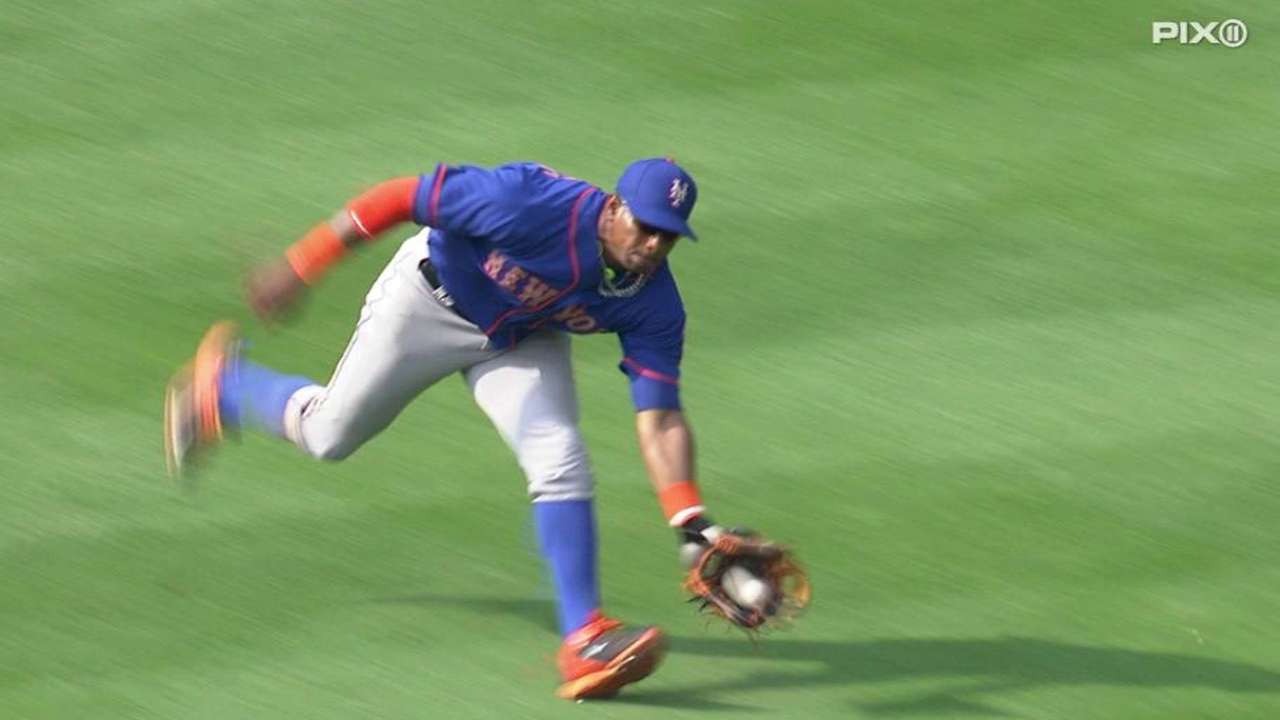 6. D-backs
The D-backs saved 37 runs with outfield defense last year, surpassed only by the Rays. Pollock, who was second to Trout in WAR among center fielders at 7.4, and David Peralta was a healthy 3.7 complement. The philosophical Socrates Brito appears to have the edge over Yasmany Tomas for the third spot. Arizona's combined 11.7 outfield WAR was fifth in the game.
7. Astros
Like the Pirates, the Astros have three natural center fielders to align in a dynamic outfield. A healthy Carlos Gomez, playing center like a shortstop, has few peers. He moves October sensation Colby Rasmus to left. George Springer is perfectly suited to thrive for years in right, and Jake Marisnick is too talented to be a fourth outfielder.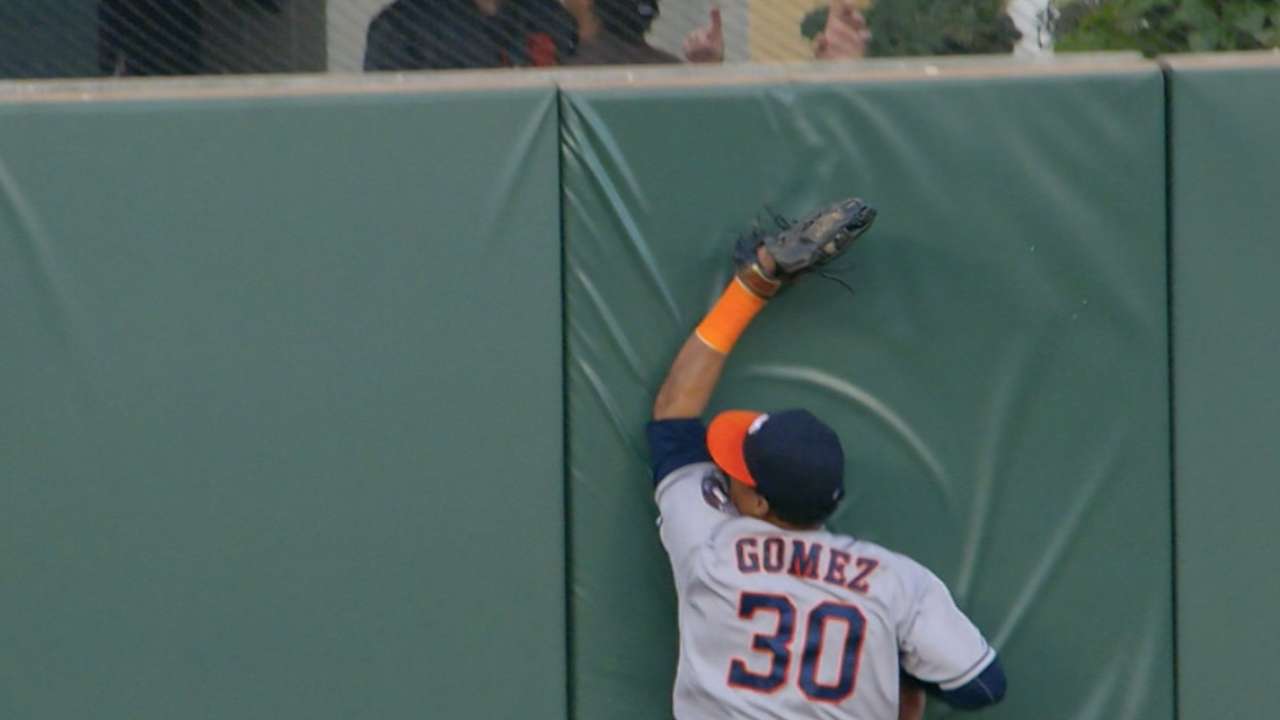 8. Rays
Kiermaier is coming off the greatest defensive season by an outfielder since analytics dived into play, accounting for an astounding 42 runs saved -- 27 more than any other player. Corey Dickerson joins Desmond Jennings and Steven Souza Jr. alongside Kiermaier, whose glove gave him a 7.3 WAR last season.
9. Nationals
A healthy Jayson Werth and blossoming Michael Taylor joining Harper, the National League's Trout, and new catalyst Ben Revere gives Washington an outfield with few equals. Harper is top-shelf in all phases, and Revere is a leadoff presence for manager Dusty Baker, whose touch with hitters is unmatched.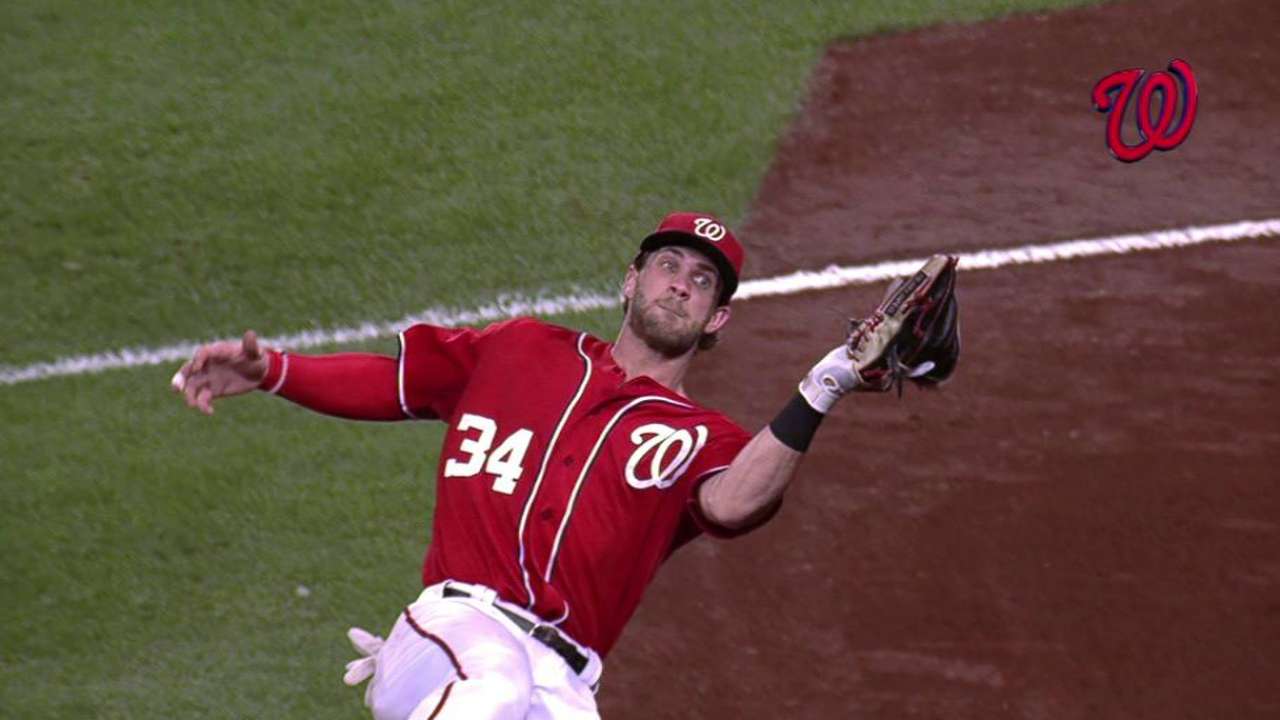 10. Blue Jays
Pillar (5.2 WAR) is phenomenal, and right fielder Jose Bautista is as fearsome as ever. If Michael Saunders regains 2014 Seattle form, this is a superior unit to go with a great infield and catcher (Russell Martin). Toronto has it all covered.
Best of the rest
The Tigers have formidable corners in Justin Upton and J.D. Martinez. The Red Sox with star Mookie Betts and gifted Jackie Bradley Jr., and the Yankees, if Jacoby Ellsbury and Carlos Beltran turn back the clock, are top 10 challengers. The Dodgers, if Yasiel Puig regains 2013-14 form, and the Giants, if Hunter Pence and Denard Span come back strong, also elevate. Heyward lifts the Cubs, Jones drives the Orioles, and the Rockies can rise with Carlos Gonzalez and Charlie Blackmon.
Lyle Spencer is a columnist for MLB.com. Follow him on Twitter @LyleMSpencer. This story was not subject to the approval of Major League Baseball or its clubs.