Putnam moves on after injury
Avisail misses start, day to day following wrist contusion
GLENDALE, Ariz. -- That right hamstring strain that sidelined Zach Putnam from March 6-16 no longer seems to be a concern for the White Sox reliever.
Putnam has thrown consecutive scoreless outings against the Brewers and Dodgers, needing 14 pitches to complete two innings.
"It was a minor thing, I think, to begin with," Putnam said. "It never really scared me as far as being a long-term thing.
"But I think the issue that you have with hamstrings and groins and things like that is, if you don't give them the proper rest, they can turn into nagging stuff and last a long, long time. Knock on wood, we've avoided that. I feel like I kind of turned the corner, and the last two times, I didn't even think about it."
Sands homers twice, drive in three in win over A's
Even without game work, White Sox pitching coach Don Cooper and bullpen coach Bobby Thigpen have kept Putnam fresh by having him throw on the side. Putnam actually took a couple of days off to give the hamstring a chance to calm down and then quickly got back into action.
"I got on the mound to do a side," Putnam said. "The side went really well and I was off to the races."
"He has bounced back. He looks fine," said White Sox manager Robin Ventura of Putnam. "His split is even reacting down here, which is good."
Injury updates
Avisail Garcia was scratched from Sunday's 6-2 victory over the A's in Mesa because of a right wrist contusion. He sustained that injury Saturday against the Dodgers going for Howie Kendrick's triple down the right-field line, accidentally stepping on the baseball and falling.
The wrist was wrapped after Saturday's game, but precautionary X-rays were negative, and Garcia is day to day.
J.B. Shuck also was scratched Sunday, feeling under the weather.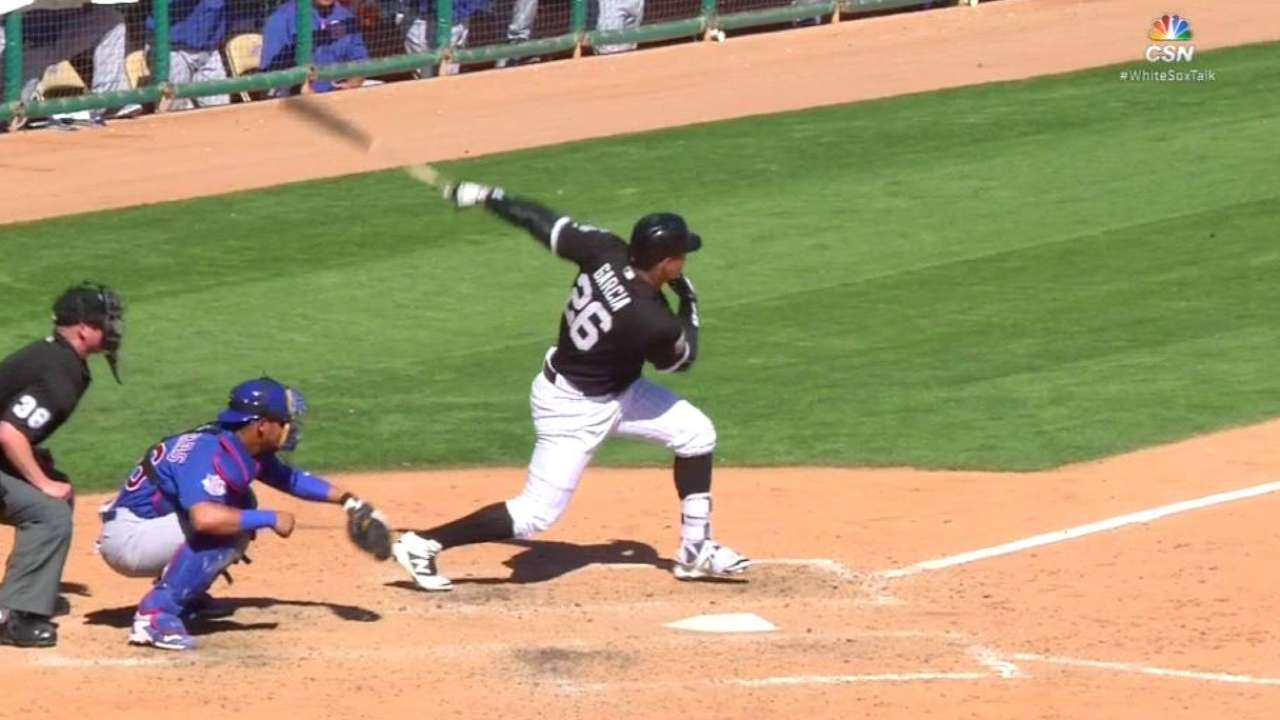 Standing behind Sale and Ventura
White Sox players seem united behind Ventura in the wake of the Adam LaRoche retirement situation, an issue that looks to have come to an end Sunday via White Sox chairman Jerry Reinsdorf's statement. They also support ace Chris Sale, who made his opinion clear about how he thought the situation was handled by executive vice president Ken Williams.
Statement from White Sox chairman Jerry Reinsdorf
Sale was speaking not only as a friend of Adam and Drake LaRoche but as a team leader.
"He's fundamentally a really good person and so when he speaks up about anything, you feel inclined to side with him," said Putnam of Sale. "He's just a great guy, aside from being an awesome teammate. He's a leader, the leader of this clubhouse, he's the face of the franchise.
"So when he has something to say, we all listen and rally around him. That's the nature of the type of player and guy he is."
Completing the roster
With LaRoche's departure, the White Sox have options such as Carlos Sanchez, Jerry Sands, Travis Ishikawa and Matt Davidson for the 25th spot on the roster.
They also could open with an eighth reliever because of just one off-day during the entire month of April.
"It has been talked about," said Ventura of breaking with 13 pitchers. "It hasn't caught quite as much steam as Coop would like. It's definitely been brought up. We discussed it."
Ventura added that the team doesn't necessarily need a backup first baseman as that last man because of the ability for Todd Frazier, Alex Avila and Tyler Saladino to move over to first.
This and that
• White Sox general manager Rick Hahn celebrated his 45th birthday on Sunday.
• Right-handed pitcher Brandon Sinnery was acquired by the White Sox from the D-backs in exchange for cash considerations. Sinnery is in Minor League camp with the White Sox.
They said it
"Everybody can't be a home-run hitter. You need guys to move it around and do some small things. He's one capable of doing it." -- Ventura, on Saladino
Scott Merkin is a reporter for MLB.com. Read his blog, Merk's Works, follow him on Twitter @scottmerkin, on Facebook and listen to his podcast. This story was not subject to the approval of Major League Baseball or its clubs.