Smyly, Adames show promise in outings
Rays excited for versatility, flexibility of Webb, Pearce
SARASOTA, Fla. -- Drew Smyly, whose turn in the rotation was Sunday, pitched during an intrasquad game at Charlotte Sports Park Sunday morning rather than start against the Orioles in Sarasota, where the Rays and Orioles played to an 8-8, nine-inning tie.
Earmarked to begin the season as the Rays' No. 2 starter, Smyly faced a lineup composed of Brandon Guyer, Desmond Jennings, Brad Miller, Steve Pearce, Curt Casali, Richie Shaffer, Taylor Motter, and Luke Maile.
• Spring: Tickets | Ballpark | 40-man roster | NRIs
Smyly threw 86 pitches (56 strikes) and allowed no runs on four hits and a walk while striking out four in six innings.
"It was fun," said Smyly when asked about facing his teammates. "I think it was exciting for all of us, with bragging rights on the line. It was good practice for all of us. [I faced] mostly righties, so they got a good look at the type of lefty they're going to face in the season. And most lineups I face are going to be mostly righties. They were all Major League hitters, so it was fun facing them. ... I felt good. Next start will probably be around 100 [pitches]."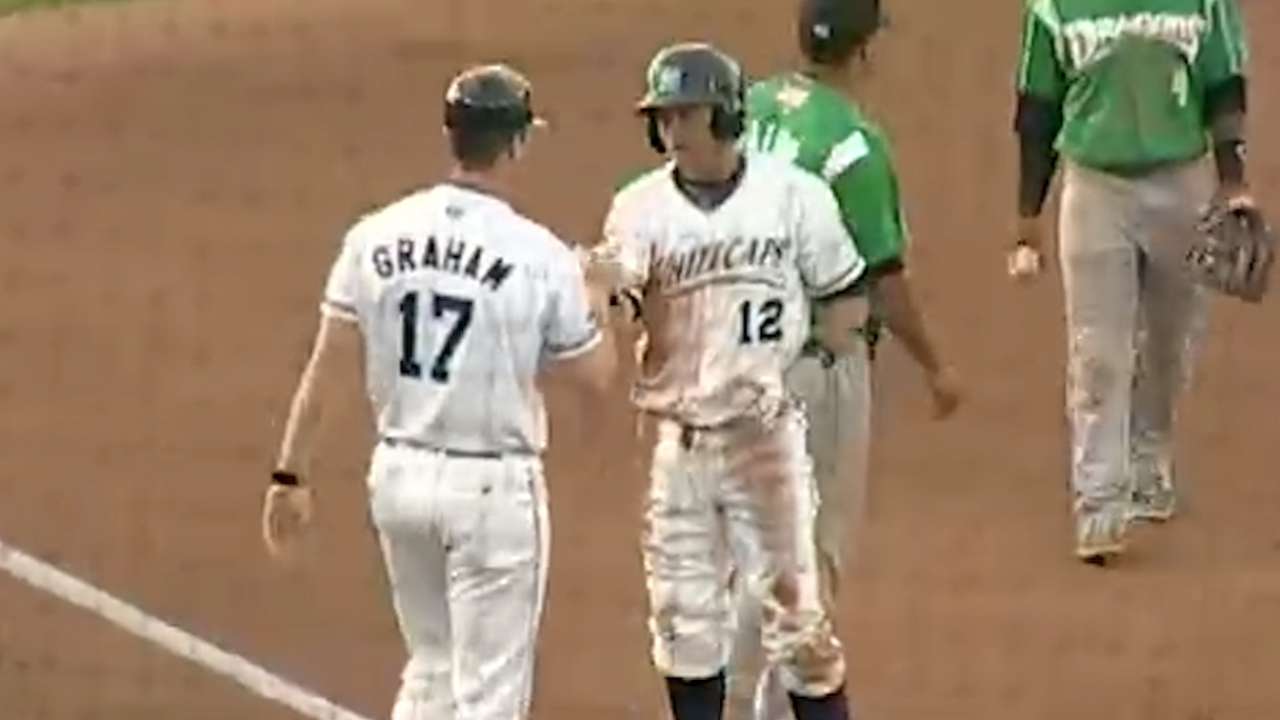 Willy Adames traveled with the team to Sarasota and played two innings against the Orioles. Thus far, the 20-year-old shortstop has impressed manager Kevin Cash, even though he's only played in 12 innings with the Major League club at shortstop this spring.
"He's not scared at all," the Rays manager said. "He makes every play look routine."
Adames came to the Rays in the 2014 trade that sent David Price to the Tigers. He hit .258 with four home runs and 46 RBIs at Class A Advanced Charlotte in 2015.
The Rays have long been known for the depth of their pitching, but suddenly the organization has a wealth of quality shortstops. At the Major League level, they have Brad Miller, Tim Beckham, and Taylor Motter. Nick Franklin got optioned to Minor League camp on Saturday, and down on the farm, the Rays have Daniel Robertson, Andrew Velazquez, Adrian Rondon, Jake Hager, and Riley Unroe.
"We're pretty fortunate," Cash said. "... That's a lot of talent at that position."
Cash speculated on Sunday that the team's third cut of the sping would come next weekend.
Around the horn
• The Rays signed right-hander Ryan Webb as a free agent on Feb. 18, thereby adding a unique piece to the team's bullpen.
"We didn't have a guy like that last year, a heavy ground-ball guy, and he's definitely shown that he's capable throughout his career of getting some big outs," Cash said. "He can come in and get a big righty out, or he can give you some length.
"That versatility helps a lot, but that ground-ball pitcher really helps, given that we feel we're going to be really strong on defense to come in in some big situations. When we're kind of banking on that double-play ball, he's a perfect candidate for that."
• Cash touted the flexibility Steve Pearce gives the roster.
"We knew [that Pearce had a lot of flexibility] coming in when we signed him, but we've got some options, second, third, first and either one of the corner outfielders," Cash said. "Pearcy is a guy that I think he would volunteer to do anything to be in the lineup. He just wants to play. But that definitely helps, especially as aggressive as we like to be, using the whole roster and the bullpen and having those guys that can play multiple positions helps a lot."
Bill Chastain is a reporter for MLB.com. This story was not subject to the approval of Major League Baseball or its clubs.