Flu may keep Maurer from next start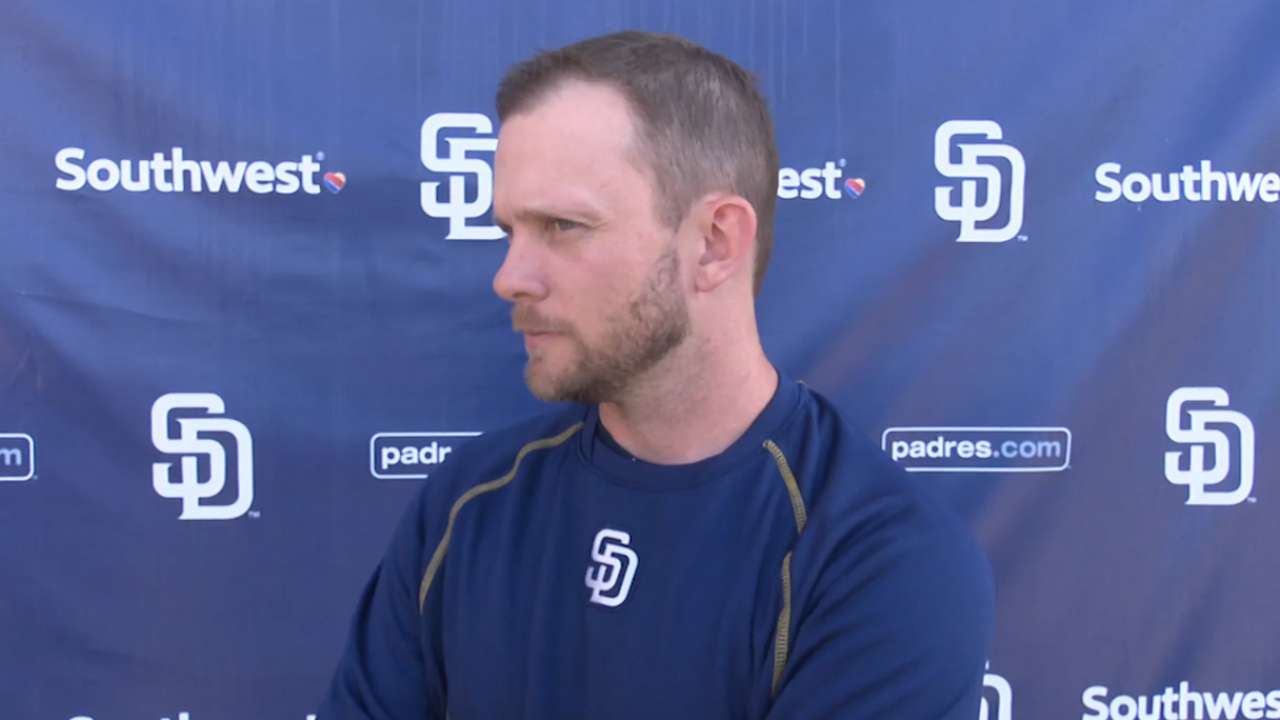 PEORIA, Ariz. -- Right-hander Brandon Maurer missed his second consecutive day of workouts on Sunday because of a bout with the flu, and the Padres will likely be forced to skip his next start as a result.
Maurer was feeling better on Sunday but team doctors advised him to go home to avoid spreading the bug. He began to feel sick on Friday before his start against the Giants, but he pitched anyway and gave up 10 runs in 1 1/3 innings.
Maurer, who spent all of 2015 as a reliever, is fighting for one of two available spots at the back end of the rotation.
"He made no excuses, didn't come in and say, 'Hey, I feel bad, I'm sick,'" manager Andy Green said. "He just went out and pitched, and then after that was sick through the night."
Green -- who wasn't made aware of Maurer's illness until after that game -- reiterated that if Maurer's rotation turn is skipped, it's the result of his illness and not the recent poor outing.
The Padres had been searching for a chance to get left-hander Drew Pomeranz his first start of the spring anyway. It appears they're leaning toward giving him the ball against the White Sox on Wednesday in Maurer's stead.
In addition to Maurer, right-hander Ryan Buchter has missed the past few days with the flu.
Padres like Spangenberg as No. 2 hitter: Second baseman Cory Spangenberg was penciled into the No. 2 spot in the Padres' lineup on Sunday for the 10th time in his 11 starts this spring.
Green hasn't officially decided his plans for the batting order just yet, but he said Spangenberg "fits nice in that spot" -- even behind fellow left-handed-hitter Jon Jay.
"I like the way [Spangenberg] swings the bat," Green said. "You've got Jon Jay and Spangenberg 1-2 right now -- a lot of people wouldn't do that, but they're both guys who have reverse-splits, historically. They stay in very well against left-handed pitching, are very comfortable in that situation."
Spangenberg batted .294/.373/.460 in the second half of last season, and the threat of reaching base makes him an attractive option in the two-hole. Green also mentioned catcher Derek Norris and shortstop Alexei Ramirez as guys who could potentially bat second against tough left-handers.
Quotable
"I think closers are best when they're not figured out, and he's a difficult one to figure out. But he's got a ton of personality, he's got a ton of life, a ton of joy playing the game. And it's infectious. People enjoy being around him. The young Latin players gravitate toward him" -- Green, on the quirky mannerisms of closer Fernando Rodney
AJ Cassavell is a reporter for MLB.com. Follow him on Twitter @ajcassavell. This story was not subject to the approval of Major League Baseball or its clubs.