Colon unconcerned after 8-run outing
Veteran starter focused on overall health, not spring results
PORT ST. LUCIE, Fla. -- Bartolo Colon's third Spring Training start didn't go as planned. Colon was hit hard over five innings in a 12-7 loss Friday night to the Nationals. He gave up eight runs on nine hits, including three home runs.
He labored through a 23-pitch, five-run first inning, digging himself into a hole by yielding hits to the first four batters he faced. And after coaxing a popout, Colon offered up a 3-1 pitch to Nationals shortstop Danny Espinosa, who deposited it onto the lawn beyond the right-field fence. It was 5-0 before Colon regained his composure to retire the next two hitters and end the inning.
Colon yielded a second homer the following inning, a solo shot by Michael Taylor before Chris Heisey hammered a fifth-inning homer. But the Grapefruit League outing didn't shake Colon's confidence.
"I'm not too worried about it here," he said. "If this were the regular season, then I'd worry. That's exactly what this is for; it's for me to really work through those things. I don't think I'm going to change up anything that I do. I'm always going to keep doing the work the way I do it."
Colon, 42, said he came away from the outing without any physical problems.
"I feel good," he said. "The most important thing is that I feel healthy. The fact that I feel so healthy really keeps me happy."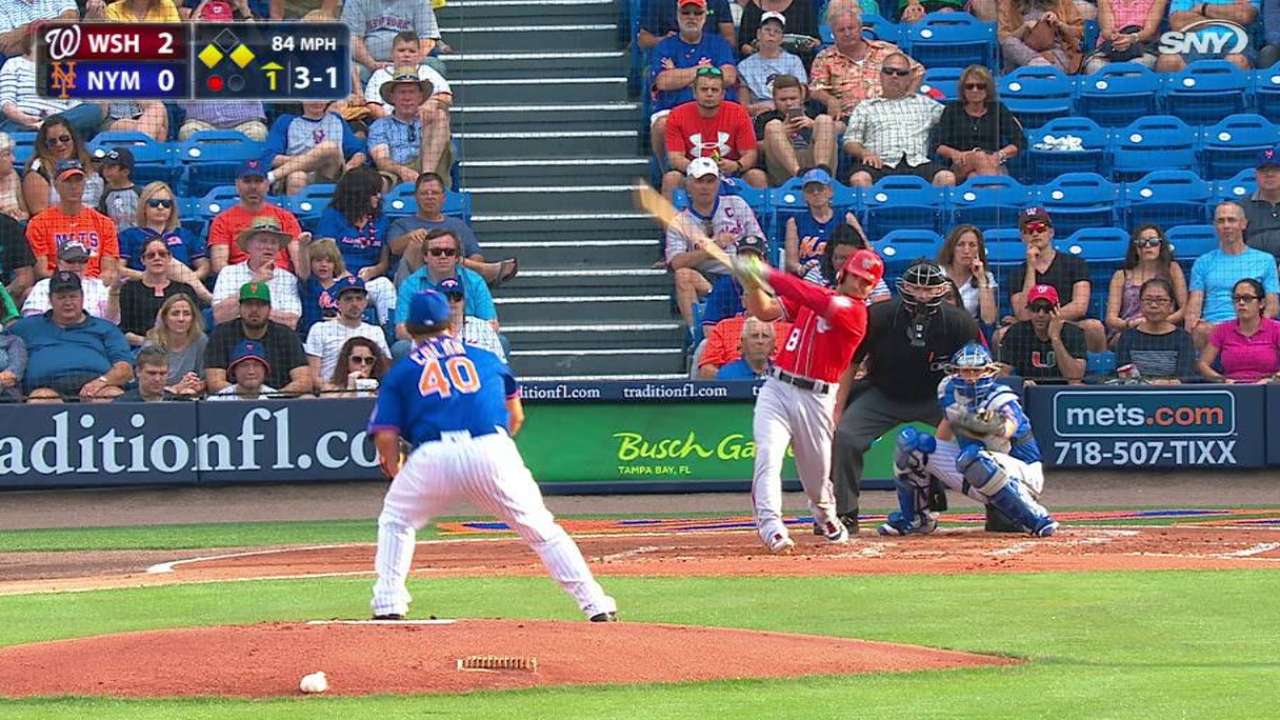 Colon said he would work on his breaking pitches moving forward.
He earned a win in his spring debut, a March 7 three-inning stint vs. Detroit, allowing one run on four hits with two strikeouts. He faltered five days later, surrendering four runs on six hits in 3 2/3 innings of a no-decision.
Colon was 14-13 with a 4.16 ERA in 33 games last season. He will enter the 2016 season as the active leader in career wins (218) and shutouts (13). He signed a one-year contract on Dec. 18.
Glenn Sattell is a contributor to MLB.com. This story was not subject to the approval of Major League Baseball or its clubs.