MLB.com Columnist
Bill Ladson
Arroyo, Nats will meet to discuss second opinion
MRI diagnosis reportedly changed from torn rotator cuff to bursa sac inflammation
VIERA, Fla. -- Nationals right-hander Bronson Arroyo received good news Friday. After an MRI from earlier this week was compared to one from 2014, Arroyo learned that he has an inflamed bursa sac in his right shoulder, according to a source, not a torn rotator cuff as was initially believed. FOXSports.com was the first to report about the second opinion.
The Nationals have not confirmed the report. In a statement, the club said it planned to meet with Arroyo about the shoulder on Saturday. Arroyo may be dealing with more than inflammation.
"We compared the MRI from Arizona with our MRI and we're going to sit with Bronson [Saturday] and map out a protocol for what happened," the statement said. "The report that was out there was inconsistent with what our reports are. The report out there is not consistent with what our team doctors are saying."
A change means Arroyo may not have to consider retirement after all. The source said Arroyo hopes to be back on the mound in a few weeks, which means he plans to rehab the shoulder.
During his pregame meeting with reporters on Thursday, Arroyo sounded like a man who felt his career was over after being told that he had a significant tear. Arroyo had the rotator cuff repaired at the same time he had Tommy John surgery in 2014. He was in uniform on Thursday and Friday and was seen talking to teammates.
Arroyo is competing with right-handers Tanner Roark and Joe Ross for the final two spots in the Nationals rotation. In his most recent start, on March 10 against the Astros, Arroyo pitched three shutout innings and struck out three. Arroyo said he wasn't healthy in that game against Houston.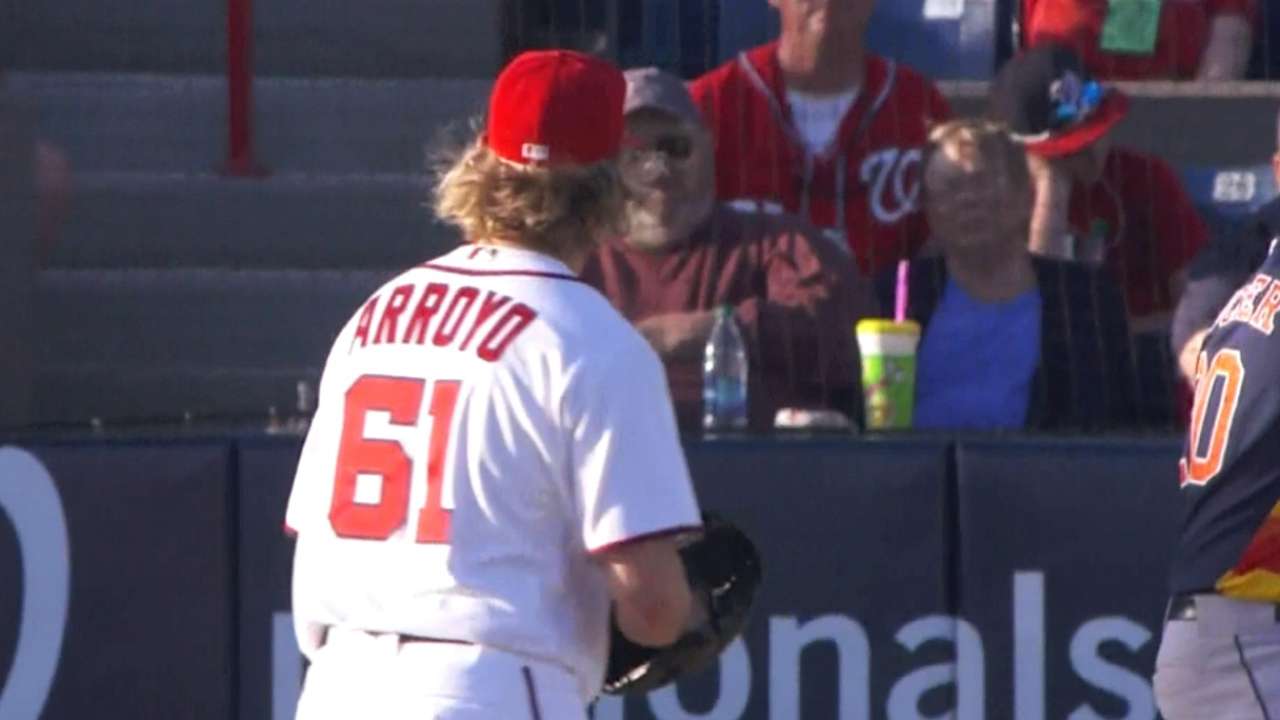 Arroyo hasn't pitched in a Major League game since June 15, 2014.
"Yeah, I haven't really been healthy since I had the surgery," he said on Thursday. "I had the Tommy John [on my] elbow, and I had my rotator cuff repaired as well. It had a small tear, about 30 percent, in '14. I mean, there would be days where I felt pretty good. But it was one of those things where I couldn't tell if it was just something that would work itself out in camp as I was building up, and it would get stronger and better, or if it was something that was just going to be there all the time.
"If it stayed where it was, I could pitch with that. But it got to the point my last outing where it's just significantly so much pain that there's just no way to possibly pitch. And there's also no way to turn it around and pitch again. It's not looking real good, but we'll take a couple days to just let them analyze it a little bit."
Arroyo has had a productive career in the big leagues. He has won 145 games and posted a career 4.19 ERA in 15 seasons. He is best remembered for helping the Red Sox win the World Series in 2004 -- their first in 86 years.
Manager Dusty Baker persuaded Arroyo to sign with the Nationals instead of the Reds this past offseason. The two were together for six years with Cincinnati.
Bill Ladson is a reporter for MLB.com and writes an MLBlog, All Nats All the Time. He also can be found on Twitter @WashingNats. This story was not subject to the approval of Major League Baseball or its clubs.