Givens' arsenal gives O's glimpse of potential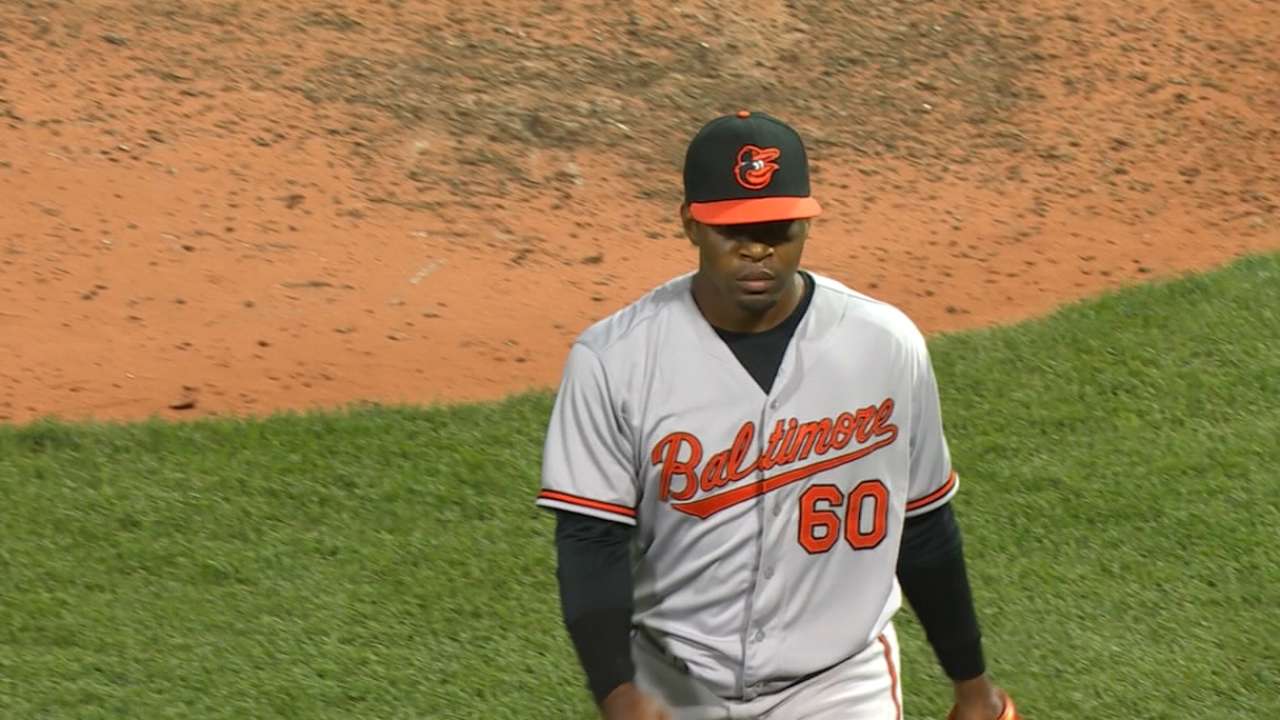 SARASOTA, Fla. -- Watch Mychal Givens pitch, and it quickly becomes apparent how the right-hander can be a nightmare for right-handed hitters. Givens, the Orioles' No. 4 prospect, slings the ball from a sidearm slot, creating darting movement on a mid- to upper-90s fastball and a nasty slider.
For some pitchers, a low slot can really challenge opposite-handed batters, who have a better chance to pick up the ball early. But thus far in his young career on the mound, which began in 2013 when he converted from shortstop, Givens has avoided a large platoon split that could limit his ceiling.
"He's going to be hard to hit for both sides," said fellow Baltimore reliever Darren O'Day, who throws from an even lower slot. "So he might have a little advantage on righties, just because they're more uncomfortable, but he's going to be able to get both of them out.
"When it's all said and done, he can be a really good setup guy, closer, whatever he wants to be."
• Breaking down Orioles' Top 30 Prospects
Givens, who pitched a scoreless frame in Thursday night's 4-1 win over the Twins, had allowed only one earned run over 6 2/3 innings in Grapefruit League play, overcoming five walks with eight strikeouts.
Givens made his professional pitching debut for the Class A Delmarva Shorebirds on April 6, 2013. When the Orioles took him the second round out of high school in the 2009 Draft, they announced him as a pitcher but immediately told him he would play shortstop, an experiment that ended with a .642 OPS over three seasons in the Minors.
When Givens made the switch to the mound, he stuck with the arm slot he used as a high school pitcher and rediscovered his changeup, which he can deploy as a weapon against left-handed hitters.
"Just being able to attack them and don't let them be too comfortable in the box [by] working inside," Givens said of his philosophy in those situations. "I've had a good changeup, so being able to have that in my back pocket to throw to lefties has been really helpful."
During Givens' time in the Minors, he held lefties to a .599 OPS, compared with .554 for righties. In 30 innings with the Orioles in 2015, lefties went 8-for-39 (.205) with a .555 OPS against him, while righties were 12-for-69 (.174) with a .527 OPS.
• Orioles Spring Training info
While the 25-year-old used his slider prominently against righties, he leaned more heavily on his changeup and fastball against lefties. It certainly helped that the fastball averaged more than 95 mph and reached as high as 98.
"Any time you have a guy throwing mid-90s, it's going to be hard for either hand to hit," O'Day said. "Plus he's got good action on his fastball, he's got a good changeup, he can cut the fastball, and he can sink it."
With those tools in his arsenal, Givens posted a 1.80 ERA and 38-to-6 strikeout-to-walk ratio over three stints in Baltimore. In his last 10 innings, he gave up one hit, walked three and struck out 16.
In order to have that success, Givens has needed to adjust quickly to the life of a pro pitcher and lean on the Orioles' veterans for support.
That includes O'Day, who has talked with Givens about numerous topics, including preparation, sequencing and the mentality of pitching with guys on base.
"He started out as a good pitcher, but he's asked a lot of questions and he's worked on a few things that I think are going to make him even better," O'Day said.
Andrew Simon is a reporter for MLB.com. Follow him on Twitter @AndrewSimonMLB. This story was not subject to the approval of Major League Baseball or its clubs.