Gray's outlook brightens after aggressive outing
Right-hander wants to reward club's confidence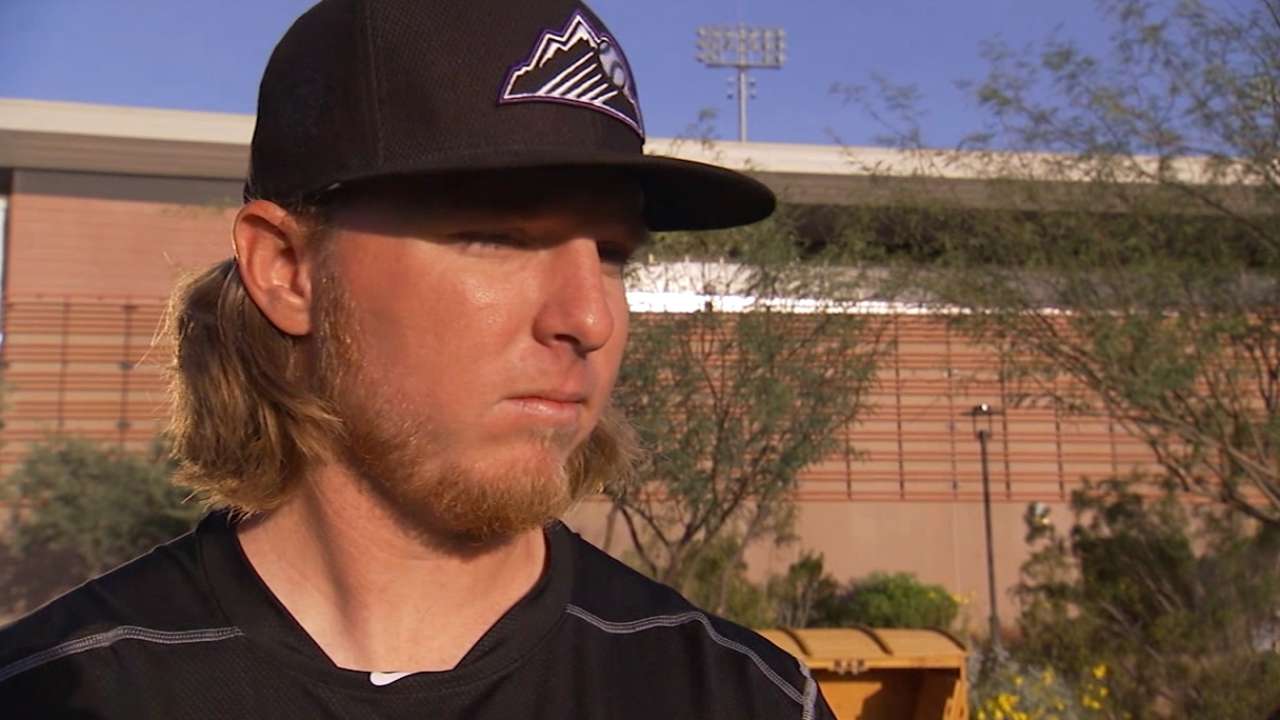 SCOTTSDALE, Ariz. -- It wasn't as if Rockies rookie righty Jon Gray pitched scoreless ball for seven full innings during Thursday's 4-4 tie with the Angels -- just from the fourth through seventh innings. But Gray didn't go any longer than six during his nine-start Major League debut last year, so any pitch late in a tight game has value.
"It felt very realistic," Gray, MLBPipeline.com's No. 2 Rockies prospect, said Friday morning. "It was pretty fun, brought back some memories and thoughts of what's about to come. I was pretty excited."
Rockies send Butler, Murphy to Triple-A
Gray, who held the Angels scoreless on three hits with three strikeouts and a walk, fully expects to be dominating deep into his starts. And Thursday was the first time this spring that Gray was simply attacking, rather than trying to hone his new curveball under game conditions.
Afterward, Gray based his self-evaluation on how his action related to competition, not simply the action itself. Even with the glowing numbers, Gray focused on singles he coughed up with 0-2 counts to Johnny Giovatela with two outs in the fourth and Gregorio Petit to open the seventh. Gray fanned C.J. Cron after the Giovatela single, and put down the sides on five pitches after the Petit hit.
"I thought my 0-2 pitching was pretty terrible," Gray said. "I did throw a curveball earlier, but I got away from that later. I feel like the slider and changeup were both really good. But there were plenty of times I should have put guys away and I just didn't.
"That's the only thing I'm upset about. The tempo and the times to the plate were a lot better. In general, pitching down in the zone was good."
Gray, 24, also drew on inner pressure to perform. All the Rockies' indications are they want Gray in the rotation to start the season, but Gray wanted to reward the faith.
"There was a purpose to throw up some good numbers," Gray said. "I wanted to show these guys I am competing. I'm trying to learn things, but to show that I could compete and win was very important, especially this late in the camp."
Rockies manager Walt Weiss appreciated Gray's take-nothing-for-granted outlook.
"I'm not going to say his job was on the line or anything," Weiss said. "We've seen him real good. We know the potential. Every athlete feels the pressure to perform at this level virtually every day you step out on the field. Jonny did a great job handling himself and threw the ball well. I like the fact that, particularly after the first inning, he got back to using the fastball and pitching off of that."
Thomas Harding is a reporter for MLB.com. Follow him on Twitter @harding_at_mlb, listen to podcasts and like his Facebook page. This story was not subject to the approval of Major League Baseball or its clubs.