Top prospects among 11 sent to Minors camp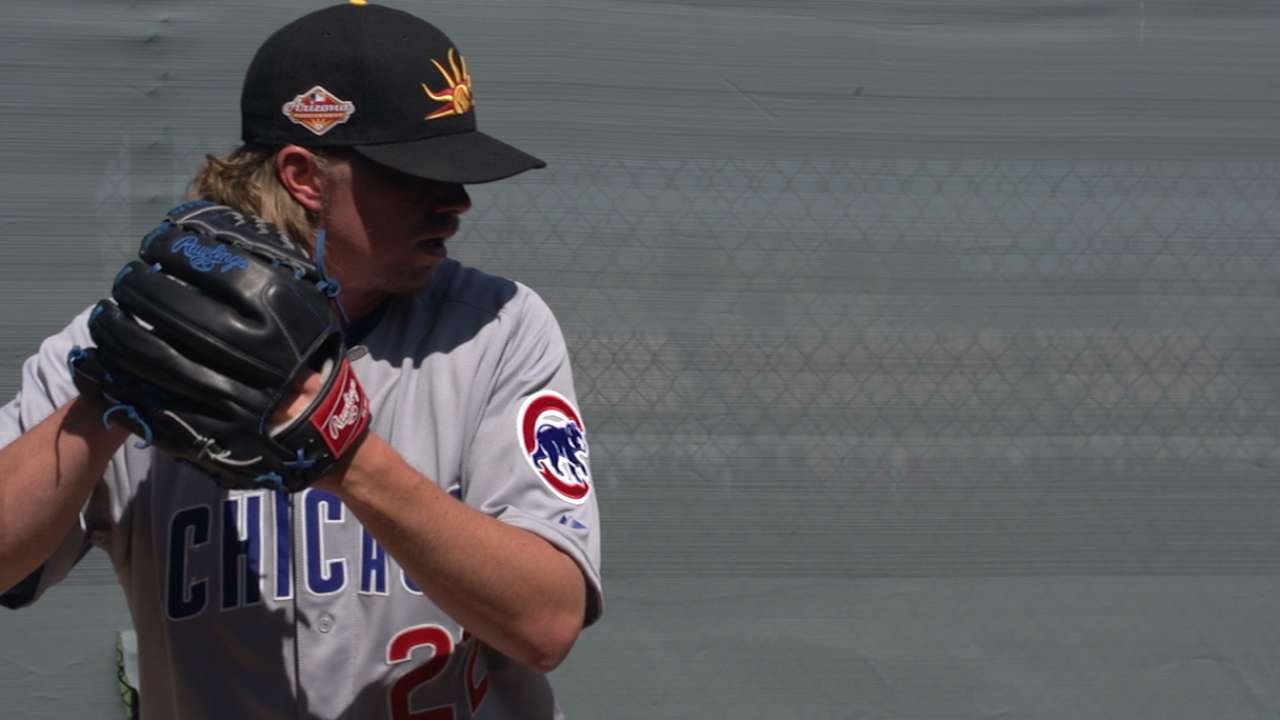 Spring Training: Tickets | Schedule | Ballpark
Five non-roster invitees were assigned to Minor League camp, including right-handed pitchers Stephen Fife, Felix Pena and Drew Rucinski, left-handed pitcher Edgar Olmos and catcher Taylor Davis.
With the moves, the Cubs' spring roster now is now at 45.
Candelario, who was batting .345 this spring, made a good impression on Maddon.
"I said, 'How can we possibly send you out? You're the best hitter in the valley now. What's wrong with us?'" Maddon said of his conversation with the third baseman early Friday.
Contreras was the Cubs' Minor League Player of the Year last season after batting .333 at Tennessee.
"It's not an aberration -- this guy is good," Maddon said. "I do think if they go to the Minor Leagues and play like we think they can play, if there's a need, I think both [Contreras and Candelario] will be impactful."
Maddon liked how Contreras was "unbelievably connected" to the pitchers and worked on building those relationships. And, Maddon said the pitchers tried to help the young catcher, too.
"When he gets here, it's not going to be perfect, but he'll grow into it," Maddon said.
Alcantara made the Cubs' Opening Day roster last year, but he was sent to Iowa after going 2-for-26 in 11 games. He then batted .231 at Triple-A.
"He's such a gifted athlete," Maddon said of the versatile infielder. "We have to keep working with him on some things. [He needs] to be more consistent with his left-handed approach. He's a very talented kid, we just have to get him pushed in the right direction."
Edwards will continue to be groomed as a reliever. Last season, he compiled a 2.77 ERA at Tennessee and Iowa in his first full season out of the bullpen.
"If I had to guess where I thought he'd be more effective, I'd say the bullpen," Maddon said of the right-hander.
Edwards was called up last September and pitched in five games before staying with the Cubs through the postseason run.
Maddon said Davis may not look like a ballplayer, but said the catcher also impressed.
"I look at [Davis] and, of course, he doesn't come across as body beautiful, but this guy knows how to play," Maddon said. "There are guys we have who haven't gotten the publicity as some of the other guys have, but they're going to make their mark."
Carrie Muskat is a reporter for MLB.com. She writes a blog, Muskat Ramblings. You can follow her on Twitter @CarrieMuskat and listen to her podcast. This story was not subject to the approval of Major League Baseball or its clubs.