MLB.com Columnist
Jonathan Mayo
Inbox: When will Braves' Swanson reach bigs?
Jonathan Mayo answers fans' questions about baseball's future stars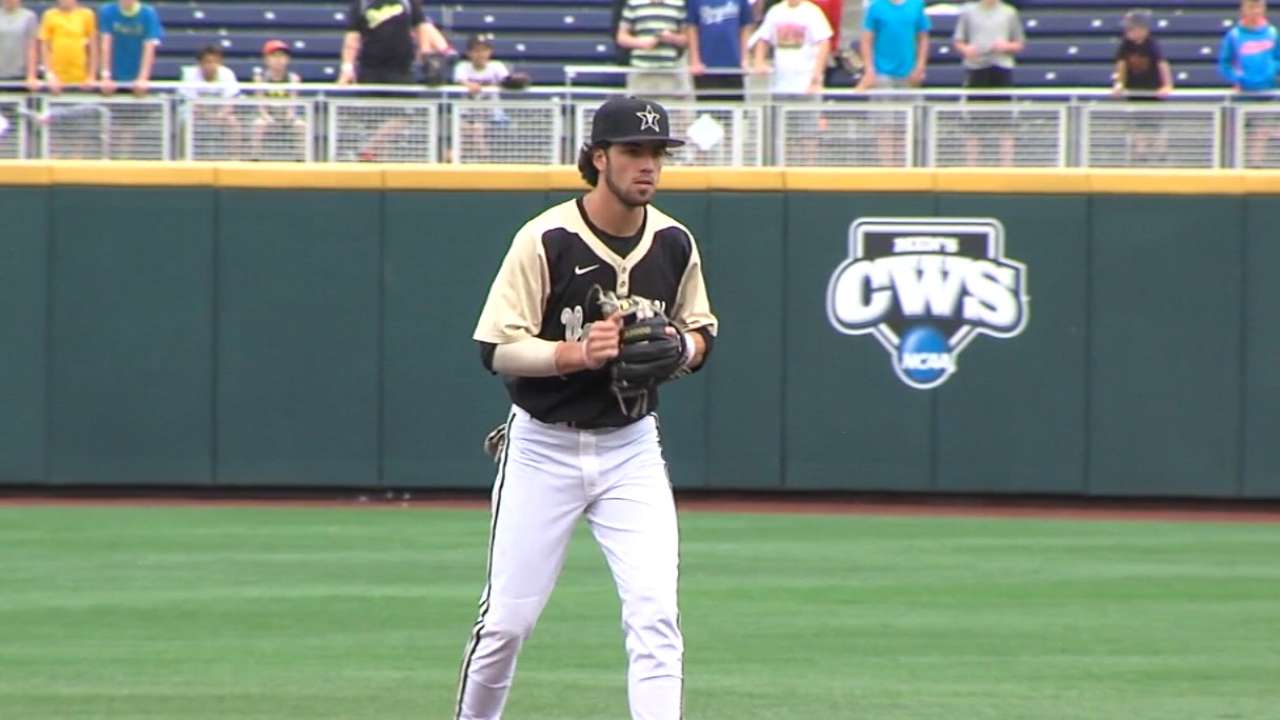 The MLB Pipeline crew continues to run around Spring Training. Our sweep through the Cactus League is complete and we're making our way through the Grapefruit League, one camp at a time.
But we still have time to answer some of your questions in this week's Pipeline Inbox, including some queries about prospects who have gotten a chance to show what they can do in big league camps, both in Arizona and Florida.
@JonathanMayo when is Swanson up? July?

— Paul Willard (@prwillard2) March 16, 2016
There is no question that there is excitement in Braves Country about Dansby Swanson, the key acquisition in the Shelby Miller deal. And for good reason. The 2015 No. 1 overall pick already has made a strong first impression on his new team this spring, playing well in big league camp. It's true the Vanderbilt standout shouldn't take long to be big league ready.
That said, expecting to see Swanson in July is probably getting ahead of yourself. There is no real reason to rush him to the big leagues, nor to get his service clock started. The Braves are in rebuilding mode and Swanson is definitely going to be a cornerstone of that process. Remember, he's not on the 40-man roster yet, and doesn't need to be for quite some time. I do believe Swanson will reach the upper levels of their system in some capacity this year, but I think it's a little more realistic to see him in Atlanta in 2017.
@JonathanMayo @MLBPipeline at mid season where do you think Jacob Nottingham will rank in the #Brewers system?

— Kevin (@kseymour1996) March 16, 2016
Based on how we think he'll hit, Jacob Nottingham should move up the list. The other Brewers prospects on their Top 30 may have something to say about giving up their spots, however.
Nottingham is currently at No. 10 on that list, largely because of his offensive upside. During his full-season debut in 2015, he showed the ability to hit for average and power across two levels of A ball, including after he was traded from the Astros to the A's at the Trade Deadline. A few months later, Nottingham joined his Astros' organization-mates now with the Brewers who had come over in last July's Carlos Gomez trade. Nottingham spoke with us recently about adjusting to his new digs.
Nottingham does need to show he can continue to hit as he reaches the upper levels, but there's confidence he'll do so. More importantly in terms of him raising his prospect profile is showing he can stick behind the plate, something he is determined to do. That said, it's possible none of the nine Brewers prospects ahead of Nottingham will graduate by July, unless Orlando Arcia gets an early callup. If we allow for one graduation and perhaps one or two of the top 10 not performing quite as well, seeing Nottingham hit himself up to as high as No. 5 could conceivably happen.
@JonathanMayo Why is Faria of the Rays under-rated by most? Looked great in ST games, 92-95 & great change.

— WalterJohnson (@steve_dakota) March 16, 2016
@JonathanMayo @MLBPipeline Justin Williams...I have no idea what to make of him. What's your take?

— kelly christensen (@kellyc9344) March 17, 2016
We'll finish with a pair of Rays prospects-related questions about two guys people seem to have trouble figuring out.
We'll start with Jacob Faria. I'm not so sure it's fair to say the right-hander is underrated at this point. He's at No. 9 on our Rays' Top 30, and I've seen him elsewhere in the Top 10 as well. A 10th-rounder in 2011, Faria was raw and projectable when drafted, and hehad moved a bit slowly early on, spending two summers in the Appalachian League. He had a decent full-season debut in 2014, then really broke out last year, so it's possible the industry was a little slow to react to his success. That said, there might be a desire to see Faria do it for a prolonged period at higher levels before becoming true believers. And like I do often with things like Spring Traning or the Arizona Fall League, beware of small glimpses or sample sizes. Yes, he has good velocity and an outstanding changeup, but his command hasn't always been sharp and he needs to continue to improve his breaking ball. Faria will get there, but that's some of the reason for the tempered enthusiasm.
I'm a bit bullish on Williams, the sometimes-enigmatic No. 14 prospect in Tampa Bay's system. There's some upside with the bat there, and he made some nice strides during his first season with the Rays (he came over in the Jeremy Hellickson trade with the D-backs), even earning a promotion. There's a good amount of power to tap into here, though Williams needs to continue to refine his approach so he can do so more consistently. Keep in mind, he'll still only be 20 for nearly all of the 2016 season. The Rays know how to be patient, and that could be rewarded. If it continues to click, I could see Williams reaching Double-A this season.
Jonathan Mayo is a reporter for MLBPipeline.com. Follow @JonathanMayo on Twitter. This story was not subject to the approval of Major League Baseball or its clubs.