Heavyweights Panama, Colombia to square off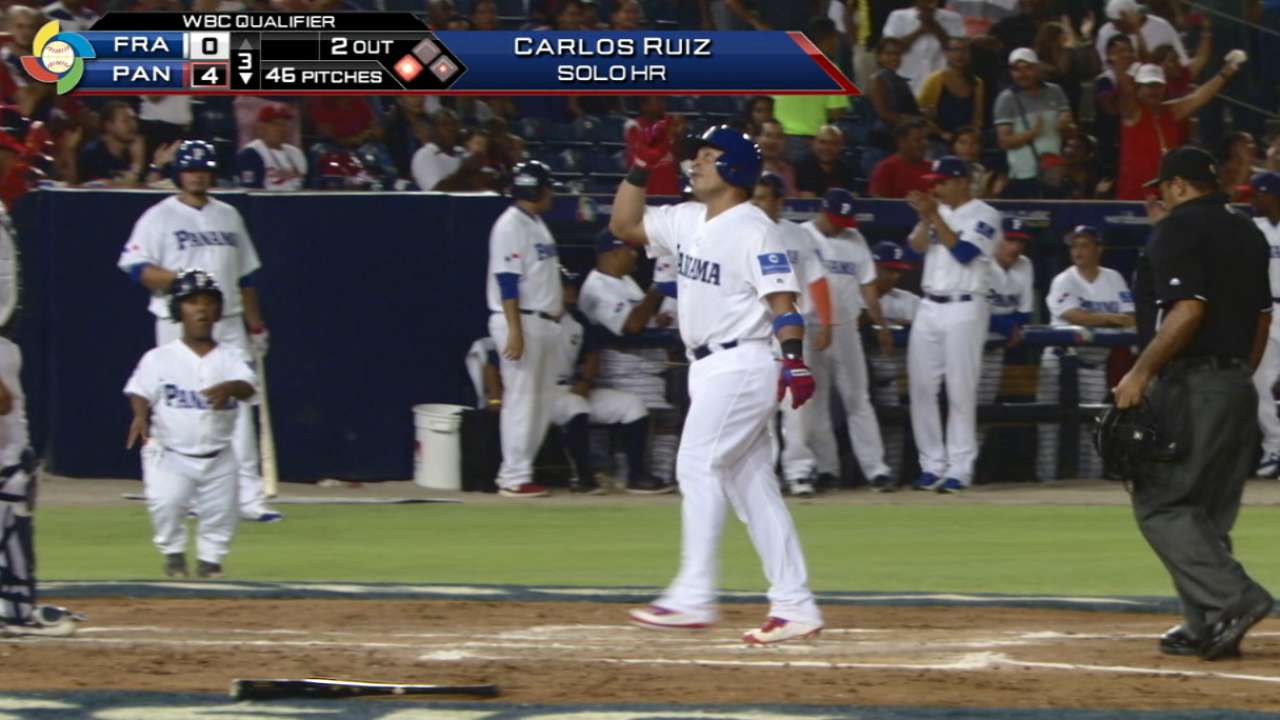 PANAMA CITY, Panama -- The two countries share a border, and on Friday night they'll share the field at Rod Carew Stadium.
In what figures to be an entertaining matchup on the second day of the Panama City World Baseball Classic qualifier, Panama and Colombia will face off at 9 p.m. ET. But before the two heavyweights do battle, France and Spain will play each other at 2 p.m. ET in the first elimination match in Panama City.
All World Baseball Classic qualifier games are streaming on MLB.com and worldbaseballclassic.com.
Panama powered its way to a 9-2 victory over France on Thursday night behind a two-homer effort from Philadelphia Phillies catcher Carlos Ruiz. Likewise, Colombia advanced to the winner's side of the bracket by virtue of a 9-2 win over Spain.
World Baseball Classic schedule, tickets | World Baseball Classic scoreboard
"I'm looking forward to playing Panama," Colombia manager Luis Urueta said through a translator. "I want to keep the team focused and keep them concentrated on the small details, and let the game play itself out."
Karl Lewis Triana, a 23-year-old righty who plays professionally in Mexico, will start for Colombia. Taking the ball for Panama will be 32-year-old southpaw Davis Romero.
With his team jumping out to an early lead on Thursday, Panama manager Carlos Lee was happy he didn't have to use Romero in relief.
"I respect Colombia and their hitting," Lee said through a translator. "They looked good today in their game against Spain. That's the main reason I wanted to save up Davis Romero for tomorrow's game. He can go up to the 85-pitch count if necessary."
European foes France and Spain have some history in the World Baseball Classic. Back in 2012, Spain routed France, 8-0, en route to clinching the country's first WBC berth. Even with his team's back against the wall, Spain manager Manny Crespo is optimistic his team can return to the final.
"It's not impossible to win three games," Crespo said. "You're in the hole with one loss, but it's not impossible. ... If everything goes right, we'll be here on Sunday."
Thirty-four-year-old southpaw Richard Salazar, who plays in Venezuela, is scheduled to start for Spain. France manager Eric Gagne will give the ball to 22-year-old Leonel Cespedes, a right-hander from Cuba who most recently played professionally in France.
After seeing his team make three costly errors in front of a big, raucous crowd under the bright lights of Rod Carew Stadium on Thursday night, Gagne said the biggest key will be to calm the nerves of his inexperienced team.
"We do think we can [win], yes," Gagne said. "Is it going to happen? We've got to play good. We've got to play really good baseball and, like I said earlier, good pitching, good defense. We know we can hit. I think they're going to be a lot more relaxed after that first game. Hopefully, they can just loosen up and have fun out there."
Alex Espinoza is a contributor to MLB.com. This story was not subject to the approval of Major League Baseball or its clubs.