MLB.com Columnist
Bill Ladson
Rizzo reflects on decade with Nationals
GM discusses highs, lows of past while looking toward bright future
Mike Rizzo is currently in his 10th year with the Nationals. He came in as an assistant general manager in July 2006, and beginning in 2007, he helped rebuild the farm system by selecting Jordan Zimmermann and Ross Detwiler in the Draft.
After replacing Jim Bowden as general manager in 2009, Rizzo turned the Nationals into championship contenders by signing free agents Jayson Werth and Adam LaRoche, drafting first-round picks Stephen Strasburg and Bryce Harper and trading for Gio Gonzalez and Denard Span. By turning the team around, Rizzo was able to win division titles in 2012 and '14, but he wants more.
MLB.com caught up with Rizzo on Thursday to talk about his time with the Nationals and his future with the team.
MLB.com: This is your 10th year with the Nationals. Is it hard to believe you have been with the team that long?
Rizzo: As you know, time went by fast. We have done a lot of positive things with the organization. We are very proud of what we accomplished. We haven't accomplished everything we wanted -- yet. But we feel optimistic that we will someday.
MLB.com: When you first joined the team, you had to fix the farm system, which was in shambles. When did you know the farm system was in good shape?
Rizzo: When we finally got all the pieces and all the employees that we were looking to get, that's when I knew we were going to turn the corner and put something good together.
MLB.com: What is your biggest moment with the Nationals?
Rizzo: The 2012 division title. When we won that, we celebrated harder than we ever had. It was the first championship in the D.C. area in a long time in baseball. We felt proud of that. All the hoopla around it, I thought, was really cool. You finally get to the point where we were a viable, winning, productive organization. The pride that I felt that day was probably the most pride that I've had to this point.
MLB.com: What is your worst moment during your 10 years with the Nationals?
Rizzo: Probably the playoff losses and the finality of it. They were gut-wrenching. That's probably the low point. When one door closes, another one opens, however. We learned from our mistakes in our playoff losses, and I think we'll be better for it. We feel optimistic. We not only put together a championship club on the big league level, our feeder system in the Minor Leagues can keep us viable as a championship-caliber organization for years to come.
MLB.com: How long do you want to stay as the general manager?
Rizzo: I love the job. They say when you love what you do, it's not a job. I've been in baseball my whole life. This is my 35th year in professional baseball. I certainly haven't achieved what I wanted to achieve as the president and GM of the Nationals. I'm still as optimistic and fired up to come to work every day as I've ever been. I'll continue to do so.
MLB.com: Do you think your contract will be renewed by June 15?
Rizzo: I'm not going to give my contract a second thought. I do what I do. I let my resume speak for itself. The Lerners have been great to the Rizzo family. I absolutely have no concerns about the deadline that has been reported or the status of my job.
MLB.com: How do you feel about Dusty Baker being the manager of the Nationals?
Rizzo: He comes as advertised. He is a winner, communicator and energetic. He has a baseball IQ beyond description. He is a great leader for the ballclub. Our goal is to play meaningful games in September and October, and I think he is the man to do it.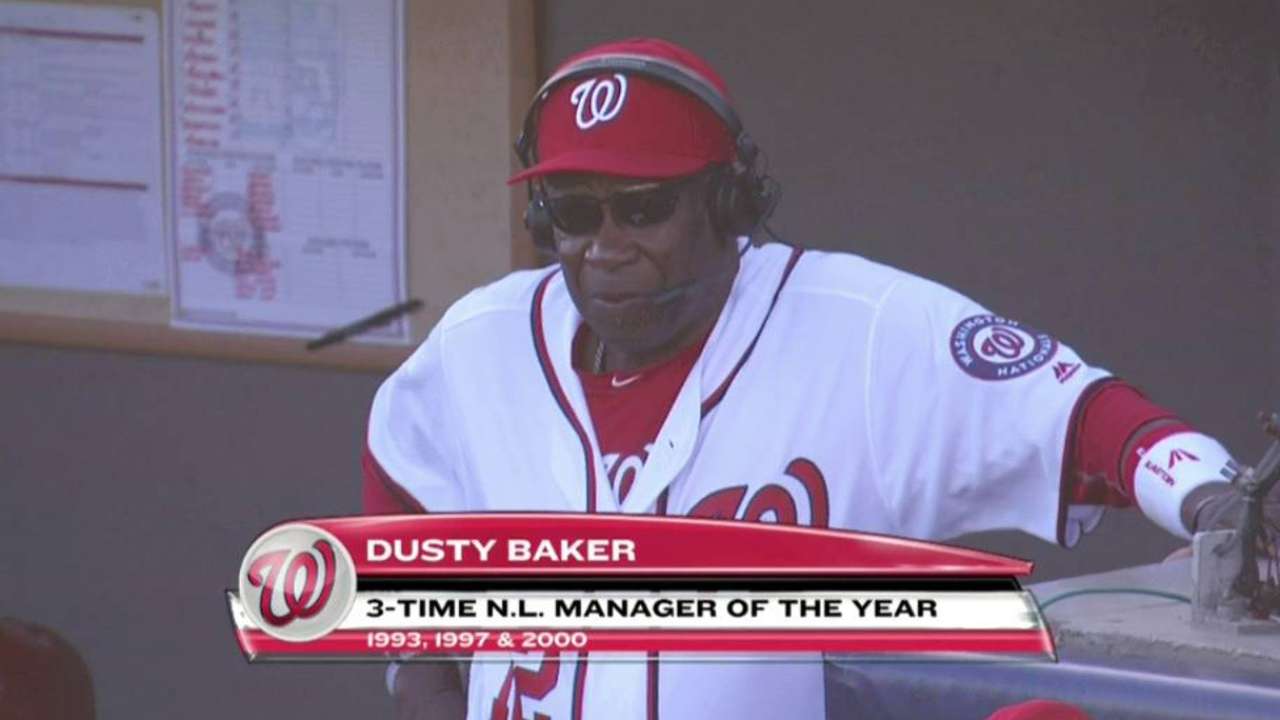 MLB.com: What do you want to see differently than last year?
Rizzo: We need to keep our guys on the field. We feel if we could keep our guys on the field, we can compete with anybody. We are chasing down the Mets this year. They are the champions of the division. We want to be the champions of the division. With a healthy Nationals team in 2016, we can compete with anybody, and we are as good as anybody.
MLB.com: Harper and Strasburg are two of your best players. Do you want to sign them long term?
Rizzo: They are two core guys that we are proud of. We scouted, signed and watched them develop into All-Star players. They are big parts of this team. We would certainly like to lock them up and be Nats for a long time.
Bill Ladson is a reporter for MLB.com and writes an MLBlog, All Nats All the Time. He also can be found on Twitter @WashingNats. This story was not subject to the approval of Major League Baseball or its clubs.