Bundy finding comfort zone in bullpen
As important, righty not feeling arm soreness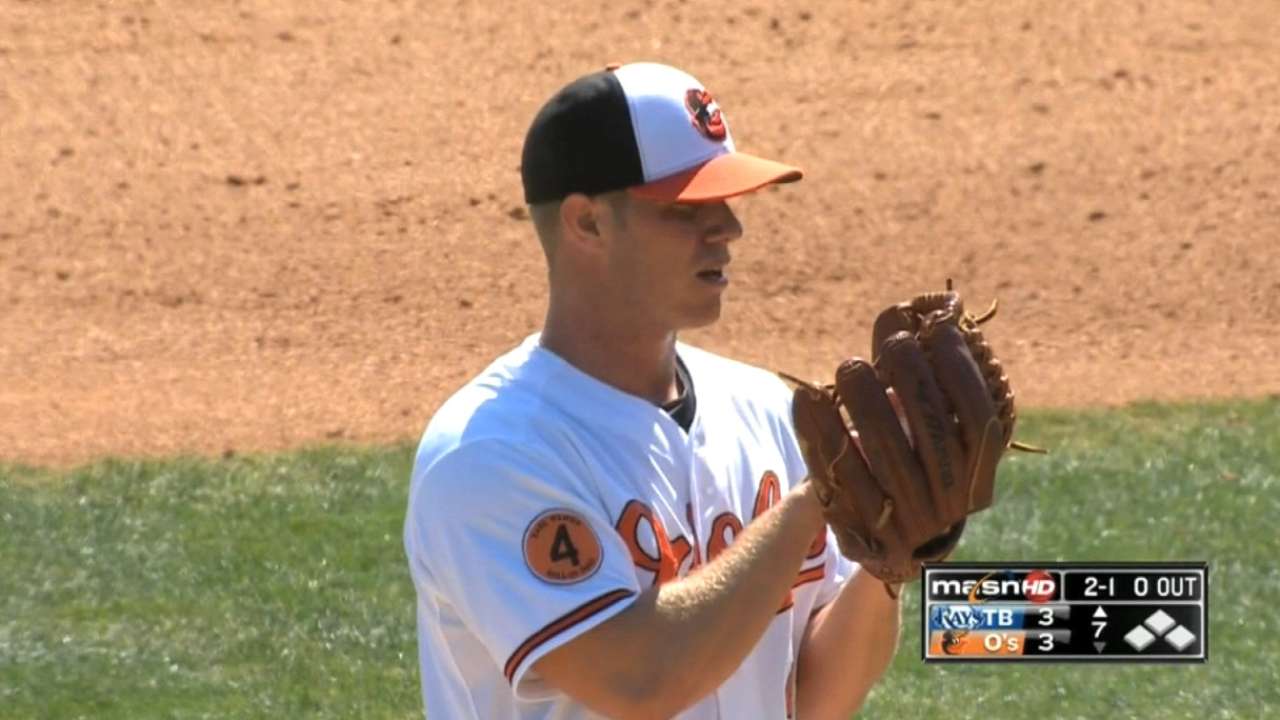 SARASOTA, Fla. -- A day after making his fifth relief appearance of the spring, Orioles prospect Dylan Bundy said Thursday it's been "so far, so good," in terms of how his right arm has responded to his new role. Not once after any of those outings has he felt sore, Bundy added.
Then, the 23-year-old made a point of reaching out with his left hand and knocking on the wooden side of his locker in the Orioles' clubhouse.
• Orioles Spring Training info
Ballplayers are a superstitious bunch anyway, but one can forgive Bundy in particular for taking precautions. The fourth overall pick in the 2011 MLB Draft made it to the Majors the following year and became MLBPipeline.com's No. 2 overall prospect, but since then arm injuries have stalled his career. Now out of Minor League options, Bundy is on track for a Major League bullpen role -- if healthy.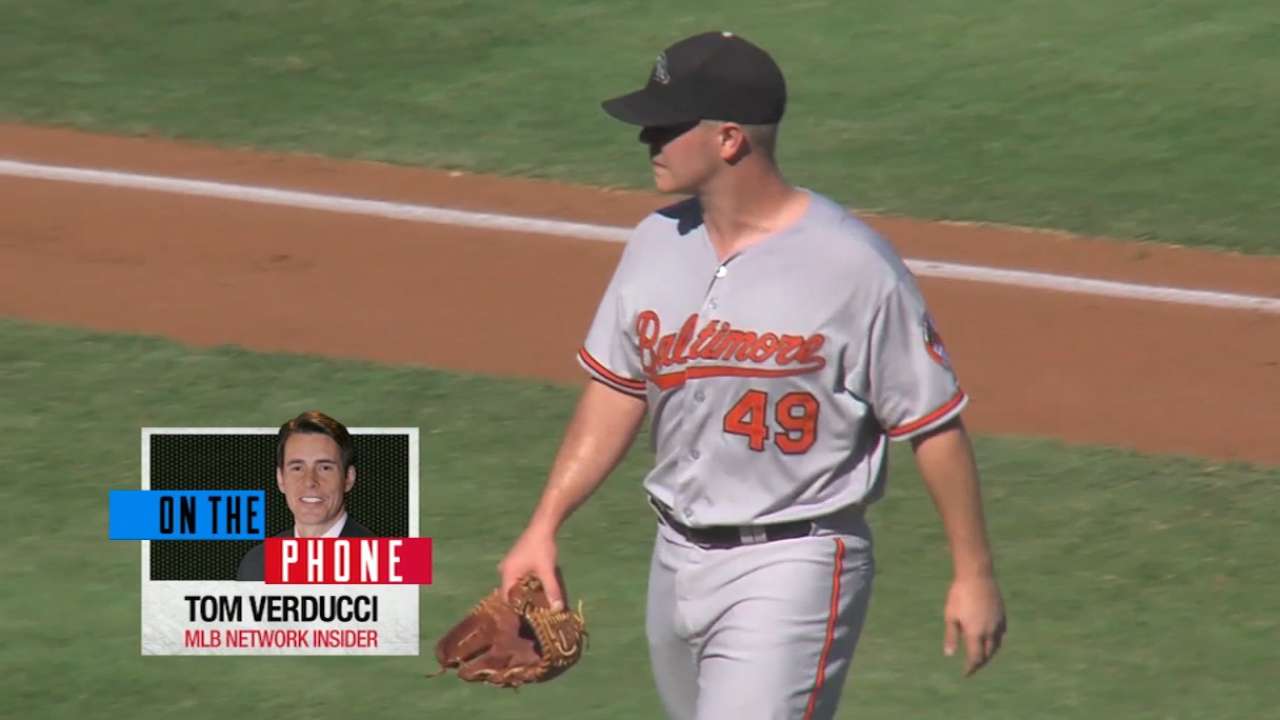 "My arm's bouncing back, recovering well," said Bundy, who threw two scoreless innings in Wednesday's 9-3 win over the Pirates. "I feel great today. So really my arm is no concern anymore. Now it's just going out there, competing, working on stuff and getting results."
While Bundy's only two big league appearances came in relief, that's not his natural role. All 40 of his Minor League games were starts, but circumstances are now forcing him to adapt.
In Bundy's first three Grapefruit League innings, he allowed three runs on five hits. In his last three, he gave up one unearned run on one hit. More important than the results, he has felt his comfort level growing.
"Coming out of the 'pen is different for me. I haven't done it very much," said Bundy, still ranked as the Orioles' No. 2 prospect. "The main thing is getting loose before the game and staying loose during the game, to be ready for whenever they call you to come in."
To do that, he plays catch beforehand, then sometime between the fourth and sixth innings begins stretching, loosening his arm and playing catch again.
Once he's on the mound, one issue for Bundy has been the tempo of his work. That's something Orioles manager Buck Showalter said he discussed with the pitcher, and Showalter saw significant improvement in that area during Wednesday's outing.
"Every now and then you get kind of out of sync, when you walk a guy or give up some back-to-back hits or something like that," Bundy said. "Sometimes all it takes is someone to remind you, 'Hey, keep that tempo up,' and I was able to go do that a little bit better [on Wednesday]."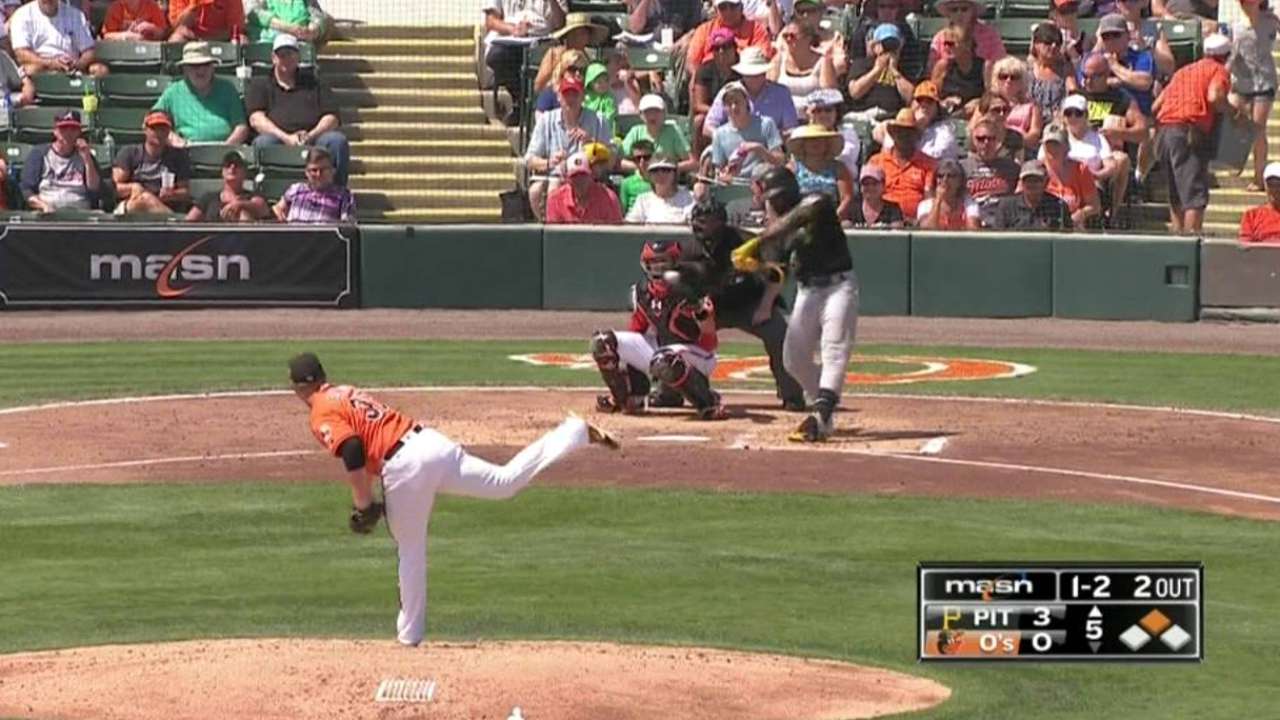 That appearance saw Bundy retire six of seven Pirates, all but one of them a projected starter. To close out the fifth inning, he blew a 95 mph fastball past Andrew McCutchen, who an inning earlier had launched a home run off starter Kevin Gausman.
"I thought Bundy threw the ball real well," Showalter said. "That's about Dylan's best."
Andrew Simon is a reporter for MLB.com. Follow him on Twitter @AndrewSimonMLB. This story was not subject to the approval of Major League Baseball or its clubs.