MLB.com Columnist
Richard Justice
Mets can relax after deGrom's stellar start
Valuable young righty dominates after experiencing minor injuries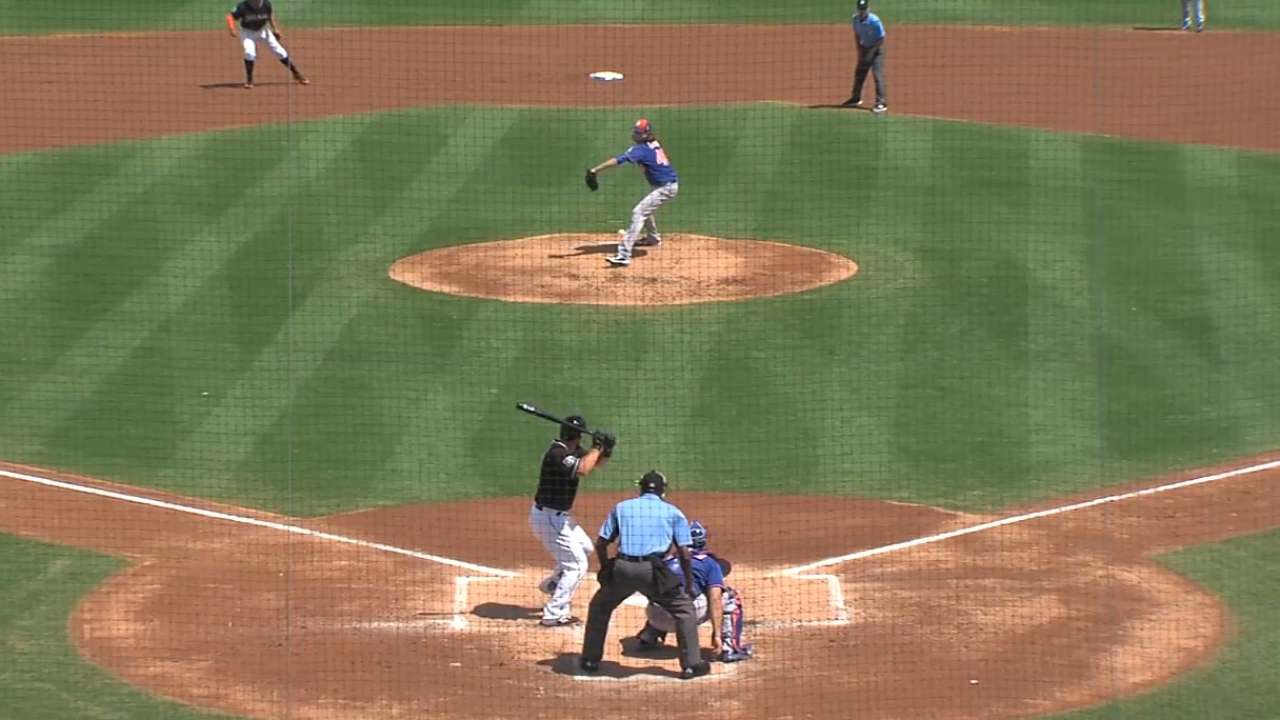 JUPITER, Fla. -- Mets right-hander Jacob deGrom passed his most important test in the bottom of the first inning Thursday afternoon of the Mets' 6-5 win over the Marlins. He did it by throwing free and easy, hitting 95 mph with a delivery that looked both smooth and effortless.
"Really good," deGrom would say later.
"Very, very good," manager Terry Collins would add.
Maybe you've heard the Mets have a good thing going. Not only are they the defending National League champions, they've got a club that has a great shot at playing deep into October for a second straight season.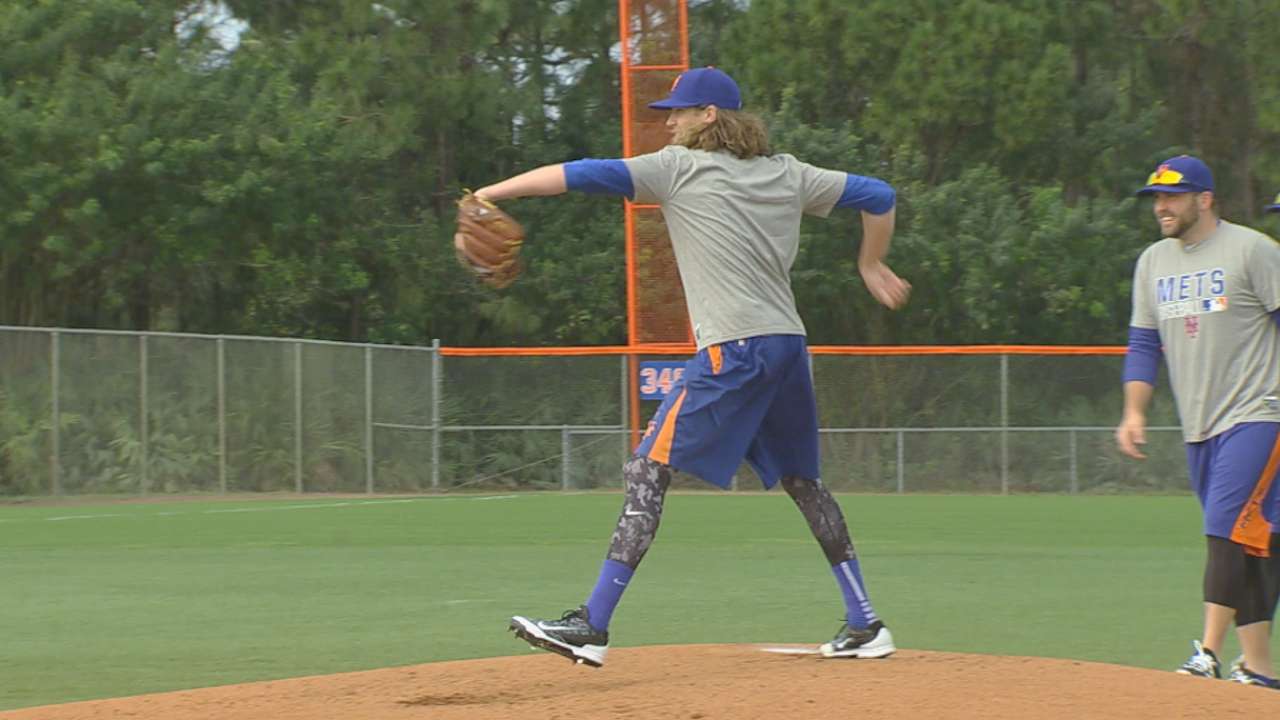 At a time when every team is attempting to acquire pitching and more pitching, the Mets have it -- young power arms stacked up like cordwood. That was one of the stories of last season's run all the way to Game 5 of the World Series.
It was the first payoff of general manager Sandy Alderson's blueprint. In Matt Harvey, Noah Syndergaard, Steven Matz, Zack Wheeler and deGrom, the Mets have five of the best arms in the game. All of them have a fastball that averages 94 mph or better, and all of them are young. At 27, deGrom is the oldest of the group.
When Collins named Harvey his Opening Day starter Thursday morning before the victory over the Marlins, he said, "Any four of them could start." (Wheeler, recovering from Tommy John surgery, isn't a candidate, although he's expected to return in the second half of the season.)
This Spring Training has been about keeping them healthy as they prepare for the second payoff, and that's why this was an important day. deGrom had been unhappy with the way he threw in his first start, and then skipped his second with back tightness.
deGrom cautioned that it was nothing serious, that he was not worried, etc. Given the quality of his arm -- his 95-mph fastball ranked seventh in average velocity among all starters in 2015, according to FanGraphs -- worry was natural.
Last season, deGrom's first full one in the big leagues, he had a lights-out performance in the All-Star Game and won three of his four postseason starts. Over the past two seasons, only Clayton Kershaw (1.96), Jake Arrieta (2.08) and Zack Greinke (2.16) have a lower ERA than deGrom (2.61) among all Major League starters.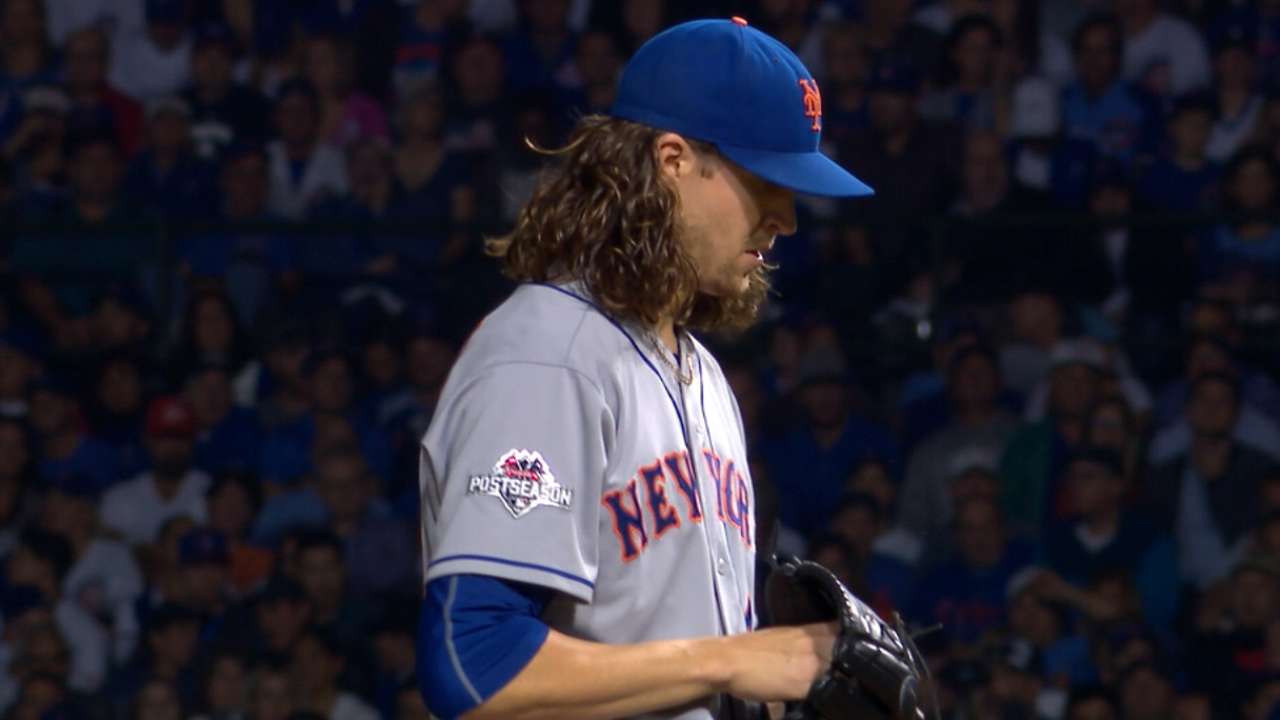 So, yes, a tight back did matter. Even though deGrom pitched just three innings and threw just 30 pitches on Thursday, it was important. When it was over, he stood in front of his locker and smiled.
"Good location," deGrom said. "That's mainly what I've been working on. The little extra time off helped me out."
Asked about his back, he said, "Perfectly fine. Before, it was just a little stiff, and I think it was a good decision to skip that start and come back today."
deGrom allowed one hit in three innings, walked none and struck out three. Giancarlo Stanton doubled off a breaking ball in the second inning, and that's when he did his best work of the day. deGrom shattered Chris Johnson's bat with a 93-mph heater on a grounder to short. He got first baseman Derek Dietrich out on a popup in foul ground, then fed Jeff Mathis a diet of sliders and breaking balls for an inning-ending strikeout.
deGrom will make his next start on short rest to line up his first regular-season start. The uncertainty of that start was one of the factors in Collins' decision to opt for Harvey to start on Opening Day, since deGrom's wife, Stacey, is due to deliver the couple's first child, a son, on April 5. That date coincides with the Mets' second regular-season game in Kansas City.
"I'm definitely going to be there when my son comes," deGrom said. "I think that probably played a little bit of a role. I'm happy for Matt. With what he has done in a short period, it's impressive. I'm really happy for him."
deGrom said the camaraderie and competition among his teammates has made the whole experience even better.
"We have a lot of fun," he said. "Any one of these guys in here can take the ball on any given day and go out there and keep us in the ballgame and give us a chance to win. To be part of it, it's an honor. We enjoy being around each other. Whenever we warm up and somebody watches, it feels like they've got your back and are rooting for you. That's what makes it special -- how we're rooting for the guy on the mound that day."
Richard Justice is a columnist for MLB.com. Read his blog, Justice4U. This story was not subject to the approval of Major League Baseball or its clubs.