Pelfrey labors early before cruising to the finish
After working out of trouble in 1st, righty retires 12 of final 13 batters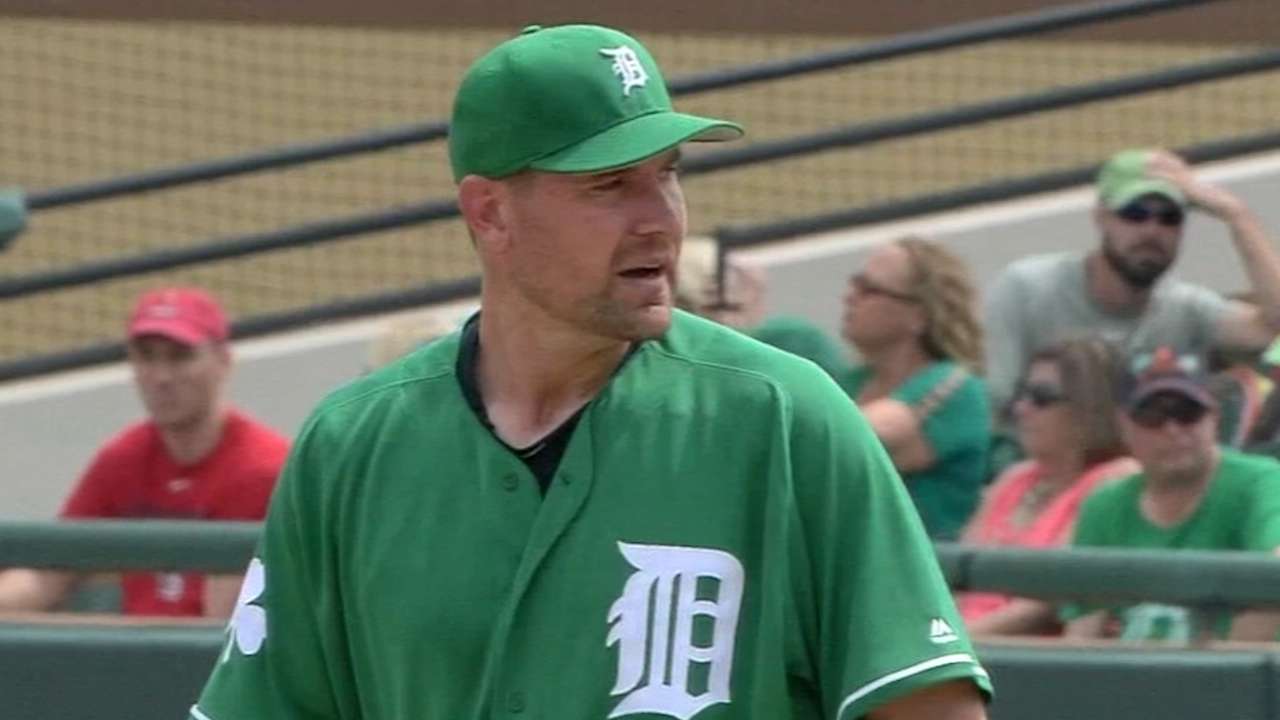 LAKELAND, Fla. -- Tigers starter Mike Pelfrey took some time to settle in during the first inning, but he escaped that jam unscathed en route to five shutout innings in a 5-4 win over the Cardinals on Thursday at Joker Marchant Stadium.
"The first and second inning, [I was] all over the place," Pelfrey said. "I think it took my second walk there to lead off the second to finally tell myself to finish down instead of rotational. I thought I was a lot better after that."
Pelfrey, who signed a two-year deal worth $16 million in December, retired seven straight Cardinals and 12 of 13 batters to finish his fourth start of the spring and earn his second win.
• Spring Training: Schedule | Tickets | Gear
Pelfrey now has thrown five shutout innings in back-to-back starts, the previous coming against the Pirates on Saturday. He also threw three perfect innings on just 13 pitches in his first start, March 2 against the Yankees.
Unlike that outing and his 29-pitch start vs. Pittsburgh, Pelfrey took 59 pitches to get through five innings against St. Louis -- still a respectable rate of almost 12 pitches per inning.
"His pitch count is ultra-efficient," manager Brad Ausmus said. "It worked out well today. ... He's looked like we've expected. ... His sinker's been good. The split was good today. Breaking ball's probably a tick behind these two, but a start from now, it might be the opposite -- that's what Spring Training is about."
The Cardinals' first three batters of the game reached, but catcher Jarrod Saltalamacchia caught leadoff man Matt Carpenter overrunning first base on an infield hit. With two outs and runners at the corners, Brandon Moss flied out to center to end the inning.
A leadoff walk to Tommy Pham in the second inning and a two-out single to Matt Holliday in the third were the only baserunners Pelfrey allowed the rest of the way.
Pelfrey said he wanted to continue to sharpen his offspeed pitches and build arm strength after a bullpen session gave him 75 total pitches for the day, which he said he would have preferred to have finished in the game.
"I was joking around with [pitching coach Rich Dubee]: 'I'll get [the pitches in] out there,'" Pelfrey said, when Dubee told him the fifth inning would be his last. "He said, 'Don't do that, don't jack around.' ... He made me go to the 'pen and throw another 15 or so."
Pelfrey plans to make three more starts this spring. He said he has felt healthy this spring and last after season-ending surgery June 10, 2014, to clean scar tissue in his right elbow. Having an assured rotation spot has added comfort, too.
"But I think you always want to try to keep that edge about yourself and not be complacent," Pelfrey said. "Keep working, keep striving to get better."
Zak Kerr is a contributor to MLB.com. This story was not subject to the approval of Major League Baseball or its clubs.