Chisenhall's chin up despite spring slump
Says swing feels good as he rides 1-for-21 stretch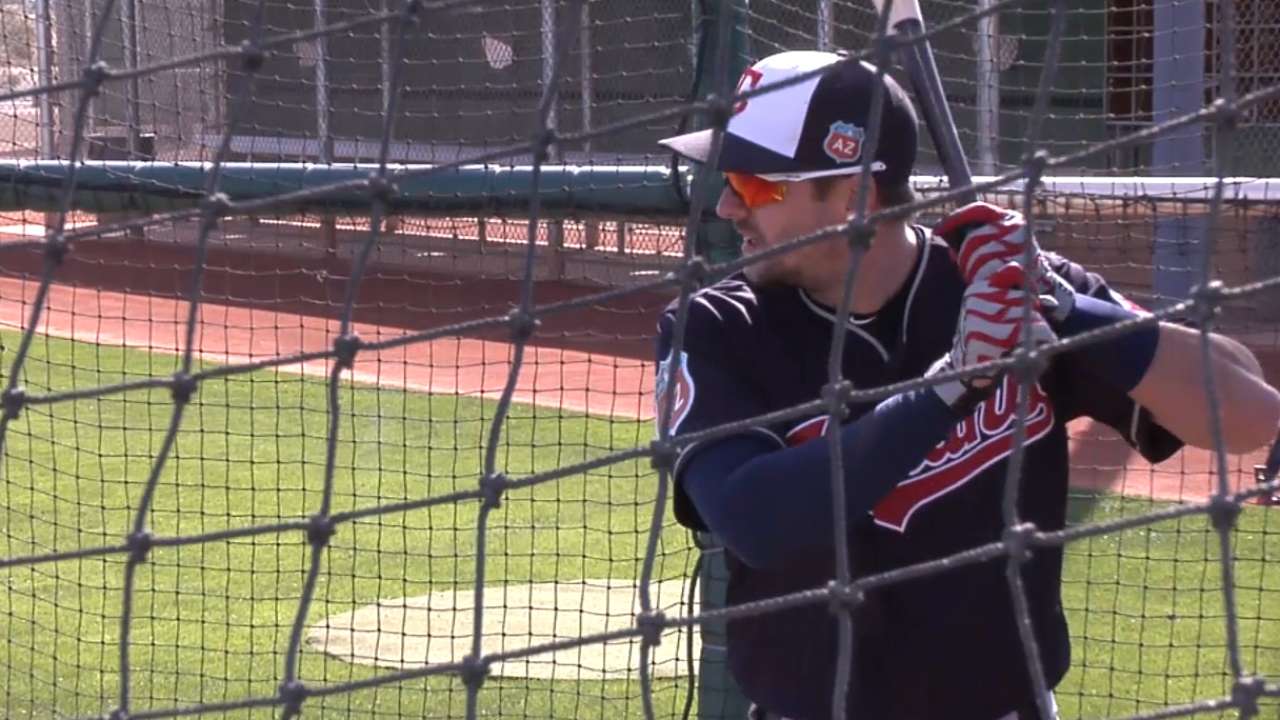 GOODYEAR, Ariz. -- Lonnie Chisenhall has been looking for something positive to focus on as he tries to work his way out of a spring slump. The great feeling that the Indians' right fielder has had swinging in the batting cage and during practice has yet to translate to games, leaving him searching for any sign of progress.
Such a moment arrived on Monday, when Chisenhall stepped to the plate with the bases loaded against Rangers left-hander Cesar Ramos. Chisenhall did not get a hit -- those have been quite elusive for him so far this spring -- but he did draw a walk to bring home a run for Cleveland.
• Indians Spring Training info
"I had a smile on my face, for sure," Chisenhall said on Wednesday morning. "You get a lefty right there. He's tough. Bases loaded. It's a good situation to be competitive, trusting yourself, having an idea of what you want to do and execute. That's what happened. That was definitely a step forward."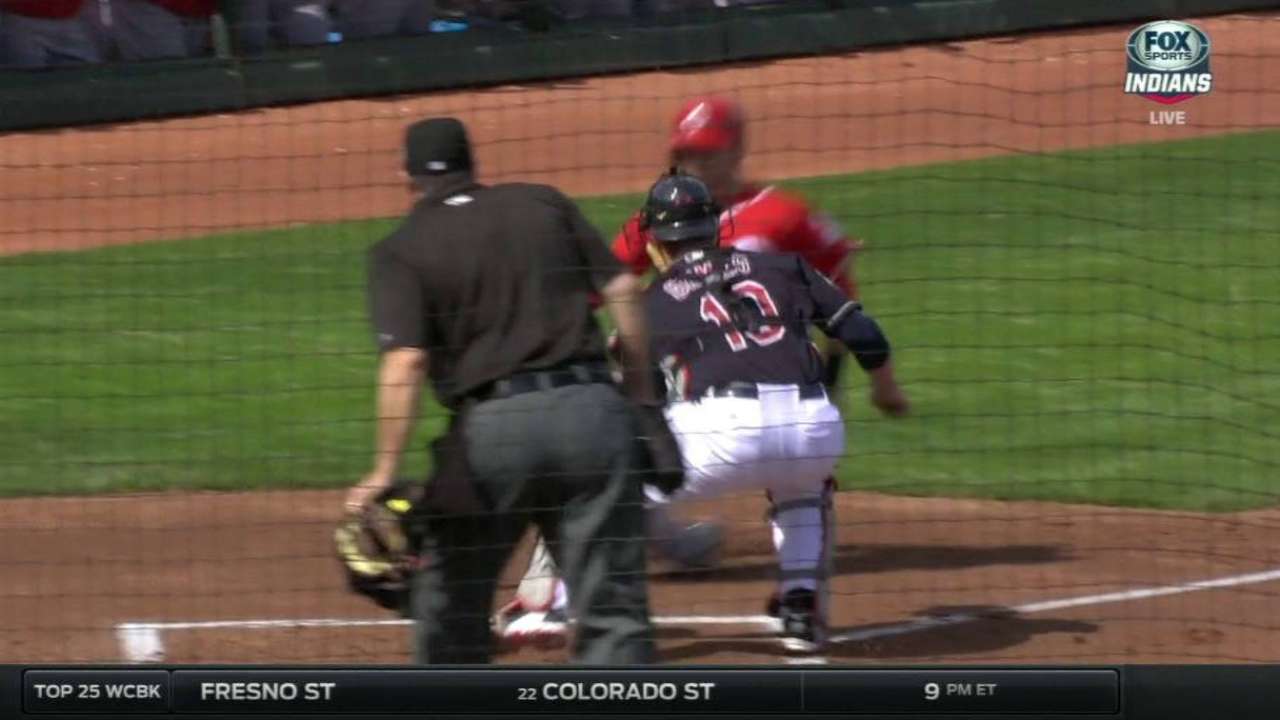 Heading into Wednesday, when Chisenhall was scratched from the starting lineup against the Angels due to right forearm tightness, the outfielder was mired in a 1-for-21 spell at the plate. Chisenhall had six strikeouts, and his lone hit in Cactus League play was a single on March 7 against the Dodgers.
Chisenhall has had strong spring showings in the past -- he turned in an .892 OPS in '15, a .918 OPS in '14 and a 1.123 OPS in '13 -- but he knows preseason postings do not mean much. In two of those seasons, including last year, Chisenhall was sent back to Triple-A mid-summer due to offensive struggles at the Major League level.
With that history in mind, Chisenhall is not getting overly worked up over this spring's batting average.
"You put in all this hard work in the offseason," Chisenhall said. "You don't want to let a handful of at-bats in Spring Training determine your fate for a whole season. It's 15, 20 at-bats. That's five games in the season, so you don't want to put too much emphasis on five games. My swing's felt the best it has in years in the cage."
As far as the games go, Chisenhall said he has been pleased with his pitch selection.
Indians manager Terry Francona said it seems to simply be a timing issue right now.
"I just think right now he's not gotten in a position where he's ready to hit," Francona said. "I just mean timing. During the course of a game, if you can get seven or eight pitches, however many, and you feel like you had pretty good passes at it, you're going to get hits."
Chisenhall believes he can use this experience to his advantage.
"It might be a good thing to learn from this struggle early," Chisenhall said. "The cage work's OK. All this is OK. Maybe it's just a rough patch. We'll get through it, and when April rolls around, it's time to go. I've had hot springs. I think my spring last year was hot, and you saw where that started.
"I put emphasis on Spring Training. I'm not dismissing Spring Training. I just want to make sure I'm competitive every time and I'm swinging at good pitches."
Jordan Bastian is a reporter for MLB.com. Read his blog, Major League Bastian, follow him on Twitter @MLBastian and listen to his podcast. This story was not subject to the approval of Major League Baseball or its clubs.