Panda says he can handle the scrutiny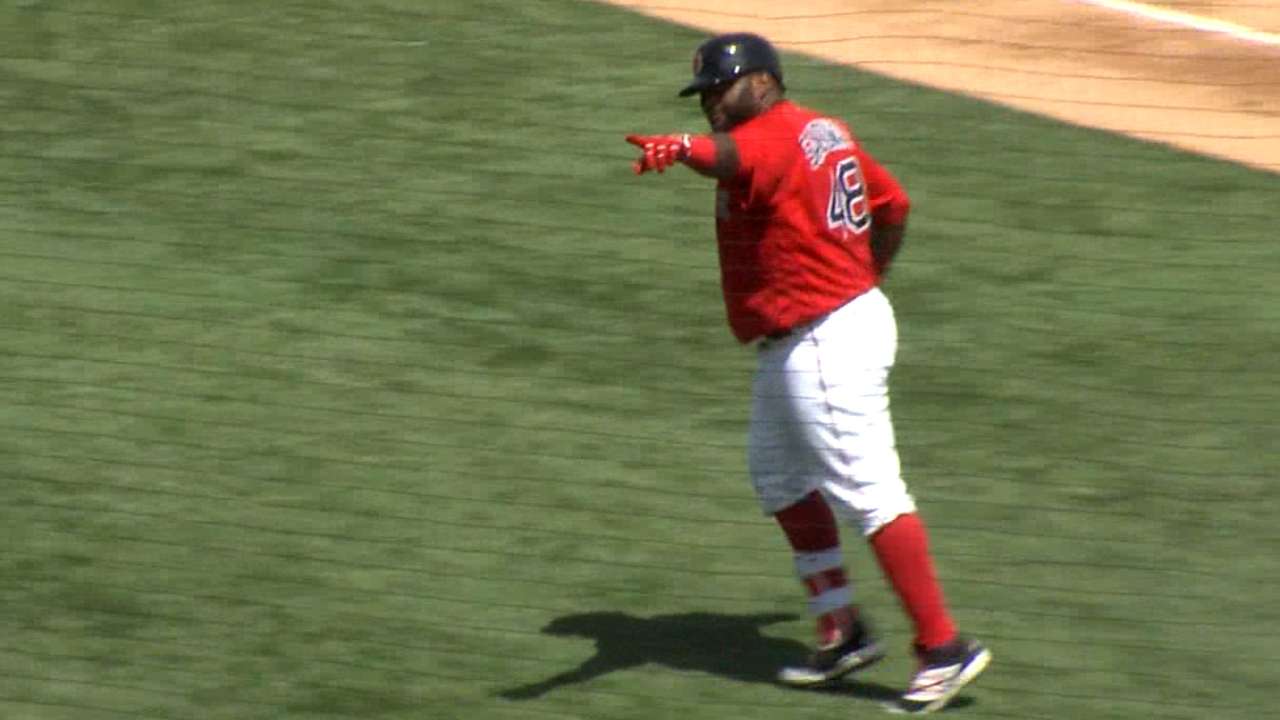 FORT MYERS, Fla. -- A day after Pablo Sandoval expressed anger to a reporter in the clubhouse over a story that criticized his defense, the Red Sox's third baseman was adamant that the issue was behind him and that such scrutiny won't distract him.
"That happened yesterday. That's it," said Sandoval. "It's past. Today is a new day. Why are we going to talk about it?"
After a tough first season in Boston -- the worst of his career -- Sandoval has been followed more closely than any player in camp.
Spring Training: Schedule | Tickets | Gear
Perhaps that started to take a toll on Tuesday, when Sandoval slammed his bat against a table in the middle of the clubhouse and then asked the reporter he was upset with to get away from his locker.
But Sandoval seemed relaxed on Wednesday, both in the clubhouse and on the field.
"I am still happy," Sandoval said.
It's been said that Boston -- a fishbowl of a sports town -- can be the best place to play for a player who is thriving and the worst for one who is struggling. But Sandoval said he can handle the pressure.
"It's going to be that way every single day," Sandoval said. "Just smile and keep walking. Nothing you can do."
Though it has been an admittedly difficult initiation to the Red Sox for Sandoval, the club continues to try to create the best support system possible.
"He's got the support of his teammates. He's got the support of us, the coaching staff," said Red Sox manager John Farrell. "For any player, the confidence that they have is driven by the expectation that they have is greater than anyone else around them, public or private. He's a prideful person. He's a competitor. He wants to do well. He's working each day to get better at it."
What Sandoval continues to do is try to improve his defense, which declined considerably in 2015.
"I'm pleased," said Red Sox infield instructor Brian Butterfield. "The real important time for me, as a coach, is the preparation [players] put in in the morning. Sometimes it doesn't translate into game situations."
Butterfield then cited a perfect example.
"There was a play that Pablo made the other day. He moved to his glove side on a bouncing ball that had some topspin to it," Butterfield said. "He stayed low, he moved his feet well. He had his feet in the right place, he had his glove in the right position. He was breaking in a new glove, and [the ball] popped out. He retrieved it and threw to first late, and it got ruled an error. But I was 100 percent fine with it. This is Spring Training."
Butterfield also likes Sandoval's demeanor.
"Right now, I see a confident guy," said Butterfield. "Things haven't gone perfectly in Spring Training, but I think he understands he's doing the right thing that's going to allow him to be real consistent. Right now, I think he feels good about the work he's done defensively. I think he's a more confident defender going into games."
What is Sandoval doing better than last year at this time?
"His feet are light right now," Butterfield said. "I think he's moving well. His glove action is very good. The ball gets on you quick at third base. If you're a flipper, or you turn the palm away from home plate, there's a lot of action where it makes it more difficult to catch the ball. I think he's consistent with his feet. I think he's consistent with playing wider and lower with his eyes closer to the ground. That's going to allow him the most success and the most consistency."
Sandoval will get the first real chance to demonstrate his improvement on April 4, when the Red Sox open their season in Cleveland.
"Spring Training is the time you work on the things you're going to work on," Sandoval said. "So during the season, you're going to prove all the things that you were working on in Spring Training and the offseason. I'm looking forward. I'm looking forward for the season to start."
Ian Browne is a reporter for MLB.com. This story was not subject to the approval of Major League Baseball or its clubs.