Gardner gets long-awaited debut under his belt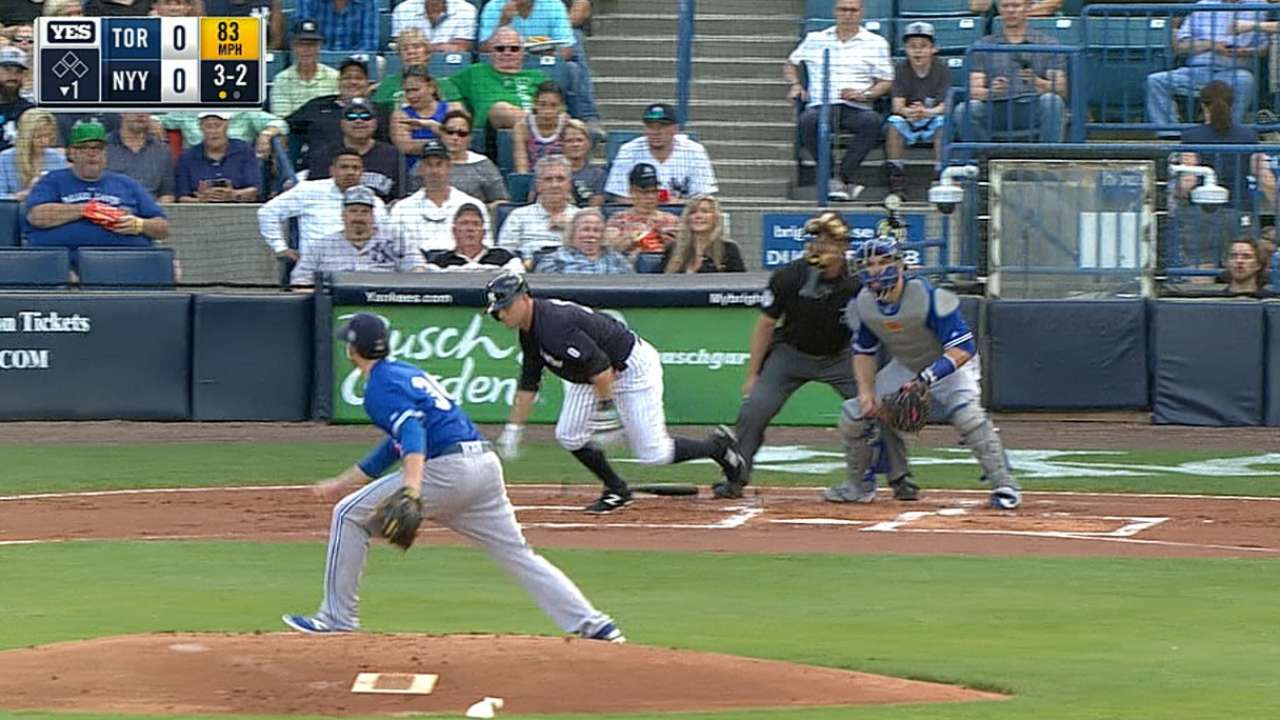 TAMPA, Fla. -- Outfielder Brett Gardner celebrated the first All-Star selection of his career last summer, and he knows that continuing to carry an aggressive approach in his all-around game will bring more positive experiences.
Gardner made his spring debut on Wednesday in the Yanks' 2-1 win over the Blue Jays, going 0-for-2 in a five-inning stint after missing the early part of the Grapefruit slate due to a lingering bone bruise in his left wrist. He said that he and Jacoby Ellsbury should be ready to set the table and create havoc from atop New York's lineup.
"We're both capable of stealing a lot of bases and doing a lot of things for our lineup," Gardner said. "Helping out our teammates and getting into scoring position; I think that's something we need to continue to work on."
• Spring Training: Schedule | Tickets | Gear
Gardner batted .259 with 16 home runs, 66 RBIs and 20 stolen bases in 151 games last season, setting career highs in hits (148) and RBIs. The Yankees were puzzled, however, because he stole just five bases in seven attempts after the All-Star break.
Yankees manager Joe Girardi suggested that teams may be watching Gardner more closely than earlier in his career, when he swiped 96 bases over two years from 2010-11.
"Clubs are paying more attention. It's not as easy to run as it was maybe four, five years ago, so you pick your spots," Girardi said. "The stolen base is important. I want him to get as many as he can get."
Gardner hasn't intentionally been staying put; rather, late in the season, he wasn't on base nearly as much. While waiting to play in games this spring, he had extra time to work on his baserunning, receiving guidance from outfield/baserunning coordinator Reggie Willits.
"I still feel like I can run a little bit," Gardner said. "I'm always looking for ways to change up my lead a little bit this year, my mechanics, to get a little bit quicker jumps and shorten up that time."
Girardi said that the Yankees will look to have Gardner progress toward playing in back-to-back games late in camp, and possibly three straight before the team goes north. He added that Gardner should have enough time to prepare for the regular season.
"I really believe in my heart, he'll be there Opening Day," Girardi said.
Bryan Hoch is a reporter for MLB.com. Follow him on Twitter @bryanhoch, on Facebook and read his MLBlog, Bombers Beat. This story was not subject to the approval of Major League Baseball or its clubs.