Maddon shifting to spring lineup of regulars
Cubs skipper also debating pitchers hitting 9th during regular season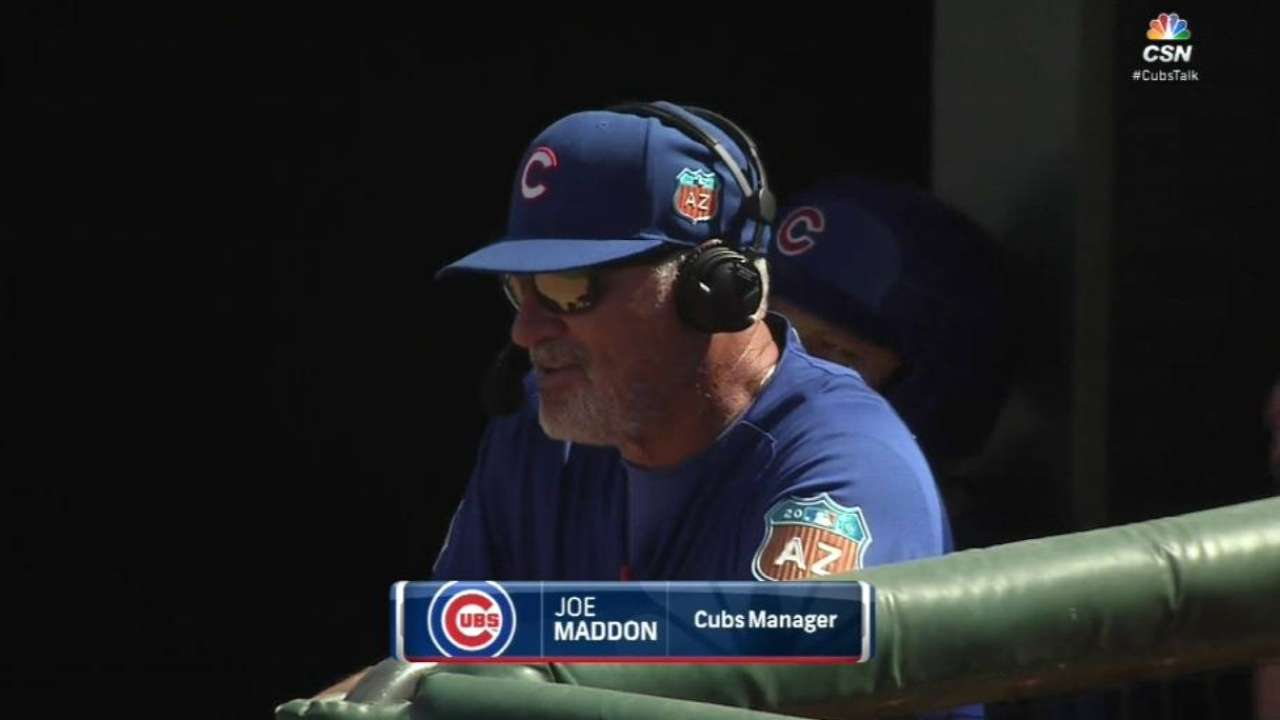 SURPRISE, Ariz. -- Seven, possibly eight, regulars are expected in the lineup against the D-backs on Thursday night in Mesa, prompting a lineup construction discussion with Cubs manager Joe Maddon before Wednesday's Cactus League matchup against the Royals.
First, Maddon playfully characterized Thursday's lineup featuring Dexter Fowler, Jason Heyward, Ben Zobrist, Anthony Rizzo, Kris Bryant, Kyle Schwarber, Jorge Soler and Addison Russell as the "St. Patty's Day lineup," more than the Opening Day lineup.
"It's March 17, right? [Bench coach] Davey [Martinez] is writing the lineup," Maddon said. "It's an exhibition game. I can't emphasize that enough."
Spring Training: Schedule | Tickets | Gear
The manager did say he was pleased with the pace of camp and expects his regulars to play two or three days in a row as it gets closer to the end of the month.
"I don't put so much emphasis on all those things. I do like bringing it more sharply and focused, regarding how we approach the day as we get closer," Maddon said. "For me, it's still kind of a wide spectrum right now that we are starting to bring in. You are going to play, hopefully, until November. "
Furthermore, Maddon added that he is evaluating where Russell will bat in the lineup. He is also leaning toward batting the pitcher ninth during the regular season with Russell in the seventh or eighth spot in the order.
"Part of the theory last year was if you think a guy is going to pitch deep into the game, you hit him ninth. If you don't think he would, you hit him eighth so you can hit for him sooner," Maddon said. "It's a possibility -- season in progress -- if I think that's starting to pop up, I might throw that back in there for that reason. Again, if I'm just seeing a guy that needs to be better protected in a way, I might do that also."
On the injury front, veteran outfielder Shane Victorino (tight right calf) is expected to play by this weekend. Matt Szczur (oblique) is progressing and Tommy La Stella (strained left calf) is taking ground balls.
"Nothing is horribly wrong with any of those guys," Maddon said. "We are just being cautious."
Jesse Sanchez is a national reporter for MLB.com. Follow him on Twitter @JesseSanchezMLB. This story was not subject to the approval of Major League Baseball or its clubs.