Colombia the favorite entering WBC qualifier
Team will open round with game against Spain on Thursday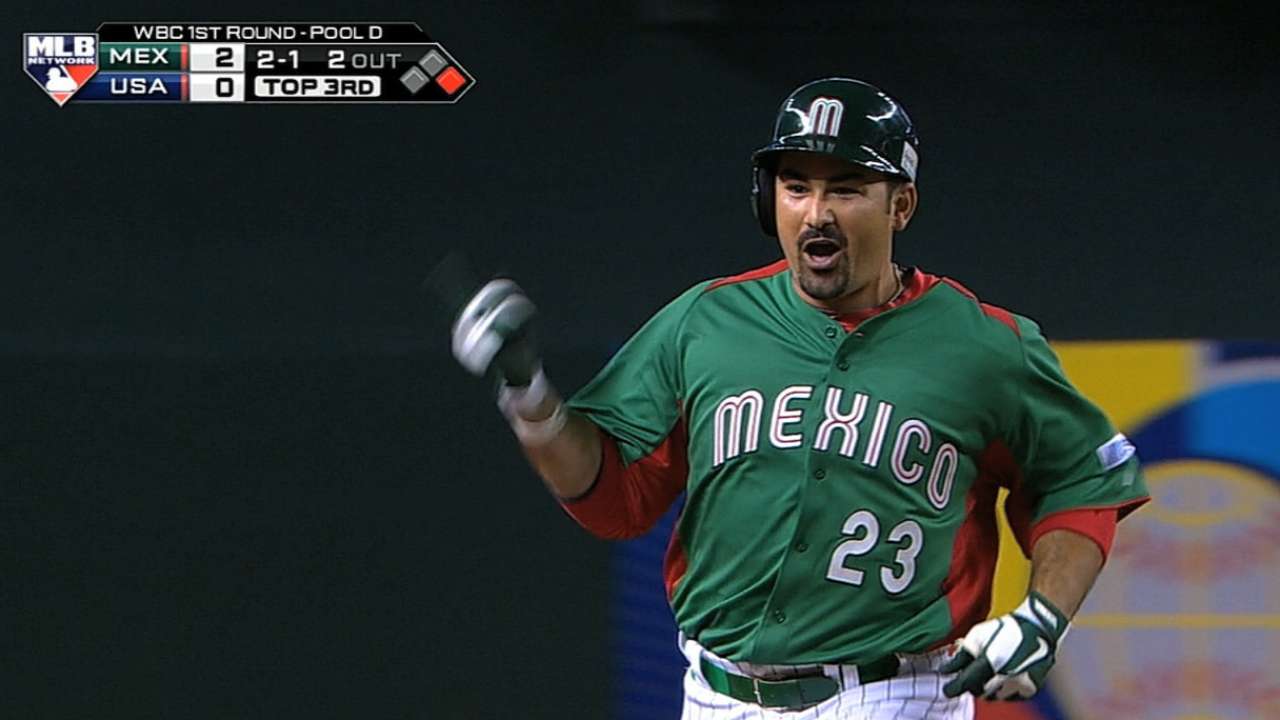 Is it time for Colombia to finally break through to the World Baseball Classic tournament?
The team will find out this weekend at Rod Carew Stadium in Panama City, starting with Thursday's matchup against Spain. First pitch for the opener of the Panama WBC qualifier is set for 2 p.m. ET, and you can watch the action on MLB.com or follow along pitch by pitch with Gameday.
Colombia manager Luis "Pipe" Urueta was the team's first-base coach during the 2013 WBC qualifier in Panama, when the team started out with a strong with an 8-1 victory over Nicaragua but fizzled out with losses to Brazil and Panama to fall short of reaching the WBC tournament.
But with a roster stacked with affiliated players this time around, the table looks set for Colombia to win the four-team qualifier in Panama and advance to the WBC tournament for the first time in the country's history.
• Complete World Baseball Classic coverage
Of the 16 affiliated players on the 28-man roster, Dilson Herrera might be the most promising prospect of all. The 22-year-old is widely viewed as the New York Mets' second baseman of the future, and he has appeared in 49 big league games the past two seasons. This will mark Herrera's second WBC qualifier, as he took part in the 2013 tournament in Panama as an 18-year-old.
• Herrera preps for Colombia's WBC qualifier
Spain, meanwhile, got its first taste of the WBC tournament last time around, emerging out of a group with France, Israel and South Africa to reach the 16-team field. The squad features a host of Cuban players with Spanish ties, including affiliated pitchers Rogelio Armenteros (Astros), Lazaro Leyva (Orioles) and Carlos Sierra (Astros).
Though Spain eventually went 0-3 in the WBC tournament, it showed a promising offense that averaged eight runs per game throughout the 2013 qualifier. Leading the Spaniards will be Tigers director of Latin American player development Manny Crespo, who also served as a bench coach for the country during its previous run to the WBC.
Following the Colombia-Spain matchup, Panama will host France at 9 p.m. ET as the host country will try to give its spirited fans something to cheer about after the disappointing loss to Brazil in the 2013 qualifier championship game.
Beloved former MLB slugger Carlos "El Caballo" Lee will manage Panama's squad, which is highlighted with 10 affiliated players, including Phillies catcher Carlos Ruiz. In the other dugout, France will be skippered by former Major League reliever Eric Gagne.
Considering France only has one affiliated player on the roster -- catcher Andy Patz (A's) -- Panama's baseball-rich tradition and its home-field advantage, the host country has to be considered the favorite to win Thursday's matchup.
Alex Espinoza is a contributor to MLB.com. This story was not subject to the approval of Major League Baseball or its clubs.