Padres working toward improved OF range
Jay, Upton battling for CF; focus on defensive positioning should help in expansive NL West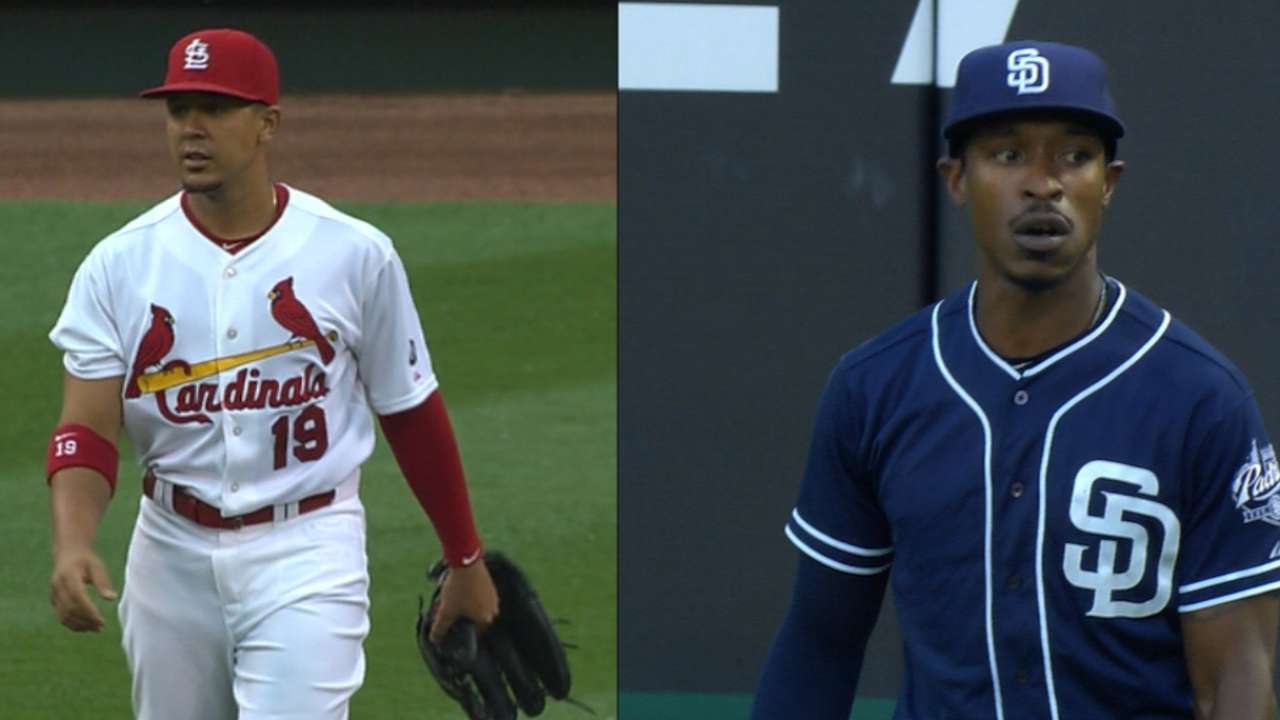 PEORIA, Ariz. -- Playing outfield in the National League West is no walk in the ballpark. The division's expansive stadium dimensions can wreak serious havoc on defenders, and the Padres learned that the hard way last season.
San Diego's outfield defense was worth minus-18 Defensive Runs Saved in 2015, which ranked 25th in the Majors. In a division with five of the game's 13 most spacious outfields, that simply wasn't going to cut it.
• Spring Training: Schedule | Tickets | More info
"It is [different in the NL West]," said Padres first-base coach Tarrik Brock, who is also in charge of the club's outfielders. "Now the drop steps, the positioning, the reads, the jumps -- all of that is very important, but it becomes even more important."
The NL West has the largest outfield area of any division in baseball, and it's really not even close. Even the "hitters' parks" -- Coors Field in Denver and Chase Field in Phoenix -- are massive. In fact, Petco Park's 90,800-square-foot outfield is actually the smallest in the division.
Here's a look at the approximate total outfield dimensions for each division last year, according to FanGraphs:
1. NL West: 465,500 square feet
2. American League Central: 457,500
3. NL East: 454,000
4. NL Central: 449,200
5. AL West: 446,700
6. AL East: 440,300
Over the past year, the Padres have gone a long way toward making sure they have as many of those 465,500 square feet covered as they possibly can. They scrapped their plan to use Wil Myers in center field, moving him to first base instead. They've brought the rangy Jon Jay on board, and they've given more playing time to Melvin Upton Jr.
Manager Andy Green hasn't decided whether Jay or Upton will start in center, but both are upgrades over the club's tenuous center-field situation last season. Recently, Jay has received more reps in center, but the battle is ongoing.
Below is a breakdown of the range of putouts made by Jay and Upton in 2015. Both spent approximately the same amount of time in center field -- about one-third of a season, which isn't really enough to make any definitive assessments. But from the data, via Statcast™ player tracking, it appears Jay has better range coming in and going back, while Upton has him beat on balls in the gaps.
Presumably, whoever doesn't win the center-field job will move to left, a prospect that thrills the new Padres skipper.
"That's the potential for a Gold Glove-caliber left fielder over there," Green said. "You've got a true center fielder in center and a true center fielder in left."
Then there's right field, where Matt Kemp's defensive struggles in 2015 were well documented. But San Diego feels a large part of that was due to poor defensive positioning on the part of the club.
Sure, Kemp's range has steadily declined over the past five seasons. But there's a way to counteract that by positioning Kemp against his defensive weaknesses, and the Padres feel they didn't do a very good job of that last season.
"It's really just putting the guys in the position that they feel comfortable with so that they can defend the baseball at a high level," Brock said.
San Diego has also stressed the importance of quick reactions this spring. Outfielders have worked extensively on the first three steps of their routes -- in Brock's mind, the most important part of any play.
Brock and the outfielders go through a number of daily exercises to reinforce those positive reactions. In one drill, outfielders are given a direction and must react quickly but only take a step or two. (There is no ball to chase down at the end.) In another drill, players are on their toes and must turn their body in the correct direction, rapid-fire, all while making sure their footwork remains consistent.
"We've really done a lot," Kemp said. "Tarrik has come up with a lot of drills that help with footwork and getting jumps and opening up your hips. It's just about getting to the ball a lot faster."
Said Green: "We've been working hard on that first step, because every outfield needs to be covered, no matter how expansive it is. But it's more obvious [in the NL West]. You go to Colorado -- I've played left field in Colorado, and I felt like I was on an island all by myself."
Both Green and Brock stressed the importance of synergy. Before every contest, the Padres' coaching staff game-plans for its opponent, and a big part of that meeting consists of Brock studying the plan of attack for that night's starting pitcher.
During the game, Brock carries a thick blue binder filled with spray charts of opposing hitters. His job is to combine that knowledge with the strengths of his outfielders and the strategy of his pitchers in order to optimize the Padres' defensive setup.
"We're all on the same page as far as defending the baseball," Brock said. "From there, it's just letting the guys go out and trust the work they put in.
"Outfield positioning is so crucial. We can single-handedly put a pitcher in a bind where he's throwing 15-25 more pitches trying to get out of an inning because we weren't in the right spot. ... And in the outfield, when we make a mistake, it means multiple bases."
AJ Cassavell is a reporter for MLB.com. Follow him on Twitter @ajcassavell. This story was not subject to the approval of Major League Baseball or its clubs.