Inbox: What's the Giants' clubhouse like?
Beat reporter Chris Haft answers fans' questions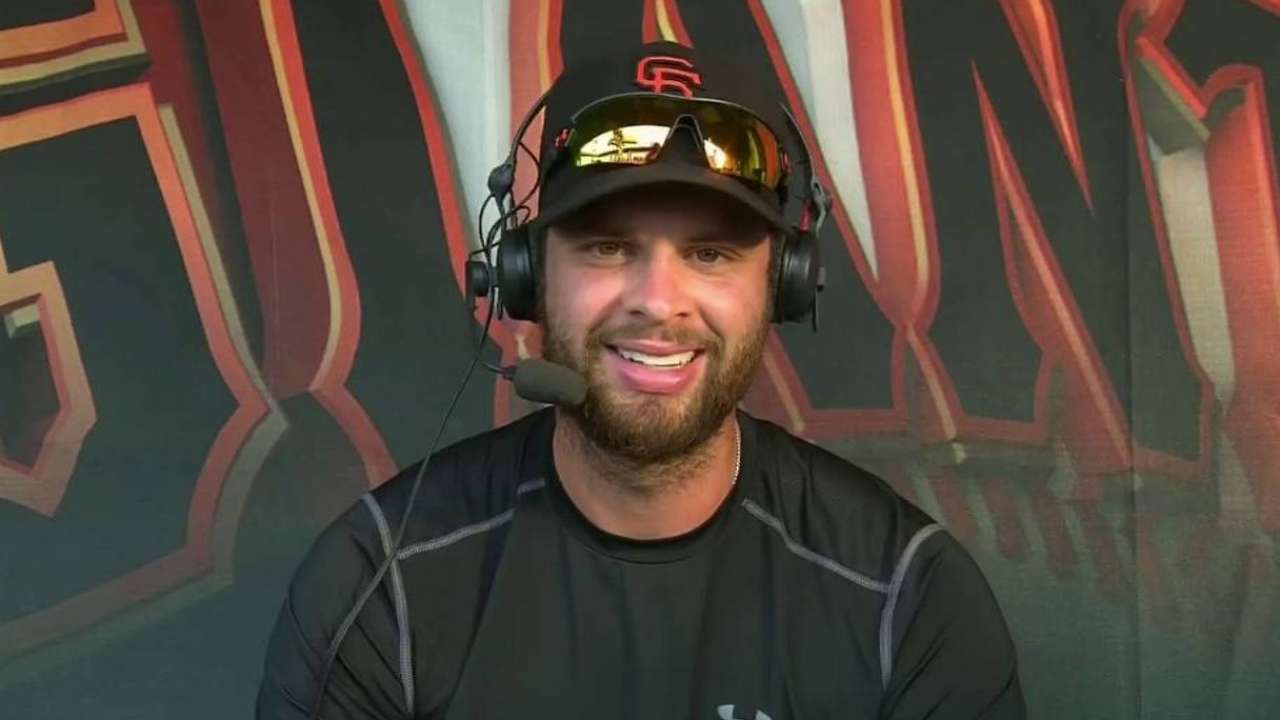 Looking ahead to the regular season, parity seems to be a good description of the state of Major League Baseball. That would suggest winning teams must have depth and a great atmosphere in the clubhouse. How do the Giants rate in these areas?
-- Kevin S., California
Though the 162-game schedule will provide the true test of the Giants' character, they evoke the same camaraderie that has prevailed in the clubhouse since 2009, when the club broke its streak of four consecutive losing seasons and Bruce Bochy, then in his third year as manager, had enough tenure to settle into his job. Players genuinely like each other. That was evident in the large turnout of Giants for right-hander Jake Peavy's benefit concert last Sunday night in Scottsdale, Ariz. More importantly, mutual respect permeates the clubhouse, with much of it flowing toward the back wall where right fielder Hunter Pence, left-hander Madison Bumgarner and catcher Buster Posey dress. Other pillars of the team exist, but they don't get much stronger than that trio. The Giants' depth seems to be noticeably improved, given the elevated level of talent among the players who were sent to Minor League camp in the first round of roster cuts on Sunday.
• Submit a question to the Giants Inbox
What do you think the biggest weakness in the 2016 Giants 25-man roster will be?
-- Matt R., Benicia, Calif.
Pointing out a "weakness" is unfair at this juncture, with the season opener still 2 1/2 weeks away. However, potential areas of concern can be identified, such as the bullpen. The relief corps' overall talent is admirable. Three members (Santiago Casilla, Javier Lopez and Sergio Romo) of the "Core Four" remain. George Kontos is coming off his best year, and hard-throwing youngsters like Hunter Strickland and Josh Osich look promising. But there's not a single "lights-out" reliever in the bunch -- somebody who's virtually guaranteed to record an essential out. Maybe Strickland or Osich can develop into this kind of specimen, but it hasn't happened yet.
The outfield is another possible trouble spot. Each projected regular must rebound from injuries endured last year: left fielder Angel Pagan (knees), center fielder Denard Span (groin) and Pence (oblique). All of them appear capable of regaining enough health to have productive years, but that becomes more difficult for athletes when their age begins with a "3," which is the case with this trio.
What is the contingency plan if Brandon Belt isn't re-signed?
-- James P., Carmichael, Calif.
Here's one scenario: The Giants let Belt walk and ask Posey to move to first base. Though Posey intends to catch for as long as possible, he might consider the switch if club management approaches him from the standpoint that it will help the team win. You may have noticed by now that Posey is all about winning. He'd probably change positions to benefit the ballclub, as long as the Giants prove to him that they've explored all other options and couldn't make any of them work.
Then there's the Christian Arroyo conundrum. Assuming he continues to improve as a hitter, who's he supposed to replace in the lineup? Joe Panik? Brandon Crawford? Matt Duffy? They play the positions that Arroyo either has manned or might try. A lot can change in a year or two; as unthinkable as it might sound, one of the aforementioned players could become expendable. Or the Giants could make matters easier for themselves and explore Arroyo's aptitude at first base if Belt bolts.
Should the Giants put Belt in left field more often and then put Posey on first base with Andrew Susac catching?
-- Julian M., Fremont, Calif.
That sounds like a great idea, until you stop, think and realize that the Giants would weaken themselves at three positions by doing that.
Chris Haft is a reporter for MLB.com. Read his blog, Haft-Baked Ideas, follow him on Twitter at @sfgiantsbeat and listen to his podcast. This story was not subject to the approval of Major League Baseball or its clubs.