E-Rod to put recovering knee to the test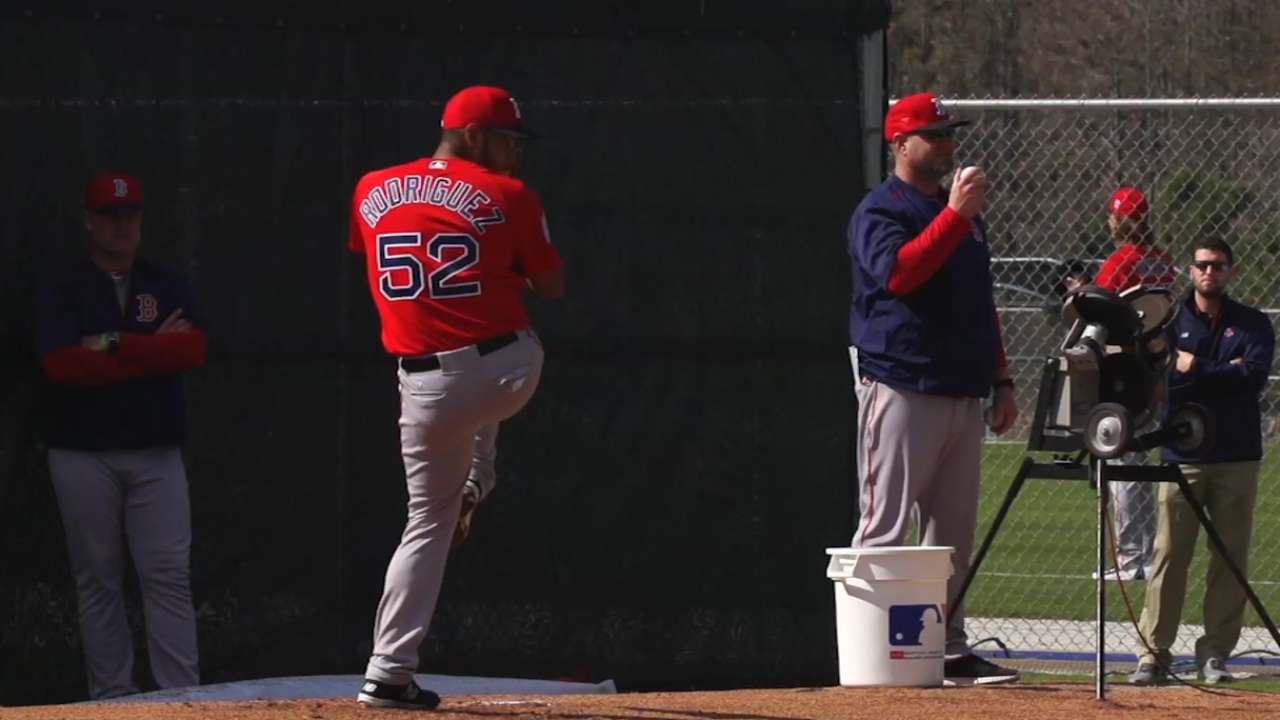 FORT MYERS, Fla. -- Eduardo Rodriguez will give his recovering right knee a significant test on Wednesday, when he throws a bullpen session for the first time since sustaining the injury on Feb. 27.
It remains highly unlikely that Rodriguez will be able to start the season on the active roster, but Wednesday's 20-to-25-pitch side session should give the Red Sox a better idea of when he will throw in a game.
"That's the next progressive step," said manager John Farrell. "That's probably going to tell us a lot. See where he's at. It will give us further input to map out his return calendar, and then [how that meshes] with the start of the season."
• Spring Training: Schedule | Tickets | Gear
Red Sox pitchers are already taking their third turns through the rotation this week, which makes it hard to imagine Rodriguez could be ready for the start of the regular season.
"We have to do what's right by him," said Farrell. "He's a talented young guy. We can't skip steps. But I'm not here to announce a roster move. But good question. We all see what's taking place with the calendar. If time is to be missed, we don't know how much yet. And hopefully, it's on the shorter end of that."
Steven Wright, Roenis Elias and Henry Owens would be the top candidates for the rotation if Rodriguez starts the season on the disabled list.
Worth noting
• Catcher Blake Swihart should be back in the lineup for Wednesday's game against the Twins. His jaw was bruised after he was hit off the mask by a foul ball on Sunday in Port Charlotte.
"He's clear, he's ready to go," said Farrell. "He could catch tonight, but I felt like it was in his best interest to get him another day."
• Farrell had praise for the way Hanley Ramirez is handling his switch to first base. This transition looks much smoother than that of a year ago, when Ramirez tried to master the art of playing left field.
"It's not an apples-to-apples comparison, but he looks comfortable over there," Farrell said. "And yet there's some plays we haven't seen yet. I think being back in the infield, he's in the mix on every play, so I think that's just a more natural feel for him in games, and we're seeing that play out.
"His energy has been great. There's been multiple games where we've had him out of the game and he's asked to go back for two and three innings more on defense, and that's through his own request. Yeah, he's been very good."
Ian Browne is a reporter for MLB.com. Read his blog, Brownie Points, and follow him on Twitter @IanMBrowne. This story was not subject to the approval of Major League Baseball or its clubs.