Weaver aims to quell doubts about health
'I have a lot of people to prove wrong,' Angels veteran says
TEMPE, Ariz. -- Jered Weaver returned to the Angels' clubhouse on Tuesday morning, summoned a small handful of reporters to his locker and left no doubt.
"I'll be ready to take the ball in the [expletive] opening series," Weaver told the reporters. "… I have a lot of people to prove wrong."
The last time Weaver pitched in a game, he topped out at 81 mph and later complained of tightness around his neck, a condition that sent him for an MRI last Thursday and prompted a visit on Monday with Dr. Robert Watkins, a spine specialist based in Los Angeles.
Dr. Watkins confirmed what the initial MRI revealed -- "mild degenerative changes in the cervical spine," which roughly translates to gradual wear and tear -- and told Weaver the issue wouldn't necessarily affect his pitching.
"I wish they would tell me I need surgery or something," Weaver told reporters, adding that the pain mostly resides on his left side. "As bad as that sounds, an answer would be great. But it's not the way it's happening. I have to keep grinding with what I'm doing."
Weaver will throw a bullpen session on Wednesday and plans to make his next his Cactus League start against the Brewers on Saturday. After that outing, the 33-year-old right-hander will have two more starts to get ready for that opening series, a two-game home set against the Cubs from April 4-5.
Holding him back for the Rangers series from April 7-10 would give Weaver an additional Spring Training start to be ready.
Angels manager Mike Scioscia wasn't as definitive about Weaver's timeline, which is customary.
"Obviously that's our goal," Scioscia said of Weaver being ready for the start of the season. "We hope that he'll be able to progress to be able to go, but we'll see."
The Angels' celebrated starting pitching depth has quickly eroded since the start of camp. Tyler Skaggs, easing his way back from Tommy John surgery, and C.J. Wilson, shut down with inflammation in his throwing shoulder, will begin the season on the disabled list.
If Weaver does, too, the Angels would be left with Garrett Richards, Andrew Heaney, Matt Shoemaker, Hector Santiago and Nick Tropeano for their Opening Day rotation.
"He's very determined," Scioscia said of Weaver. "He's harder on himself. … He pushes himself to the limit because he has high expectations for what he can do. I think that's part of what makes him go out there and pitch really good baseball with stuff that might be one day a little down and one day where he wants it to be. But he's always been able to adapt. That's where he is right now."
Weaver's fastball velocity has gradually descended through the years and plummeted from 2014 to '15, going from an average of 86.8 mph to 84.9, the second-slowest among non-knuckleball-throwing starters. The decline was due in part to a violent, across-the-body delivery that put a lot of stress on his shoulder, but also, Weaver said, a product of not stretching properly throughout his career.
Weaver committed himself to a strict stretching regimen in hopes of rekindling some of the life on his fastball, but he topped out at 83 mph in his Cactus League debut against the Cubs on March 4 and threw even slower against the Dodgers last Wednesday.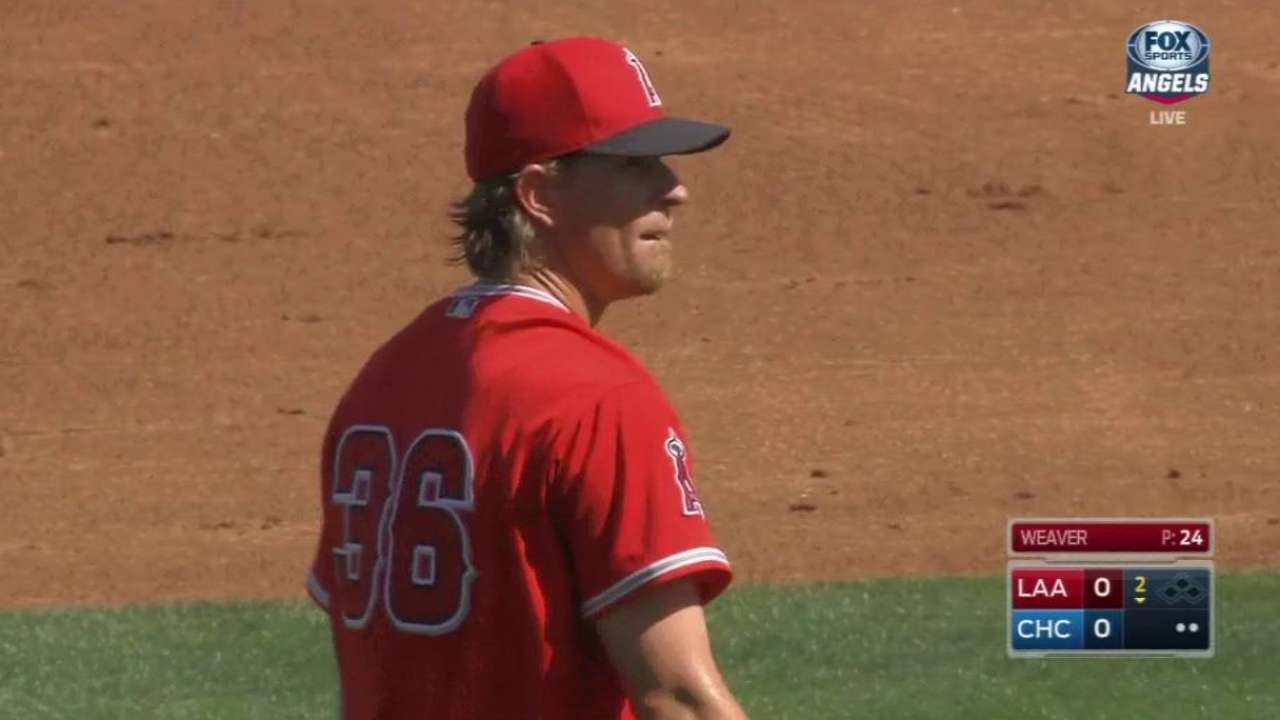 Scioscia said "doctors have assured us that he's able to go out there and pitch."
"I think that he'll fight his way through it," Scioscia added, "and the question is going to be is he able to go out there with all his pitches functional and working, and be able to go out there and compete. I'm confident he will be able to do that. But that's kind of the challenge he has."
Pitching in games, Scioscia said, "will be the litmus test."
"That's where the rubber meets the road," Scioscia said. "He's always answered that challenge."
Weaver is coming off his worst season, losing 12 games, posting a 4.64 ERA, allowing 24 home runs in 159 frames and striking out a career-low 5.1 batters per nine innings. Now he's heading into his final season before free agency, set to make $20 million in 2016 and facing serious questions about his career.
Weaver is no longer leaving it up to the doctors.
Said the embattled former ace: "Dr. Weaver is the one that is going to take it from here out."
Alden Gonzalez is a reporter for MLB.com. Follow him on Twitter @Alden_Gonzalez and Facebook , and listen to his podcast. This story was not subject to the approval of Major League Baseball or its clubs.