Padres confident they'll get vintage Alexei
Veteran shortstop looks to bounce back with new club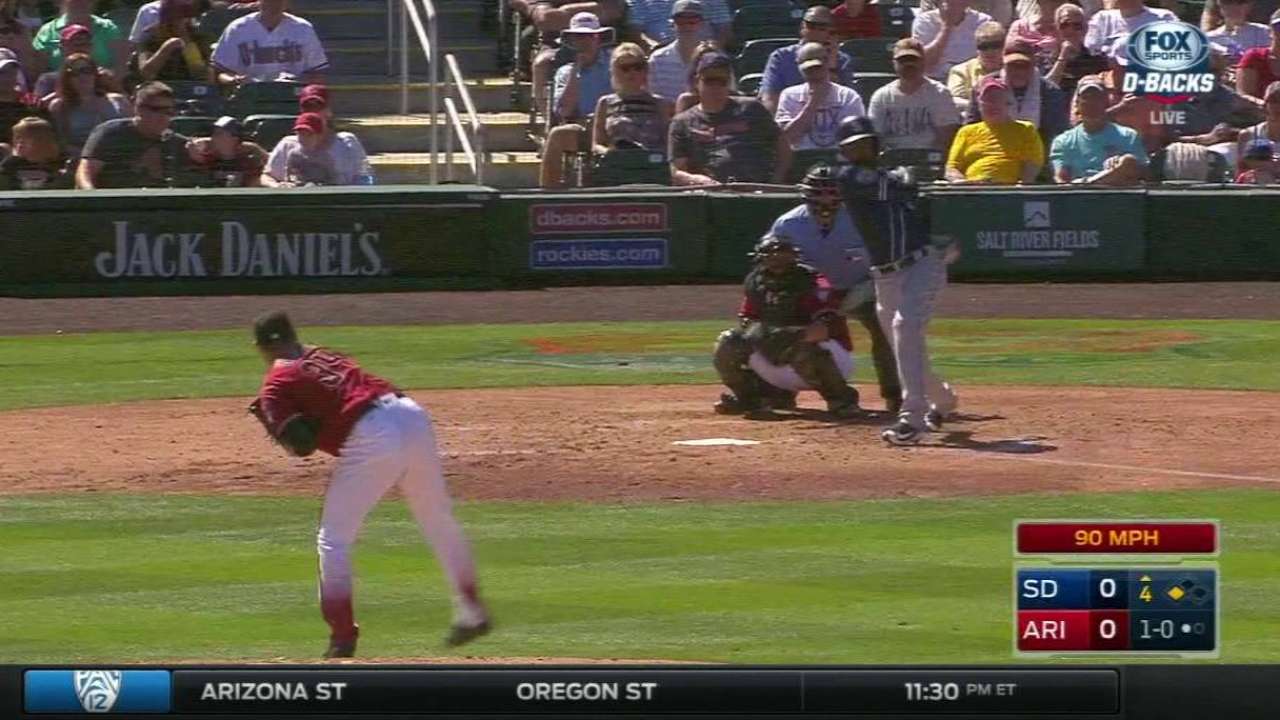 PEORIA, Ariz. -- For seven years, Alexei Ramirez was one of the most reliable shortstops in baseball -- a force at the plate by his position's standards and a consistent performer who never seemed to fall into prolonged slumps.
Then, in the first half of 2015, he wasn't that player anymore. Ramirez hit .224/.249/.292 before the All-Star break last season -- a dreadful start to a contract year. His second-half numbers (.277/.325/.432) were essentially on par with the rest of his career, but his poor start scared off more than a few potential suitors in free agency.
Spring Training: Schedule | Tickets | Gear
When the Padres signed the 34-year-old Ramirez to a one-year contract worth $4 million in January, they were banking on getting the second-half version -- the same player who picked up two American League Silver Slugger Awards and pounded out 150 hits in six straight seasons.
"Fact of the matter is, if he hadn't had those two months, he probably would have signed for really big dollars someplace else," said Padres skipper Andy Green. "The last three months of the season were classic Alexei Ramirez. We're excited to get that guy."
Ramirez entered Tuesday hitting .368 through eight Spring Training games. He's been hitting the ball hard, too, including a scorched two-run home run to the left-center-field gap on Monday in a 10-2 win over the Cubs.
It's very early, but Ramirez's performance would seem to indicate that he's ready to put the first half of 2015 behind him.
"I don't think that necessarily had anything to do with baseball," Ramirez said -- through a translator -- of his early-season struggles. "It was just mental. The past is in the past, and I'm here."
After leaving Cuba in September 2007, Ramirez gained citizenship in the Dominican Republic and signed with the White Sox in 2008. This spring represents the first time he's donned anything other than a South Siders uniform since he played for Pinar del Rio in the Cuban National Series.
"It was hard," Ramirez said of moving. "It's difficult with my kids being in school, having to move them and worrying about how they're going to finish the year. But things that are difficult are usually worth the price."
Ramirez comes to a Padres club whose pitching staff posted a 47 percent ground-ball rate last season -- tied for sixth in the Majors. With a rotation featuring Tyson Ross and Andrew Cashner, Ramirez's defense should be as critical as his offense.
Known as a rangy shortstop for most of his career, Ramirez's defensive metrics dipped in 2015. But he was above average in just about every prior season, and the numbers for evaluating defensive range are famously volatile.
In any case, Ramirez is looking forward to being constantly tested at short.
"It's even better for me," he said. "It keeps me moving when they're pitching. It keeps me active out there."
Count Green among those who are confident Ramirez will reverse his 2015 fortunes.
"He still looks young, he still looks fluid, he still moves very well in the field," Green said. "And offensively, he's been who he's always been."
AJ Cassavell is a reporter for MLB.com. Follow him on Twitter @ajcassavell. This story was not subject to the approval of Major League Baseball or its clubs.