Phillies option Buchanan, Asher to Triple-A
Battle for fifth spot in rotation now down to Velasquez, Oberholtzer, Morgan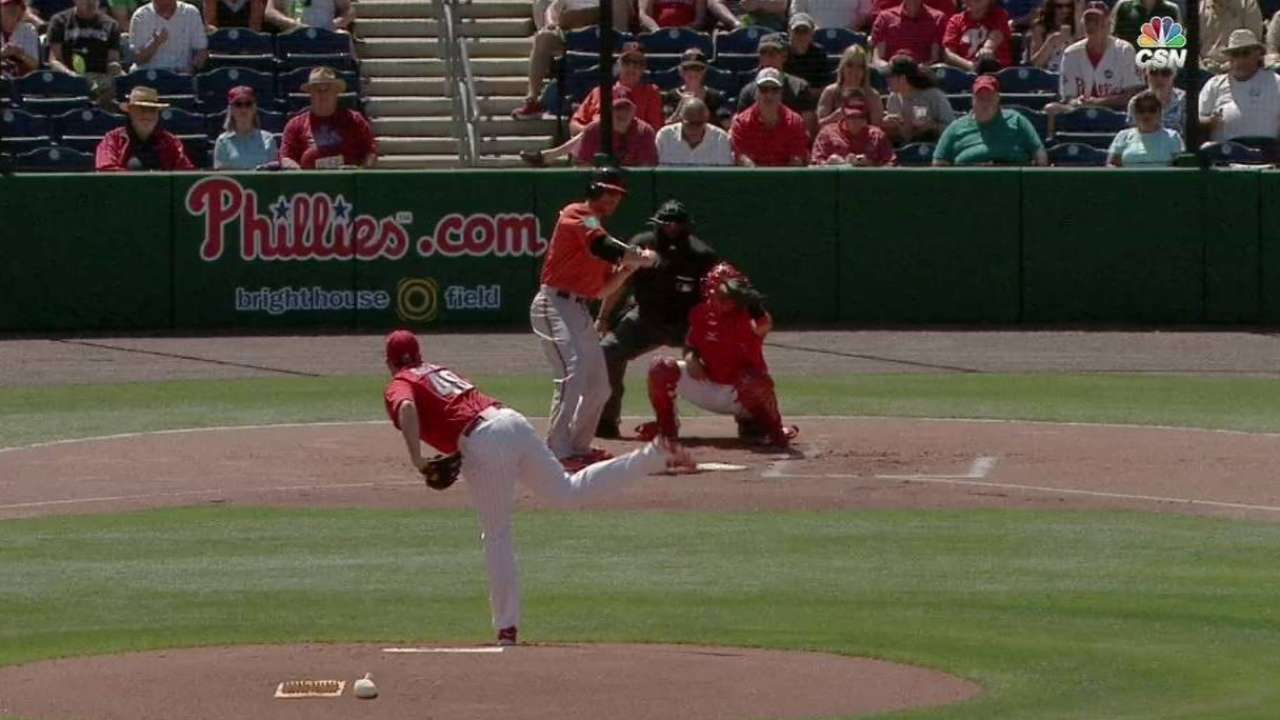 Buchanan allowed five hits, two runs and two walks with two strikeouts in four Grapefruit League innings. He went 2-9 with a 6.99 ERA in 15 starts last season. Asher allowed 10 hits, seven runs and three walks with 14 strikeouts in eight innings. He went 0-6 with a 9.31 ERA in seven starts last season.
• Spring: Tickets | Ballpark | 40-man roster | NRIs
They had a steep climb to move past Velasquez, Oberholtzer and Morgan on the depth chart.
"It's part of the game," Buchanan said. "You never want it to happen. Obviously you want to spend your whole career in the big leagues. It's another opportunity to work and to continue to build on what I've been doing this whole spring. I'm excited where I'm at mentally. I know I'll get another shot there, and I'm excited for that. Because when it comes, I'm not coming back. So I'm good."
Buchanan knows it is a near certainty that the Phillies will use more than five starters this season. Pitchers get injured. They struggle. There could be opportunities for him in the future.
Of course, the runners-up in the No. 5 competition figure to get the first crack at it, but Buchanan and Asher could put themselves in line for a promotion down the road. Prospects Jake Thompson, Mark Appel and Zach Eflin also figure to get consideration later in the season, if they pitch well in the Minors. The Phillies are in no rush to promote them.
"I'm pretty sure that's where the mental training I've been doing this offseason is helping me, because I'm not really concerned about that," Buchanan said about his place on the depth chart. "I'm not putting my energy into that, because I can't control that.
"All I know is I've done a lot of training to get myself in the right state of mind to do what I can do and control what I can control. So that's what I'm focused on now. I'm going to go down there, continue to pitch, continue to do what I've been working on and continuing to get better. As soon as the phone rings, I'll be ready to go."
Todd Zolecki is a reporter for MLB.com. Read his Phillies blog The Zo Zone, follow him on Twitter and listen to his podcast. This story was not subject to the approval of Major League Baseball or its clubs.