Rizzo's intangibles impress Maddon the most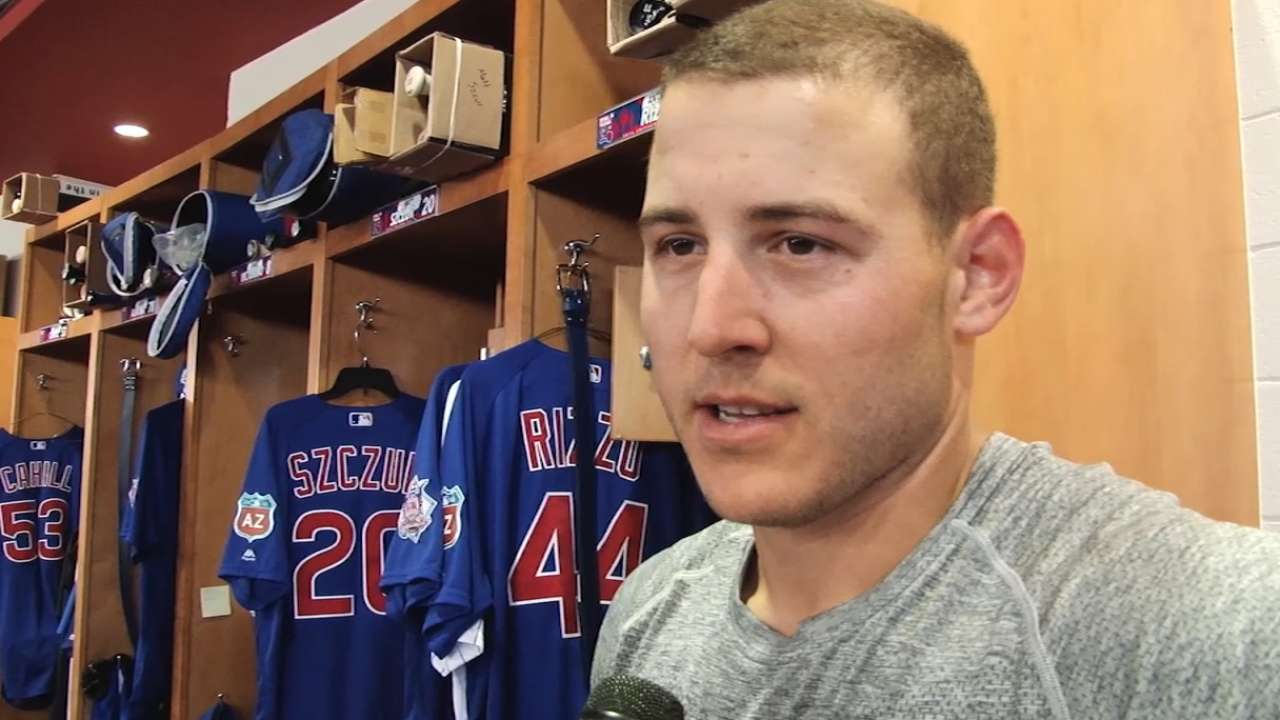 MESA, Ariz. -- Joe Maddon discovered very early that Anthony Rizzo could eat. Shortly after Maddon was hired as the Cubs manager, he treated the first baseman to dinner at his restaurant in Tampa, Fla. What Maddon also discovered in his first year with Rizzo was more than his ability to deliver clutch hits or do the splits at first to grab a throw.
"He is a great teammate," Maddon said of the 26-year-old Rizzo. "This guy gives his time to everybody. This guy is positive to everybody he comes in contact with. He's absolutely about team. He's willing to carry the message of the organization and the group.
"He's a great teammate. Obviously, he's a very good player. I like the way he is."
Spring Training: Schedule | Tickets | Gear
Others have noticed Rizzo's "team first" attitude.
"He's an awesome teammate," third baseman Kris Bryant said. "He goofs around a lot, but when it's time to go, he's very focused and serious, and he can just flip the switch and be that type of teammate who gets you going, gets you ready for the game, gets you motivated for the game. You need the Anthony who goofs around, too, because you can't take it too seriously."
Rizzo appreciated the compliments, but that's what he expects of himself.
"I felt like last year, I took a huge step," Rizzo said. "Say I personally had a bad game but we won, you can go celebrate with the guys because you're happy for [Addison Russell] because he had a big hit or Jake [Arrieta] because he pitched a shutout. It's kind of like [Maddon's mantra] 'Respect 90.' You do all the little things to help the team win."
He does more than deliver on the field, too. It's Rizzo who picks the loud and lively dance music the players listen to during batting practice, and Rizzo who will stop by a Chicago children's hospital on a regular basis to cheer up patients. After that dinner at Ava, Maddon felt he'd found a player who matched his approach to the game.
"The thing I enjoy about him is he likes to fool around and have a good time, but he engages in a serious conversation and will come and talk to me about different things," Maddon said. "How could you not be impressed? I didn't know he was that good. I knew he was good, but you get on the field with him and you saw what he did last year, and I think for as good as that was, there's another level [he'll reach] as he understands everything about the league and himself."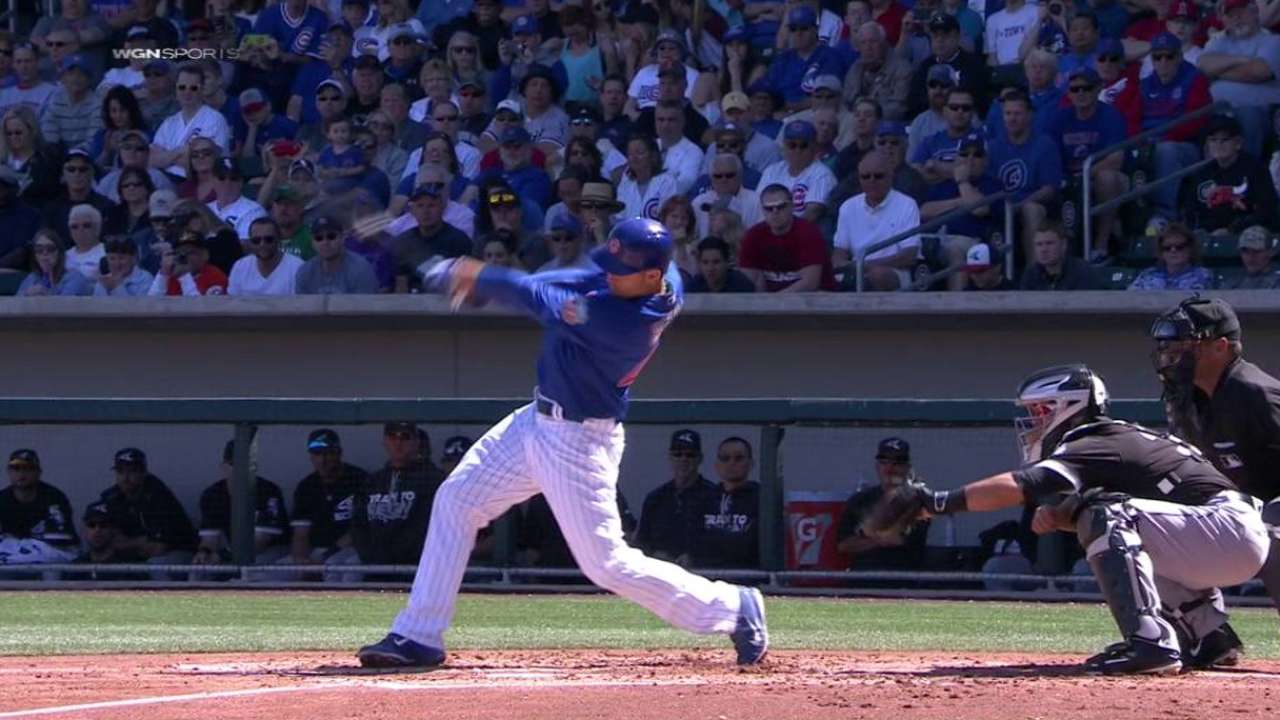 What Rizzo did last season, his fourth with the Cubs, was bat .278, hit 31 homers, record 38 doubles and drive in a career-high 101 runs. He finished fourth in the National League Most Valuable Player Award voting, but more important to him, he enjoyed his first winning season with the Cubs.
"He's a winner, and he's all about winning," Maddon said. "I believe that's his agenda on a daily basis. He's going to grow into a leadership role. I think in the past, before we got here, there was too much expected of him in that regard."
Rizzo helped Bryant deal with the hype of being a top prospect last spring. The third baseman found himself the focus of Cubs camp regarding whether he would make the Opening Day roster.
"In Spring Training, when I was going through all that, he helped me with it and talked to me. He went through it, too," Bryant said of Rizzo, who had to deal with expectations after he was dealt from the Red Sox to the Padres. "That was where we built up a good friendship. It was good to do that in Spring Training, because when I did get called up, I knew everybody there and I could feel comfortable. It made it an easy transition."
Bryant is one of many Cubs players who support Rizzo's charitable foundation and take part in his events throughout the year. Next up is the "Cook-off for Cancer" on June 2 in Chicago.
"It's pretty easy to support that because he does so much for the community and people who need it," Bryant said. "It's fun to get behind him and back that. It's good to show that support and show people we're not just baseball players but we're good people, too."
When Rizzo visited Maddon's restaurant, the manager did the ordering and the first baseman said they "feasted like kings." He said he wanted to impress his new first baseman.
"We talked about baseball, about life, about everything," Rizzo said. "It was great."
As it turns out, Rizzo impressed him.
"I think when you talk about Riz, he's an authentic person," Maddon said.
Carrie Muskat is a reporter for MLB.com. She writes a blog, Muskat Ramblings. You can follow her on Twitter @CarrieMuskat and listen to her podcast. This story was not subject to the approval of Major League Baseball or its clubs.