MLB.com Columnist
Mike Petriello
Statcast shows Hatcher's season looks bright
Dodgers reliever with 'Wade Davis fastball' had 1.31 ERA in 22 games after returning from DL last year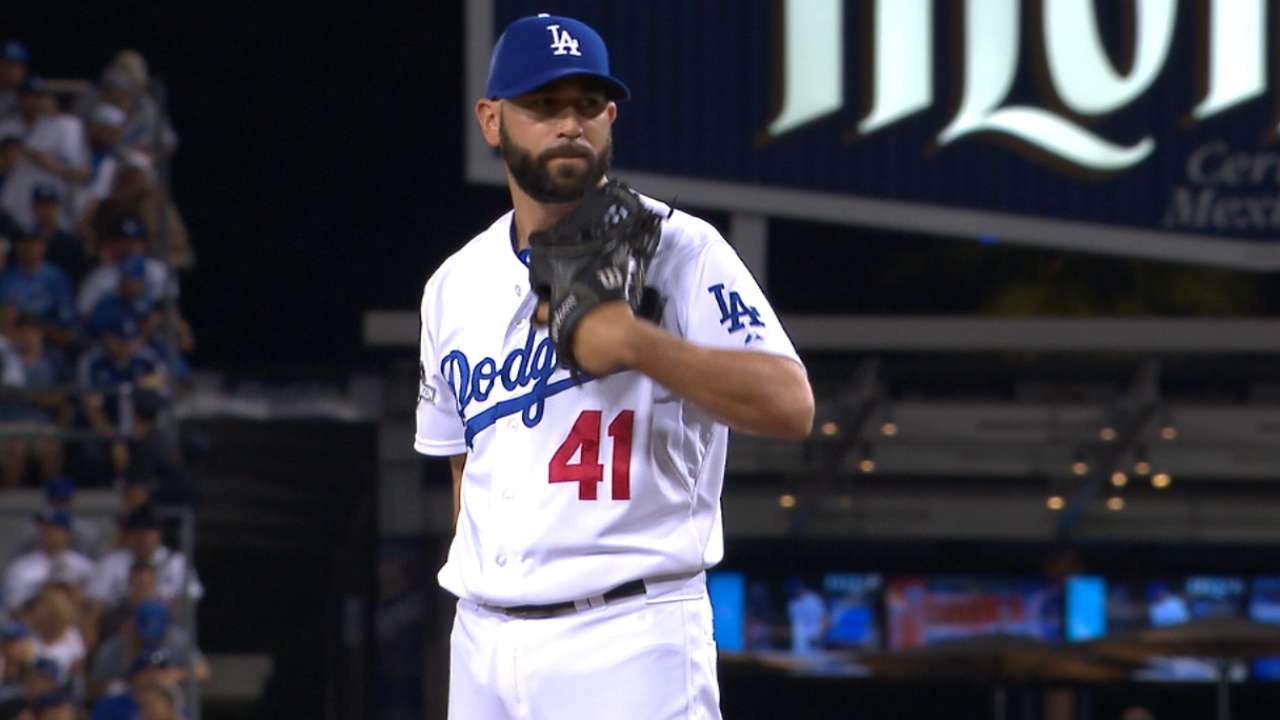 GLENDALE, Ariz. -- Chris Hatcher has Wade Davis' fastball -- yes, really -- but in his first season as a Dodger, he hardly got Davis' results.
Hatcher struggled badly for the first two months of last season before missing most of the next two with a strained oblique. It took him until the end of August to get his ERA below 5.00, by which point the chance for a good first impression had long since passed.
But very quietly, Hatcher was stellar once he returned from the disabled list. In 20 2/3 innings over 22 post-injury games, he had a 1.31 ERA with 26 strikeouts against only three walks. Hatcher then appeared four times in the National League Division Series against the Mets, striking out five without allowing a hit. He enters the 2016 season as the leading candidate to set up for closer Kenley Jansen.
What changed? During Hatcher's time on the DL, he made two important changes, which he discussed in the Dodgers' clubhouse before a recent Spring Training game.
More pitch variety, more success
When we compared Hatcher's fastball to Davis', we meant it. Check out how similar the vital Statcast™ numbers were from the two right-handed flamethrowers:
Davis: 95.9 mph / 2,397 rpm / 10.5 inches vertical movement
Hatcher: 96.4 mph / 2,400 rpm / 10.2 inches vertical movement
When informed of the similarity, Hatcher laughed. "Believe it or not, that's the guy I watch film of when we're facing a team that they have played, to see what he does. Our stuff, it's kind of similar. His might be a little more electric."
But early in the season, Hatcher was too reliant on his high-spin, high-velocity four-seamer. (The Major League average spin rate for a four-seam fastball was 2,226 rpm, while the average velocity was 92.9 mph.) While Davis mixes in a curve and a cutter nearly 50 percent of the time to keep hitters off-balance, Hatcher was throwing his fastball nearly two-thirds of the time before he was hurt. When he came back, he introduced a cutter and increased usage of his slider and splitter, considerably varying his repertoire.
Adding that extra dimension made everything more effective, at least in Hatcher's opinion.
"It's easier to do that when you're throwing everything else for strikes," he said. "When you get behind, you have to find something you can throw strikes with. Throwing so many fastballs ... guys could sit on them, so I was getting more swings on my split at the end of the season because they had to honor it. It wasn't like, OK, if he misses with the split, he's going to come back with the heater."
Less slider velocity, more separation
Perhaps just as important, the post-injury version of Hatcher took a considerable amount of velocity off his slider, and while that seems counterintuitive -- after all, Jake Arrieta's calling card is his high-velocity slider -- in Hatcher's case it was an absolutely necessary change in order to gain separation from his fastball, and he gave all the credit to longtime pitching coach Rick Honeycutt.
"That was entirely on purpose," Hatcher said. "Before I got hurt, I didn't really pay much attention to it. When I was on my rehab assignment, my slider was actually getting more 92-94 [mph], and that wasn't enough separation in velocity to miss bats. Guys were just getting them off the end and bleeding them over the infield. So I got to thinking about it and I asked Honeycutt about it, and he said, 'Have you ever thrown a curveball?' and I said, 'I've tinkered with one.'
"He said, 'Try that grip and throw it just like you're throwing your slider right now.' So it turned into 84-85, you know, just something with more vertical height difference, and I also incorporated my cutter back in. So I think the speed variation was the best thing for me."
The numbers bear that out:
Pre-DL
Fastball: 96.8 mph / .261 avg. against / 9.7% swinging-strike rate
Slider: 88.2 mph / .625 avg. against / 13.1% swinging-strike rate
Post-DL
Fastball: 96.8 mph / .179 avg. against / 14.1% swinging-strike rate
Slider: 85.4 mph / .056 avg. against / 15% swinging-strike rate
It was always going to be an uphill climb for Hatcher with Dodgers fans, given that he was part of the deal that sent popular All-Star second baseman Dee Gordon to Miami (often forgotten: the Dodgers also received useful utility player Enrique Hernandez, highly regarded catching prospect Austin Barnes and, by extension, a year of second baseman Howie Kendrick). The brutal start to Hatcher's Dodgers career certainly didn't help work to change that perception.
That said, the Dodgers acquired Hatcher for a reason, after he'd struck out 60 batters in 56 innings in his first full season as a Major League reliever in 2014. For a team seeming to constantly struggle to provide a proper bridge to the elite Jansen, they thought they'd found the answer. They might have just been a year too early. Hatcher and his Davis-like fastball sure seem to have found the right combination.
Mike Petriello is an analyst for MLB.com and the host of the Statcast podcast. He has previously written for ESPN Insider and FanGraphs. This story was not subject to the approval of Major League Baseball or its clubs.