MLB.com Columnist
Jim Callis
Five questions with Royals' Marten Gasparini
Jim Callis talks to Kansas City's No. 8 prospect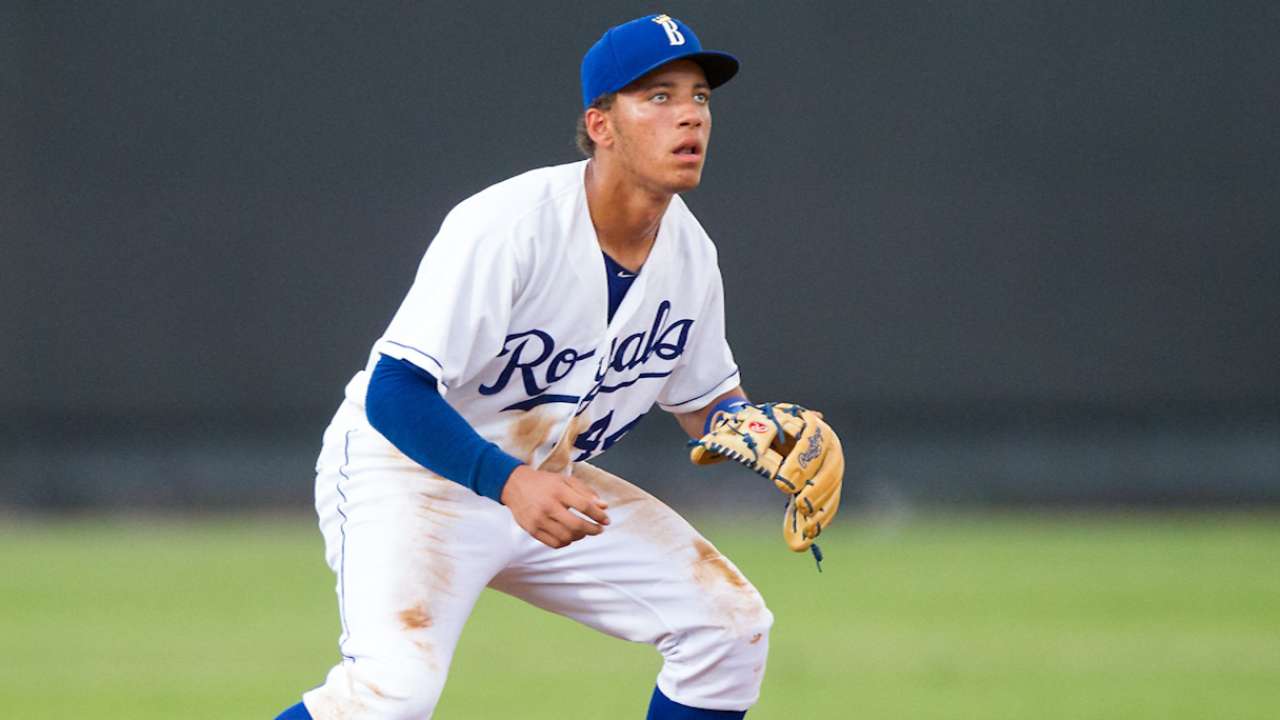 SURPRISE, Ariz. -- As part of MLBPipeline.com's visit to all 30 Spring Training facilities this month, we will be sitting down with prospects and getting to know them a little better. At Royals camp, it was No. 8 prospect Marten Gasparini.
A native of Alture, a town in northeastern Italy, Gasparini signed for a European-record $1.3 million in July 2013. Still just 18, he has batted .250/.321/.384 with 50 errors in 74 games during two years of Rookie ball in the United States, and he has the highest ceiling in Kansas City's system, with the exception of fellow shortstop Raul Adalberto Mondesi. Gasparini is seeking to become the second Italian-born and raised player to reach the big leagues, following Alex Liddi.
MLBPipeline.com: With all the passion for soccer in Italy, how did you get involved with baseball?
Gasparini: It started at 10. I was interested in something different, something played overseas. I had seen it in movies. My mom being British, we had many British and American movies, and I saw many movies about baseball. My dad bought me a baseball kit and I started playing in my backyard with friends, then started playing for local team. Soccer was fun playing in my backyard with friends, but when it became serious, it wasn't for me.
MLBPipeline.com: When you were 14, you moved 300 miles away from home to play at the Italian Baseball Academy. How did that decision come about? And was it difficult to leave your hometown behind?
MLB Pipeline Spring Training reports
Gasparini: I learned about another Italian player, Alberto Mineo [currently in the Cubs' system], who had played near me and got the chance to play in the United States. I got interested in his story and I looked up what helped him get to the United States. I saw he went to the academy. I met [director] Bill Holmberg there and he really taught me a lot. I was so into baseball that it wasn't a hard choice at all. My parents were really supportive too and pushed me to give it a try, even though I didn't have any doubt.
MLBPipeline.com: When did you first realize you might get a chance to play in the United States?
Gasparini: At a Little League tournament in Poland, someone told me there was a guy from an American team who wanted to talk to me. I was surprised. I knew I was good enough to play on the national level, but it was early to think about the United States. That was a really big motivator for me. I got more serious about baseball. [The 15-and-under World Championships in 2012] went really well for me, and the following season at the academy, Holmberg said a lot of scouts were going to come in. That's the moment I knew I would sign. I had no idea about the money, but I would have signed for any sum because this is what I wanted to do. To sign for an amount of money that let me help my family, to help finish off the payments on our house and start remodeling, to buy some land for a farm, that was a big bonus for me to be able to do that for them.
MLBPipeline.com: How much do you follow the careers of recent Europeans who have made it to the big leagues, like Liddi and Max Kepler?
Gasparini: I learned about Max Kepler after I went to the academy and some of the players had been teammates of him. Kepler and Liddi really inspire me to take it more easy on myself. They show that it's not impossible. They're definitely players I try to emulate.
MLBPipeline.com: How much progress have you made in two years of pro ball?
Gasparini: I probably didn't have a clue to play shortstop when I first signed. That's a tool that has developed with time. I feel like I'm getting where I should be with defense, offense, baserunning. I've made tons of adjustments and improvements. I've put all of my trust in the coaches. I still have a lot of things to work on. I'm trying to focus on the future. If Iook back to two years ago, it's unbelievable. If I keep going, it will take me places.
Jim Callis is a reporter for MLB.com. Follow @jimcallisMLB on Twitter. This story was not subject to the approval of Major League Baseball or its clubs. This story was not subject to the approval of Major League Baseball or its clubs.