Plouffe not resting on laurels despite big day
Third baseman focused on improving defense after driving in four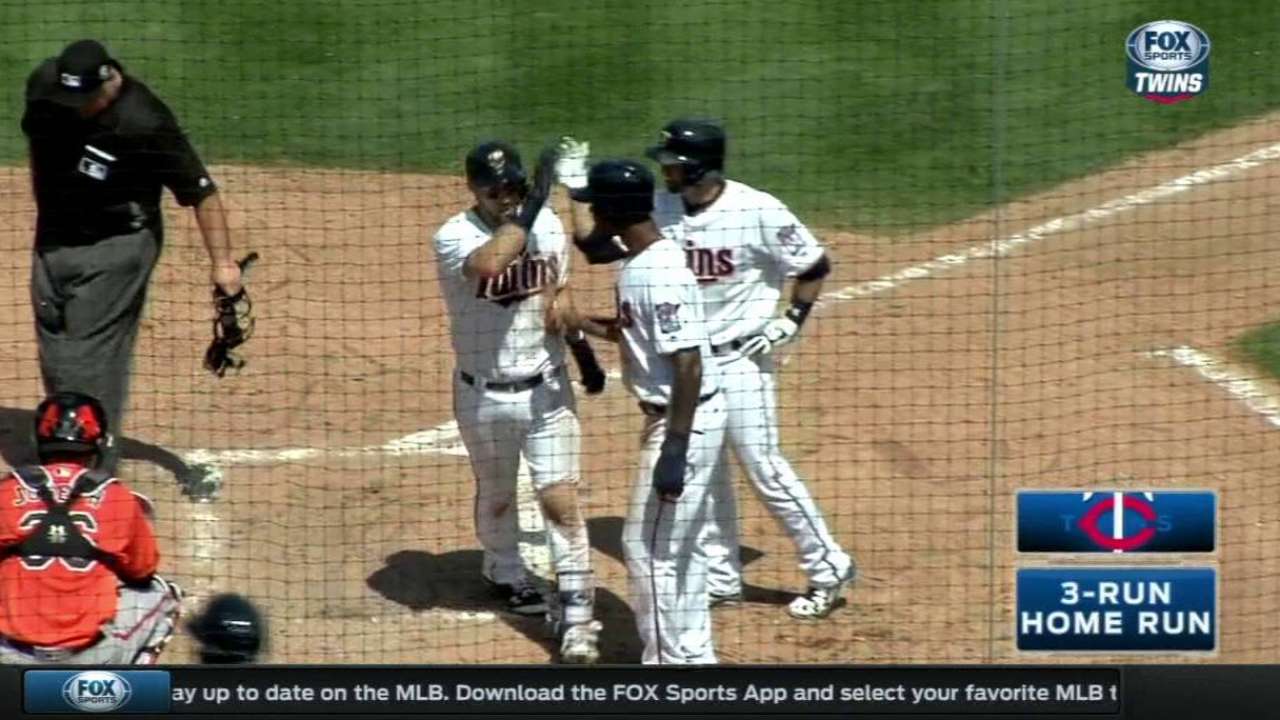 FORT MYERS, Fla. -- Trevor Plouffe led the offensive attack in the Twins' 14-5 win over the Orioles on Sunday afternoon. He went 2-for-2 with a walk, a run scored and four RBIs. His three-run home run, his first of the spring, keyed the four-run second inning.
Plouffe is hitting .429, going 6-for-14 with two runs scored, two doubles, a home run and six RBIs in six games this spring.
• Spring Training: Schedule | Tickets | More info
After the game, though, it wasn't his offense that was on the third baseman's mind.
"To be honest with you, I'm pretty upset about those groundballs in the first inning," Plouffe said. "That's all I'm thinking about. Spring Training, yeah, it's always nice to put good swings on the ball, but the results here don't really mean anything. So I'm happy that my spring does feel good, but I'm just mad at those ground balls."
The groundballs he was referring to were a leadoff single by O's center fielder Joey Rickard and another by shortstop Jonathan Schoop that deflected off Plouffe into left field. The O's scored three runs off right-hander Ricky Nolasco in the frame, sending seven batters to the plate.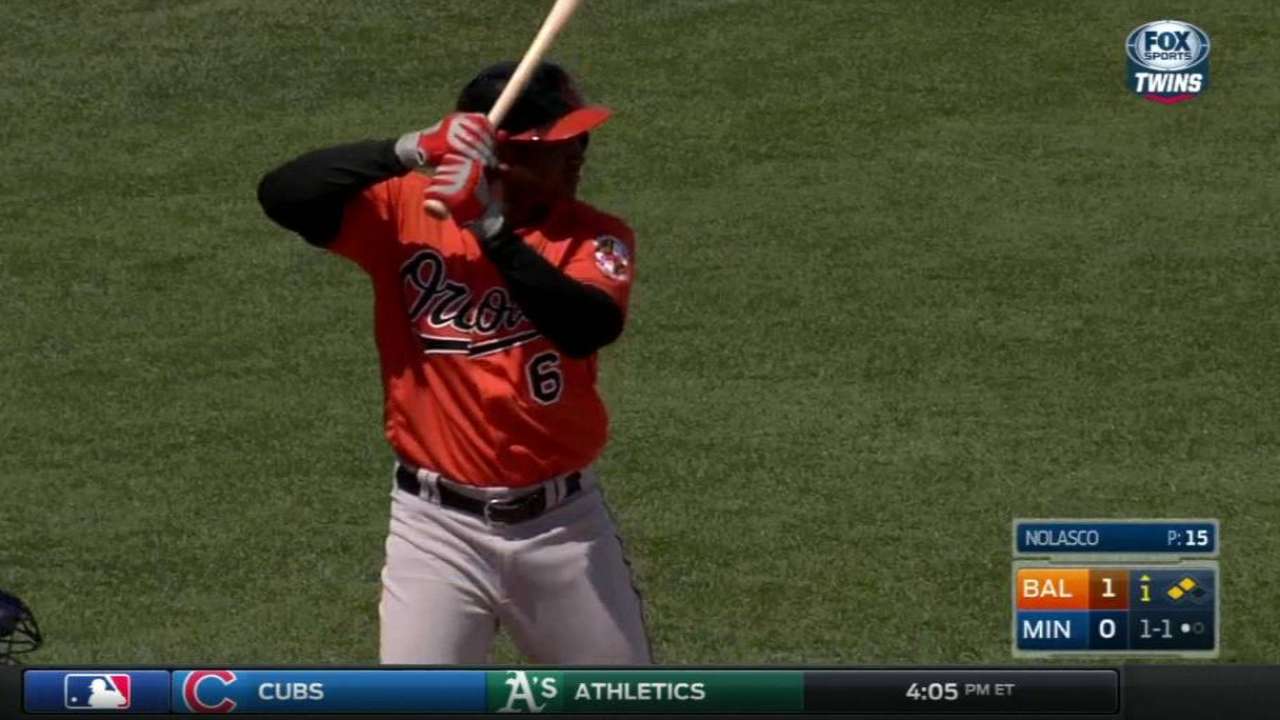 "Well, he drove in more than he let in, he was keeping with the old cliché," manager Paul Molitor said of Plouffe's game. "The first play his feet got a little tangled. I think he thought he was going to have to dive. It ended up being closer to his body than he thought. And then that one deflected on the ball in the five hole.
"I know he prides himself a lot on making those kind of plays. It cost Ricky some pitches, and it cost a couple of runs on the board. Part of the maturity is you turn the page on those things, and you don't let it bog down the rest of your game."
It's that kind of maturity that Molitor has been watching emerge from Plouffe, 29, who is entering his seventh season.
"I think the maturity just continues," Molitor said. "He's established himself as a very valuable part of what we're trying to do here, and I think he's well aware that there's some leadership void that he would like to be a part of filling.
"He's a good guy for our people to watch because of his work ethic, particularly in areas that he wants to continue to get better at. He's very trustworthy, and that's one of the best things for a manager -- guys you can trust."
That kind of attitude becomes obvious when you ask Plouffe how his spring is going, and he tells you how his team is doing.
"I feel good," he said. "I think we're showing that we have a pretty potent lineup and can put up some runs. I think that our pitching has been great. too. I'm happy with how things are going. For the most part we're healthy and that's really the main thing that you want to get through Spring Training, just healthy. So we're excited about the year. I think most of us are at that point now where we're kind of itching, ready for the first game."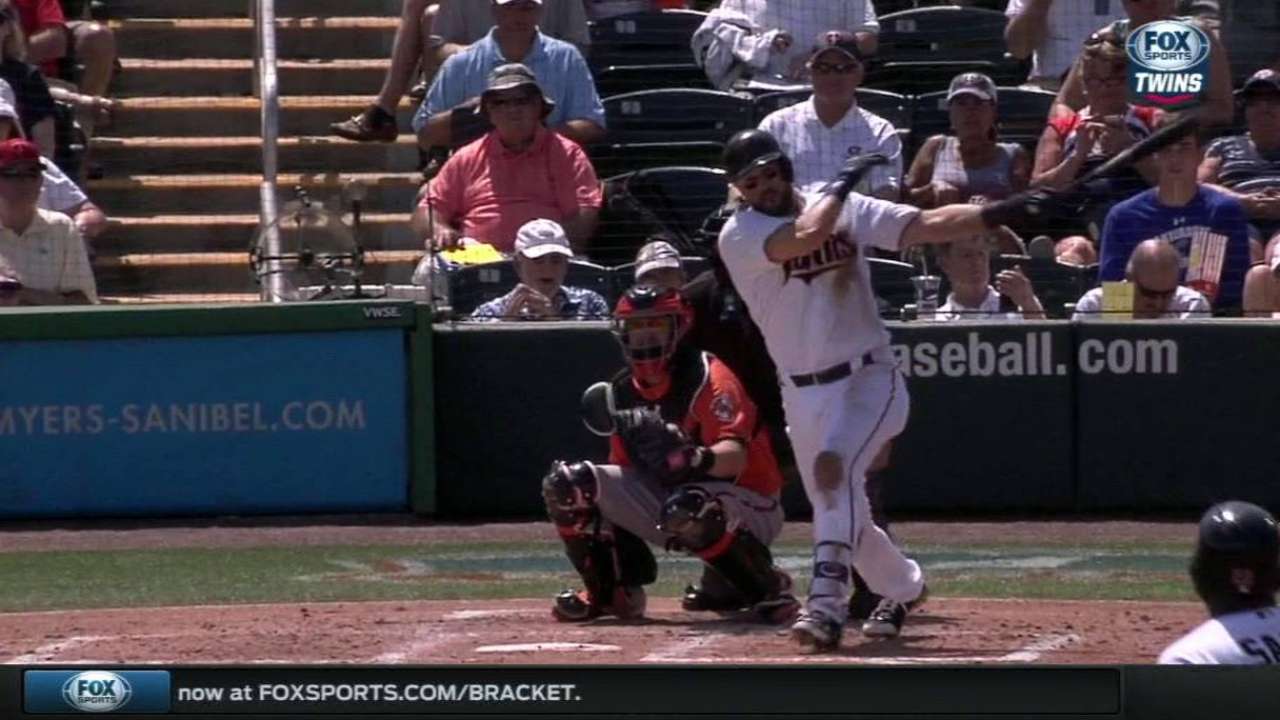 Worth noting
• Four pitchers played in Minor League intrasquad games on Sunday. Closer Glen Perkins pitched one scoreless inning, giving up one hit on 14 pitches (nine strikes). Right-hander Kevin Jepsen threw one scoreless inning, allowing one hit on 11 pitches (eight strikes). Right-hander Casey Fien went one scoreless inning, throwing eight pitches, all strikes. Right-hander Tyler Duffey went four innings, giving up three runs, two earned, on four hits with one strikeout.
• Outfielder Danny Santana has a tender left wrist and will be held out until at least Wednesday, the day after the Twins off-day. General manager Terry Ryan said Santana has been doing all activities except hitting.
• The Twins reassigned infielders Heiker Meneses and Engelb Vielma, right-hander Jake Reed, outfielder/first baseman Reynaldo Rodriguez and catcher Alex Swim to Minor League camp.
Maureen Mullen is a contributor to MLB.com. This story was not subject to the approval of Major League Baseball or its clubs.