CC sees positives in start despite results
Left-hander unable to get through second inning vs. Phillies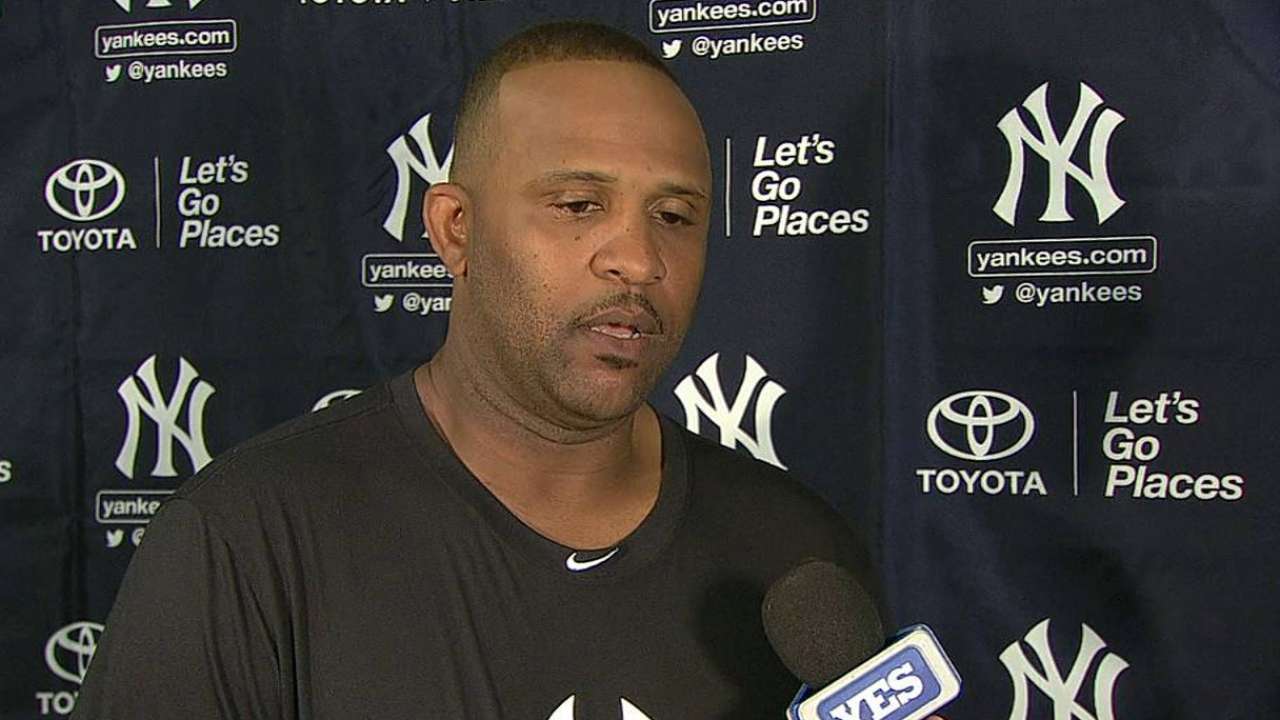 TAMPA, Fla. -- The Yankees have said that they will plug the best five starters into the rotation, regardless of their respective salaries. CC Sabathia may not have been pleased with his results Sunday, but he still strongly believes that he will belong in that group.
Sabathia struggled in a 3-0 Grapefruit League loss to the Phillies at George M. Steinbrenner Field, exiting in the second inning. Despite that, Sabathia said he knows what it takes to be ready for the regular season.
"That's why I'm not beating myself up," Sabathia said. "The pitches are coming along. The biggest thing is just me being able to repeat my delivery the same thing every time. I haven't been able to do that in a couple years. I just feel like getting deeper in spring, things will start to come together."
• Spring Training: Schedule | Tickets | Gear
Sabathia permitted three runs (two earned) and five hits over 1 2/3 innings, walking one, hitting a batter and committing a fielding error that prolonged what could have been a breezy first inning. Instead, Sabathia threw 49 pitches (29 strikes) before being lifted.
"He struggled with the slider today, which is not unusual this time of year for a guy to struggle with a pitch that is important to him," Yankees manager Joe Girardi said. "And his command wasn't very good. The first run, they shouldn't have got, and it kind of snowballed after that."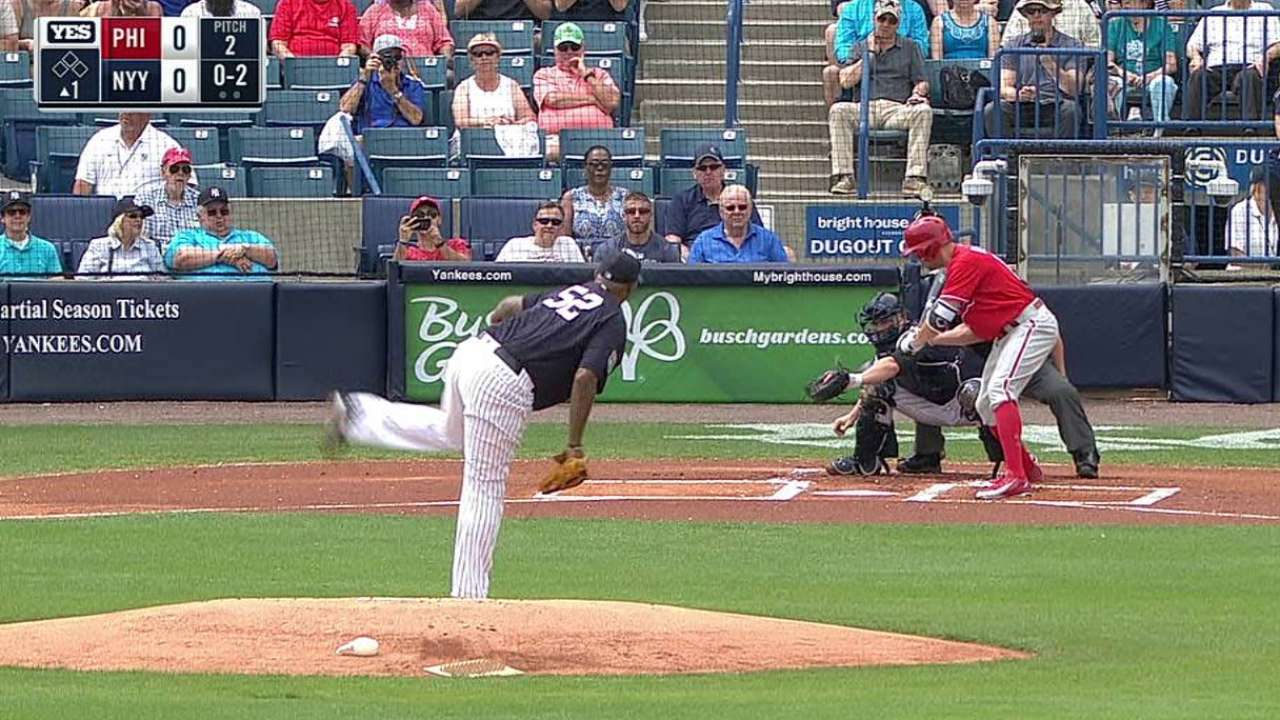 The play that Sabathia regretted most came on Maikel Franco's slow tapper in front of the mound, which the pitcher flubbed.
"That's just bending over and picking up the ball," Girardi said. "He missed it and he missed it again. You've just got to pick it up."
Ryan Howard's run-scoring double and a walk followed before Sabathia finally escaped, and Sabathia said he experienced a mental lapse.
"I should have been in the dugout," Sabathia said. "[It was] really not locking it down and getting back locked in to throw strikes."
Yankees catcher Brian McCann saw the glass as half-full, noting that Sabathia's cutter looked lively and should have been called more often on Sunday.
"You look at what he did late in the season last year; he had all the good action on it today," McCann said. "You tip your hat to the other team. They hit some good pitches and had some bleeders in there. We didn't play good D behind him, but I thought the ball was coming out great."
Clunky exhibition outings have always been part of Sabathia's track record, but he understands that results will be weighed more heavily now that he is no longer the ace, but battling to hold off Ivan Nova for the fifth rotation slot.
"I don't make too much of one start. If it becomes a pattern, then you worry about it," Girardi said. "There were some bad spring starts early on in his career, too. I don't make too much of it, but you want to see improvement the next time."
Bryan Hoch is a reporter for MLB.com. Follow him on Twitter @bryanhoch, on Facebook and read his MLBlog, Bombers Beat. This story was not subject to the approval of Major League Baseball or its clubs.