Showalter: No MRI for Wieters' elbow yet
Catcher left game on Saturday with right elbow soreness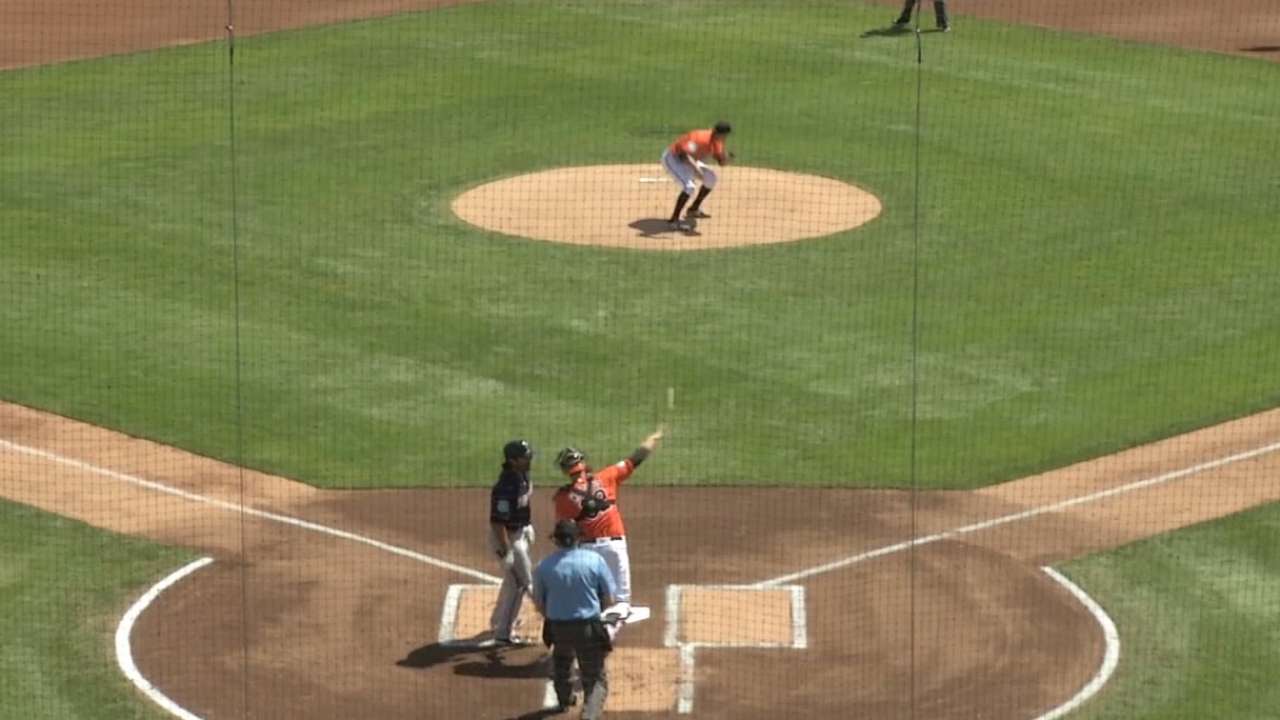 FORT MYERS, Fla. -- Not much has changed for Matt Wieters a day after the Orioles catcher left Saturday's win over the Twins with right elbow soreness, but he and the club remain hopeful that the injury will prove not to be serious.
X-rays taken Saturday on Wieters' elbow were negative. He underwent Tommy John surgery in 2014. The Orioles still do not plan to take an MRI, although manager Buck Showalter said that could change if the condition doesn't improve as hoped over the next two or three days.
• Spring Training: Schedule | Tickets | More info
"We're going to try to let any problems he may have felt dissipate -- whether it was any soreness and stiffness -- and then see where we are in a couple days, see what the next step is," Showalter said before Baltimore's game against Minnesota on Sunday at the CenturyLink Sports Complex.
Back at the Orioles' complex in Sarasota, Fla., Wieters told reporters that his elbow remains a bit stiff and sore, and he isn't sure when he might return to the lineup. In the meantime, he is undergoing treatment for the issue, which popped up when he made a throw to second base in the opening inning of Saturday's game.
"It's frustrating just because all the surgery and all the rehab that you go through, you want it to feel 100 percent all the time," Wieters said, according to MASNSports.com. "But it's something to where I think yesterday I was more frustrated than anything else. Today, it's kind of accepting it knowing we'll keep working and making it stronger. God has a plan for us all and we'll keep getting it stronger and move forward."
Worth noting
• Pitcher T.J. McFarland's side session on Sunday "went great," according to Showalter. The left-hander exited the Orioles' March 6 game against the Red Sox with elbow soreness.
"Hopefully he won't have any repercussions from today [on Monday], and he can get back in the mix," Showalter said.
• Right-hander Chris Tillman (hip) threw a successful bullpen session on Sunday and remains in line to make his Grapefruit League debut on Tuesday against the Blue Jays in Dunedin, Fla.
• Right-hander Andrew Triggs was claimed off waivers by the A's on Sunday, three days after Baltimore released him to free up a spot on the 40-man roster for Pedro Alvarez. Triggs, 26, posted a 1.03 ERA in 43 relief appearances for Double-A Bowie last season.
Andrew Simon is a reporter for MLB.com. Follow him on Twitter @AndrewSimonMLB. This story was not subject to the approval of Major League Baseball or its clubs.