March Madness: Stro, Pillar in Blue Jays' backcourt?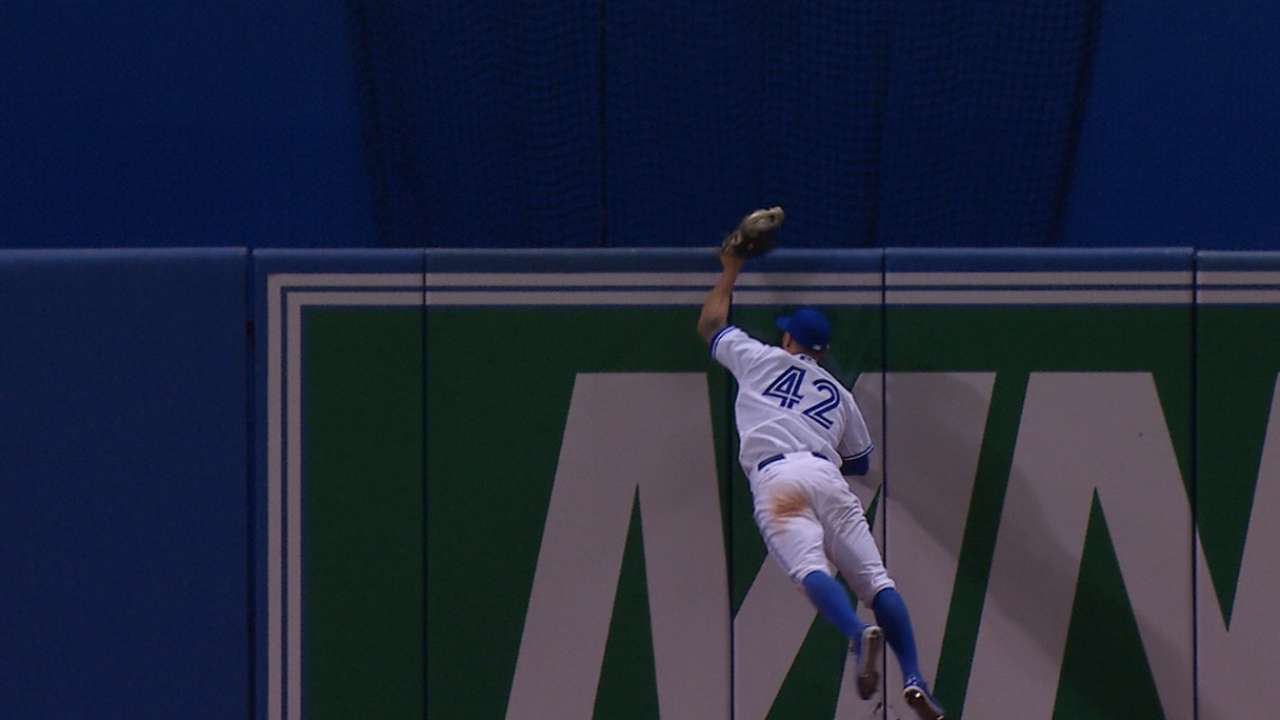 DUNEDIN, Fla. -- Spring Training can be a maddening monotony for many Major Leaguers.
Enter March Madness, which begins just as the dog days of camp are setting in. It's an event which usually fires up every clubhouse, and the Blue Jays are no different.
"I don't follow college basketball much," Blue Jays manager John Gibbons said. "Every year we have the pools, and I know these guys love it and get real excited about that."
The Blue Jays manager admits he didn't play basketball; he's a baseball man with a football background, which includes lining up at fullback in the days of the Wing T offense.
Toronto has had players who have shined in basketball before, including Danny Ainge, who played for the Blue Jays for three years before embarking on his NBA career, and former Blue Jays pitcher Mark Hendrickson, who at 6-foot-9 was drafted in the second round by the 76ers.
The current Blue Jays don't boast that kind of basketball pedigree, but maintain they could put together a decent team, starting with ace Marcus Stroman.
"I think we could put Stro at the point, just because of his athleticism," Blue Jays first baseman Chris Colabello said.
"Yeah I'm the starting point guard," said Stroman. "Score first, dish second, we'd have a pretty good team."
Stroman is pulling for his alma mater, Duke, even though it hasn't been a big year for his Dukies.
"Coach K knows how to get the boys prepared for the tourney," he said.
Fellow starter R.A. Dickey hails from Nashville and is a Volunteers fan, but it doesn't look like the men's team will make the Big Dance. He has a Plan B, though.
"I think Vanderbilt is my hope."
South Carolina native Justin Smoak will be rooting for his University of South Carolina Gamecocks, while others without a rooting interest will hope their bracket shocks the masses.
"It's always hard to bet against the North Carolinas and the Kansases," said Blue Jays outfielder Kevin Pillar. "I try to pick a sleeper. I try to pick an underdog to at least get to the Final Four."
Pillar may not know who will make the Final Four, but his teammates say he has game, including big hops.
"It's actually a fact, I can dunk," Pillar said. "I would be in the starting five."
"I haven't seen it, [but] I see the way he gets up in the outfield," Gibbons said, "I guarantee he can probably do it."
Pillar and Stroman would make up quite the Blue Jays backcourt, and other names bandied about to make Toronto's starting five include the athletic Troy Tulowitzki. Then you have your ace-in-the-hole: Forty-one-year-old Dickey coming off the bench.
"I've seen R.A. back in 1975 when he was in high school drop nine points in eight seconds," said Pillar. "Pretty impressive."
Keep in mind Pillar was born in 1989.
Mike Nabors is a contributor to MLB.com. This story was not subject to the approval of Major League Baseball or its clubs.