Cole's debut highlights star-filled day on mound
Big-names to pitch in full slate of games, 11 on MLB.TV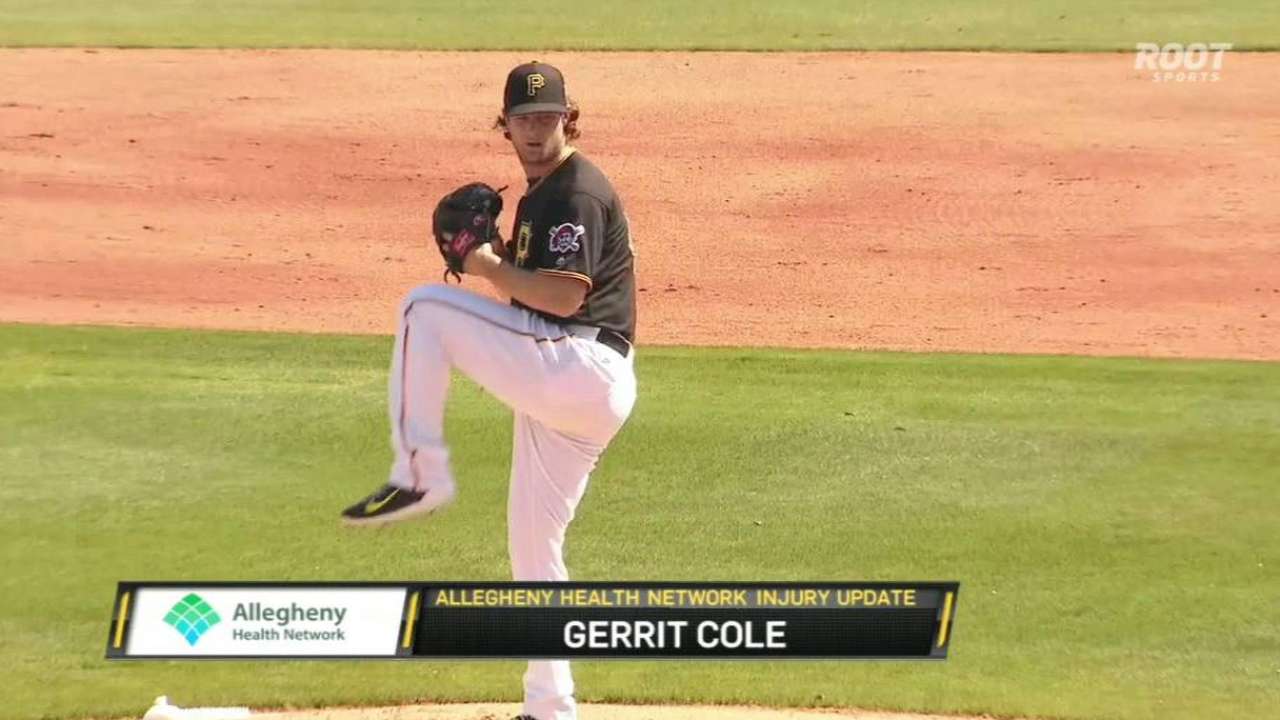 It's the end of the weekend, but there's still plenty of Spring Training baseball on tap, with a full slate of games in both the Grapefruit and Cactus Leagues today.
Fans across the globe will have their choice of 11 games on MLB.TV, featuring a big-name debut and several of baseball's best starting pitchers in action.
Here's what to watch for throughout the day (all times ET).
Cole makes spring debut: DET @ PIT, 1:05 p.m., MLB.TV
The Pirates will be relieved to see Gerrit Cole back on the mound for his first Grapefruit League action when he starts against the visiting Tigers.
Cole is scheduled to pitch two innings as he works his way back from right rib inflammation that delayed his spring debut. The right-hander will work with catcher Chris Stewart , and the Pirates plan to start their regular outfielders in Andrew McCutchen, Starling Marte and Gregory Polanco.
Matt Boyd will make his third start of the spring for the Tigers, who will bring Nick Castellanos, Jose Iglesias, Anthony Gose and Jarrod Saltalamacchia on the trip.
Harvey gets the ball: NYM @ MIA, 1:05 p.m., MLB.TV
Matt Harvey returns to the mound for his second Grapefruit League start as the Mets visit the division-rival Marlins for the second of six meetings this spring. Harvey worked three innings in his first start and sat in the mid- to upper-90s mph with his fastball.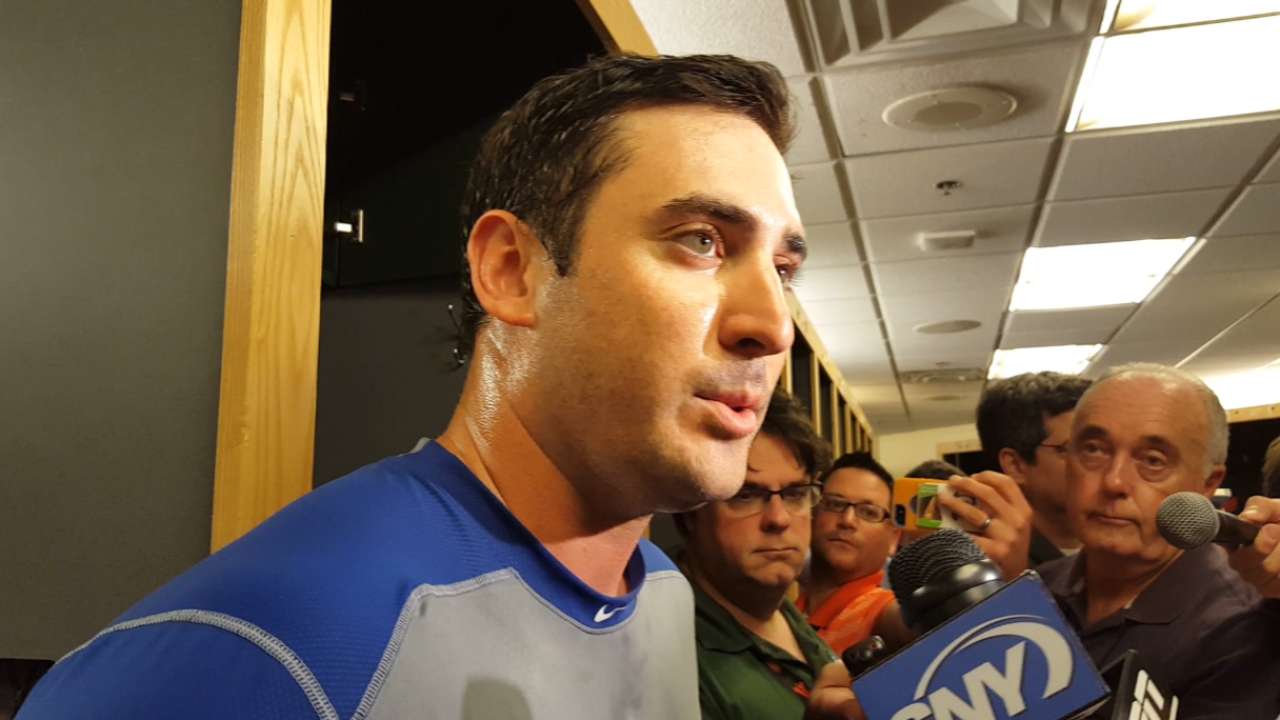 Tom Koehler will start for the Marlins and the right-hander will be followed on the mound by Brad Hand, Mike Dunn, Bryan Morris, Scott McGough and Kyle Barraclough.
Alvarez debuts with O's: BAL @ MIN, 1:05 p.m., MLB.TV
Slugger Pedro Alvarez is set to make his Orioles debut after finalizing a one-year deal Thursday. Miguel Gonzalez will make his third Grapefruit League start for the O's, after limiting the Red Sox to one run over 2 2/3 innings in his last outing.
Ricky Nolasco gets the ball for the Twins, also in his third start of the spring. Nolasco allowed three runs in his spring debut, but bounced back with three shutout innings in his most recent appearance.
Scherzer, Wacha duel: STL @ WSH, 1:05 p.m., MLB.TV
Nationals ace Max Scherzer will start opposite Cardinals right-hander Michael Wacha in what amounts to the best pitching matchup of the day. Scherzer is slated to pitch four innings and make 65 pitches in his third appearance in Grapefruit League play.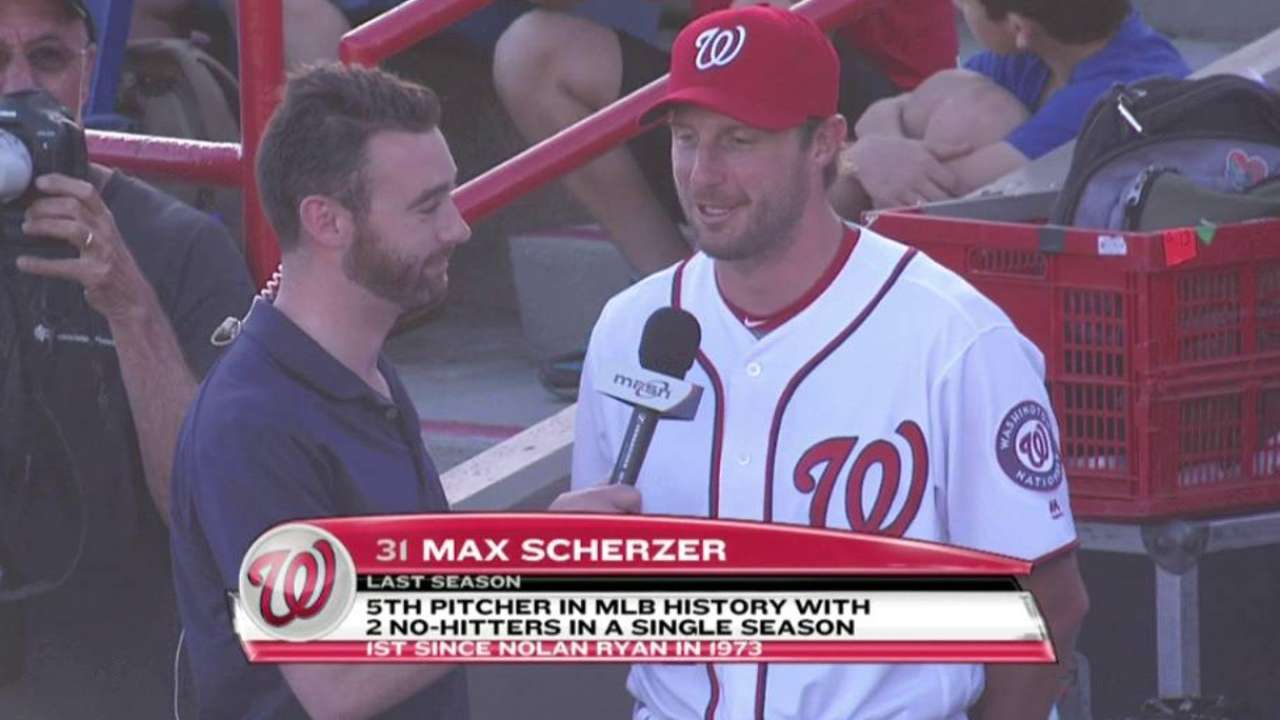 For Wacha, Sunday's start will be his second of the spring. He held the Twins to one run on two hits in two innings in his first outing Tuesday.
Sabathia, Pineda take the mound: PHI @ NYY, 1:05 p.m., MLB.TV
The Yankees will pitch CC Sabathia and Michael Pineda back-to-back against the visiting Phillies, as the club gets work for two starters with an off-day looming Monday. Sabathia will start and is scheduled to throw three innings or 45 pitches.
Adam Morgan will make his third Grapefruit League start as he continues to compete for a spot in the Phillies' rotation. Morgan, the organization's third-round Draft pick in 2011, tossed three scoreless innings in his last outing.
American League East showdown: BOS @ TB, 1:05 p.m., MLB.TV
Rick Porcello makes his third start of the spring as the Red Sox go on the road to play the division-rival Rays for the third time in the Grapefruit League this year. The Sox also plan to pitch Roenis Elias, Heath Hembree, Tommy Layne, Edwin Escobar, Sean O'Sullivan and Williams Jerez.
Erasmo Ramirez will start for the Rays, who have split-squad action. Danny Farquhar, Brad Boxberger, Enny Romero and Andrew Bellatti are also scheduled to see action for the Rays.
Jays evaluate bullpen options: TB @ TOR, 1:07 p.m., MLB.TV
The Blue Jays have one job open in their bullpen, and will get a look at one of two candidates when Aaron Sanchez starts against the visiting Rays. Sanchez, who pitched in relief in his previous two appearances, is competing with Gavin Floyd for the final spot in the 'pen.
Switch-pitcher Pat Venditte is also scheduled to appear for the Blue Jays.
The Rays have a split-squad day and will send Taylor Guerrieri to the mound in this one.
Kershaw takes the hill: LAD @ COL, 4:10 p.m., MLB.TV
Clayton Kershaw is set for his third Cactus League start when the Dodgers go on the road to play the division-rival Rockies. Kershaw has recorded seven strikeouts through five innings so far this spring and has allowed just one run on six hits.
Rockies right-hander Jordan Lyles will also make his third start of the spring. Lyles is expected to work deeper than three innings.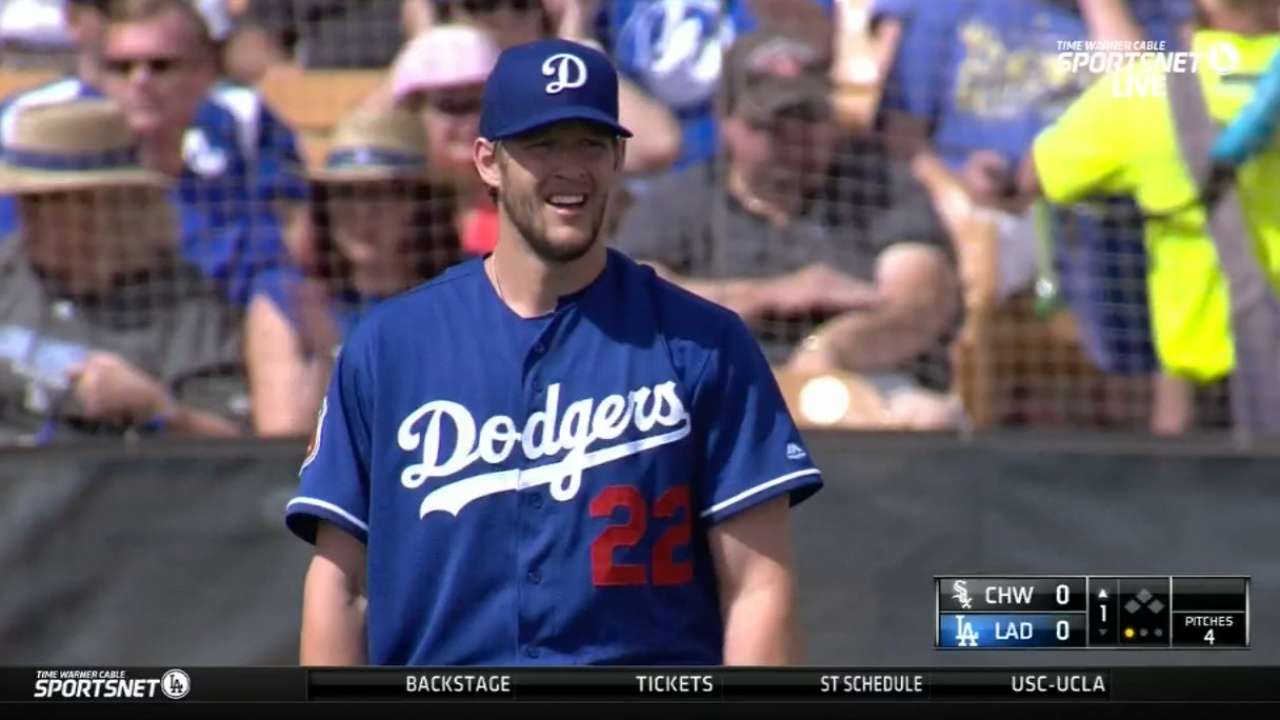 Shoemaker looks to bounce back: TEX @ LAA, 4:10 p.m., MLB.TV
Angels starter Matt Shoemaker is in need of some better results as he makes his third appearance in the Cactus League. Shoemaker, competing for a spot in the rotation, has allowed eight runs on 12 hits (including four homers) in five innings this spring.
Derek Holland gets the ball for the Rangers in his third start of the spring. The left-hander has given up just two unearned runs in 4 2/3 innings so far, with three strikeouts against two walks.
We meet again: CIN @ SEA, 4:10 p.m., MLB.TV
Anthony DeSclafani takes the hill for the Reds as they play the Mariners for the second time this weekend. DeSclafani is looking to bounce back form his last outing, which saw him allow four runs on four hits in three innings against the Giants.
Nathan Karns will start for the Mariners in his third outing of the spring as he looks to solidify a spot in the rotation.
MadBum gears up: SD @ SF, 6:05 p.m., MLB.TV
Opening Day starter Madison Bumgarner gets the ball for the Giants in their first meeting of the year with the division-rival Padres. It's the third start of the spring for Bumgarner.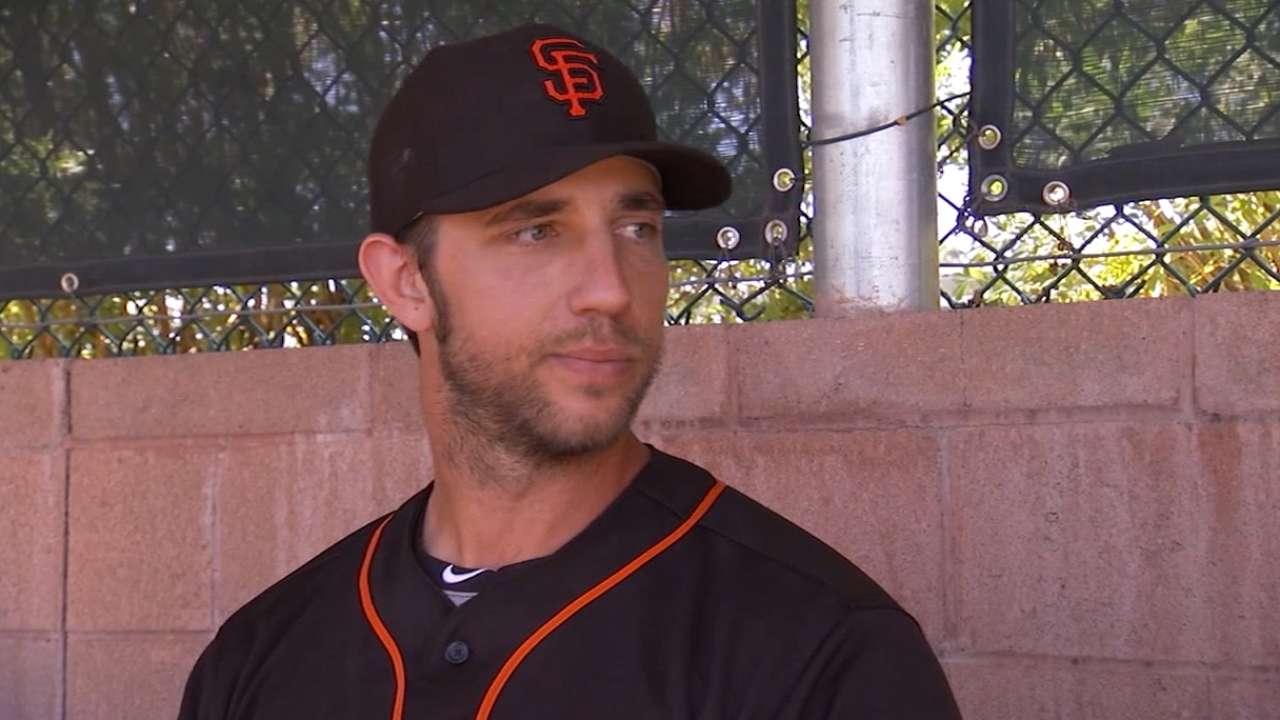 Brandon Maurer will make his second Cactus League start for the Padres and is expected to pitch three innings. San Diego is trying to get the right-hander stretched out as he works to make the transition from reliever to starter.
Austin Laymance is a reporter for MLB.com. This story was not subject to the approval of Major League Baseball or its clubs.